Adventure Specialist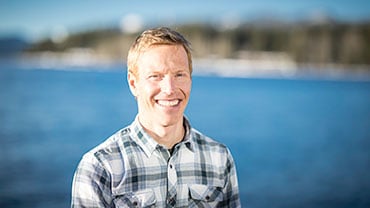 Travel and adventure have always been high priorities for Nick, an Englishman living in Tahoe who grew up in Greece and was born in Japan.
In between Japan and Tahoe, Nick's travel highlights include teaching English in Zanzibar and Prague, hiking in the Nepalese Himalayas and the Mountains of the Moon in Uganda, climbing Mount Kilimanjaro, backpacking in East and Southern Africa and Central America, and spending two winters heli-skiing in Alaska. He has experience kayaking, scuba diving, jungle trekking, volcano hiking and sunset watching all over the world. On trips with AdventureSmith Explorations, Nick has been to Alaska, Antarctica, the Galapagos, the Ecuadorian Amazon and Baja.
Aside from the adventure, Nick appreciates the cultural education that traveling brings. He counts Tikal in Guatemala and the Acropolis in Athens among the many ancient and historical sites he has visited along the way. He has also acted at the Edinburgh festival and in an "off" Broadway show in New York City. He enjoys the special human connection that accompanies travel, with the locals and fellow travelers. A connection that he feels deepens your understanding of compassion, for people and our planet.
Going the extra mile has been Nick's M.O. during his years in customer service. He has found it works well while traveling too, creating memories one experience at a time.
He lives in Tahoe City with his wife and two sons. These days, most of his adventures are closer to home and involve either skiing or rock climbing in the Sierra Nevada. He loves the anticipation of the next trip around the corner…