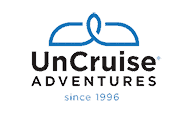 UnCruise Adventures offers something for every type of traveler. Its diverse itineraries span from Alaska Inside Passage cruises to Pacific Northwest cruises along the Columbia River to Baja cruises in Mexico's Sea of Cortés, Canada small ship cruises and the Hawaiian Island cruises.
UnCruise Adventures History
The concept of UnCruise Adventures began in 1996 when American Safari Cruises was established and pioneered yacht cruising in Alaska, offering upscale, active cruises aboard small yachts. In 2008, American Safari Cruises gained a new parent company when its former CEO Dan Blanchard (who headed American Safari Cruises from 2001 through 2008) formed InnerSea Discoveries with partner Tim Jacox and purchased American Safari Cruises. In January 2013, the company changed its name to UnCruise Adventures.
UnCruise Adventures Cruises
UnCruise Adventures has a style of small ship cruising for virtually every traveler. The company is known for its passionate guides, crew and special guests, with U.S. Forest Service wilderness rangers sometimes kayaking right up to UnCruise boats to hop aboard and talk about natural history and their own special bond with the land. Birding, marine biology, photography and wine themed departures allow guests with special interests to book an even more customized cruise.
UnCruise Adventures & AdventureSmith Explorations
AdventureSmith Explorations founder and president Todd Smith has a longstanding friendship and professional relationship with the management at UnCruise Adventures. Since his time as a guide in Alaska, Todd has known the founders of American Safari, which became UnCruise. The Wilderness boats were Todd's original working fleet, so he was very pleased when they were taken over by UnCruise. "It keeps them in the family," says Todd. "UnCruise took what we used to do as guides, trying to make exciting and educational cruises for guests, to another level. They remodeled the ships, added launch platforms, identified new sites to visit and activities like stand-up paddleboarding and snorkeling."
"UnCruise took what we used to do as guides, trying to make exciting and educational cruises for guests, to another level."
AdventureSmith is proud to have worked with UnCruise since our founding and we plan to continue to grow together in the coming years. The ship outline cruising along our website footer is UnCruise Adventure's Safari Endeavour. We would like to thank UnCruise for allowing us to use the likeness of their ship on our website. And it is a daily reminder of the relationship we have with this important partner.
The small ship adventure cruise experts at AdventureSmith Explorations will help you decide if an UnCruise Adventure is the right trip for you. Our honest, unbiased firsthand experience will ensure you choose the right UnCruise Adventure at the best price.

Why Choose UnCruise Adventures
Active couples, families and multigenerational travelers enjoy the faster-paced small ship cruises aboard UnCruise's Wilderness and Safari boats; the luxury pair can enjoy wilderness and wildlife in an inclusive, upscale setting and history buffs can hop aboard a replica steamer on pioneer waterways. UnCruise Adventures truly has a diverse array of small ships and itineraries. UnCruise is on our list of best small Alaskan cruise lines.