Brown Bear. Moose. Whale. Salmon. Mountain Goat. In my experience as a former guide, these charismatic mega-fauna are the animals that people want to see on an Alaska wildlife cruise. Working as a guide on small ship expeditions, I would always begin each trip by asking travelers why they were in Alaska, and what they hoped to see. Together we would make a list that we'd check off throughout the trip, and these five made every list. By the week's end, people were astonished that we'd end up spotting most of them.
These charismatic mega-fauna are the animals that people come to Alaska to see.
These five North American animals are additionally special as you just don't see them in the Lower 48 in the magnitude you do in Coastal Alaska, or at all. Below I've compiled a list of the best Alaska small ship cruises to view each of these iconic Alaska wildlife.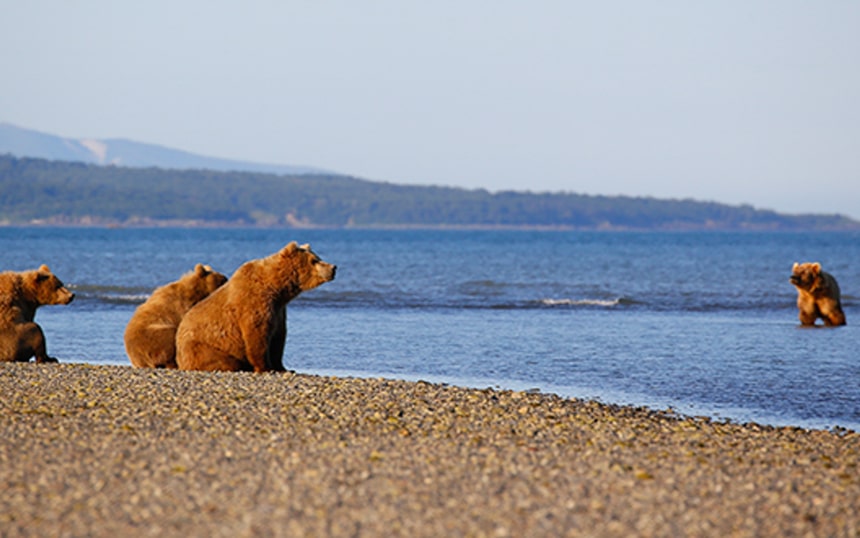 BROWN BEAR – The Great Alaskan Grizzly Encounter
The Great Alaskan Grizzly Encounter is the most remote cruise itinerary we offer in Alaska and it's all about brown bears. Aboard the 8-guest converted research vessel Ursus, you'll seek out the world's most formidable mammals, coastal grizzlies, in Katmai National Park. This wilderness coastline is inaccessible to traditional cruise ships, and the remoteness is highlighted by a scenic floatplane ride to embark and disembark the Ursus from either Homer or Kodiak. Guests often hike up to two miles daily into locations where bears are feeding on summer's bounty of spawning salmon or cubs are playing. It's truly an impressive sight, as a male brown bear can reach over 1,000 pounds and measure more than five feet standing as the season goes on. Learn more about this trip and see the incredible action in this AdventureSmith-written Great Alaskan Grizzly Encounter Review.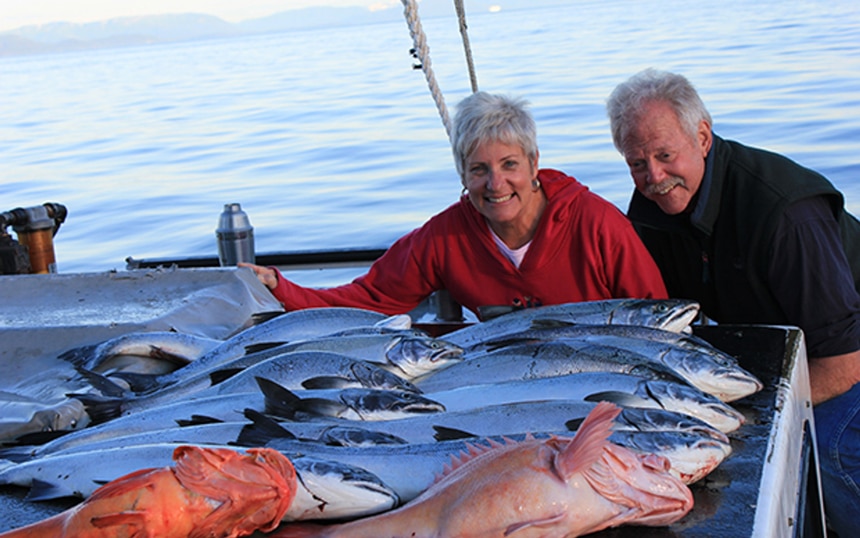 KING SALMON – Sikumi Custom Alaska Cruise
Sikumi Custom Alaska Cruise is the only cruise AdventureSmith partners with in Alaska that has such a focus on fishing. While it's important to know that this is not a fishing charter, or fishing-specific cruise, the Captain and Owner of the 8-guest Sikumi, Keegan McCarthy, noted on the phone to us: "We have a commitment to fishing. To us, it's an integral part of what Alaska is."
"Our goal is to have our clients eating fish that they caught 4 of the 6 nights of their trip."
On an average Sikumi cruise, guests will have the opportunity to fish every other day. All of Sikumi's three captains are former commercial fishermen so they bring a high level of experience. "Our goal is to have our clients eating fish that they caught 4 of the 6 nights of their trip," said Captain Keegan. On lines and plates are halibut, crab, shrimp and salmon, namely silver salmon and the coveted king salmon.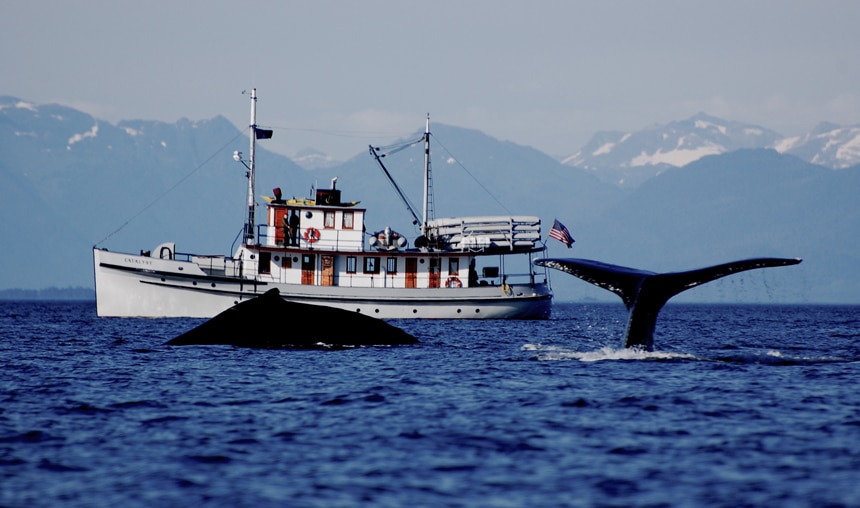 WHALES – Alaska's Eastern Passages
Alaska's Eastern Passages aboard the 12-guest Catalyst was featured in National Geographic Magazine's Top 50 Tours of a Lifetime, and whales are a big reason why. Aboard this historic yacht, whale viewing is simply more dramatic as you're nearly at eye level with the Inside Passage's famed flukes, spouts and bubble-net feeding. Kayaks carried aboard and available for excursions can make for even more intimate encounters for lucky guests. Keep your eyes extra peeled on Day 4 through Frederick Sound; it's among the migratory humpback whales' prime summer feeding grounds. Hydrophones onboard allow you to listen to their songs.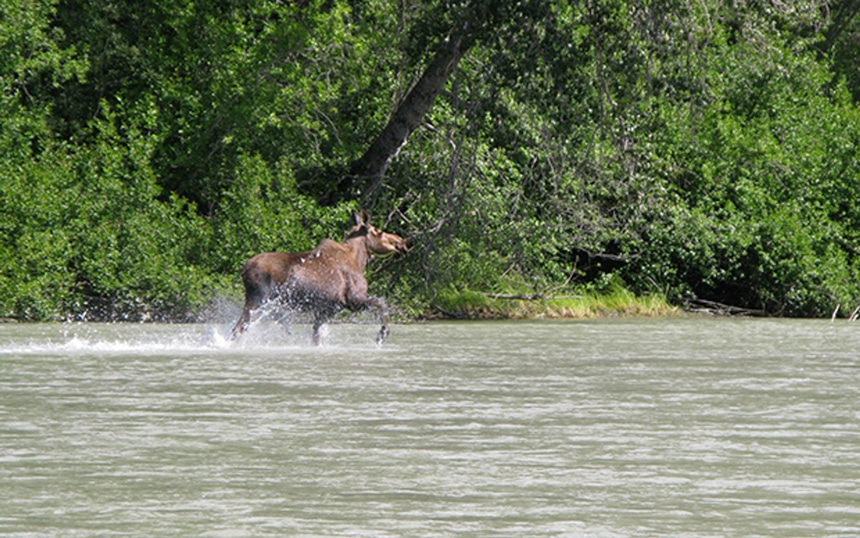 MOOSE – Sea Wolf Glacier Bay Adventure
While Glacier Bay National Park is famed for its namesake glaciers, what travelers don't know is that it's full of wildlife surprises, namely moose, a species that's frequently spotted by land but rarely spotted on cruise routes. And in Glacier Bay, those lucky to see them often spot them swimming in the water! The Sea Wolf Glacier Bay Adventure aboard the 12-guest Sea Wolf is the top cruise to experience all that Glacier Bay has to offer, as it spends most of its itinerary within the park.
Spring is the best time to spot moose and wolves in Glacier Bay.
Captain Kimber Owen is a wealth of knowledge, and notes that moose, only first spotted in Glacier Bay in the late 1960s, are now spreading quickly along the coast by Dundas Bay. Some recent insights from her: "We see moose 8 or 10 times a summer and mostly swimming from one location to another. They swim long distances and are helped along by their hollow guard hairs which help with buoyancy." Spring is the best time to spot moose and wolves in Glacier Bay as the snow in the mountains above makes the beaches wildlife highways.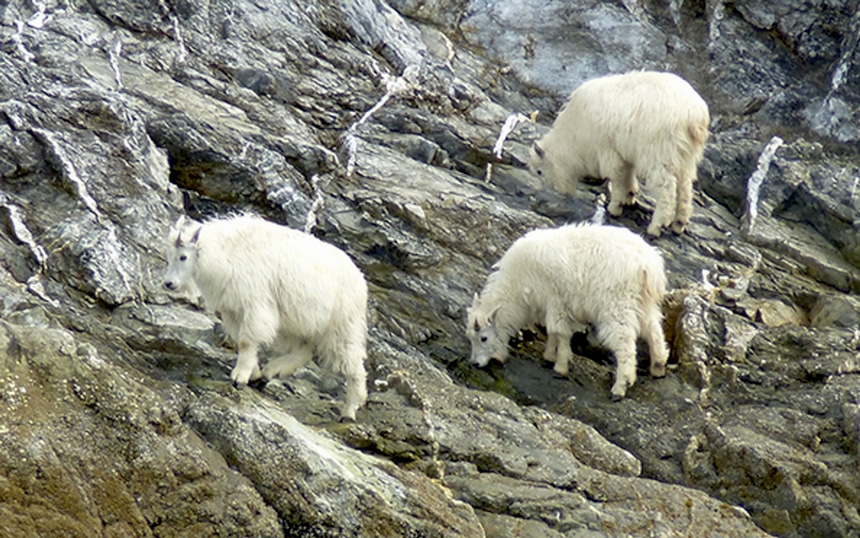 MOUNTAIN GOAT – Northern Passages & Glacier Bay
Northern Passages & Glacier Bay is an 8-day itinerary stopping in Glacier Bay National Park for hopeful sightings of climbing mountain goats. Go early season, as these white-haired rock climbers follow the disappearing snowline that by mid-June brings the animals too high to be easily seen. According to the Glacier Bay National Park Service, goats may have been among the first land animals to recolonize Glacier Bay after the ice retreated, coming over the mountains from Lynn Canal to the east. Find them most at home on the steep rocky cliffs in the mid-to-upper bay. This cruise is one of our many recommendations for going into Glacier Bay early season, so ask our experts for other options aboard other yachts and expedition ships.
Why a Small Ship = the Best Wildlife Viewing
Aboard any of our partner small ships in Alaska, wildlife viewing is simply better. Small vessels allow for more silent access and more flexibility to follow wildlife than big ship, land-based, river or air viewing. Shallow natural harbors accessible only by yachts and expedition vessels further up the wildlife quotient as guests can hop into Zodiacs, kayaks or even atop stand-up paddleboards to gain prime viewing and intimate encounters.
Ask our experts for more recommended Alaska wildlife cruises. Learn the best time to visit Alaska to view the wildlife that interests you or consider a private Alaska yacht charter to customize your wildlife viewing. We have something for every interest.
This guide to Alaska wildlife cruises was originally published in April 2017, and is updated periodically by our experts. Our most recent update occurred June 2020 and is among AdventureSmith Explorations' extensive Small Ship Cruise Guides. Visit our collection of Alaska Cruise Guides for even more resources to plan your Alaska small ship cruise.