What's the best way to choose your Alaska cruise? The experts at AdventureSmith Explorations have years of experience answering this question, and we've put together this Alaska cruise guide with small ship cruise comparison, tips, advice and information to help you select the small ship and trip that's right for your travel style. Read on for our detailed guide, discover more about Small Ship Alaska Cruises or head straight to our Alaska Cruise Finder to start your cruise search.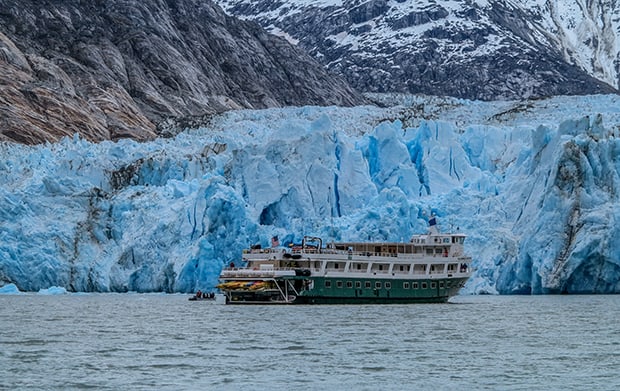 In many ways this is the golden age of small ship cruising in Alaska. There are currently more ships and trips than ever before. There are small ship cruises for every interest, ability and budget from traditional small ships visiting popular ports and wilderness areas to active adventures aboard intimate yachts crewed by local Alaskans. With all of these options it can be difficult to decipher what trip and ship are best. Contacting cruise lines directly does not always answer critical questions about how much activity there is, what the cabins are like, what is included and so on. Use these handy Alaskan cruise tips to better understand what cruising this destination has to offer and to make an informed decision when booking your Alaska small ship cruise with AdventureSmith.
Plan Ahead!
Small ship cruises in Alaska are limited, the season is short, vessels are small and spaces fill up fast. The most popular Alaska small ship cruises are often sold out 6-9 months in advance. For the best selection of Alaska cruises and available cabins, advance reservations are encouraged and often required. Planning ahead also equates to savings in many cases due to early-booking deals and being able to plan out all the nuances of ways to save on your trip: see our Small Ship Alaska Cruise Deals for more tips and ways to save.
When to Go to Alaska
The Alaska adventure cruising season begins in April and runs into October. If you are considering a land extension to Denali National Park, the season is even shorter, beginning in early June and ending in early September. For even more detail on the best time to visit Alaska view our month by month guide.
Early Season: April to Mid-June
This time of year snow is present in the mountains, driving hungry bears, which have been hibernating all winter, down to the coast for a meal. Small ships, which can sail close to the shore, take advantage of these springtime encounters. In April, the Pacific herring migration is a main attraction. Humpback whales begin to arrive and orca are prevalent, seeking out the abundant herring. Waterfalls are copious in the spring as they gush down fjord walls. While temperatures are cooler, May is the driest month along Alaska's coast. You will find the best prices of the year on Alaska cruises in April and May, and likely fewer younger passengers aboard as schools are still in session. This is the season for solitude: fewer crowds in both town and on the water, and the earliest visitors in April may even catch a glimpse of the aurora borealis.
High Season: Mid-June, July & Early August
During Alaska's high season, travelers will find the best combination of long days, good weather and abundant wildlife, including greater numbers of whales that congregate in predictable feeding pods putting on quite a show. Coastal Alaska is a temperate rainforest, and you should expect rain at any time of year here. Typically weather becomes wetter as the summer progresses. Mosquitoes are usually not a problem aboard small ship cruises, but they can be a nuisance in Alaska's interior. Bugs are at their height in July and slowly disappear by mid-August.
Autumn: Mid-August to September
Fall comes early in Alaska, and by mid-August trees are changing color, bugs are gone and days are getting shorter and wetter. Whales and wildlife are active as they prepare for a long migration or winter hibernation. The fall colors in Alaska's interior and Denali National Park can be spectacular. If you hope to see the aurora borealis (also known as northern lights), then plan your trip for April, mid-August or later. Viewing the aurora borealis aboard a small ship cruise is fairly rare, but it is possible if you travel late or very early in the season due to darker skies.
The Alaska Time Zone Explained
As you begin planning for your Alaska small ship cruise, note that Alaska observes daylight savings time, so you will find times listed in Alaska Standard Time (AKST) and Alaska Daylight Time (AKDT) depending on if daylight savings time is in effect. For reference, this equates to typically one hour behind California's "Pacific" time. The Aleutian Islands instead observe Hawaii-Aleutian Time, one hour behind the remainder of the state. A fun fact that visitors from southern latitudes often don't take into account is that daylight time truly varies in Alaska and varies greatly from "solar time." For example, the sun can set at 11:41pm in Anchorage on the summer solstice, and up north in Nome, the sunrise can be after 12:00pm noon on the winter solstice, just four hours before it sets again! View daylight hour averages and more on our Alaska climate page.
How Much Time to Spend in Alaska
Most travelers will make only one trip to Alaska in their lifetime and of course want to make the most of it. Like any wilderness-oriented trip, the longer you stay in the backcountry, the better chance you have of seeing animals. For travelers who have only one week we suggest they consider an Alaska coastal cruise. An Alaska cruise offers the most bang for your buck, the best opportunity to view whales and wildlife, and the convenience of only unpacking once while the ship does the traveling. Travelers who have two weeks should consider a cruise plus a land extension into Alaska's interior. Our most popular land trip is the Denali Backcountry Explorer. Combining a coastal cruise with Denali offers an opportunity to experience much of what Alaska offers from temperate rainforest, whales and glaciers to boreal forest, tundra, Denali, bears, moose and more. See our Alaska land tours for a full selection of trip extensions and land-based tours.
Most cruises are one week, although there are some shorter and longer options. Look for shorter cruise packages from Anchorage that are perfect to combine with a trip extension to Denali. Down in the Inside Passage, Glacier Bay National Park Adventure Cruise and Alaska Fjords & Glaciers are both 8 days, but are designed so travelers can combine them and have no overlapping explorations. Longer cruises of up to 15 days are also available as Spring and Fall positioning cruises from Seattle, Washington, or by combining cruises.
Choosing the Best Alaska Small Ship Cruise – for You
With so many choices (we offer dozens of Alaska cruises aboard 25 small ships) how does one begin to decide? We suggest that travelers first consider where they would like to cruise. Coming to our specialists with a good idea of which Alaska region you'd like to visit allows them to determine which cruises are best for you. Then you can consider and hone in on which itineraries and ships offer the level of activity, comfort and amenities that fit your travel style.
Other important considerations include your group size and ages of travelers, if you plan to also travel by land and so on. Choosing the best Alaska small ship cruise honestly comes down to enlisting the help of an Adventure Specialist, who can factor in all these considerations with ship availability and intimate cabin knowledge to really get you on board.
Alaska's Inside Passage
This is by far the most popular small ship cruise destination in Alaska. Extending 500 miles from north to south and 100 miles from east to west, the Alaskan portion of the greater Inside Passage that extends down to Washington State is immense and diverse. The area encompasses 1,000 islands, 15,000 miles of shoreline and thousands of coves and bays. At its northern reaches are the small towns of Skagway and Haines, as well as the famed Glacier Bay National Park (see our Glacier Bay cruises & tours to access this pristine park). At its southern end are Ketchikan and Misty Fjords National Monument. In between are dozens of glaciers, fjords, islands and towns including Juneau, Alaska's capital city, Tracy Arm, Misty Fjord National Monument and Sitka, the former capital of Russian America. Many towns here are accessed by the state ferry, with no major roadways reaching them, so visiting by ship is not only the best way—it's also the only way.
The Inside Passage hosts the majority of small ship cruises in Alaska, and is a destination for outdoor enthusiasts of all kinds as well as culture-seeking travelers. The coastal mountain ranges and islands make for excellent wildlife viewing and opportunities for outstanding boating, fishing, kayaking and hiking.
Active, Wilderness, Culture & Education-Focused Cruises
As options in Alaska's Inside Passage are vast, AdventureSmith Explorations partners with every style of small ship cruise. There are those designed for maximum activity and wilderness, like the Alaska's Glacier Country and Last Frontier Adventure cruises. There are more culturally focused routes such as Inside Passage Sojourn and Glacier Bay & Island Adventure that explore Alaskan history and indigenous culture via rarely visited small port towns. And there are options like Exploring Alaska's Coastal Wilderness, which has a touch of it all but with a top-tier intellectual and educational focus thanks to a rotating cast of onboard expedition leaders and guest hosts from National Geographic. Travelers wishing to immerse themselves in an issue of National Geographic can join trips with these researchers, professors, authors, photographers and explorers, each with a particular specialty.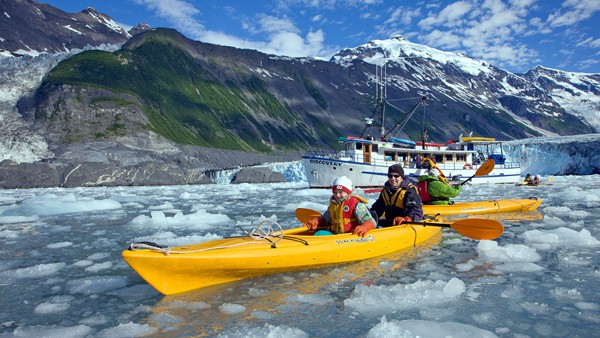 Southcentral Alaska – Prince William Sound & Katmai
Like the Inside Passage, Southcentral Alaska offers remote wilderness, but it is linked via roads and numerous communities that can serve as base camps for land adventures. In fact, this region is home to over half of Alaska's population, so cruises here embark from unique road-accessed port towns like Whittier and Homer, with the city of Anchorage being the hub for your travel. Numerous options to explore beyond your cruise include world-class fishing on the Kenai Peninsula or further exploration inland to Denali National Park. Southcentral Alaska's terrain ranges from volcanic landscapes in Katmai National Park, home to an impressive population of brown bears, to the windswept Aleutian Islands that make a 1,000-mile sweep toward Asia.
Our partner cruises in this region are aboard smaller vessels, great for charters, with unique itineraries. Southeast of Anchorage, explore Prince William Sound and the nation's second largest national forest, the Chugach, on the Prince William Sound Discovery. And farther west, along the shoreline of Katmai National Park, embark on The Great Alaskan Grizzly Encounter, a bear-focused cruise accessed by floatplane from Kodiak.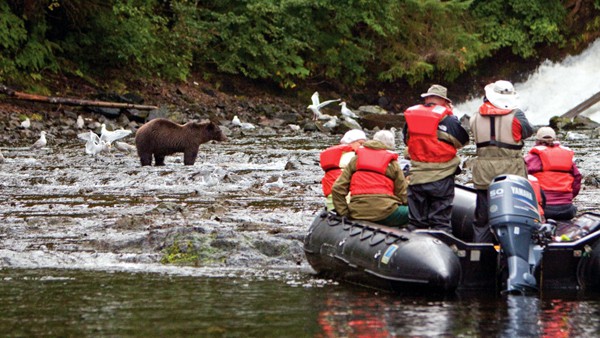 Positioning Cruises to/from Seattle
Looking to embark or disembark in Seattle? While in the Summer, small ships are busy exploring up in Alaska, each Spring you'll find them repositioning from Seattle to Alaska, and each Fall they return from Alaska to Seattle. These "positioning" cruises offer a longer expedition covering the entire Inside Passage as well as British Columbia and often the San Juan Islands. These cruises range from 14 to 15 days and often represent a significant value. For two options, see Treasures of the Inside Passage aboard National Geographic vessels and Inside Passage & Glacier Bay Wilderness Cruise.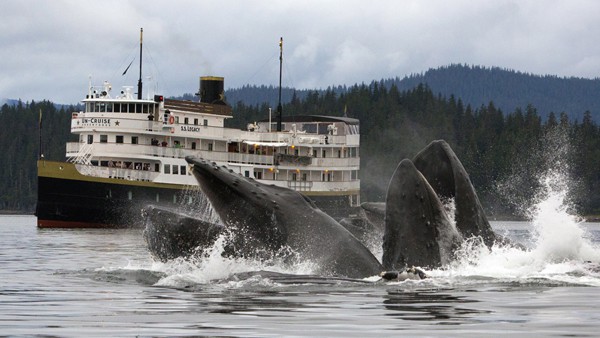 Choosing Your Alaska Small Ship
Once you have an understanding of where you want to cruise and what style of travel you seek, it is time to consider your small ship. Our Alaska small ships are handpicked and scrutinized for safety, service, itinerary and expedition leaders. We are Alaska cruise experts who have cruised aboard or personally inspected every ship on our website, and we are here to make sure you choose the correct ship for your interests, ability and budget. If you have any questions about ships please do not hesitate to call us. See Small Ship vs Big Ship – What is the Difference for further details.
Expedition Ships
Expedition ships such as the Wilderness Explorer, Wilderness Adventurer, Wilderness Discoverer, National Geographic Sea Bird & Sea Lion, National Geographic Quest & Venture, Safari Endeavour, Baranof Dream and Chichagof Dream are comfortable, sturdy vessels specially designed and built for adventure travel in remote locations. As such, this type of expedition ship often has ice-strengthened hulls and all the amenities one would expect on a small ship cruise. They offer a wide variety of accommodations and high quality of onboard service and dining. They have larger cabins, many with view windows and private bathrooms. These ships have more deck space for watching wildlife, more common areas such as a library, lecture room, salon or bar, larger galley and dining room and more convenient deck plans with cabins located close to observation decks. Expedition ships typically accommodate 60 to 100 passengers.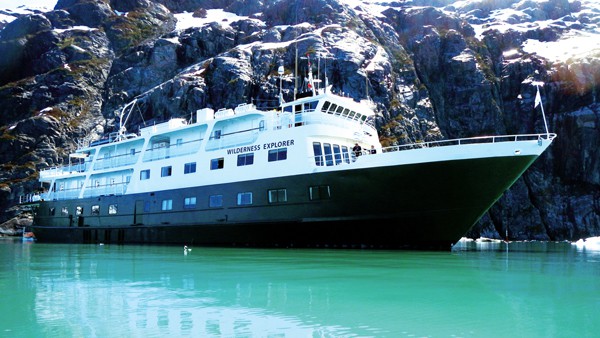 Mid-Size Cruisers
Mid-sized cruisers carrying 40 to 58 passengers offer the efficiency and intimacy of a small yacht combined with the space and amenities typically found on a small ship. Ships such as the Admiralty Dream, Alaskan Dream and Safari Explorer have larger cabins, spacious bathrooms, ample deck space, delicious cuisine, a high crew-to-passenger ratio and excellent guides. There are multiple decks where you can always find a moment to watch the sunset and enjoy the solitude.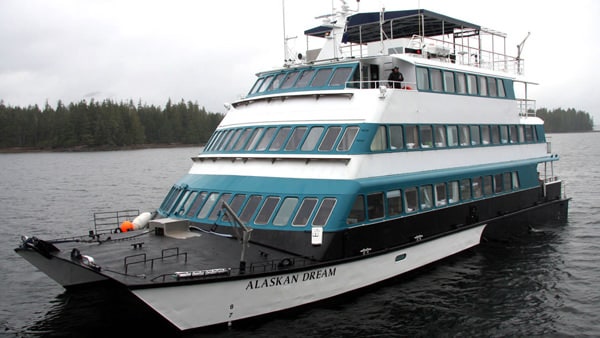 Yachts
Smaller yachts carry 8 to 22 guests and can vary considerably in price and amenities, from rustic floating base camps to luxurious yachts that will satisfy the most refined travel styles. They offer the most active and intimate experience with the most time ashore. It is easier to get 12 travelers ashore in one group than it is to ferry 100 passengers ashore in multiple groups, so smaller yachts can mean more time ashore. In general, smaller yachts often carry kayaks.
The tradeoff is that these boats are smaller. They have smaller cabins, bathrooms, dining room and deck space. Smaller boats mean there are not as many public places to go for a private moment on deck. However, travelers aboard small yachts and sailboats often comment that getting to know their fellow passengers and crew is one of the highlights of the trip.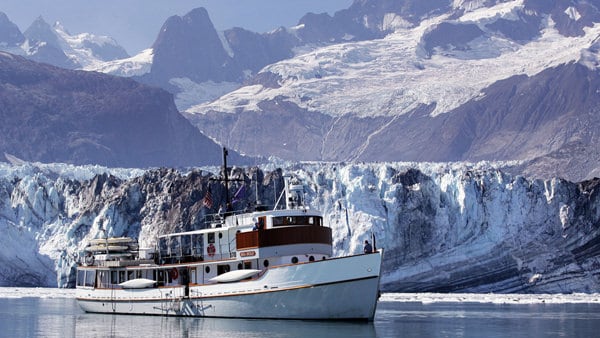 The 22-guest Safari Quest offers yachting at its best with luxurious cabins, a wine library and five-star service. The Catalyst, Westward, Discovery and Sea Wolf are family-owned-and-operated yachts that feel like floating B&Bs.
Getting to Your Alaska Cruise
There are a variety of ports where Alaska cruises begin and end including Juneau, Ketchikan, Petersburg, Sitka and Anchorage. Flights to Juneau and Anchorage are common while smaller ports of call may require a bit more planning. Travelers connecting from the west coast of North America will have little difficulty getting to Alaska and embarking their ship the same day (although a pre-cruise overnight is nice). Travelers east of the Rockies will require a pre-cruise overnight in order to safely embark their ship on time. Many major airlines offer flights to Anchorage; Alaska Airlines services Juneau and the small ports of Southeast Alaska. Flights to this region will route through Seattle, Washington.
At AdventureSmith, we are small ship cruise experts not airfare experts, and as such we do not book flights for our clients. But our Adventure Specialists will work closely with you to make sure your flights are scheduled to seamlessly coincide with your Alaska vacation. We advise travelers to purchase flights only after their Alaska trip is confirmed.
Seasickness
Seasickness is typically not an issue on most Alaska small ship cruises. Most cruises travel in the protected waters of the Inside Passage or Prince William Sound and rarely travel more than a few miles away from shore. Positioning cruises and cruises that venture close to the open water of the Gulf of Alaska are more prone to exposure to ocean swells for brief periods of their itinerary. If you are sensitive to seasickness, consult our guide on how to prevent and treat seasickness on cruises and tell your Adventure Specialist—we can advise you which ships and itineraries may have a chance to encounter these conditions.
A Word about Guides
The experience and demeanor of your Alaskan guide will have a profound impact on your overall experience. All of the small ships AdventureSmith Explorations offers in Alaska have naturalist guides on board. Todd Smith, AdventureSmith founder and president, worked as a lead naturalist aboard small ships in Alaska for 10 years and knows the importance of a good guide. The quality of onboard guides is one of the most important criteria we think about when considering which small ships we represent.
One Alaskan cruise line, Lindblad Expeditions, stands above the rest in terms of onboard programs and naturalist guides. Lindblad's partnership with National Geographic means that its naturalists and expedition leaders are experts in their field and may include professors, authors, scientists, researchers, photographers and generalist guides who have a lifetime of experience in Alaska. Lindblad cruises aboard the National Geographic Sea Bird & Sea Lion, National Geographic Quest & Venture and appeal to travelers willing to pay a premium for an intellectual and educational experience with National Geographic.
Family Cruises
While families are invited to enjoy any Alaskan small ship cruise, a number of small ships offer dedicated family departures. These Alaska family cruises offer specialized programs with guides who are experienced working with younger travelers and may include special educational programs, unique activities, family-friendly meal options and more to enhance the family cruise experience. These family cruises also offer the added benefit of traveling with other likeminded families with kids of similar age. For information about traveling with children aboard a few boats in our fleet, contact an AdventureSmith Specialist or read some recommendations in our best Alaska cruises for families blog post. Learn more about family cruises to destinations worldwide.
Alaska Charter Cruises
By chartering a ship for your family or small group, you can design your own experience of North America's premier wilderness. A full-boat charter has many advantages over an independently booked cruise including exclusivity, flexibility and savings. A full yacht charter can save 10 to 30% off regular per-person cruise rates. Typically charters are planned and contracted at least one year in advance of the cruise departure date, but as long as space is available, a small ship can still be chartered. View our Alaska Yacht Charters page for our recommended vessels in Alaska, ranging from 8 to 22 guests.
Looking for Luxury?
You don't have to trade luxury for adventure in Alaska. With our curated selection of Alaska luxury cruises you can have it all. Expect only the finest yachts and small ships with upscale amenities, larger cabins, superior service and gourmet cuisine.
Alaska Small Ship Cruise Reviews
There are now countless Alaska small ship cruise and travel review websites on the internet. Many offer honest advice, but many need to be taken with a grain of salt. Use Alaska cruise reviews as a tool but don't rush to judgment when you read a poor review. Often this is a result of a mismatch between the style of the traveler and the type of cruise they were on. The best type of Alaska cruise review is a personal referral. Ask your booking agent to put you in touch with a past client that has traveled to Alaska on a comparable trip. Reputable Alaska small ship cruise agencies will gladly refer their past clients.
Alaska Land Tours Pre & Post Cruise
AdventureSmith Explorations also offers a full selection of land- and lodge-based tours that are perfect as small ship cruise extensions or standalone trips. Independent tours can be scheduled at any time based on availability to explore Glacier Bay, visit Denali National Park or view brown bears at Katmai National Park, for example. Guided small group tours, designed with the same focus on intimate exploration as our small ship cruises, explore the Kenai Peninsula and Denali with activity options such as hiking, kayaking, rafting, flightseeing and more. For a full selection view our Alaska land tours.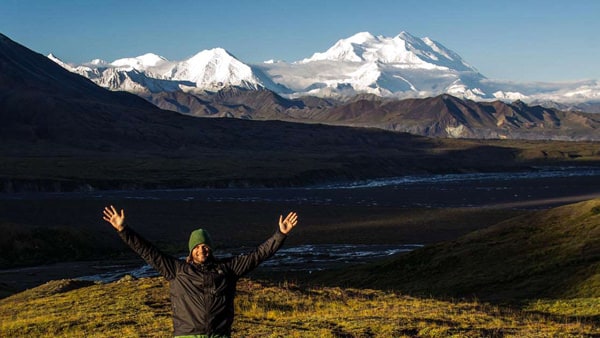 More Alaskan Cruise Tips – Get Our Expert Advice
Most important when choosing your Alaska cruise, speak with an experienced Alaska small ship expert. Our specialists are armed with the best Alaskan cruise tips from years of experience traveling and working in the region. You will not get the whole picture when booking direct, and a company with experience aboard all the ships can make all the difference.
At AdventureSmith Explorations, we are award-winning Alaska small ship cruise and Alaska travel specialists with a focus on guided small group nature tours and custom travel for individuals, couples, families and small groups. Our founder and president Todd Smith helped pioneer expedition cruising, and our staff has decades of experience guiding, arranging and selling wilderness adventures. We offer firsthand knowledge, personal service, key Alaska cruise tips, sustainable practices and unbeatable prices. Thanks for reading AdventureSmith's Alaska small ship cruise guide and comparison, and contact us with any further questions on how to choose your Alaska cruise.
This blog of Alaskan cruise tips is among AdventureSmith Explorations' extensive Small Ship Cruise Guides. Visit our collection of Alaska Cruise Guides for even more resources to plan your Alaska cruise. Note that this post was originally published in May 2015, and is updated periodically by our experts to keep it current for AdventureSmith travelers, present and future.