An Alaska family vacation can be a transformative adventure where families share wondrous experiences together. Imagine kayaking in front of a tidewater glacier or watching whales at water level from a small skiff. Introduce your kids and yourself to the incredible nature and culture of Alaska aboard a family small ship cruise.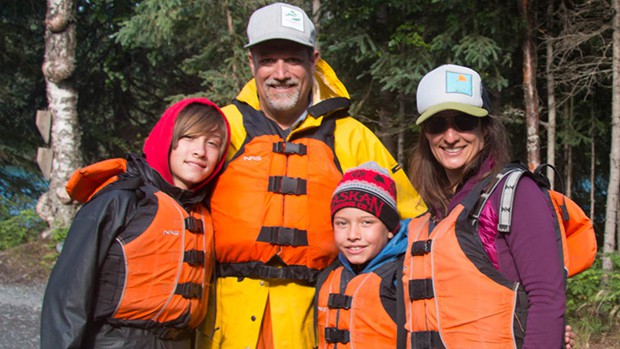 Alaska is a spectacular and easy destination for family vacations. Small ship cruises are inherently family friendly with comfortable accommodations, professional guides, a variety of activities and educational programs. AdventureSmith Explorations specializes in Alaska family small ship cruises, family charter cruises and custom vacations that offer families an intimate way to experience Alaska's fantastic history, wildlife and culture up close, away from tourist crowds.
Our Top 5 Alaska Family Small Ship Cruises
We have compiled our five favorite family-friendly Alaska small ship cruises. We know that each family is unique and family travel is very personal, so review the trips below then contact our Alaska travel experts to be matched with the Alaska trip of a lifetime.
1) Active Adventure for the Entire Family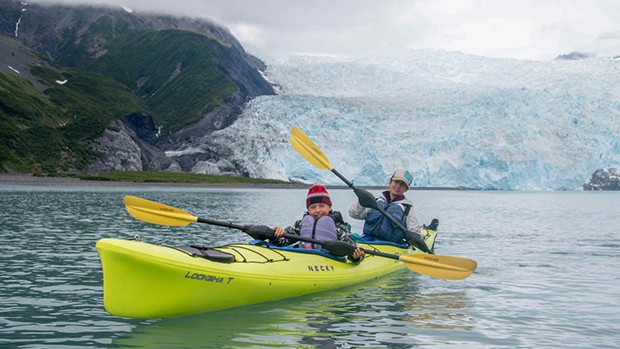 Alaska Fjords & Glaciers is an active, exciting and educational cruise aboard a range of small expedition ships carrying 22-90 guests. Every day offers a new opportunity for adventure with hiking, kayaking, skiff rides or even stand-up paddleboarding and snorkeling as a means to explore Alaska's nature and wildlife up close. A variety of activity levels from easy to challenging appeal to all generations of travelers from kids to grandparents. This cruise travels between Juneau and Ketchikan over 8 days, featuring glaciers, fjord cliffs, deep valleys, whales, Tlingit culture and Alaska's backcountry. Activities for all levels enable up-close exploration of "The Yosemite of the North," Misty Fjords National Monument.
Select themed departures feature a special kids and family theme, featuring Alaska family travel guidebook author and publisher Erin Kirkland. Families will appreciate Erin's special programming centered on kid-friendly games, parties, wildlife instruction, arts and crafts, cultural and cooking activities. Plus, children ages 8-13 save $500 per child on all departures except holidays.
2) Kids Can Live an Issue of National Geographic
Exploring Alaska's Coastal Wilderness aboard the 62-guest National Geographic Sea Lion or one of the 100-guest National Geographic Quest sister ships—Quest or Venture—is one of the finest small ship expedition cruises in Alaska. Naturalists and expedition leaders from National Geographic are professional experts in their field offering an unparalleled educational and intellectual Alaska program.
This comfortable 8-day cruise combines wilderness cruising with occasional off-vessel activities such as kayaking, skiff rides and shore walks. Families are welcome on any departure, all summer long, with kids programs always available. Special programming for kids on all departures includes photo workshops, journaling, scavenger hunts, Zodiac-driving lessons, hands-on nature and science programming and child-friendly menu options. Travelers aged 17 years old and under save $500, at double occupancy.
3) Retracing History on an Alaska Family Adventure Cruise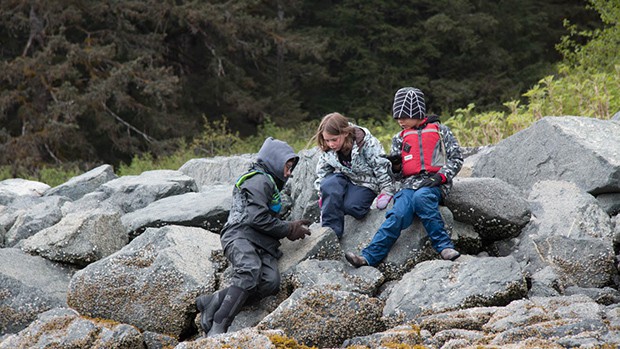 The 15-day Alaska's Inside Passage & San Juans Cruise travels between Seattle, Washington, and Juneau, Alaska. This epic Alaska family cruise explores Glacier Bay National Park, Alaska's Inside Passage and Canada's Inside Passage, with unique visits to the San Juan Islands and Olympic National Park. With every departure featuring a special Alaska Insider aboard, retrace some of the sailings of famed naturalist John Muir—though you're sure to have a much more comfortable vessel than he did in the late 1800s, as your accommodation can be aboard the 76-guest Wilderness Discoverer or 84-guest Safari Endeavour. With their shallow drafts, these spacious expedition vessels access narrow fjords and secluded inlets. Hike, kayak and whale-watch from your small ship with expert naturalist guides. Kids ages 8 to 13 save $500 each, with the exception of holiday departures.
4) Authentic Alaska for Kids
The Glacier Bay and Island Adventure Cruise offers an authentic Alaska experience through the lens of local Alaskans. The 8-day itinerary sailing aboard the 40-guest Alaskan Dream or 49-guest Baranof Dream moves at a slower pace with more time to explore the nature and culture of Alaska. Highlights include visits to Sitka, Petersburg, Juneau and Kake with a special focus on Alaskan culture and Native American history.
Family-specific departures tailor the route and programming for kids aged 7 and up, allowing them to spend an extra day within Glacier Bay National Park and sailing at a more kid-friendly pace through the park. Other added bonuses on the family departures are dog sled demonstrations and visits to the Sitka Sound Science Center, Alaska Raptor Center and the Fortress of the Bear rescue center. We recommend this cruise for families of all ages, but especially those with younger children interested in a mix of wilderness, native culture, port visits and soft adventure activities. For these family departures children ages 15 and under receive 20% off the double occupancy rate.
5) A Hands-On Alaska Family Vacation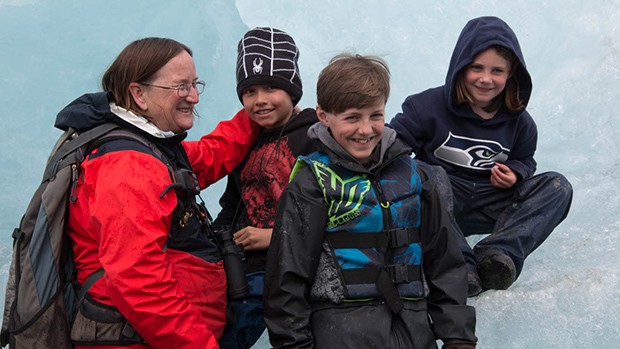 The 6-day Sea Wolf Glacier Bay Adventure spends most of its itinerary in Glacier Bay National Park, maximizing time among famous glaciers and magnificent shoreline. Families explore Alaska's outdoor classroom from the platform of the Alaskan-owned-and-operated, historic 12-guest M/V Sea Wolf. The small size of the ship plus her knowledgeable Alaskan crew create a flexible cruise that optimizes wildlife viewing and adventure opportunities. With the Sea Wolf donating time to local school groups every season, her crew of expert naturalists knows how to engage kids of all ages, helping spread the wonder and awe that is an Alaska family vacation.
Alaska Family Small Ship Cruise Advice
Keep in mind that small ships do not provide babysitting services, video games or kids clubs that separate families. Instead they provide off-vessel activities and onboard programs designed to bring families together.
Some cruises offer daily excursions such as hiking, kayaking, stand-up paddleboarding and skiff rides. Other cruises visit remote Alaskan towns on guided walks. All will include outstanding wildlife viewing opportunities. If your child chooses not to participate in an activity, then an adult will need to stay on board with them, so it is important to choose a cruise that is suitable to your interests and ability levels and appropriate to the age level of your children. If you are an adventurous family interested in spending quality time together experiencing Alaska up close, then we highly recommend an Alaska family small ship cruise.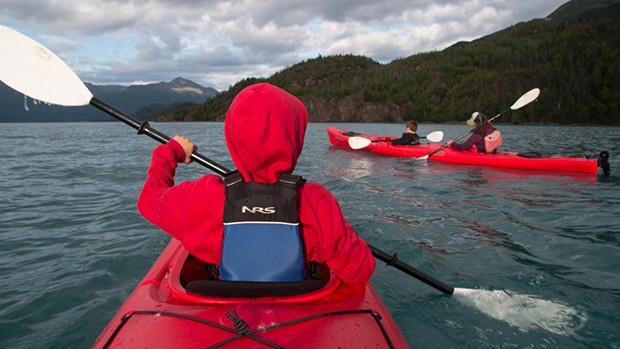 Alaska Family Charter Cruises
Any of our Alaska small ships are available for charter. Charter cruises can be a great option for family vacations, family reunions and multigenerational family groups. A private ship charter offers your family exclusivity, flexibility and savings. Smaller charter yachts in Alaska accommodate between 8 and 22 guests. For more information, read our comprehensive guide to chartering a small ship in Alaska. A family charter cruise will offer a more intimate experience and additional flexibility to craft the meals, itinerary and activities to suit your family's interest and abilities. When considering a charter, plan at least 9-12 months or more in advance.
Alaska for Kids by Land
Extend your Alaska family small ship cruise with a private tour to Denali National Park, Katmai National Park or Kenai Fjords National Park, or create your own custom Alaska adventure. We offer a number of family-oriented land tours such as the 7-day Alaska Wildland Collection or 8-day Ultimate Alaska Adventure, each with a special youth rate for ages 7 to 18; and the 6- to 10-day Camp Denali & North Face Lodge Adventure, with child rates for travelers 11 years and under. Alaska family land tours add unique activities such as a wildlife safari through Denali National Park, riding the Alaska Railroad, canoeing, wild berry picking, fishing, mountain biking, river rafting, gold panning and flightseeing.
Let AdventureSmith Explorations show you more about Alaska for kids and families. Our Alaska travel experts have extensive experience in this region and can match your family with the perfect vacation for your interests, abilities and budget. Contact an AdventureSmith expert today at 1-877-620-2875.
This blog post on the best Alaska family cruises was originally published in August 2016 and is updated periodically by our experts. Our most recent update occurred October 2019.