Selecting from the various overnight ships that go to Alaska can be a daunting task. How best to experience Alaska's icy glaciers, incredible wildlife, unique flora and fauna, and magical coastline? Go small.
In this Alaska cruise ship comparison, learn why we recommend small ships to Alaska and get details on deck plans and cabin configurations. Narrow your options by using our insights from experience cruising aboard these small ships to Alaska. Then contact our Alaska experts to hone in on the best small ship to Alaska for you.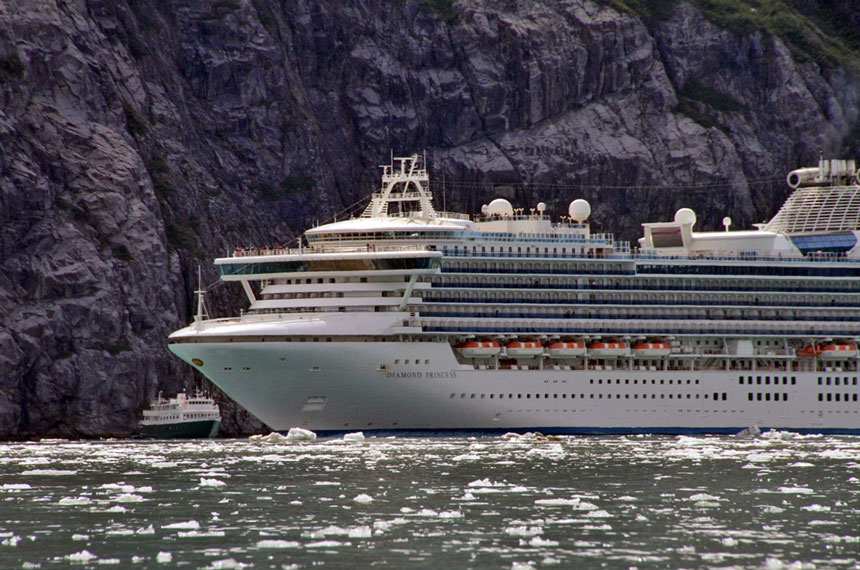 Why Take a Small Ship to Alaska
Your experience will be strongly influenced by the Alaska cruise ship that you select. We therefore strongly believe that the best cruise ship to Alaska is small.
Small ships to Alaska, typically under 100 guests, focus on immersive, off-ship activities. Think bear viewing, hiking, paddling and glacier viewing up close in small inflatable watercraft. A naturalist guide accompanies you, providing educational insights. And cultural connections with Alaska natives are forged in places that cannot accommodate massive tourist groups.
Small ships to Alaska offer a flexible schedule, capitalizing on wildlife encounters and the collective whims of the group. Fellow travelers become friends. The atmosphere is casual and the all-inclusive booking encourages everyone on board to participate, while making the experience equitable and carefree. For more details, read our primer Small Ship vs Big Ship.
Types of Small Ships to Alaska
What is the best Alaska cruise ship for you? It will depend on your priorities. Is your focus on education? Stability? Accessibility? Cost? Luxury? Native Alaskan Culture? Family-friendly options? Fast or slow cruising? Activity level? Do you want the best food, or an Alaska fishing cruise ship, an Alaska catamaran, or an Alaskan-owned-and-operated ship? Our small ships to Alaska often combine various interests, and our experts can help you hone in on the best small ship to Alaska based on your priorities.
Size is a good starting point in selecting your Alaska cruise ship that's small. Below we describe three categories of small ships to Alaska, to aid in your Alaska cruise ship comparison. These categories are often synonymous with size, but not always, thus we also offer the option to sort our small ships to Alaska by the three most common sizes here.
Find small ships to Alaska by size:
Expedition Ships
Expedition-style ships are comfortable, sturdy vessels specially designed and built for adventure travel in remote locations. As such, this type of small ship to Alaska often has ice-strengthened hulls and all the amenities one would expect on a small ship cruise.
An expedition-style cruise ship in Alaska offers a wide variety of accommodations and high quality of onboard service and dining. These Alaskan cruise ships have larger cabins, many with view windows and private bathrooms. These small ships to Alaska have more deck space for watching wildlife, more common areas such as a library, lecture room, salon or bar, larger galley and dining room and more convenient deck plans with cabins located close to observation decks.
Examples of Alaska Expedition Ships: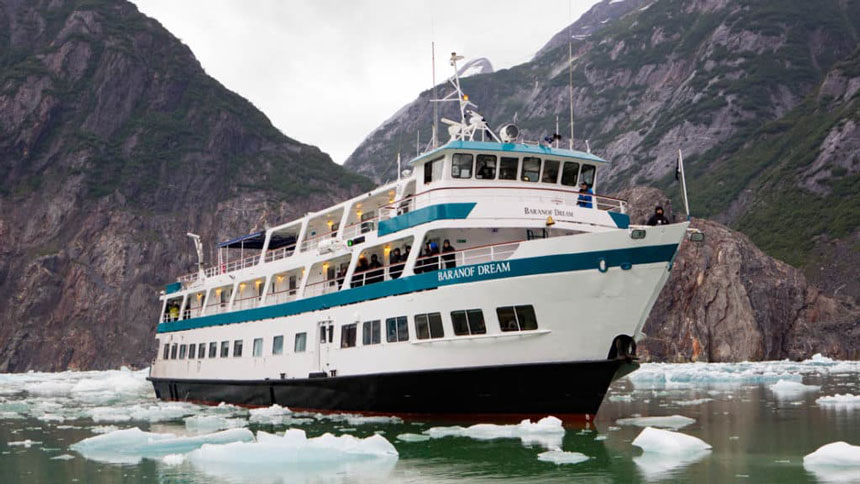 Mid-Size Cruisers
The best mid-sized cruise ships to Alaska offer the space and amenities of an expedition ship with the efficiency and intimacy of Alaska motor yachts. Our selection includes an Alaska catamaran and features ships with larger cabins, spacious bathrooms, ample deck space, delicious cuisine, a high crew-to-passenger ratio and excellent guides. These Alaska cruise medium-sized ships also offer multiple decks where you can always find a moment to watch the sunset and enjoy the solitude.
Examples of Alaska Mid-Size Cruisers: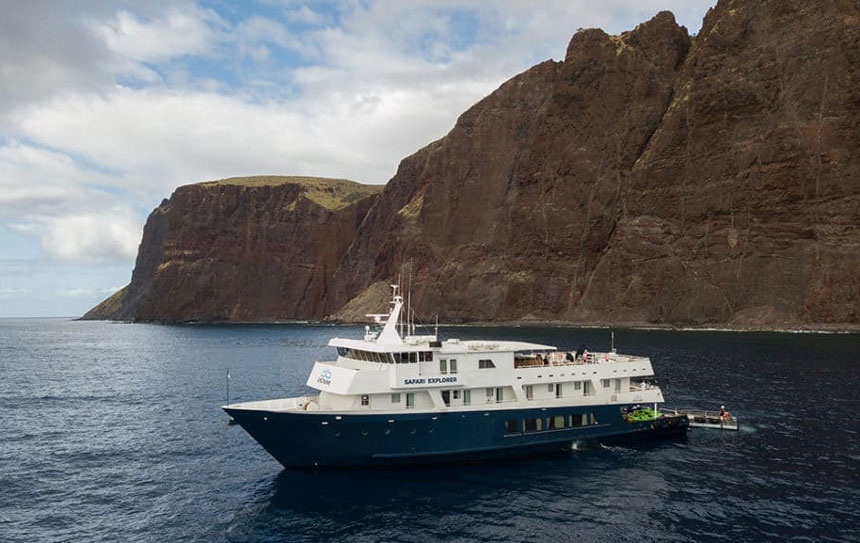 Alaska Motor Yachts
Alaska motor yachts carry 8 to 22 guests and can vary considerably in price and amenities, from rustic floating B&Bs to luxurious Alaska motor yachts that will satisfy the most refined travel styles. They offer the most active and intimate experience with the most time ashore. It is easier to get 12 travelers ashore in one group than it is to ferry 100 passengers ashore in multiple groups, so smaller yachts can mean more time ashore. In general, smaller Alaska motor yachts often carry kayaks.
The tradeoff is that these cruise ships in Alaska are smaller. They have smaller cabins, bathrooms, dining room and deck space. Small Alaskan cruise ships mean there are not as many public places to go for a private moment on deck. However, travelers aboard small Alaska motor yachts and sailboats often comment that getting to know their fellow passengers and crew is one of the highlights of the trip.
Examples of Alaska Motor Yachts:
Special Interest Small Ships to Alaska
Another method of Alaska cruise ship comparison is considering the specialties of each ship. Following are some of our recommendations for the best-rated Alaska cruise ships based on interest.
Alaska Fishing Cruise Ships
While our small ships to Alaska all focus on active exploration of the natural world, some fall into the category of an Alaska fishing cruise ship. These Alaska cruise ships are equipped with gear and knowledgeable captains who can provide opportunities to fish along the way, without making it the focus of the trip. Often your Alaskan cruise ship's chef will use your fresh catch as a center dish for dinner.
Examples of an Alaska Fishing Cruise Ship: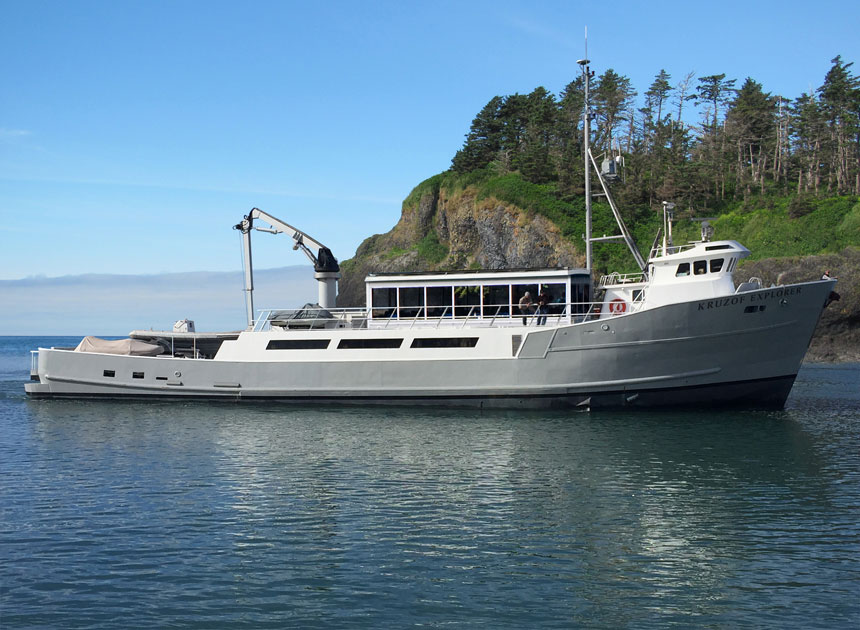 Northbound Boats From Seattle to Alaska
Many Alaska travelers seek to cruise aboard a boat from Seattle to Alaska, covering the Canadian Inside Passage along the way. These small Alaskan cruise ships typically sail in the spring, when the captain repositions the boat from Seattle to Alaska in order to start summer sailings in the Last Frontier. Look to longer itineraries with early-season departures to find these boats, such as the Inside Passage & Glacier Bay Wilderness Cruise or Treasures of the Inside Passage: Alaska & British Columbia.
Because each boat from Seattle to Alaska typically only cruises northbound once per season, be sure to book early. Contact us to find your boat from Seattle to Alaska, as the options will change year to year.
Examples of a Boat From Seattle to Alaska:
Luxury Small Ships to Alaska
Only the best small ships to Alaska are featured in our selection of luxury alaska cruises. These cruise ships in Alaska feature gourmet food, state-of-the-art design and technology, topnotch naturalist guides, veteran staff and upscale amenities. Comforts may include memory foam mattresses, private balconies, heated floors, hot tubs, expansive deck space, five-star cuisine, included drinks, charming historic ambiance or even a captain that reads bedtime stories.
Examples of Luxury Small Ships to Alaska: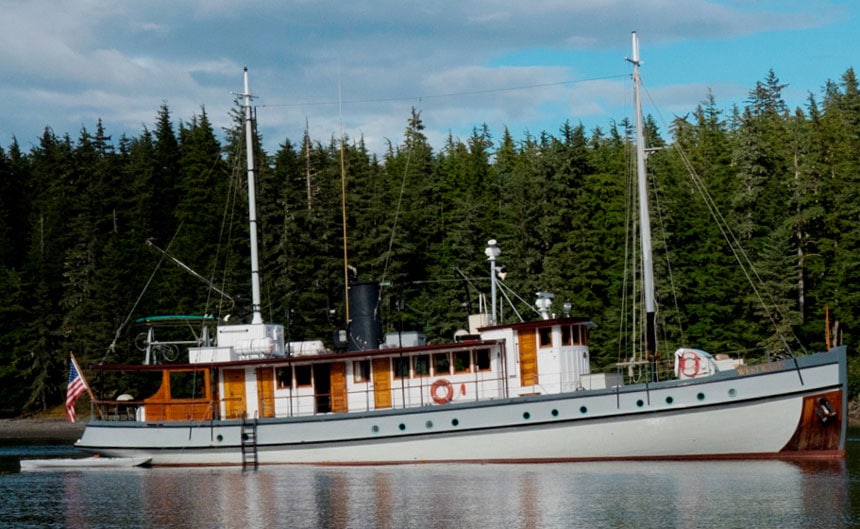 Best Small Ships to Alaska for Charter
Some of the best small ships to Alaska are available for charter (a select few are charter-only options). Consider one of our Alaska yacht charters if you want a customized and exclusive experience with your own group. With many small ships to Alaska ranging from 8-12 guests, the destination is ideal for families and small groups of friends.
Examples of Charter Ships in Alaska: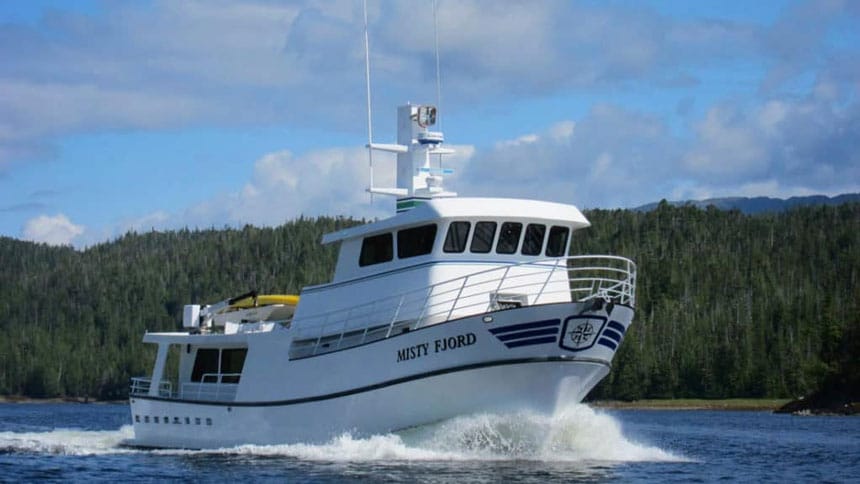 Choosing a Cabin on Your Small Ship to Alaska
With regards to cabins, we're often asked "What side of the ship is best for an Alaska cruise?" On our small ships to Alaska, your cabin side won't matter, as you won't spend much time there. Instead, plan to be out exploring, taking in the scenery on observation decks and sharing stories with fellow travelers in cozy common areas.
That said, there are a few considerations when choosing a cabin on your small ship to Alaska. Light sleepers should select cabins away from the engines and common areas. Photographers may wish to be close to observation decks. Travelers with mobility concerns can seek out cabins on a lower deck or near an elevator. Families seeing Alaska with kids may desire cabins that open to a protected indoor hallway (contact us for specific recommendations on the best Alaska cruise ship for families). And couples should consider a cabin with a private balcony, for special moments.
MORE ALASKA RESOURCES:
Alaska Cruise Guide
Small Ship Alaska Cruises
Alaska Yacht Charters
Luxury Alaska Cruises
Best Alaska Cruises for Families
Glacier Bay Cruises & Tours
Alaska Inside Passage Cruises
Small Alaskan Cruise Lines
Alaska Small Ship Cruise Deals
Small Ship Alaska Cruise Reviews
Best Time to Visit Alaska
Alaska Cruise Ship Comparison
Having taken in our above considerations, you are well prepared to select the best small ship to Alaska. Continue your Alaska cruise ship comparison by clicking on the ships below for detailed information, reviews, cabin descriptions, photo galleries and deck plans.
Our experts have firsthand experience aboard all the below small ships to Alaska. Contact us for a free consultation with additional insider advice to help narrow down the options. Then let us help you book the best small ship to Alaska for you.