Snorkeling in Alaska?! Yes. Aboard the Wilderness fleet of small ships to Alaska, you might be able to take the cold plunge that few have the opportunity to do. AdventureSmith Explorations Adventure Specialist Aaron Gaines and I both have snorkeled in Alaska aboard the Wilderness Discoverer. Here are our Alaska snorkel tales: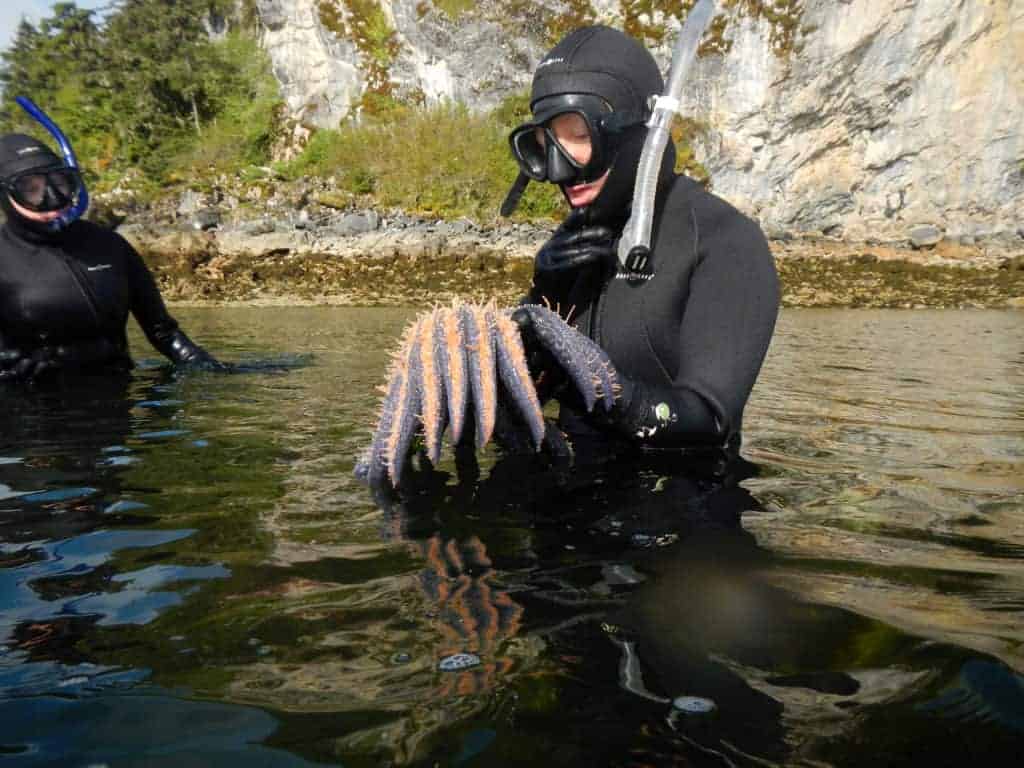 Aaron's Alaska Snorkeling Experience – Favorite Day of the Trip!
A wonderful highlight of the journey was the opportunity to snorkel. I admit that I'd signed up just for the novelty, expecting little. However as soon as I dipped my face into the waters of Saginaw Bay, I was amazed at the volume and diversity of living things. Every inch of the sea floor seemed to be covered in life, including brightly-colored starfish, huge sunflower starfish, hermit crabs, giant clams, sea anemones of many shapes, barnacles, sea lettuce, bull kelp, crabs, mussels and sea urchins. 60 minutes was about all we could handle of the chilly water (even in my thick wetsuit, booties, gloves and hood), but I wish I could've stayed in all day.
Every inch of the sea floor seemed to be covered in life, including brightly-colored starfish, huge sunflower starfish, hermit crabs, giant clams, sea lettuce…
A dip in the Sun Deck's hot tub and a cup of tea warmed me up in no time. I then took advantage of the sunny blue-sky morning to do some stand-up paddleboarding (SUP) around the cove. A long afternoon and evening of whale-watching in Frederick Sound followed, and included at least 10 humpbacks and a gorgeous clamshell-hued sunset. A dinner of halibut and a comical game of charades capped off my favorite day of the trip.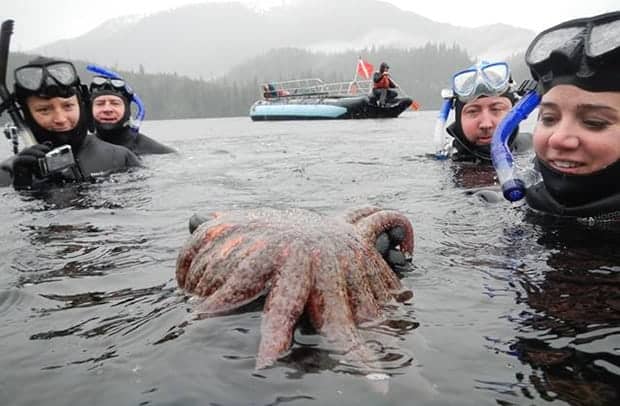 Lis's Alaska Snorkel – Less Fortune, Lots of Onboard Fame
My adventure was documented by our guide who took this shot of me and my family (I'm holding the camera to the left of the starfish). Gotta love our faces! While our snorkeling group didn't see a ton of action under the sea due to lower visibility during my trip, the whole process was so fun and memorable for us as it involved picking up our wetsuits from down in the crew's gear locker, proceeding to squeeze ourselves into these hefty wetsuits, taking a special zodiac cruise out with just a few other guests to sheltered cove and of course the memorable first shock of the cold water. You warm up pretty quick once the water fills your suit and heats up. I explored for about 30 minutes or so seeing starfish and an array of underwater plants and then hopped back aboard the zodiac as I was pretty chilled. The post-snorkel hot tub was a warm welcome, as was the fame we all had around the ship for being adventurous enough to snorkel in Alaska!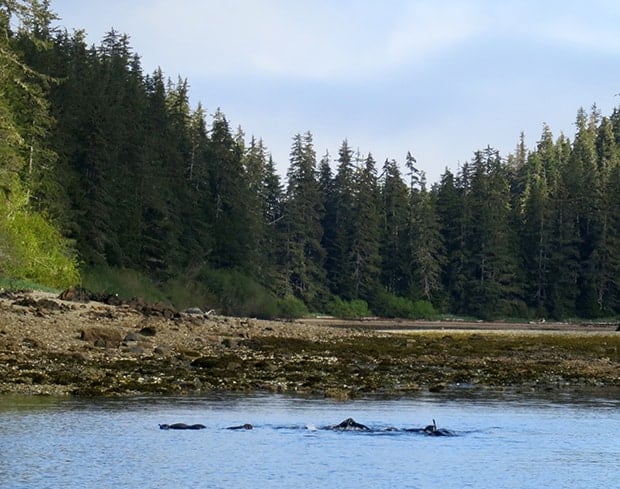 Snorkeling is available for an added cost aboard select itineraries on the 60-guest Wilderness Adventurer, 76-guest Wilderness Discoverer and 76-guest Wilderness Explorer, and is weather/route dependent. If you are interested, ask your Adventure Specialist if this is available on your cruise. Read Aaron & Lis's full trip reports from their Alaska small ship cruises aboard the Wilderness Discoverer.
This blog detailing snorkeling in Alaska is among AdventureSmith Explorations' extensive Small Ship Cruise Guides. Visit our collection of Alaska Cruise Guides for even more resources to plan your small ship Alaska cruise.