With the cautious Alaska 2021 small ship cruise season coming to an end, many are looking to small ship Alaska cruises in 2022 with hope for a return to unbridled adventure. The 2021 season was busy due to re-bookings and pent up demand for domestic wilderness travel. And with this year's reports of fewer ships cruising in Alaska and revived wildlife, we anticipate that the 2022 season will be even more in demand. Indeed, many 2022 reservations are already on the books.
With this in mind, we bring you AdventureSmith Explorations' annual roundup of new Alaska small ship cruises—including the best Alaska cruise for 2022 and what's on sale. Read this guide, then grab your calendar and contact an Adventure Specialist to reserve your space aboard one of our small ship Alaska cruises in 2022.

New Small Ship Alaska Cruises 2022
In 2022, a set of 13-, 14- and 17-day itineraries debut aboard the new expedition ship Sylvia Earle. Get aboard her limited inaugural Alaska itineraries to experience the 49th state in a different way. To learn more about the ship, read our Sylvia Earle ship review.
Two 13-day routes on the Alaska Odyssey cruise between Vancouver, Canada, and Sitka, Alaska—each with many unique stops. The northbound departure features 3 onshore options to choose from in Haines, Alaska, as well as guided time in Vancouver. The southbound departure stops on the island of Haida Gwaii for 3 special days with local Haida guides who mix culture and history through storytelling, village walks, nature hikes, dance performances and wildlife-viewing excursions.
The final Alaska Odyssey departure offers a one-of-a-kind route, cruising much of the Gulf of Alaska over 14 days. Sail from Vancouver, Canada, all the way to Anchorage, Alaska, on one of the most comprehensive Alaska small ship cruise routes available. Experience Canada's Inside Passage, Alaska's Inside Passage, North America's largest tidewater glacier—Hubbard Glacier—and Prince William Sound before disembarking in Seward, Alaska, with a convenient overland transfer to end in Alaska's travel hub: Anchorage.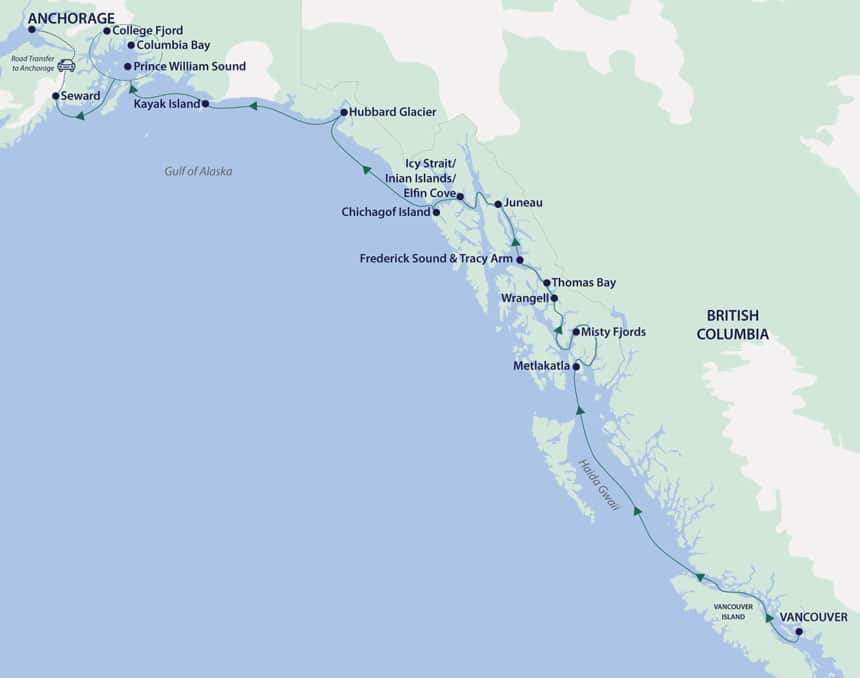 From Anchorage many travel options exist, the most common being a trip to Denali National Park (read our primer on How to Visit Denali National Park). Other options include trips to Kenai and Katmai National Parks, where fjords, glaciers and wildlife such as grizzly bears are plentiful. Our experts can help you create a custom travel itinerary to seamlessly link these experiences.
However, those who want to say they've cruised the entire length of Alaska can continue on aboard the Sylvia Earle for her Aleutian Islands Odyssey. This 17-day epic adventure begins in Anchorage, Alaska, disembarks in Russia's famed Kamchatka region and ends with a charter flight to Tokyo, Japan. Cruise the Ring of Fire and visit often-unseen islands with active volcanoes, rugged tundra, incredible biodiversity, lasting cultures and WWII history.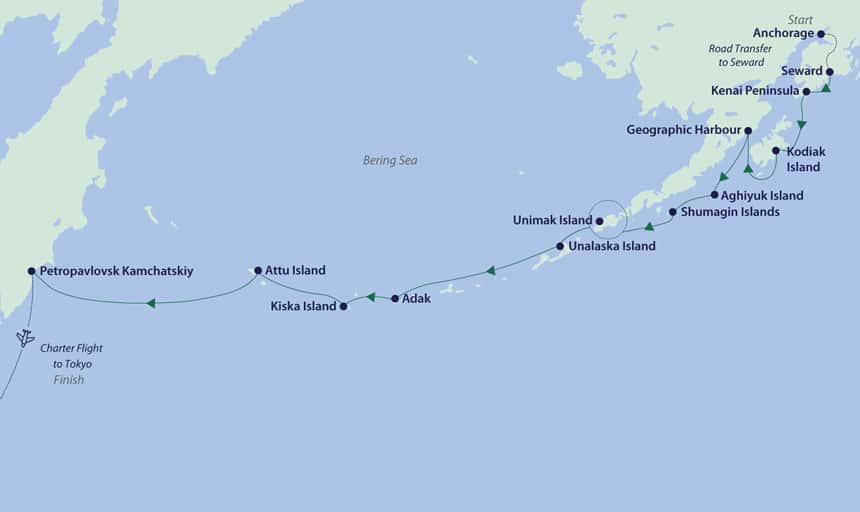 Each itinerary is only offered on one departure, so be sure to contact us to learn more and secure your space.
Best Alaska Cruise 2022: Wild & Woolly
Also new in 2022, the 8-day Wild & Woolly Alaska Cruise invites travelers to get active. Venture out on all-day kayak and bushwhack tours. Enjoy hiking, birding, stand-up paddleboarding, snorkeling and skiff tours. Each day is packed with options, from sun up to sun down.
This itinerary uniquely offers the chance to bike (on Chichagof Island), as well as exclusive permitted access to the "Outback" of Glacier Bay National Park—a guide favorite. Rounding out the experience is a shoreline campfire, as well as a visit with a local family that reveals how people live and work in the wilds of Alaska.
The 86-guest Wilderness Legacy hosts this new adventure, conveniently cruising round-trip from Juneau. Between activities, guests can enjoy her dance floor, saloon, yoga mats, workout equipment, dual hot tubs and ample deck space for spotting whales and other wildlife.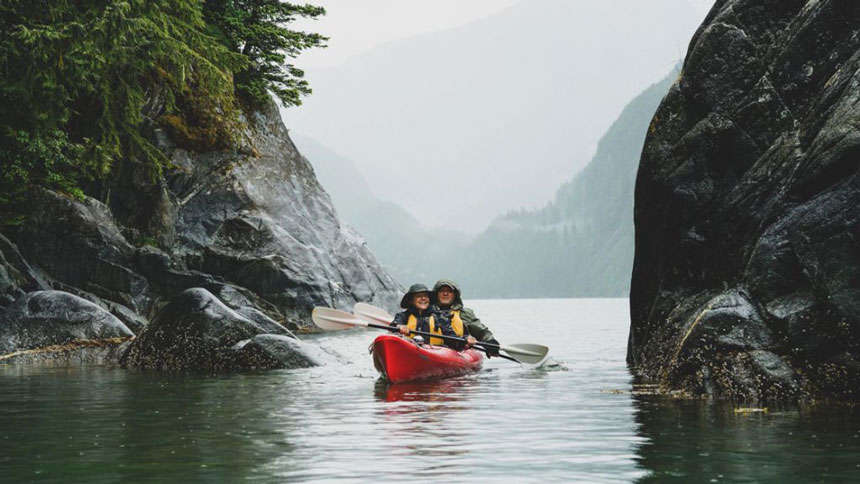 What is the best Alaska cruise in 2022 for you? Every Alaska traveler has different goals and priorities. Maybe you want an Alaska cruise with kids? The smallest ship? A departure during the best time to visit Alaska? The best naturalist guides? Or a focused Glacier Bay National Park cruise? Let our experts help you find your ideal trip based on interests, budget and timeline.
Board a Polar Expedition Ship in AK 2022
Want a ship designed by explorers? Something modern, stable and adventure-ready? Is education a priority? The brand new Sylvia Earle expedition ship carries an average of 132 guests with a focus on comfort and off-ship exploration. Like her namesake, the Sylvia Earle centers around conservation and examination of the natural world. And with her patented Ulstein X-BOW®, she smoothly and efficiently maneuvers through any open ocean swells.
Polar expedition ships often only operate in the Arctic and Antarctica. They're purpose-built for getting guests off the ship exploring. Aurora Expeditions, the company that commissioned the Sylvia Earle, is known for their efficient ship-to-shore operations and their elevated level of activity offerings. We've been aboard the twin ship Greg Mortimer and can attest to this spotlight on activity.
An expedition ship also offers Alaska travelers onboard amenities not found on most ships: a gym, sauna, wellness center and spa, multiple bars, a library, a pool and various observation decks (both indoor and outdoor)—including a one-of-a-kind hydraulic wing viewing platform. The majority of cabins also feature a private balcony, which is rare for small ships in Alaska.
Board this expedition ship in Alaska on her Alaska Odyssey or Aleutian Islands Odyssey to experience Alaska in a different way—aboard a ship with an activity-based locker room and passionate outdoor guides. Go diving, snorkeling, kayaking and stand-up paddleboarding. And return on board for thoughtful lectures and Australian hospitality.
Deals: Small Ship Alaska Cruises 2022
Book early to save on your small ship Alaska cruise for 2022, using our Alaska small ship cruise deals. Be rewarded (and avoid missing out) by booking early, plus enjoy special deals for groups and solo travelers, while supplies last. Our Alaska specialists offer the most up-to-date incentives available and will keep you apprised of all opportunities to save on your 2022 Alaska small ship cruise. Due to our longstanding business relationships and volume-driven buying power, you will never pay more for your Alaska small ship cruise.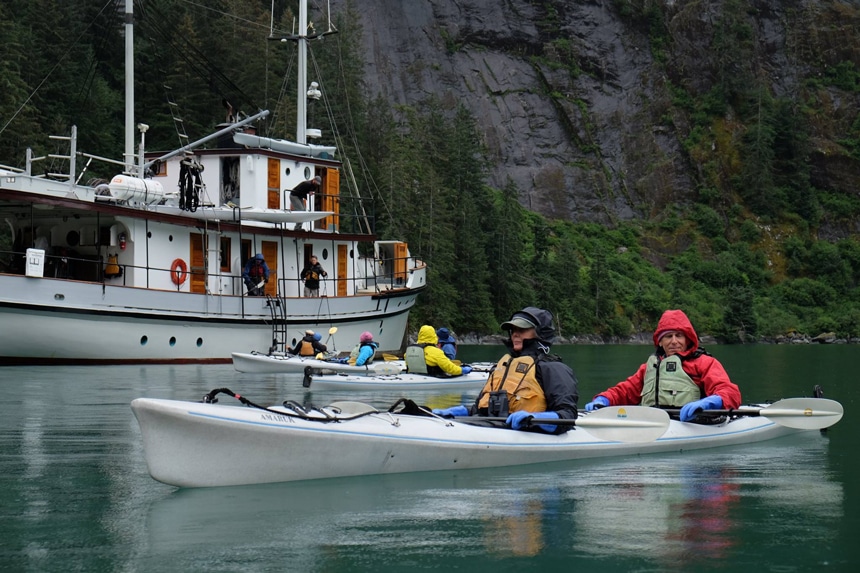 Book Your 2022 Alaska Cruise or Charter Before It's Gone
Small ship cruises and especially private Alaska yacht charters are increasing in popularity as travelers seek smaller, more exclusive experiences aboard Alaska small ships. For 2022 Alaska small ship cruises, availability is waning faster than usual due to re-accommodations of some 2020 and 2021 travelers, coupled with a growing desire to travel close to home.
Get your small ship Alaska cruise in 2022 confirmed by contacting an Adventure Specialist to be matched with the best Alaska cruise in 2022 for your interests, timing and budget.
MORE ALASKA RESOURCES:
Alaska Cruise Guide
How to Choose Your Alaska Cruise
Small Ship Alaska Cruises
Alaska Yacht Charters
Luxury Alaska Cruises
Best Alaska Cruises for Families
Glacier Bay Cruises & Tours
Alaska Small Ship Cruise Deals
Small Ship Alaska Cruise Reviews
Best Time to Visit Alaska