We've reviewed what's new in small ship explorations of the Last Frontier to bring you AdventureSmith Explorations' annual roundup of new Alaska small ship cruises—including the best Alaska cruise for 2021 and what's on sale. Read this guide, then grab your calendar and ready your friends and family to make Alaska a priority in 2021.
New Small Ship Alaska Cruises 2021
The 6-day North to True Alaska Expedition Cruise debuts in 2021, offering a compact itinerary full of adventure. This small ship Alaska cruise in 2021 uniquely visits the Klondike gold rush town of Skagway, including a special ride into Canada on the White Pass and Yukon Route railroad. Choose from a selection of ships ranging in size from 10 to 76 guests to explore in comfort.
12-guest Kruzof Explorer offers five new itineraries in 2021, in addition to her customizable private charter cruise option:
In 2021, a new combo trip, Eastern Fjords & Glacier Bay Cruise—Ultimate Expedition, is available to Alaska adventure cruise travelers who combine two popular itineraries: Alaska Fjords & Glaciers and Glacier Bay National Park Adventure Cruise. Travel back to back between Juneau and Sitka in either direction for a comprehensive 15-day small ship Alaska cruise in 2021 with no repeated landing sites. Visit every highlight of an Alaska Inside Passage cruise, including two full days in Glacier Bay National Park and a visit to the culture-rich Wrangell, one of the oldest towns in Alaska.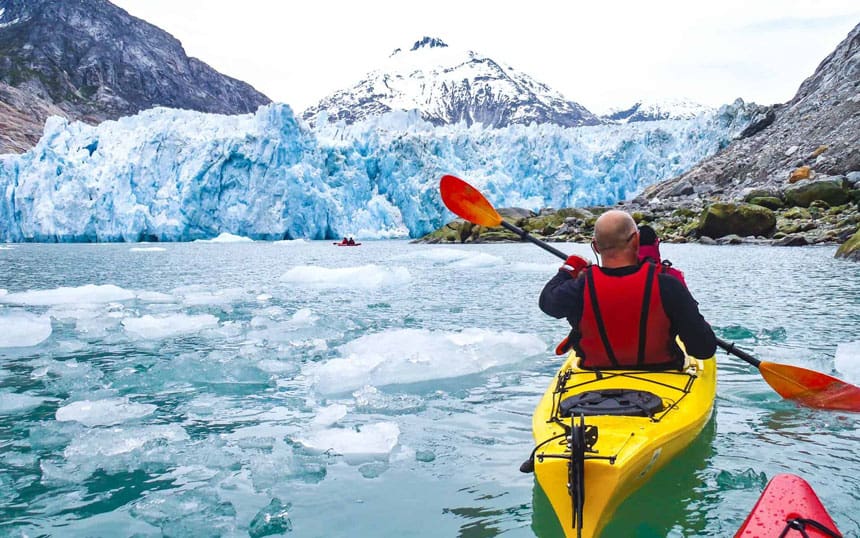 Best Alaska Cruise 2021:
Exploring Alaska's Coastal Wilderness
This long-running Alaska small ship cruise offers top naturalist guides, a focus on intellectual explorations and some of the newest small ships cruising in Alaska, plus offers more departures in 2021 than most other Alaska small ship cruises. On the 8-day Exploring Alaska's Coastal Wilderness expedition, AdventureSmith's best Alaska cruise in 2021, travel between Sitka and Juneau with a day in Glacier Bay National Park, plus optional flightseeing out of the not-often-visited Petersburg.
Home base is one of the 100-guest sister ships National Geographic Venture or National Geographic Quest, fully equipped with expedition technology including a remotely operated vehicle (ROV), hydrophone, Splash-Cam, underwater video camera and video microscope. Plus, all National Geographic small ships now comprise the first self-disinfecting fleet in the industry via a chemical-free, photocatalytic cleaner that works when illuminated, breaking down unwanted microbes such as bacteria, viruses, mold and airborne allergens.
What is the best Alaska cruise in 2021 for you? Every Alaska traveler has different goals and priorities. Maybe you want the smallest ship? The best naturalist guides? The most time in the park on a Glacier Bay cruise? Or a small ship Alaska cruise that's focused on outdoor activities, or native Alaskan culture. Let our experts help you find your ideal trip based around your interests, budget and timeline.
Enjoy Private Access to Hobart Bay on Your 2021 Alaska Cruise
In 2021, the 8-day Last Frontier Adventure gets a small makeover to introduce the only 2021 option to visit the beautiful wilderness of Hobart Bay. While many small ships travel through Stephens Passage, only two will stop in this pristine bay between the popular Frederick Sound and Endicott Arm. Through your Alaska small ship's exclusive agreement with a local Alaska Native organization, experience private access to this visitor site with guided hikes, kayaking, skiff rides, or simply sipping your favorite beverage and enjoying Alaskan snacks near a campfire. A variety of marine life and birds frequent this area, as well as black bears and other terrestrial animals.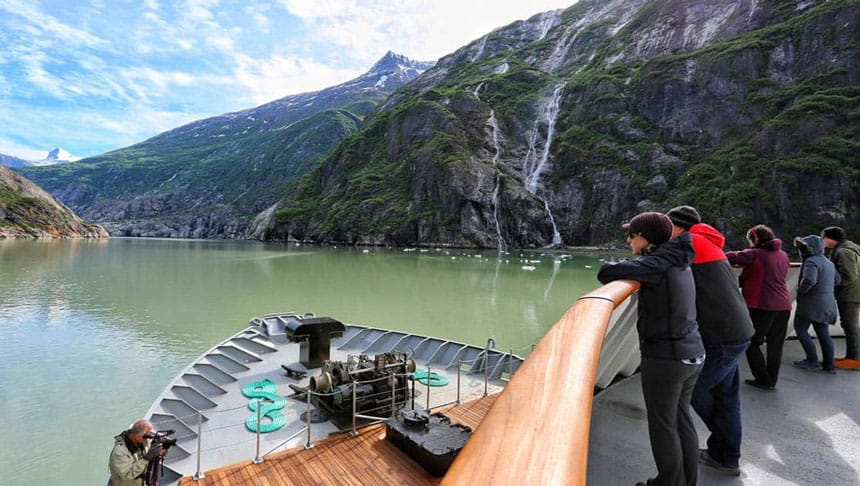 Board Luxury Yachts in Alaska 2021
Looking for an Alaska luxury cruise? We've got you covered. The 36-guest Safari Explorer returns to offering a small ship Alaska cruise in 2021, splitting time with her Hawaii departures the rest of the year. This Alaska luxury yacht has been described by our travelers as "comfortable and welcoming" with "superb food." Cruise aboard her on the top-selling 8-day Northern Passages & Glacier Bay itinerary, or extend the enjoyment to also include the San Juan Islands and Canadian Inside Passage on the 13-day Inside Passage & Glacier Bay Wilderness Cruise.
The 22-guest Safari Quest switches her typical Alaska itinerary in 2021, instead offering the 8-day Alaska's Glacier Country, round-trip from Juneau. Small ship Alaska cruise 2021 travelers who've appreciated Safari Quest in the past are sure to enjoy her on a different itinerary—she'll be the smallest ship yet to operate this adventure that includes a unique stop to kayak or skiff around the bear- and eagle-frequented Kuiu Island.
Special amenities aboard both ships include Tempur-Pedic® memory foam mattresses, private bathrooms with heated tile floors and a hydrophone for below-water listening.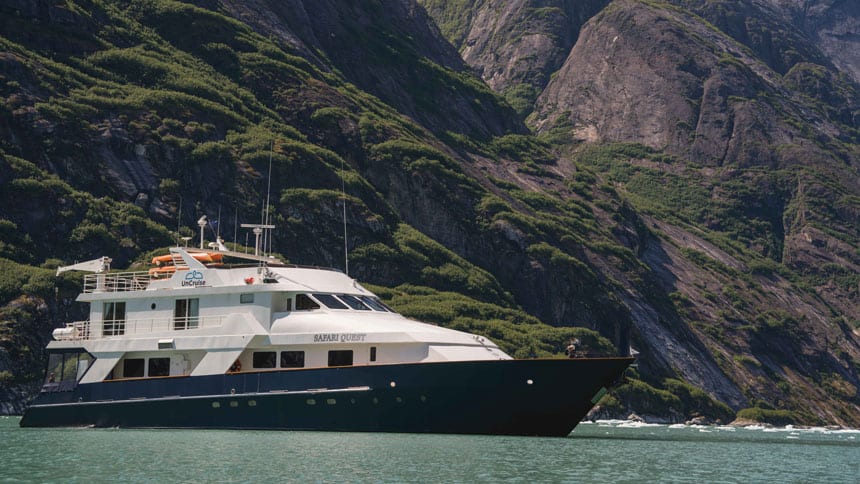 Cruise Alaska 2021 at 2020 Rates
A few small ship Alaska cruises in 2021 can be purchased with rates that remain unchanged from 2020—a rare opportunity. These trips include:
Alaska Cruise Deals 2021
Book your small ship Alaska cruise for 2021 with confidence via our Alaska small ship cruise deals, many of which offer flexible booking and cancellation options. Book before the calendar turns and be rewarded with savings up to $400, child discounts, complimentary airfare and more, while supplies last.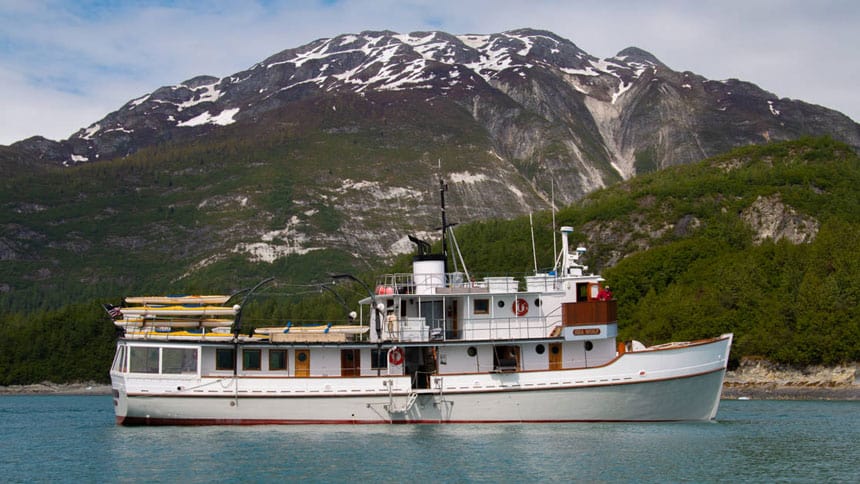 Book Your 2021 Alaska Cruise or Charter Before It's Gone…Or Book 2022
Small ship cruises and especially private Alaska yacht charters are increasing in popularity as travelers seek smaller, more exclusive experiences aboard Alaska small ships. For 2021 Alaska small ship cruises, availability is waning faster than usual due to re-accommodations of some 2020 travelers, a growing desire to travel close to home and flexible booking opportunities. We're even offering early booking on 2022 departures aboard a traveler- and AdventureSmith-favorite Alaska small ship, M/V Sea Wolf.
Get your small ship Alaska cruise in 2021 confirmed by contacting an Adventure Specialist to be matched with the best Alaska cruise in 2021 for your interests, timing and budget. Not sure when to go? Consult our month by month guide for the best time to visit Alaska.
This blog post on what's new in Alaska small ship cruising was originally published in October 2017 and has since been edited to reflect annual updates each year. The most recent update detailing the 2021 Alaska cruise season occurred August 2020 and is among AdventureSmith Explorations' extensive Small Ship Cruise Guides. Visit our collection of Alaska Cruise Guides or Alaska cruise reviews for even more resources to plan your Alaska trip or Alaska small ship cruise.