Our partner Aqua Expeditions, who operates luxury vessels on the Amazon and Mekong Rivers, has announced several guest-hosted departures featuring internationally renowned chefs and the company founder. Here's a look at what to expect on board: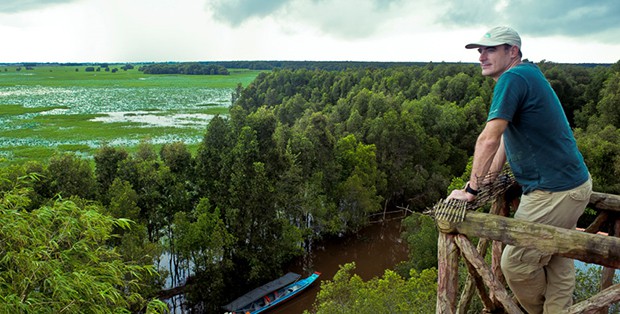 Founder-Hosted Departures
Francesco Galli Zugaro, Founder and CEO of Aqua Expeditions, hosts select sailings to share his creative vision for launching luxury riverboats on the Mekong and Amazon Rivers. Bike with him along the Mekong to peddle through local markets, or kayak with him on the gentle flows of the Amazon to spot unique wildlife. Discover the reasons he expanded Peru's first luxury river cruise company from South America to Asia, and the journey he experienced building three riverboats, from conceptualization and design to the construction and launch of each vessel. Francisco joins the following departures:

Sept 17-20, 2019 – Aqua Mekong Cruise
Chef-Hosted Departures
Chef-hosted departures offer unique opportunities for guests to interact with masters in the kitchen, and learn techniques from the market to the stovetop:
Customized Market Tours: Travel with the chef to local markets to learn about locally grown and harvested ingredients.
Master Cooking Class: Attend a cooking class or a kitchen tour hosted by the chef as he walks you through his secrets of recipe planning, preparation and execution.
Interactive Q&A: Find out how the dynamic international food scene is transforming the way Aqua's chefs design their latest visions of culinary creativity.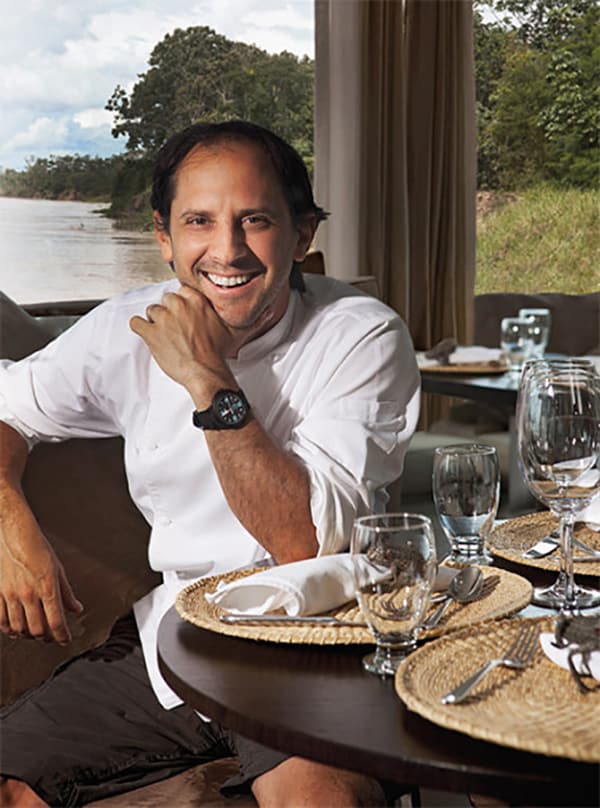 Chef Pedro Miguel Schiaffino on the Amazon River
Pedro Schiaffino is chef/owner of Malabar, one of Lima's most cutting edge and innovative restaurants, and founder of catering company, Schiaffino Gastronomika. He is also part of the Executive Committee of the CIA's Latin Cuisines Advisory Council. Malabar has been profiled and lauded across the international press, and was listed in the San Pellegrino World's 100 best restaurants. Schiaffino's cuisine fuses Peruvian ingredients with traditional techniques; he is particularly known for his interest in local ingredients and their source, beginning with the cultivation and preservation of native ingredients through to the creation of the dishes that are offered in all his restaurants. Chef Schiaffino joins the following departures:

Nov 18-22, 2019 – Aria Amazon Cruise
Chef David Thompson on the Mekong River
David Thompson was named the 2016 Diners Club International's Lifetime Achievement Award winner for Asia. His restaurants reguarly earn Michelin stars and end up on The World's 50 Best list. He accidently ended up staying in Thailand in 1986 when his holiday plans when awry. He began to study the Thai language and dove into recipes he found in the Thai 'books of the dead' from which his inspiration blossomed. He opened acclaimed Thai restaurants in Sydney, London, and even Bangkok. This Aussie has a large following for his use of the finest quality Thai ingredients and his ability to showcase the spices and diversity of Thai street food. While working with Aqua Mekong, Thompson expands his range to the specific culinary techniques of the Mekong River cultures that utilize the foods of the river.
August 16-20, 2019 –Aqua Mekong Cruise
Sept 13-17, 2019 –Aqua Mekong Cruise
This blog post was originally published in 2016, and is updated periodically with the latest themed departures. Our most recent update occurred November 2018.