Antarctica cruise options have changed dramatically since we began offering them. There are more small ships than ever cruising Antarctica with vessels and itinerary options for every style and budget. At the same time there has been a homogenization of ship types and cruise itineraries, which makes choosing a cruise more confusing than ever.
The Antarctica experts at AdventureSmith Explorations are here to help. We have compiled the most up-to-date information from our operator partners and culled the top tips from our Antarctica Adventure Specialists to bring you this comprehensive Antarctica cruise guide. Use our insight to find the best Antarctica cruises and tours for your travel style.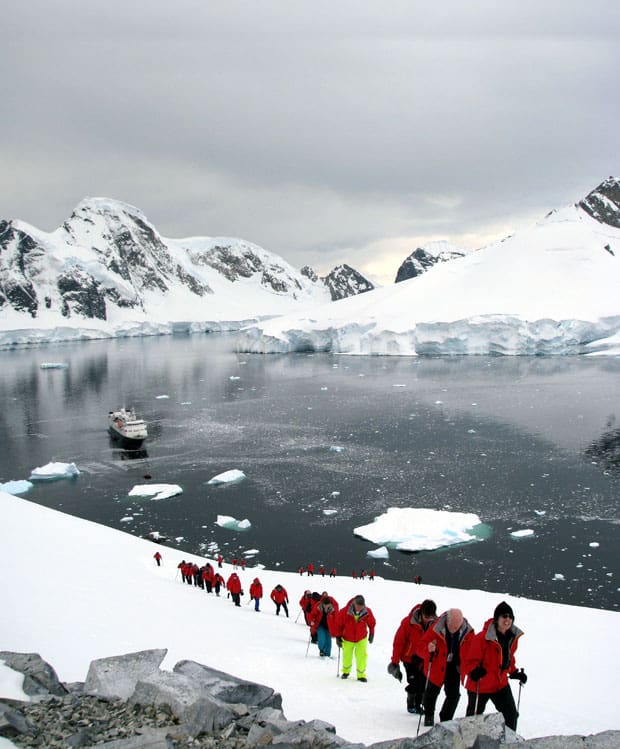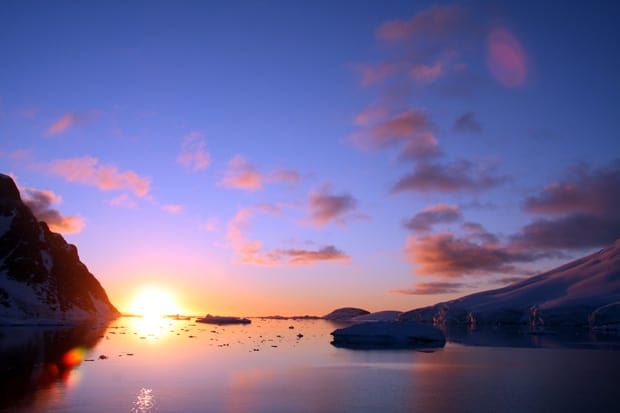 When to Go to Antarctica
Antarctic cruises operate during the austral summer usually beginning in November and ending in March. With the increasing popularity of Antarctic cruising, the season has lengthened, sometimes beginning in late October and running through early April. During this short austral summer, there is an incredible range of conditions and the best time to travel to Antarctica should be based on what one wishes to experience. Seasonal highlights can vary each year, roughly following the patterns below.
Late October-November
During the early-season months of October and November, sea ice is prevalent and the possibility of seeing sea ice is present, especially on the east side of the Antarctic Peninsula. Adelie, chinstrap and gentoo penguins are starting to come ashore, beginning courting rituals and nest building. Eggs are laid and incubated shortly thereafter. Emperor penguins can be viewed in the Weddell Sea and are occasionally visited by specially outfitted expedition cruises. Elephant seals are actively courting on South Georgia Island and fur seals are abundant on beaches. Female king penguins lay their eggs on South Georgia in November and can be seen carrying eggs on their feet. Fuzzy king penguin chicks from the previous season can also be seen in the rookeries.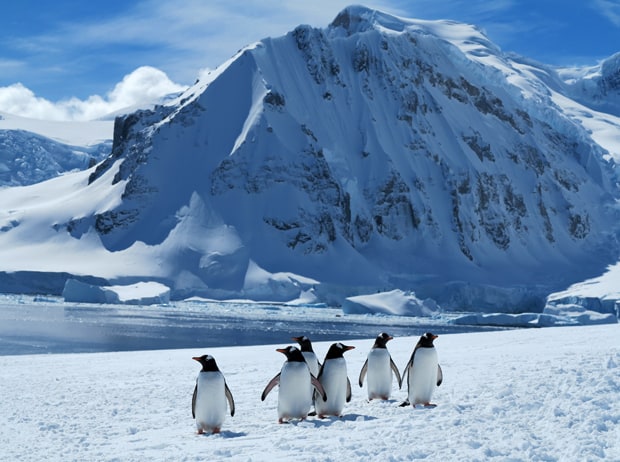 December-January
This is the peak season in Antarctica with the best chance for calmer water while crossing the Drake Passage. Sea ice has receded allowing for more exploration ashore and farther south. Cruise prices are higher during the peak season due to increased demand. Long days with increased sunlight make great opportunities for photographers and lots of time ashore. Penguin chicks are hatching and gathering in nurseries leaving parents free to feed. Adult penguins returning to feed hungry chicks is a highlight. Whale sightings increase in the Antarctic Peninsula and seal pups can be found on the beaches of South Georgia. Sea ice is beginning to break up in the Ross Sea making visits to East Antarctica and the historic huts of Shackleton and Scott possible.
February-March
Whale sightings are at their peak in the Antarctic Peninsula, and many cruises offer whale-focused cruises this time of year. Receding ice pack makes more extensive exploration easier. Fur seals are found in increasing numbers on the Antarctic Peninsula and South Georgia. Penguin colonies are active with chicks beginning to molt, losing their fuzzy plumage and growing their adult feathers. Parents have abandoned their young and returned to the sea to feed. Many colonies of Adelie, chinstrap and gentoo penguins are empty by late February or early March.
Antarctica Ships & Cruise Lines
It takes a specially outfitted ice-class ship to operate expedition cruises in Antarctica. In recent years a number of Russian research vessels that operated in Antarctica have retired, leaving a limited number of vessels in the world that can operate cruises in Antarctica and a boom of new ships being built to Antarctic ice-class specifications. This shift has increased the number of upscale luxury Antarctica cruises but has also increased the price of Antarctic cruises.
Adding to the confusion is the fact that many ships are independently owned and thus operated by a number of cruise lines, sometimes in the same year. So choosing a ship does not necessarily mean choosing an outfitter. But choosing your Antarctica ship is extremely important to your overall experience matching your travel style.
For active guests, a good distinguishing factor between ships is the activity offered. All of the ships AdventureSmith travels with are expedition style, including a lot of time off ship exploring via Zodiac and hiking (and often snowshoeing), but some go above and beyond with even more adventure options—some even aided by helicopter—like camping, kayaking, cross-country skiing, mountaineering and even backcountry skiing, polar snorkeling, scuba diving and stand-up paddleboarding. Note that most adventure options (besides standard Zodiac cruises, hikes and most snowshoeing options) must be reserved in advance at an added cost, unless explicitly stated as included in your itinerary.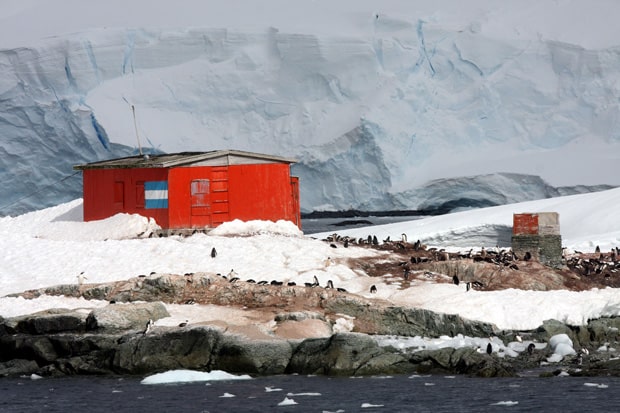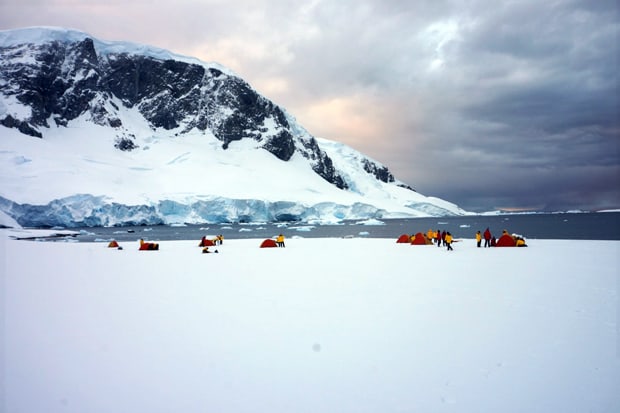 How to Choose Your Antarctica Cruise
Antarctica cruises can be separated into three categories based on where they operate. They are also distinguished by the length of the itinerary.
Antarctic Peninsula
By far the most popular and affordable Antarctica cruises are trips to the Antarctic Peninsula. Beginning and ending in Ushuaia, Argentina, routes are fairly standard, crossing the Drake Passage, spending several days along the Antarctic Peninsula's western shore, then returning via the Drake Passage, typically over 10-14 days. Many of these classic routes include a stop at the South Shetland Islands, and longer routes may include Elephant Island or aim to reach as far south as the Polar Circle.
Classic Antarctica cruise routes range from 10-14 days & cross the Drake Passage.
Antarctic Peninsula, South Georgia & Falkland Islands
For those with more time, we recommend adding South Georgia and the Falkland Islands, which extends trips to an average of 20 days, but adds in the good chance of seeing king penguins, which you cannot see on a standard Peninsula cruise. These South Georgia cruises sail the Southern Ocean northeast to the Falkland Islands, a destination famed for its penguins (5 of the world's 17 species summer here), birdlife and human history at the Stanley settlement. Then your route heads southeast to South Georgia, the site of explorer Shackleton's grave and an astounding amount of penguins (read more about South Georgia Island wildlife), west to the Antarctic Peninsula, and then completes the loop north through the South Shetland Islands back to Ushuaia.
Beyond the Antarctica Peninsula
Though technically in the Antarctic Peninsula region, expeditions to the Weddell Sea are often on routes of their own, not including time on the Antarctic Peninsula proper. These expeditions aim to visit more secluded emperor penguin rookeries and some include helicopter transfers for a truly once-in-a-lifetime penguin encounter. We recommend these Weddell Sea–specific itineraries typically for people who have already visited the Antarctic Peninsula. Beyond the Antarctic Peninsula routes also include variations along the western coastline of the Antarctic Continent, in the Ross Sea, cruising between Ushuaia and New Zealand. AdventureSmith's experts can advise on these routes.
Antarctic Air Cruises
No longer a new option, air cruises offer an alternative to longer Antarctic cruises. When we first began offering air cruises, we thought it was the desire to eliminate crossing the Drake Passage that would be the primary appeal of this trip. We have learned that it is in fact the shorter time frame that appeals to most travelers, especially American travelers with limited vacation time.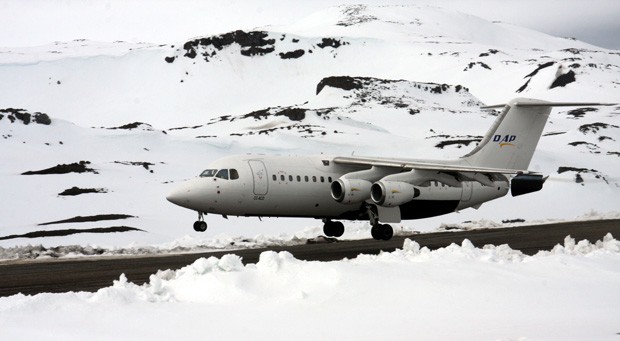 Booking Activities on Antarctic Expeditions
While all Antarctica expeditions on small ships offered by AdventureSmith Explorations include time off ship exploring by Zodiac and hike, most require you to book coveted added-cost space for excursions like kayaking, stand-up paddleboarding, skiing, mountaineering, camping and even scuba diving. Thus, if you're interested in a particular activity, you'll want to know all your options. Most ships require you to pre-book and commit to an activity over the whole voyage, while some are beginning to offer one-time excursions. Learn more about these activity options: Antarctica Superlatives: 9 Unique Ways to Experience the White Continent. And get more expert tips: 6 Things You Need to Know Before Going to Antarctica.
Price & How to Find the Best Deal
During the economic downturn, cruise lines offered significant last-minute discounts. For many years the Antarctica cruise market was trained to wait for the best price. This is no longer the case. Antarctic cruise lines now incent travelers for booking early, and the best prices are found by booking at least 9-12 months in advance. Most cruises will sell out by the time they depart, so waiting for a deal is no longer the best strategy for saving on an Antarctic cruise. Learn more and browse our selection of Antarctica cruise deals.
Solo Travel in Antarctica
Solo or single travelers have lots of options aboard Antarctic cruises. Many Antarctic cruises have double, triple or even quad cabins that are available on a share basis. Sign up to share with same-sex roommates, and you can save a bundle. In most cases travelers are guaranteed the share rate, even if a roommate is not found. This helps keep solo travel costs down. If you prefer to have your own cabin there are ships that offer single accommodations. For those that do not have single or solo cabins you can book a double cabin as a single, but expect to pay a single supplement. Antarctica single supplements are usually 1.5-2 times the standard double rate for one person. Solo travel is more common in Antarctica than other destinations so finding a roommate share is usually not a problem and ships are accustomed to catering to single travelers.
Solo travel is more common in Antarctica than other destinations.
Antarctica Weather
When you travel to Antarctica, cold weather is expected, but you might actually be surprised how pleasant it can be. Though Antarctica holds the record for the lowest temperature ever recorded on Earth, -129F, during the summer months when expedition cruising takes place (November-March) the winds abate considerably and the weather is surprisingly comfortable, averaging between 20 and 50F. Add to that 18-24 hours of sunlight, and you'll see why extensive exploration by small ship cruise is possible here.
Keep in mind though that Antarctica is the world's coldest, windiest and driest continent. So you must be prepared to protect yourself from the wind, and to moisturize and hydrate to compensate for the dry air. In Ushuaia, Argentina, where most Antarctica travelers embark and disembark, summer temperatures average 40F for the low and 60F for the high. Learn more about the Antarctica climate, and the best time to go to Antarctica depending on your interests.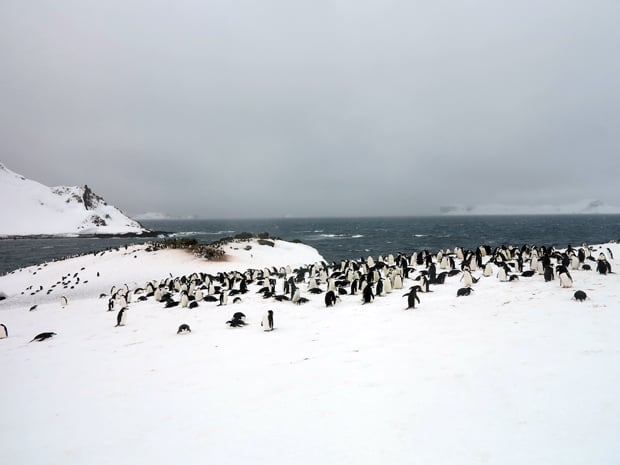 Getting to Your Antarctic Cruise/Ushuaia
The vast majority of Antarctica cruises, especially those to the Antarctic Peninsula, begin and end in Ushuaia, Argentina. Flights from North America typically depart late and arrive to Buenos Aires, Argentina, in the morning. A transfer from Argentina's Ezeiza International Airport (EZE) to the Jorge Newbery Airpark domestic airport (AEP) is required. With no traffic, this transfer takes about 45 minutes, but also consider traffic and the time it takes to get through customs and migration. We recommend travelers leave at least 4 hours to make a connection between airports in Buenos Aires. Additional options for embarkation and disembarkation include Puerto Madryn, Argentina; Punta Arenas, Chile; and Montevideo, Uruguay. Some trips even begin in Buenos Aires, Argentina, or Santiago, Chile.
Seasickness in Antarctica
Travelers to Antarctica should be prepared for the possibility of rough seas. Cruises to the Antarctic Peninsula cross the Drake Passage, which is known as one of the roughest seas in the world. Cruises take two full days to cross the Drake Passage each way from Ushuaia. Once ships arrive in Antarctica, seas tend to be calm as ships cruise in protected waters close to shore. Longer expeditions that include the Falkland Islands and South Georgia require additional days at sea, which can also cause seasickness, depending on current conditions. Read our tips to combat seasickness.
Preparation for your Antarctic Expedition
AdventureSmith travelers are prepared for their expeditions through one-on-one correspondence with an Adventure Specialist and an extensive pre-cruise planner with packing lists, reading lists and answers to most common questions. Our team has traveled extensively in Antarctica, collectively on most of the ships we offer, and can provide very detailed expectations on what you can expect on the voyage and the ship, what to pack and how to get the most out of your Antarctic experience. Our team can also recommend flight consolidators that can help you find the best flight deals and manage any trip support you may need if there are airline weather delays or other issues. Our website is full of helpful tips and shared experiences to help you make the most of your Antarctic experience.
Travel Insurance & Emergency Medical Evacuation
Most Antarctica cruises require a minimum amount of emergency medical evacuation insurance coverage, generally over $200,000. This coverage is typically not included in your personal health insurance. We recommend travelers consider a comprehensive travel insurance policy that will include emergency medical evacuation as well as cancellation coverage. A select few Antarctic outfitters include this insurance in the trip cost, so be sure to check with your Adventure Specialist on the inclusions of your expedition.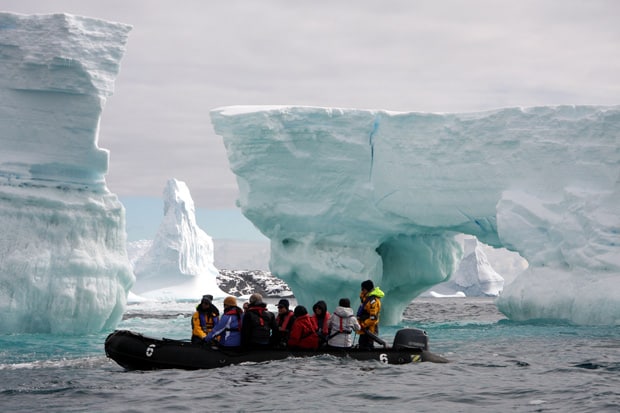 Reviews of Antarctica Cruises
There are now innumerable Antarctica cruise review and trip review websites on the internet. Most offer trusted advice, but some need to be taken with a grain of salt. Don't rush to judgement if you read a poor review about an Antarctic expedition or ship. We have found that poor reviews are often the result of a mismatch between the interests of the traveler and the type of cruise they were on. For instance, if a traveler is expecting extensive activity but books a trip with limited options, they will be disappointed. The best type of Antarctica cruise review is a personal referral. Ask your booking agent to get you in touch with a past client who has traveled to Antarctica on a comparable trip or ship. Reputable agencies will gladly refer their past clients, helping you choose the best Antarctica cruise for your interests, ability and budget.
Why Travel to Antarctica?
The White Continent is truly a bucket list destination—a land like nowhere else on Earth. Due to its remote location, infamous Drake Passage crossing and extreme weather, making a trip to Antarctica is no easy endeavor but the reward is experiencing a remarkable landscape and wildlife like nowhere else on the planet. Penguin rookeries offer landscapes filled as far as the eye can see with the little tuxedo-colored creatures. Towering giant blue icebergs dwarf all that surrounds them. Whales and marine mammals are abundant in Antarctica where travelers can view species rarely seen farther north such as leopard seals and massive blue whales. The human history of exploration and hardship in Antarctica is an important part of any Antarctic cruise and an unexpected highlight for many travelers. Antarctica is a hotspot (or cool spot?) for photographers and photo enthusiasts with picture-perfect landscapes and accessible wildlife. On an Antarctic cruise you will find yourself surrounded by like-minded travelers and fascinating crew members. Friendships are often forged on Antarctic cruises that remain many years after the excitement of the cruise has faded. Finally, there are the bragging rights. Antarctica is on every nature and adventure traveler's list, but few actually set foot on the continent. You'll be telling stories of your Antarctic adventure for years to come. Need more reasons? Read Why Visit Antarctica.
Antarctica is a place that if you're lucky enough to go, it's likely to be just once.
Antarctica is a place that if you're lucky enough to go, it's likely to be just once. It's important to make this travel experience the best it can be for your style of travel and interests. Choosing experts like AdventureSmith or your trusted travel agent to help you find the best Antarctica cruise and ship is invaluable. After reading our Antarctica cruise guide above, contact the experts at AdventureSmith to customize your Antarctica expedition and learn from our firsthand experience traveling on this White Continent.

Discover more about our Antarctica cruises and then contact one of our Antarctic experts to help match you with the best Antarctica cruise for your interests, budget and timeline. Note that this Antarctica small ship cruise guide was originally published in August 2015, and is updated periodically by our experts to keep it current for AdventureSmith travelers, present and future. Our most recent update occurred August 2020.