If you're seeking to get aboard a new cruise ship to Antarctica, you've come to the right place. A baby boom of new Antarctica cruise ships is upon us. Each of these new purpose-built small cruise ships offers specialized features for providing guests the best possible experience exploring ice fields, penguin rookeries, dramatic landscapes, icebergs and wildlife viewing. With trends in sustainability, exploration, unique activities, single cabins, private balconies and wellness, this new fleet is set to take Antarctica travel to a new level of expedition.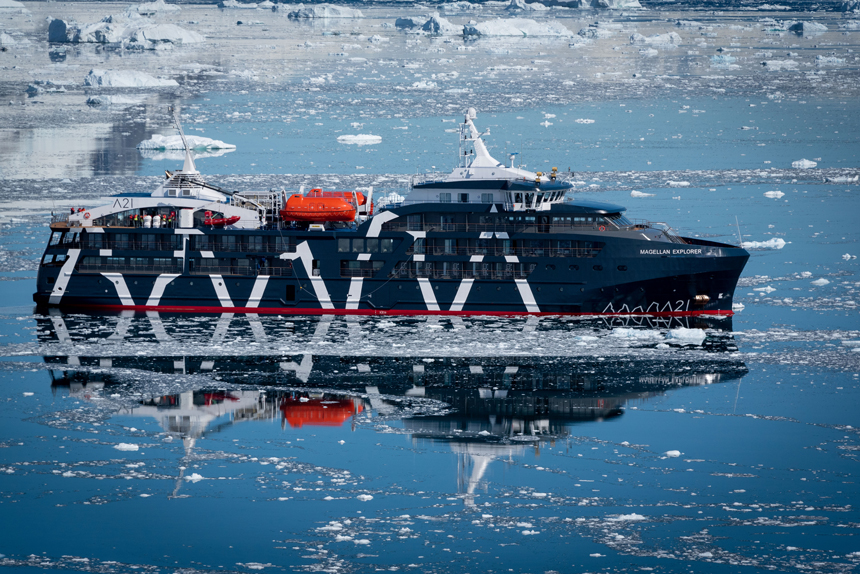 Each of these new vessels, detailed below, are under 200 guests and at the core of what we offer at AdventureSmith Explorations: small, sustainable expeditions. Ships, especially in Antarctica, need to be of a certain size for a bespoke, intimate and active experience. Since only 100 guests are allowed ashore at one time, larger vessels simply cannot handle getting their guest capacity ashore twice daily like a small ship can facilitate. These new Antarctica cruise ships are specifically designed and built for getting passengers on and off the boat quickly and efficiently—a big jump from the repurposed research vessels once common in polar travel. Read on to learn more about the newest additions to Antarctica, including their individual ship focus and inaugural sailing date. We hope to assist you in finding the new Antarctic ship of your dreams!
Janssonius – 170 Guests
Activity/Sustainability: Inaugural voyage November 2021
The Janssonius motto: happier polar passengers and healthier polar environment. This advanced Polar Class 6 cruise ship exceeds the latest green requirements so not only will her amenities and on-board entertainment help make the voyage truly memorable, this ship also gives peace of mind with choosing one of the most environmentally friendly vessels on the polar seas. Her goal is to keep sea time short and focus on access to shore and near-shore activities like hiking, kayaking, overnight field camping and even scuba diving. How will Janssonius accomplish swift and safe ship-to-shore operations? By utilizing her two separate gangways and a sheltered indoor boarding area for Zodiac and kayak embarkation. As a new cruise ship to Antarctica, what better way to make a splash then to bring guests to see the once-in-a-lifetime polar solar eclipse.
Le Commandant Charcot – 200 Guests
Luxury/Sustainability: Inaugural voyage October 2021
Combining French-inspired luxury with unique activity options and a hybrid-electric lng engine, Le Commandant Charcot (capped at 200 guests while cruising Antarctica) is set to offer an Antarctic voyage like no other. On board, expect five-star service, gastronomic delights and a daily menu of social gatherings. Off the ship, explore the White Continent by polar diving, hovercraft, kayak, snowshoe and hiking. The ship's laboratory supports researchers and guests are encouraged to participate in citizen science projects. Back on board, relax in heated indoor and outdoor pools, or the spa that includes a snow room—an ideal complement to the sauna. Premiere suites offer options like a wraparound terrace, private Jacuzzi, butler service and even dual floors. Travel on this new polar expedition ship knowing her electric-hybrid engine, powered by liquefied natural gas, is the first of its kind for eco-friendly polar travel.
Ultramarine – 200 guests
Exploration/Distance: Inaugural voyage July 2021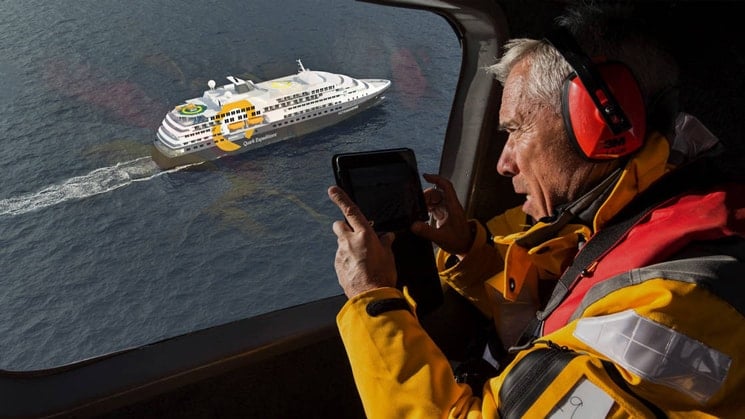 Twin helicopters and helipads on this 200-guest expedition ship facilitate simultaneous heli-skiing and flightseeing.
This new 200-passenger polar ship—Ultramarine—is built for safety and far-off exploration. The new vessel boasts twin helicopters and helipads for heli-skiing, heli-hiking, flightseeing and exploration of otherwise inaccessible places as well as an innovative, internal hanger with four embarkation points for a fleet of 20 Zodiacs. These exploration tools; the ship's specialized, cutting-edge safety features; and special provisioning and waste handling systems (enabling a 70-day operational range) all ensure the ability to go farther into the polar regions more safely and easily than before; look for routes into the Ross Sea and the remote western Antarctic "Phantom Coast." Ultramarine is setting sail for the first time through the Arctic in 2021 followed by an Antarctic 2021/2022 season.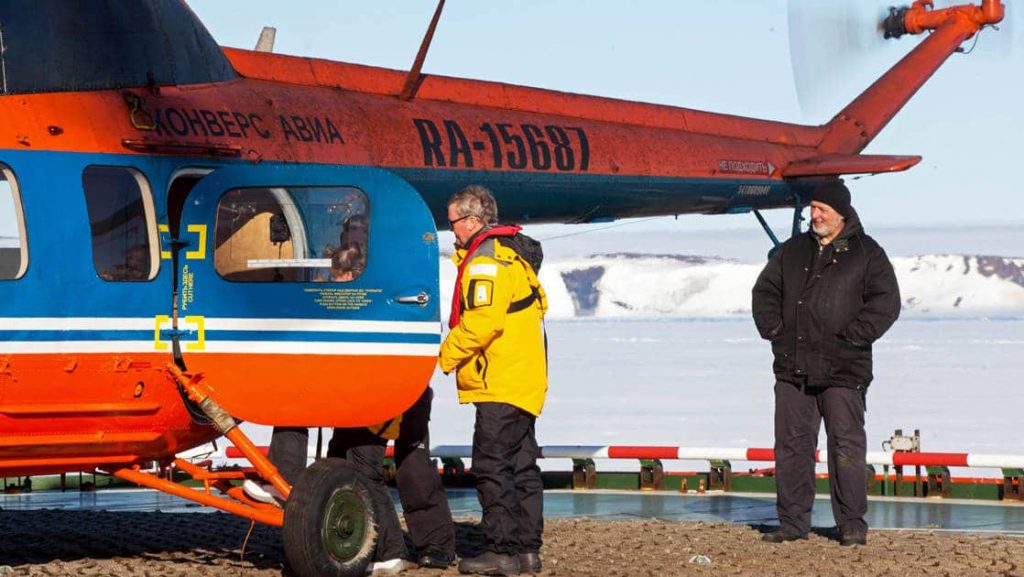 National Geographic Resolution – 126 Guests
Education: Inaugural voyage fall 2021
This next-generation expedition ship is the epitome of National Geographic, blending an innovative polar vessel with highly intellectual programming. Sailing in both Antarctica and the Arctic in late 2021, the National Geographic Resolution is specifically designed for stability, efficiency, education and reduced environmental impact. Her new expanded fuel and water tanks ensure she's prepared for long-range explorations like a 24-day Antarctic voyage including South Georgia and the Falklands Islands. Just like her twin, the National Geographic Endurance, National Geographic Resolution is outfitted with a fleet of Zodiacs, kayaks, snowshoes, and cross-country skis; as well as sophisticated equipment allowing undersea specialists unique access and the ability to share the underwater world with all aboard. And with more than 10,000 square feet of glass and balconies in 52 cabins, every location is a prime location for polar observation.
Sylvia Earle – 126 Guests
Conservation/Activity: Inaugural voyage October 2021
The Sylvia Earle is sister ship to the Greg Mortimer and clones the same impressive design, technology and activity offerings. Due to sail in October 2021 this state-of-the-art ship honors the highly accomplished marine biologist and oceanographer Sylvia Earle. In keeping with Sylvia's own vision and achievements, the Sylvia Earle expedition ship has a focus on marine education and conservation. Marine researchers, scientists and conservationists are on board giving lectures on history and culture, biology and climate and she comes with conservation features like virtual anchoring to hold her position while protecting the sea floor and an on-board desalination plant that converts seawater to safe fresh water enabling less fresh water storage on sea crossings, further reducing fuel consumption. If you want to take these new cruise ships to Antarctica, you'll find Greg Mortimer and Sylvia Earle trading off departures between the same three Antarctic itineraries, so no matter what it's a win-win.
National Geographic Endurance – 126 Guests
Education: Inaugural voyage spring 2020
"To Explore and Understand the World" is the National Geographic Endurance motto, and therefore this 126-guest ship is all about getting passengers to the farthest reaches of the world in the Antarctic and Arctic with highly trained guides and expert leaders in the fields of science and photography. With a specifically designed bow and hull structure, she adds a unique element to her profile while providing efficiency, safety and stability when cruising in these challenging destinations. Offering cabin options for single travelers, this ship addresses a main concern of past ships (lack of dedicated single space). The National Geographic Endurance is equipped with state-of-the-art exploration tools including hydrophones, underwater video cameras, microscopes and a helicopter landing pad, all for in-depth learning about the iconic destinations she explores.
Hondius – 170 guests
Safety: Inaugural voyage summer 2019
The 170-guest Hondius is built for safety, fluctuating polar conditions and off-ship excursions. With her ice-class LR PC6 (the first of its kind and highest of any expedition ship) she is an excellent vessel for exploring the polar regions. The philosophy of this ship is short sea legs and fast and efficient access to shore activities to provide the most time for guests experiencing the epic landscapes and iconic wildlife. On board, the Hondius offers colorful musical acts and performances, language courses and cooking and cocktail demonstrations, as well as interactive workshops that explore such topics as astronomy, navigation and botany. Due to her renowned success Hondius became the blueprint design for her sister ship, the Janssonius. You'll need all your fingers to count her array of itineraries offered not only in Antarctica but also in the Arctic around Spitsbergen, and East Greenland.
Greg Mortimer – 126 Guests
Design/Activity: Inaugural voyage November 2019
This is Antarctica adventure cruising for the modern age. Greg Mortimer is the first passenger ship to feature the revolutionary X-Bow, a patented bow design that enables increased sustainability, efficiency, safety and stability in polar travel. A highlight of the expeditions? The wide range of optional activities (both included and added cost) that leaves little to be desired: snowshoeing, kayaking, climbing and truly unique polar experiences like scuba diving, snorkeling and backcountry skiing. To ensure the best views possible, this new Antarctic ship also features custom-built hydraulic viewing platforms or "observation wings" that extend out from the sides of the ship. Chock-full of industry-leading technology and unique features like these, Greg Mortimer has, with out a doubt, redefined the future design of small expedition ships in the Polar regions.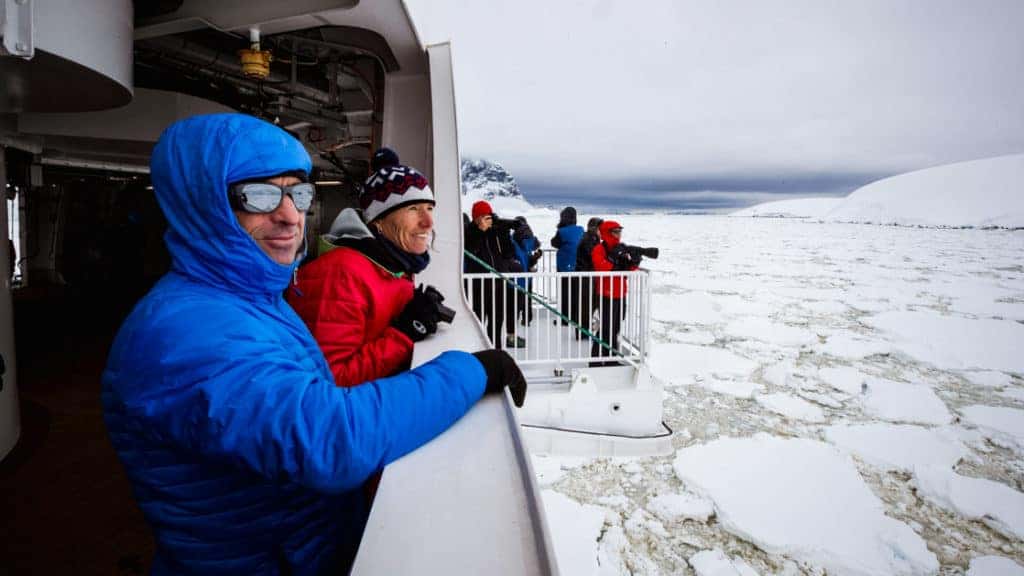 World Explorer – 172 guests
Wellness: Inaugural voyage November 2019
Specifically built for speed (16 knots) and comfort, the World Explorer is riding the health and wellness trend seen in travel of late, offering a running track, heated pool and spa. This new Antarctic cruise ship is spacious, refined and offers private balconies in every cabin, enhancing each guest's experience with intimate interactions with the landscape. World Explorer is the new era of expedition ships-geared for both active exploration and onboard luxury. On departures in Antarctica you can can choose to fly over the Drake Passage, explore the Antarctic Peninsula or choose a Falkland Islands and South Georgia cruise route. The World Explorer and her passionate Expedition Team also travel to the Arctic north in search of the iconic polar bear and aurora borealis.
Magellan Explorer – 73 guests
Air Cruise: Inaugural voyage November 2019
The 73-guest Magellan Explorer is devoted primarily to air cruises that fly over the Drake Passage and is the first ship to be purpose-built for this means of travel. The Magellan Explorer is a true standout for keeping it small, with only 73 passengers (and four elusive dedicated single cabins). This passenger capacity is equal to only one flight to Antarctica, making her a highly efficient and accessible air-cruise ship. Only 73 people on this ship that's technically built for 100 also adds the bonus of each guest having more space on board. This stylish, sustainably built polar vessel also offers new strategies for quick and safe Zodiac deployment for shore excursions, allowing guests to spend less time waiting around and more time out in the field exploring. Launched ahead of the 2019/2020 season you can join the Magellan Explorer on an Antarctic air cruise with options like an express 6-day, a classic 8-day or a longer more in-depth 17-day journey.
MORE ANTARCTICA RESOURCES

Antarctica Travel Guide – How to Choose Your Antarctica Cruise
Best Time to Visit Antarctica
How to Get to Antarctica
Antarctica Cruise Cost
Things to Do in Antarctica
Places in Antarctica
Can You Visit Antarctica? And Why Go
Antarctica Ships
Antarctica Cruises
Best Antarctica Cruise Lines
Luxury Antarctica Cruises
Antarctica Cruise Deals