The polar regions are about to see an influx in purpose-built small cruise ships. Each of these new expedition ships offers specialized features for providing guests the best possible experience exploring ice fields, penguin rookeries, dramatic landscapes, icebergs and wildlife viewing. With trends in sustainability, exploration, single cabins, private balconies and wellness, this new fleet is set to take Antarctica travel to a new level of expedition.
Each of these new vessels, detailed below, are under 200 guests and at the core of what we offer at AdventureSmith Explorations: small, sustainable expeditions. Ships, especially in Antarctica, need to be of a certain size for a bespoke, intimate and active experience. Since only 100 guests are allowed ashore at one time, larger vessels simply cannot handle getting their guest capacity ashore twice daily like a small ship can facilitate. These new small ships are specifically designed and built for getting passengers on and off the boat quickly and efficiently—a big jump from the repurposed research vessels once common in polar travel. Read on to learn more about the five newest additions to Antarctica, including their individual ship focus and inaugural sailing date.
Safety: Inaugural voyage June 14, 2019
The 170-guest Hondius is built for safety, fluctuating polar conditions and off-ship excursions. With her ice-class LR PC6 (highest of any expedition ship built in the world thus far) she is an excellent vessel for exploring the Arctic and Antarctic poles. The philosophy of this ship is short sea legs and fast and efficient access to shore activities to provide the most time for guests experiencing the epic landscapes and iconic wildlife. The Hondius's inaugural voyage is June 14, 2019, in the Arctic for a North Spitsbergen route, after which she heads south to begin sailing in Antarctica starting November 3, 2019, on the Falklands, South Georgia & Antarctica expedition.
Wellness: Inaugural voyage November 3, 2019
Specifically built for speed (16 knots) and comfort, the World Explorer is riding the health and wellness trend seen in travel of late offering a running track, heated pool and spa. This spacious, refined ship also offers private balconies in every cabin, enhancing each guest's experience with intimate interactions with the landscape. Look for the World Explorer's first Antarctic sailing on the Antarctic Explorer itinerary starting November 2019. She will also sail Explorers & Kings departures exploring South Georgia, the Falkland Islands and the Antarctic Peninsula as well as Antarctic Express: Fly the Drake routes.
Air Cruise: Inaugural voyage November 28, 2019
The 73-guest Magellan Explorer is devoted primarily to air cruises that fly over the Drake Passage and is the first ship to be purpose-built for this means of travel. The Magellan Explorer is a true standout for keeping it small, with only 73 passengers (and four elusive dedicated single cabins). This passenger capacity is equal to only one flight to Antarctica, making her a highly efficient and accessible air-cruise ship. Only 73 people on this ship that's technically built for 100 also adds the bonus of each guest having more space on board. This stylish, sustainably built polar vessel also offers new strategies for quick and safe Zodiac deployment for shore excursions, allowing guests to spend less time waiting around and more time out in the field exploring. Her first sailing is November 28, 2019, on the Antarctica Air Cruise.
Education: Inaugural voyage spring 2020
"To Explore and Understand the World" is the National Geographic Endurance's motto, and therefore this 126-guest ship is all about getting passengers to the farthest reaches of the world in the Antarctic and Arctic with highly trained guides and expert leaders in the fields of science and photography. With a specifically designed bow and hull structure, she adds a unique element to her profile while providing efficiency, safety and stability when cruising in these challenging destinations. Offering cabin options for single travelers, this ship addresses a main concern of past ships (lack of dedicated single space). The National Geographic Endurance is equipped with state-of-the-art exploration tools including hydrophones, underwater video cameras, microscopes and a helicopter landing pad, all for in-depth learning about the iconic destinations she explores.
Exploration/Distance: Inaugural voyage 2020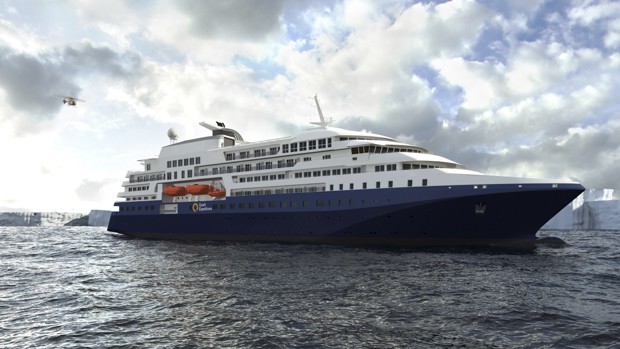 Twin helicopters and helipads on this 200-guest expedition ship facilitate simultaneous heli-skiing and flightseeing.
Another recently announced 200-passenger polar ship—Ultramarine—is currently being built for safety and far-off exploration. The new vessel boasts twin helicopters and helipads for heli-skiing, heli-hiking, flightseeing and exploration of otherwise inaccessible places as well as an innovative, internal hanger with four embarkation points for a fleet of 20 Zodiacs. These exploration tools; the ship's specialized, cutting-edge safety features; and special provisioning and waste handling systems (enabling a 70-day operational range) all ensure the ability to go farther into the polar regions safer and more easily than before; look for future routes into the Ross Sea and the remote western Antarctic "Phantom Coast." Ultramarine is set to be launched in 2020, sailing the Arctic and Antarctic regions.
This blog detailing Antarctica's newest expedition ships is among AdventureSmith Explorations' extensive Small Ship Cruise Guides. Discover more about our Antarctica cruises or Antarctica luxury cruises, and then contact one of our Antarctica experts to help match you with the best trip for your interests, budget and timeline.