Take a Falkland Islands and South Georgia cruise for unparalleled wildlife viewing in one of the world's most remote locations. Narrow down our many trips below to find your optimal Falklands South Georgia cruise. Your Falklands South Georgia expedition can include a visit to Antarctica, or simply be a focused tour of these two islands.
In fact, the Falklands and South Georgia are so sought-after by intrepid polar travelers that close to half of our Antarctica cruises include a South Georgia Island tour. Why? Read about South Georgia Antarctica and why to go. When you're ready to start planning, here are considerations toward selecting your ideal Falkland Islands and South Georgia cruise:
Should I Include Antarctica in My South Georgia Expedition?
In most cases, yes. You will be so close! If you have not been to Antarctica, this is the time to go as you will be just two days away by boat and can essentially travel to South Georgia, Antarctica and the Falklands in a triangle-shaped route. (Learn more about how to go to South Georgia Island.) But have you already been to Antarctica? Even those who have already been to the Antarctic Peninsula seek out Falkland Islands and South Georgia cruise itineraries because these islands are such a distinct experience. Many choose to return to Antarctica in another month to experience the everchanging icescapes and wildlife. But you can also simply take a Falklands to South Georgia trip. We have options for you either way.
What About a Falkland Islands Antarctica Cruise?
Note that if you are seeking a Falkland Islands Antarctica cruise only (without a stop in South Georgia), ask our experts since most itineraries sail from the Falklands to South Georgia, then on to Antarctica. To bypass one of these islands without the other is not common due to their proximity in the remote Southern Ocean en route to Antarctica.
Fly & Cruise from the Falklands to South Georgia
Consider a combination of flying and cruising from the Falklands to South Georgia and Antarctica for a more time-efficient expedition. On "fly" itineraries, look to meet the ship in the Falklands to begin your travel to South Georgia oversea. For those who are concerned about seasickness, we suggest looking to both South Georgia cruise itineraries within the Antarctica Air Cruise, which enables travelers to skip crossing the Drake Passage.
Travel to South Georgia for the Solar Eclipse
On December 4, 2021, a total solar eclipse will be visible to a select few Antarctic travelers. These cruises to see the 2021 solar eclipse in Antarctica include itineraries that travel to South Georgia. Find yourself in the path of totality on these select Falkland Islands and South Georgia cruise departures. This will truly be a South Georgia expedition like no other!
Luxury Falkland Islands and South Georgia Cruise Options
Want to experience your Falkland Islands and South Georgia cruise in style? Consider one of our luxury Antarctica cruises, including:
Go with the top guides on a cruise to South Georgia with National Geographic.
Travel to South Georgia aboard one of Antarctica's newest expedition ships.
Cruise in the comfort of a 5-star hotel aboard a luxury French expedition ship with refined and attentive service, unrivaled elegance and a unique menu of onboard activities (see our Expert Aboard ship review of L'Austral).
Sail aboard one of Antarctica's smallest ships, Magellan Explorer, for a more intimate Falklands and South Georgia Island tour.
Places to Visit on a South Georgia & Falklands Cruise
Look for these place names in Falklands to South Georgia cruise itineraries. There just might be one that you want to ensure is on your expedition.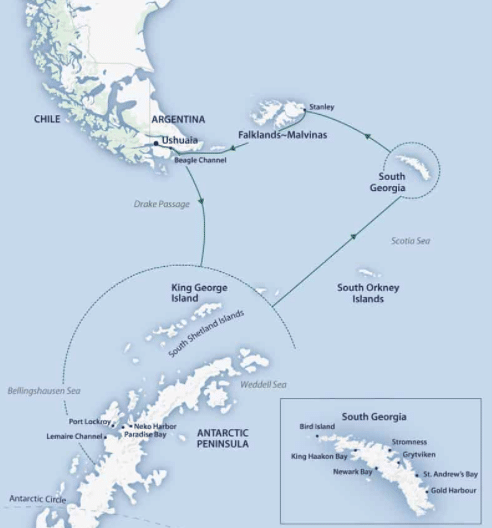 South Georgia Island
Often considered the star of the show on these expeditions, this island is famed for its king penguins (the largest crèche in the world), elephant seals and historical significance in whaling and polar exploration. Read more in our All About South Georgia & Why to Go blog, but your South Georgia cruise will often include a stop at Grytviken, formerly the island's largest whaling station.
Falkland Islands
South Georgia cruises typically include a visit to the Falkland Islands, which like South Georgia, features an abundance of penguins. Unlike South Georgia, however, the Falklands are inhabited. Almost any Falklands and South Georgia cruise will visit the East Falkland's capital of Port Stanley, where the majority of the locals reside. In fact, some Falklands and South Georgia cruises embark or disembark the ship in Port Stanley, connecting to the mainland by air.
South Sandwich Islands
A cruise to South Georgia and the Falklands that includes a visit to the South Sandwich Islands is a rare treat. South Sandwich travelers are rewarded with a chinstrap penguin colony of nearly 1,000,000 members, and the chance to experience this island chain discovered by famous explorer Captain James Cook. Little is known about these islands, and due to their steep peaks and little vegetation, exploration is typically by Zodiac.
South Orkney Islands
These islands offer impressive glaciers and the opportunity to visit Argentinean science station Orcadas Base on Laurie Island—the oldest Antarctic station still in operation, established in 1903—where scientists collect meteorological data. Not all travel to South Georgia includes a stop at these remote islands, so look carefully at your intended route if you wish to see them.
Elephant Island
Travelers interested in polar exploration history will want to ensure that Elephant Island is a stop on their cruise to South Georgia. It was here that the crew of Shackleton's Endurance overwintered while he and five men crossed open ocean in a small lifeboat to reach South Georgia and arrange the rescue of their fellow crew members. Certain itineraries will attempt to visit this exact locale, known as Point Wild.
The Antarctic Circle
To truly experience it all, and for an unforgettable highlight, elect for a cruise to South Georgia that includes an Antarctic Polar Circle crossing. Crossing the Antarctic Circle at 66°33´ South of the equator is an impressive achievement, as it's a part of the world visited by very few people.
Starting & Ending Your South Georgia Falklands Cruise
There are various locations to begin and complete your South Georgia Falklands cruise. While most South Georgia trips operate round-trip from Ushuaia, Argentina, options also exist to link your South Georgia cruise with Santiago or Punta Arenas in Chile, Buenos Aires or Puerto Madryn in Argentina, or even sail the Argentinean coastline en route to your South Georgia Island tour.
Travel to South Georgia with Our Firsthand Expertise
An AdventureSmith Specialist recently took a South Georgia Island cruise and lends his insight about what it's really like sailing to South Georgia Island. We are award-winning Antarctica travel experts, here to help you find the right South Georgia cruise at the best price. Read our Antarctica Travel Guide – How to Choose Your Cruise which includes reference posts such as How Much Does It Cost to Go to Antarctica and the Best Time to Visit Antarctica, plus Antarctica cruise reviews for eyewitness insights into ships, weather, planning and more. You can also look to our continually updated Antarctica cruise deals if you are seeking to browse by what's on sale, or consult our Antarctica Cruise Finder to see all your White Continent expedition options. Our expertise makes research, trip preparation and travel to South Georgia hassle free.
Start Planning Your Cruise to South Georgia
Work with a dedicated Adventure Specialist with expertise in South Georgia trips, to research, book and prepare for your small ship cruise. Our crew will handle all the arrangements including pre- and post-cruise transfers, gear rental if needed, hotels, tours and trip extensions. We can also assist in linking your South Georgia cruise with other travels within South America, such as a Patagonia tour.
Start your trip search below by using the filters to narrow down your search, or contact us for a personalized recommendation on the best South Georgia cruise for your interests, budget and timeline.