This information was updated on 6/6/2022. Please note that Antarctica travel restrictions are subject to change without notice; we will continue to update this page further as more details become available for upcoming Antarctica 2022-2023 cruises.
If you are planning travel to Antarctica, here is what you need to know about Antarctica travel restrictions and COVID-19 in Antarctica. Cruises resumed and have successfully operated since November 2021 and cabins are now filling fast for future seasons.
There are requirements concerning gateway cities, including Argentina travel restrictions and Chile travel restrictions. There are also vaccination and testing requirements from Antarctica travel operators. Below we outline the situation with Antarctica travel restrictions and offer our advice for travelers booked on or considering Antarctica in the age of COVID-19.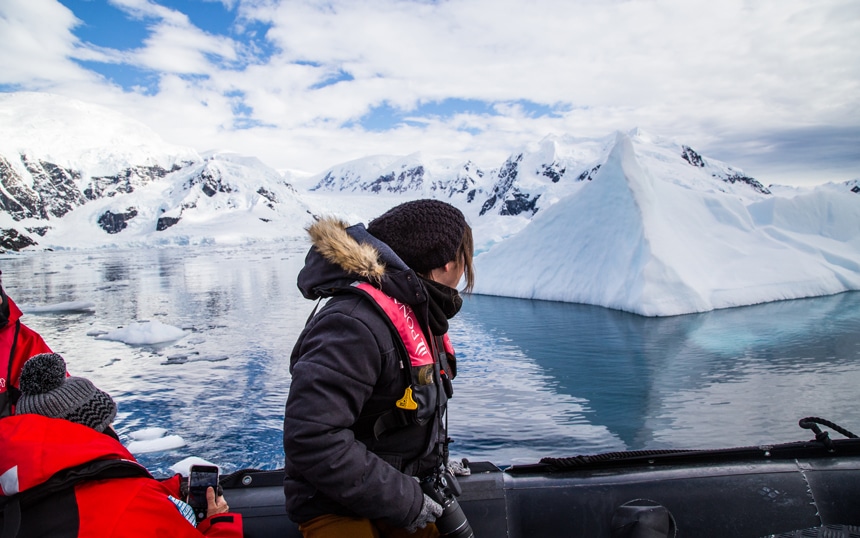 IN THIS POST – Antarctica Travel Restrictions:
Can You Travel to Antarctica?
COVID In Antarctica
Antarctica Travel Restrictions
Argentina Travel Restrictions
Chile Travel Restrictions
Cruise Vaccination & Testing Requirements
Travel Insurance & Flex Booking Policies
Cancelled Antarctica Cruises
Antarctica Cruise COVID Protocols
CDC Travel Guidelines
Can You Travel To Antarctica During COVID?
More Resources
Important Note: If you are an AdventureSmith booked client and you have a question please contact your Adventure Specialist for the most up-to-date and detailed information on Antarctica travel requirements. If you interested in booking a cruise to Antarctica please contact us. If you are seeking free advice please use the comments at the bottom of this post to ask a question.
Can You Travel to Antarctica?
Yes, Antarctica is open for travel. The Antarctica travel ban has been lifted and Antarctica cruises are operating. If you are wondering if you can travel to Antarctica, the answer is yes. Or begin planning now for next season.
Last season some operators have consolidated departures aboard fewer ships. Others altered embarkation ports or cruise dates. So, there may be future changes for booked or interested passengers. The good news is that the Antarctica travel ban is over and cruises are operating in Antarctica.
COVID in Antarctica
Due to its remote location and small population of researchers, Antarctica was the last continent affected by the COVID-19 pandemic. The first cases of Covid in Antarctica were reported at the Chilean research base in December 2020. Antarctica travel restrictions are in place to prevent COVID from entering.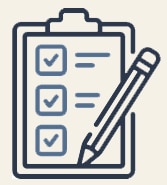 Antarctica Travel Restrictions
Antarctica itself does not have any COVID travel restrictions or entry requirements. Nor is there an Antarctica travel ban or any South Pole travel restrictions. However, since tours access the region from Argentina and Chile, travelers must abide by the restrictions of those countries. Because most travelers to Antarctica get there through Chile and Argentina, we focus on these entry points in this post. Learn more about how to get to Antarctica.
Argentina Travel Restrictions
Argentina COVID travel restrictions are being eased. The country has removed most vaccination and testing requirements. Argentina travel restrictions and entry requirements are currently as follows:
All travelers to Argentina must complete the an electronic "Health declaration form" no more than 48 hours prior to travel. There are some confusing questions for Antarctica cruise passengers, view our tutorial for help completing this form.
All travelers to Argentina must have medical travel insurance with comprehensive coverage for coronavirus, including hospitalization and the costs of self-isolation if required.
Individuals entering the country must carry all documentation that accounts for travel requirements for 14 days after their arrival.
For more details visit the US Embassy in Argentina and the Argentina Ministry of Health.
Argentina COVID Protocols
In addition to the Argentina travel restrictions, expect the following COVID protocols upon arrival and while traveling:
Masks are optional nationwide but may be required in some public spaces including hospitals, restaurants, hotels, public transportation and passenger vehicles.
Observe signage regarding physical distancing. Keep one meter distance from others.
A nationwide curfew has been lifted but cities and departments are on high alert and may be subject to curfew depending on the epidemiological situation.
Restrictions on intercity or interstate travel have been lifted. Individual provinces may require additional local permits to enter or transit.
Chile Travel Restrictions
Chile COVID travel restrictions are being eased. The country has removed vaccination and testing requirements for entry. Chile travel restrictions and entry requirements are currently as follows:
The Chilean Government no longer requires travelers to obtain a Mobility Pass in order to enter Chile. However a valid Mobility Pass will still be required in many situations, including but not limited to the following. As such we still recommend a Mobility Pass for all Antarctica travelers.

Domestic travel (by plane, bus, etc.) For example, if you are arriving in Santiago and have a connecting domestic flight to another city in Chile, a Mobility Pass will not be requested upon arrival in Santiago, but will be required to board your connecting domestic flight
Indoor dining at restaurants
Access to theaters and cinemas
Participation in organized tours
Attendance at large public events (sporting events, concerts, etc.)

The pass can be requested at www.mevacuno.gob.cl and requires proof of full vaccination. The process takes 2-4 weeks on average, and the Mobility Pass has a validity of 45 days. Delays are normally associated with incomplete applications or inconsistent information provided. The mobility pass application is a bit confusing, view our tutorial to help complete it. The mobility pass application now available in 15 languages.

Diagnostic tests will be carried out randomly at the entry point to Chile. Confirmed cases shall be isolated according to the general health regulations.
Travel insurance to cover any medical expenses related to COVID-19 with a minimum coverage of $30,000 USD for health benefits.
Travelers must complete a "Travelers' Affidavit" form available at https://www.c19.cl/llegada-internacional.html. This form must be completed no more than 48 hours before boarding your flight to Chile. The Chile travelers' affidavit includes an affidavit, contact and health information, travel history etc. Travelers must upload negative PCR results (taken within 72 hours), medical travel insurance certificate and proof of vaccination. Timing the completion of this form, with your negative PCR test will be tricky and may require you complete the form while en route to Chile.
Travelers will need to provide copies of the travelers affidavit and the insurance coverage to the airline prior to boarding the flight to Chile. They will also need to show those documents to the Chilean authorities upon arrival in Chile.
For more details visit the U.S. State Department Chile Travel Advisory or the Chile Borders Plan or Chile Travel Requirements for entering Chile. This Q&A from Fedetur Chile is helpful (in Spanish)
Chile COVID Protocols
In addition to the Chile travel restrictions, expect the following COVID protocols upon arrival and while traveling:
Face masks are required on public and private transportation, enclosed areas and common areas including restaurants and hotels. on all public transportation.
Observe signage regarding physical distancing. Keep one meter distance from others.
A curfew is currently not in place.
Restrictions on intercity or interstate travel have been lifted. Individual provinces may require additional local permits to enter or transit.
COVID Tests For Use When Departing Argentina
Rapid antigen testing centers are available in Argentina's Ezeiza (EZE) and Aeroparque (AEP) airports. Results in 30 minutes make this a handy option for departing travelers.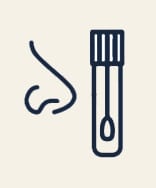 Antarctica Cruise Operator Vaccination & Testing Requirements
Virtually all the best Antarctica cruise lines have announced vaccination requirements for guests and crew. With the constantly changing nature of the ongoing pandemic, there are likely to be additional changes to vaccination and testing requirements.
The Antarctica experts at AdventureSmith Explorations strive to keep our clients well informed of the testing and vaccination requirements associated with their particular adventure. For general information, consult our guide to How to Get a COVID Test for Travel. What follows are individual operator policies at the time of writing (these are subject to change without notice):
Quark Expeditions requires all guests and crew to show proof of vaccination. In addition, they require a negative PCR test result within 72 hours of boarding. Finally, they have implemented onboard rapid PCR testing with results available within 60 minutes, to ensure all guests test negative for COVID-19 before boarding ships.
Ponant requires all passengers and crew members over 16 years old to be vaccinated before the cruise. Guests and crew will also need to show proof of a negative PCR test carried out within 72 hours of boarding the ship. This applies to all expeditions in Antarctica.
Aurora Expeditions requires all embarking crew, expedition team and guests be fully vaccinated against COVID-19 prior to embarking any of the company's cruises. Expeditioners must also undertake a COVID-19 test 72 hours before embarkation and present proof of a negative result. On the day of embarkation, all expeditioners will be required to undergo another COVID-19 test, as well as additional health screening.
Lindblad Expeditions requires all travelers 5 years of age an above to be vaccinated. (Effective September 1, 2022, all travelers 6 months to 4 years of age will be required to show proof of vaccination). A booster shot is also required for all travelers 12 years and above. A COVID-19 test, arranged by Lindblad Expeditions, is required on the day of embarkation prior to boarding.
Polar Latitudes requires that all passengers, staff and crew be fully vaccinated with at least one booster shot. The company will test all passengers prior to embarkation. We strongly recommend (but do not require) testing before arrival in Ushuaia.
Antarctica21 requires all passengers and crew members to be vaccinated before the cruise; exceptions can be considered for children and young adults up to 17 years old who do not have access to COVID-19 vaccines and are in good health. The day before embarkation, all guests are required to undergo a medical check, complete an antigen test (with negative results) and fill out an affidavit; all administered by the cruise operator. A face mask may be required on flights to and from Antarctica.
Poseidon Expeditions requires all passengers to either present proof of a valid COVID vaccination certificate (prior to departure and upon boarding) OR provide evidence of a successful COVID-19 antibody test (SARS-CoV-2 IgG/IgM) showing sufficient antibody results, not older than two months prior to embarkation. Both groups (regardless of age) must also provide results of a negative PCR test administered within 72 hours of embarkation. The cruise operator will provide a mandatory PCR test the day prior to embarkation, and a temperature screening prior to boarding. Crew must be fully vaccinated and will undergo pre-boarding health checks and screenings, and regular testing.
Oceanwide Expeditions requires that all crew, and passengers be fully vaccinated prior to embarkation and present a certificate of negative COVID-19 PCR test carried out by a recognized test center no more than 5 days before boarding. Passengers boarding directly after arrival into Argentina can still use the mandatory PCR test used for their international flight, as long as it is not older than 5 days. Upon boarding the ship, luggage will be sanitized and guests will undergo temperature screening and protocols that involve the use of face masks and physical distancing. On board, face masks will be required in public areas, especially when distancing is difficult, and thermal cameras will automate temperature screening.
Advice Before You Leave Home
For two weeks prior to your departure, and during travel to your destination, we recommend you follow common sense protocols regarding masking and social distancing to avoid contact with COVID-19. Take reasonable measures to reduce the risk of exposure and follow all CDC guidelines. Even for trips and destinations where a COVID-19 test is not required, we recommend you test 72 hours prior to departure and do not travel if you test positive. Wear masks in airports and aboard airplanes. Be careful in bars, restaurants and other crowded places that are higher risk. Arriving for your trip healthy will provide peace of mind and help you to enjoy your trip.
U.S. Entry Requirements by Air
As of 12:01pm ET on June 12, 2022 the United States has rescinded the COVID testing requirement for all travelers arriving to the United States. The requirements are no longer in effect. See the statement from the Center for Disease Control and Prevention.
Travel Insurance & COVID in Antarctica
Emergency medical evacuation insurance is typically required or included on most Antarctica cruises. Many travel insurance policies can provide coverage for trip cancellation if you or a traveling companion test positive for Coronavirus. We always recommend travelers to Antarctica purchase travel insurance, especially in today's travel environment. See our Antarctica travel guide for advice on the best travel insurance for Antarctica.
Cancelled Antarctica Cruises
Over the past two seasons some operators have had to cancel Antarctica cruises. Others have consolidated ships and departures. As such, some travelers have found their Antarctica cruise cancelled. We recommend working with your cruise line or booking agency to reschedule your cruise or request a refund, based on the options presented by cruise operators. If you have had your Antarctica cruise cancelled and you are seeking to book a new cruise, contact us.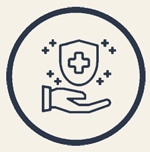 Antarctica Cruise COVID Protocols: What to Expect
Travelers booked on or considering an upcoming cruise can expect things to be quieter than usual with fewer boats. As we've seen with the return of Galapagos cruises and Alaska cruises, wildlife sightings are exceptional after the temporary closures caused by the pandemic.
Cruise operators are updating their procedures and protocols to protect travelers and locals. While these protocols continue to evolve, there are several things you can expect on an Antarctica cruise during COVID:
Vaccination requirements for Antarctica cruises
Pre-boarding mandatory health questionnaires
Additional COVID-19 tests (either rapid antigen or PCR) immediately prior to boarding
Chile and Argentine may again require proof of vaccination and a negative COVID-19 test to enter. Be prepared for changes based on local conditions.
Adherence to local mask mandates and social distancing in Chile and Argentina
Strict COVID-19 management protocols (prevention & mitigation). See IAATO COVID-19 recommendations for last season. Similar recommendations are likely for the upcoming season.
Possible reduced or eliminated visits to Antarctica research stations
Testing requirements for return to the United States. View United States entry requirements.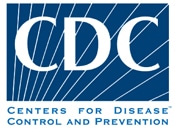 CDC Travel Guidelines
The CDC recommends that travelers take these steps to protect yourself and others from COVID-19. While these guidelines are written for U.S. citizens, the advice applies to any international traveler. For more information visit Travel During COVID-19.
If you are eligible, get fully vaccinated for COVID-19, including all booster shots for which you are eligible. Wait 2 weeks after getting your second vaccine dose to travel—it takes time for your body to build protection after any vaccination.
Get tested with a viral test 1-3 days before you travel. Keep a copy of your test results with you during travel in case you are asked for them. Do NOT travel if you test positive.
Check travel restrictions before you go
Wear a mask over your nose and mouth when in public settings. Masks are recommended on planes, buses, trains and other forms of public transportation traveling into, within, or out of the United States and in U.S. transportation hubs such as airports and stations.
Avoid crowds and stay at least 6 feet/2 meters (about two arm lengths) from anyone who did not travel with you. It's important to do this everywhere—both indoors and outdoors.
Wash your hands often or use hand sanitizer (with at least 60% alcohol)
Bring extra supplies, such as masks and hand sanitizer.
Avoid contact with anyone who is sick
Avoid touching your eyes, nose and mouth
Do NOT travel if you were exposed to COVID-19, you are sick or you test positive for COVID-19. Learn when it is safe for you to travel. Don't travel with someone who is sick.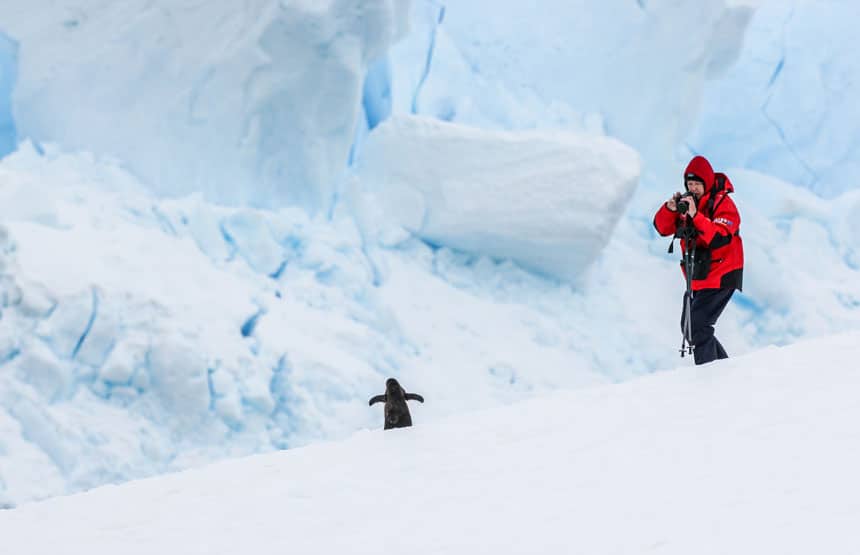 Can You Travel to Antarctica During Covid?
Yes, you can travel to Antarctica during COVID. The upcoming Antarctica cruise season is operating.
Antarctica is a remote wilderness location where it is easy to socially distance and exposure is minimal. Furthermore, some operators are creating a safe travel bubble with charter flights, private transfers and self-contained ships. Antarctica travel restrictions, vaccine requirements, extensive testing and rigorous protocols are intended to create a safe travel corridor for Antarctica travelers.
We encourage Antarctic travelers currently booked to remain patient. We are constantly in touch with our clients, conveying the latest information and updates regarding Antarctica travel restrictions and entry requirements. If you are interested in booking Antarctica, do so with confidence and flexible booking policies. Be sure to protect your investment with travel insurance. It could be the best time ever to travel to Antarctica.
MORE ANTARCTICA RESOURCES:
Antarctica Travel Guide
Antarctica Cruises
Luxury Antarctica Cruises
Falkland Islands & South Georgia Cruises
Cruises with Flights to Antarctica
Best Time to Visit Antarctica
Antarctica Cruise Cost
How to Get to Antarctica
Things to Do in Antarctica
Places in Antarctica
Can You Visit Antarctica?
Antarctica Ships
Best Antarctica Cruise Lines
Antarctica Cruise Deals
Antarctica Cruise Reviews
If you have questions about Antarctica travel restrictions or are looking for advice, please use the comments below. We will answer your questions to make this Antarctica COVID travel update even better. If you are interested in booking a trip to Antarctica, please contact us. Thanks.