Arctic cruises are complex and offer a bewildering array of options to regions many travelers have never heard of. From North Pole expeditions to Greenland, Iceland, Svalbard, Norway and more, the great white north has never been more accessible. With such a huge selection of trips and ships to choose from, it can be challenging to decide which is best for you. The Arctic cruise experts at AdventureSmith Explorations are here to help. We have compiled the latest up-to-date information and culled the best tips from our Arctic Adventure Specialists to bring you this comprehensive Arctic cruise guide.
From North Pole expeditions to Greenland, Iceland and Svalbard, the great white north has never been more accessible by small ship.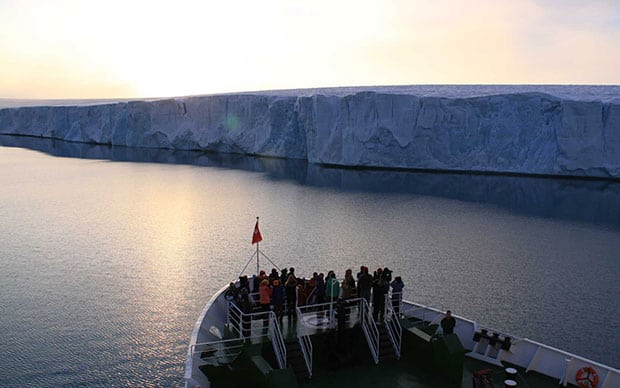 Where Is the Arctic?
The Arctic is generally described as everything north of the Arctic Circle, a line of latitude at approximately 66° 34′ N. The region spans the Arctic Ocean—the smallest and shallowest of the world's oceans—and 8 countries, covering land areas in parts of Canada, Greenland, Iceland, Norway, Russia and the United States (Alaska), as well as Sweden and Finland.
Despite its climate, one of the planet's harshest, over 4 million people call this place home. These settlements, along with the Arctic's history of polar exploration, Viking conquests and Northwest Passage and North Pole explorers, make it a culturally exciting region to visit—not to mention its stunning ice and tundra, and central symbol: the polar bear.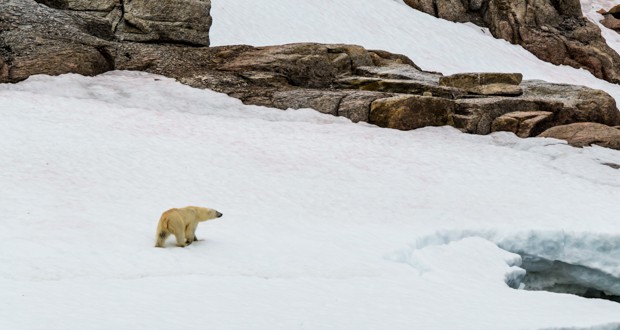 When to Go to the Arctic
Arctic expeditions generally operate during the summer in North America and Europe. Most cruises begin in May and continue through September or early October when daylight hours are longer. In May, temperatures average around 30 degrees Fahrenheit in Longyearbyen, Spitsbergen, and Nuuk, Greenland. July and August are the warmest months on average to visit, with temperatures averaging in the mid-40s.
During this short Arctic summer there is an incredible range of conditions and the best time to travel to the Arctic should be based on what you wish to experience. The main features of the Arctic climate are low amounts of precipitation, mild summers and very cold winters. Great seasonal changes in the length of days and nights are experienced north of the Arctic Circle, with variations that range from 24 hours of constant daylight ("midnight sun") or darkness at the Arctic Circle, to six months of daylight or darkness at the North Pole. Fog is also prevalent and factors into much of every Arctic expedition's course. Seasonal highlights can vary each year, roughly following the patterns below.
Late May-Early July
During the early-season months, sea ice is prevalent and the possibility of seeing more polar bears is a bonus as they're easier to spot on the polar ice. A full circumnavigation of Spitsbergen is likely not possible at this time. Early-season voyages often provide the greatest opportunity to see large ice floes in the Arctic pack ice, which usually means excellent wildlife viewing.
July-August
Svalbard and Spitsbergen expeditions sail at this time as the sea ice is more broken up, offering the chance of circumnavigation, more wildlife spotting, more landings and land access in general. Polar bear spotting takes a keener eye at times as they can be a bit harder to spot on land vs. the sea ice. This time of year, ships can cover more territory and explore more of the Svalbard archipelago, which can lead into the less-explored regions of Nordaustlandet and Kvitøya, or the continental edges where large whales are attracted by nutrient-rich upwellings.
September
Fall comes early in the Arctic, and by September nights are dark enough to witness the aurora borealis, northern lights. Time at sea is perfect for witnessing this phenomenon, while days are still spent exploring sites up close and searching for wildlife.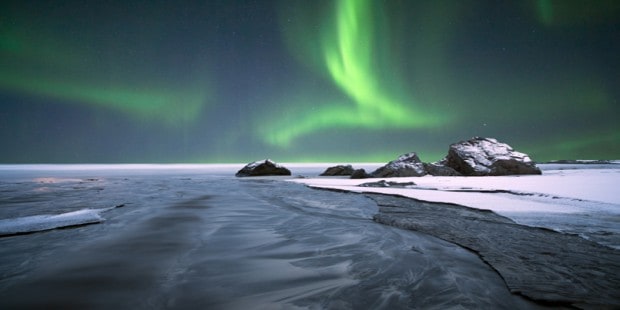 Arctic Ships
The fleet of expedition ships cruising to the Arctic carry 108-200 guests and are specially outfitted to travel in polar waters. They are all fairly similar in terms of ice class and amenities. In general we suggest you consider your itinerary first, and then select your ship. In regions such as Svalbard and Iceland, there will be more choices of ship while more remote regions such as Canada and the North Pole may offer only one ship.
In general we suggest you consider your itinerary first, and then select your ship.
Expedition Ships
Newer polar expedition ships feature onboard helicopters for heli-assisted adventures, including hiking, alpine kayaking, mountain biking, camping and flightseeing. Advanced Arctic small ships offer internal Zodiac hangars for increased safety and efficiency when loading and unloading for off-ship excursions. Modern expedition ships are being built for longer operational ranges as well, with some vessels able to cruise for 70 days at a time. Private balconies are increasingly offered on these state-of-the-art ships, with some boats featuring a private balcony for every cabin category. Dedicated single cabins are appearing on newer deck plans as well.
Motorsailers
If you are seeking a more intimate exploration, the Arctic is also home to smaller sailing vessels carrying 20-33 guests. These ships are well suited for sailing the small islands of the Arctic and offer the same up-close exploration as the larger expedition ships but come with tighter quarters and the authentic experience of all hands on deck. Even when under sail, these ships offer open deck areas for spotting whales and viewing the northern lights.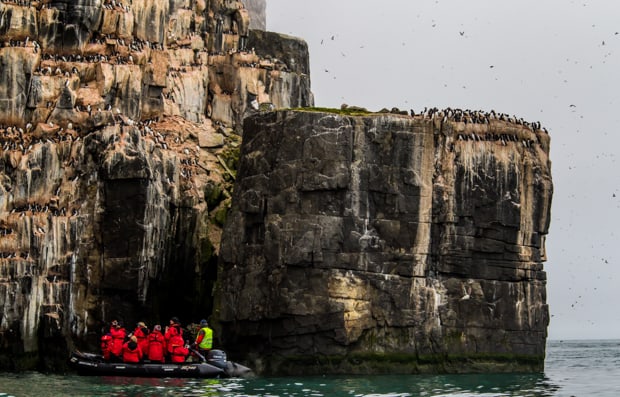 Choosing Your Arctic Cruise Region
Arctic cruises can be separated into the regions in which they operate. They are also distinguished by the length of the itinerary.
Svalbard/Spitsbergen
Svalbard is the most popular region for Arctic cruising because it is easily accessible from Norway and it offers such a wealth and diversity of natural and cultural history sites. Cruises range in length from 7-19 days and may feature a partial or full circumnavigation of the archipelago and/or its largest island, Spitsbergen. Svalbard offers many of the Arctic highlights including polar bears, walrus, the aurora borealis, magnificent fjords and towering glaciers all in a concise geographic location. Shorter cruises to Svalbard are the most affordable Arctic cruises available.
Svalbard & Beyond
Travelers with more time will want to consider a cruise that includes Svalbard plus another region such as Norway's fjords, Iceland, Greenland, Scotland and the Faroe Islands, or Franz Josef Land. These expeditions tend to be longer at 12-18 days and offer a spirit of true exploration to remote Arctic landscapes. Combine nature and wildlife with unique Arctic cultures.
Iceland
Iceland cruises are on many travelers' bucket list, and an exploration by small ship is a great way to experience this unique island country. It's a land of sharp contrasts: fire (volcanoes) and ice, dark winters and the summer midnight sun. And it's a place whose insular existence has created a rich, vibrant and entirely unique culture. Whether you choose a circumnavigation of the entire country, an Arctic cruise that visits Iceland or a pre- or post-cruise trip extension here, you will appreciate the region's geology, wildlife and culture.
Greenland
Greenland is the world's largest island and hosts a dramatic landscape and unique culture. With the massive Greenland Ice Sheet at its center, life clings to the shoreline making it the perfect place to explore by small ship. Eastern Greenland is typically combined with Svalbard, while Western Greenland is usually combined with the Canadian High Arctic. Of all the Arctic regions, West Greenland is perhaps the most culturally interesting; meeting the remote communities here is really something special.
Canadian High Arctic
The Canadian High Arctic, typically accessed from Canada or Greenland, can be explored in as short as 9 days, up to 20 days, navigating Baffin Bay and the surrounding archipelago. Terrain is mountainous with steep-sided fjords and high and low plains covered in varieties of mosses, lichens and grasses. Fairytale-like creatures roam the icy waters and treeless tundra: narwhal, beluga whale, lemming, muskox, wolf, fox, hare and, of course, the polar bear. Itineraries are packed with stories of Inuit culture and fabled attempts to sail the Northwest Passage, making this a full package of wildlife, nature and enduring history.
The North Pole
A handful of Arctic expeditions, possible only aboard the world's most powerful icebreakers, aim to have guests stand at 90° North, the North Pole. Be prepared to spend two full weeks on this challenging expedition (only first successfully completed as recently as 1948!) and a significant cabin fare for the chance to add your name to the short list of adventurers who have made the ultimate journey to the top of the world.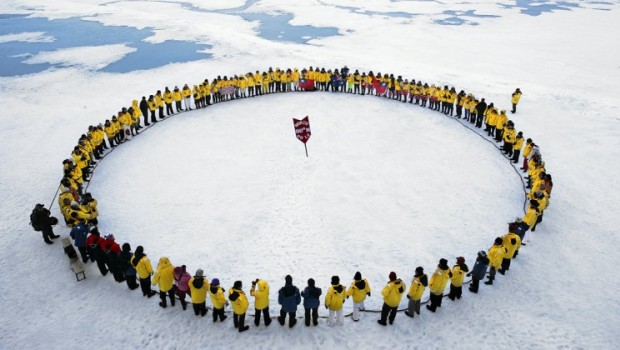 Arctic Cruise Activities
All of our Arctic cruises involve daily off-vessel excursions with a focus on exploring the Arctic environment up close and viewing wildlife. Expedition leaders and naturalist guides lead small craft (Zodiac) cruises and hiking; select departures also feature included flightseeing, heli-assisted hiking or helicopter transfers to landing sites. Presentations on board enhance your knowledge and understanding of the local environment and cultures. Some cruises offer an added-cost kayaking program or one-time paddling excursions, while others do not, so be sure to check if this is important to you. Other added-cost activities aboard cruises may include hot air ballooning (North Pole), scuba diving (Scoresby Sund), ice fishing and hovercraft excursions (aboard Le Commandant Charcot), and helicopter-assisted adventures such as camping, mountain biking and alpine kayaking.
Shore landings in the Arctic are unique, and special precautions must be made to ensure safety in polar bear country. Before guests arrive ashore, scouts are sent out to make sure the area is clear of bears. Guides are equipped with guns in case of emergency. If fog or weather prevents this safety measure then a shore landing will not be attempted. In situations where shore landings are not available, small craft excursions will replace hikes.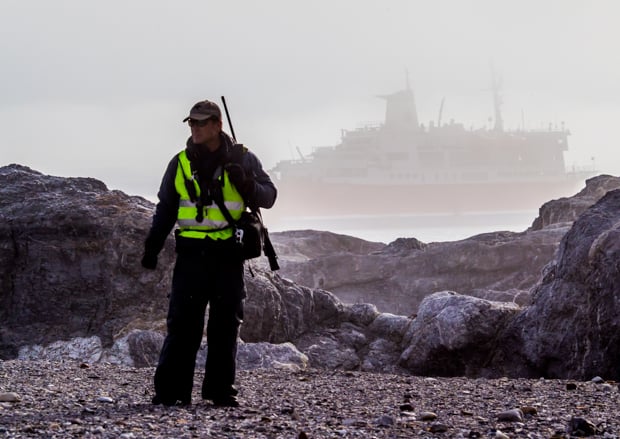 Solo Travel in the Arctic
Solo or single travelers have many options aboard Arctic cruises. Many Arctic expeditions have double, triple or even quad cabins that are available on a share basis. Sign up to share with same-sex roommates and you can save a bundle. In most cases travelers are guaranteed the share rate, even if a roommate is not found. This helps keep solo travel costs down. If you prefer to have your own cabin there are ships that offer single accommodations. For those that do not have single or solo cabins you can book a double cabin as a single, but expect to pay a single supplement. Arctic single supplements are usually 1.7-2x the standard double rate for one person. Solo travel is more common in the polar regions than other destinations so finding a roommate share is usually not a problem, and ships are accustomed to catering to single travelers.
Seeking Out a Deal
Browse our Arctic cruise deals to find out which expeditions are currently on sale. This page is continually updated to bring you the latest savings and discounts. Combine that with our expert advice and personal experience for the ultimate savings and travel efficiency to the region.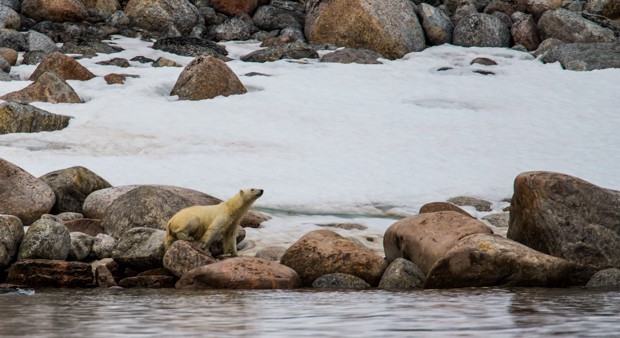 Preparation for Your Arctic Expedition
AdventureSmith travelers are prepared for their expeditions through one-on-one correspondence with an Adventure Specialist and an extensive pre-cruise planner with packing lists, reading lists and answers to most common questions. Our team has traveled extensively in the Arctic, collectively on most of the ships we offer, and can provide very detailed expectations on what you can expect on the voyage and the ship, what to pack and how to get the most out of your Arctic experience. Our team can also recommend flight consolidators that can help you find the best flight deals and manage any trip support you may need if there are airline weather delays or other issues. Our website is full of helpful tips, as well as travel journals and trip reviews from our past travelers.
Getting to Your Arctic Cruise
Arctic cruises are primarily operated out of Northern Europe, although some specialty cruises will embark from Northeastern Canada or Murmansk, Russia. Voyages have various embarkation and disembarkation points, and cruises are not always round-trip. Cruises to Svalbard/Spitsbergen embark in Longyearbyen and require the purchase of an additional charter flight, usually from Oslo, Norway. Arctic cruises originating in Iceland embark in Reykjavik, which has direct air service from the U.S. and Europe. Group flights are often available when you book your cruise. Some longer cruises explore the fjords of Norway before proceeding to the Arctic. These can embark in any number of port cities and will usually connect through Oslo, Norway. Oslo is a beautiful city and worth a day or two of exploration before you proceed to your Arctic cruise. Cruises from Canada can depart from a number of northeastern ports and usually include a charter flight from Ottawa, Toronto or other gateway city. As you can see, getting to your Arctic cruise can be complicated. Our experts are here to help.
Seasickness in the Arctic
Arctic waters are relatively calm, with the exception of the Denmark Sea. However, bad weather can cause rough water, and everyone reacts differently to rough seas and even calm seas while on a Zodiac cruise, so please travel with motion sickness medicine. Read our tips to combat seasickness.
Travel Insurance & Emergency Medical Evacuation
Most Arctic cruises require a minimum amount of emergency medical evacuation insurance coverage, typically not included in your personal health insurance. We recommend travelers consider a comprehensive travel insurance policy that will include emergency medical evacuation as well as cancellation coverage. A select few Arctic outfitters include this insurance in the trip cost, so be sure to check with your Adventure Specialist on the inclusions of your expedition.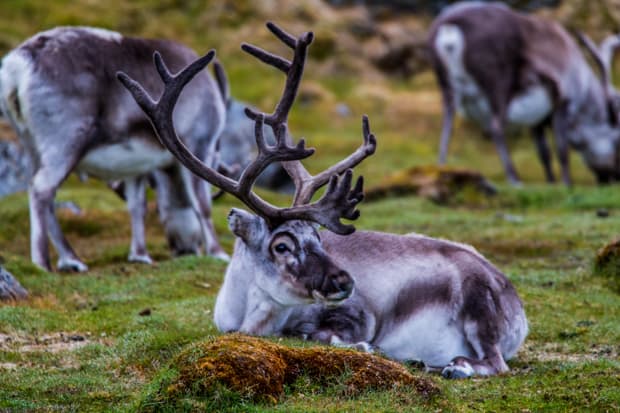 Why Take an Arctic Cruise?
Seasoned small ship cruise travelers likely know the answer to this question, even if they have never considered Arctic travel. Small ships are the perfect vehicle to explore remote destinations and view wildlife up close and in comfort. Each day offers new opportunities to explore away from the ship, primarily by small inflatable craft or walks ashore, in the company of expert expedition leaders and naturalist guides. In the Arctic this means viewing polar bears, walrus, muskox, reindeer, arctic fox and a variety of birds and whales.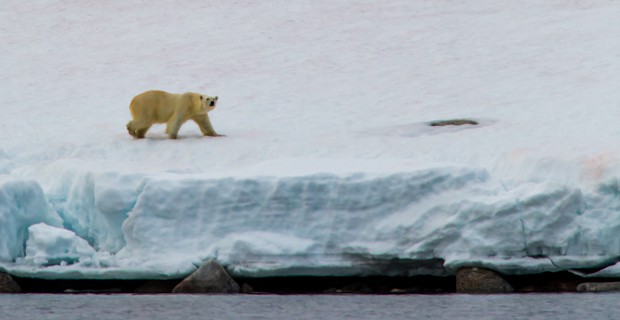 Polar bears are often the main draw for many Arctic cruise travelers, but the stunning landscapes, sheer amount of diverse wildlife and ice are just as impressive. "No one comes to Svalbard by accident," said an expedition leader on Adventure Specialist Andrew Browning's Realm of the Polar Bear voyage, and this type of purpose-driven traveler is exactly why taking an Arctic cruise is so very special. It's pure wilderness, in some of the most remote corners of the world. And traveling on an expedition there puts you in the company of exploration-minded travelers from all over the world.
For the select few who aspire to reach the top of the world, the Arctic provides the ultimate destination: the North Pole. For centuries, adventurers and explorers tried to get here by sled, ship, aircraft, dogs and balloons. The harsh realities of the Arctic climate defeated every single one of them until as recently as 1948. Now only the strongest of icebreakers make the journey on a select number of departures each year.
History buffs will appreciate the option to travel in the footsteps of famed Arctic explorers like Sir John Franklin and Roald Amundsen. Particularly along the Northwest Passage between Canada and Greenland, journey back in time to the height of Arctic exploration, navigating the waters explored by sailors from different lands and visiting the sites that helped unlock the eventual discovery of the connection of Atlantic and Pacific waters.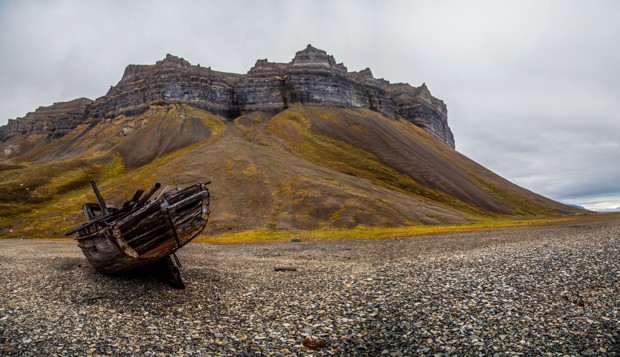 Arctic Cruise vs. Antarctica Cruise
Many travelers will ask whether their first polar cruise should be to the Arctic or Antarctica, or they even confuse the two. While the two regions share some characteristics—for instance they can both be cold—they are quite different overall. The Arctic encompasses a vast frozen ocean around the North Pole, surrounded by the land masses of North America, Greenland, Svalbard, Northern Europe and Russia. Antarctica is a frozen continent anchored by the South Pole and surrounded by vast open oceans. The Arctic is home to polar bears; the Antarctic is home to penguins (except for animated movies and zoos, you will never see them together in the wild).
The Arctic is home to polar bears; the Antarctic is home to penguins (except for animated movies and zoos, you will never see them together in the wild).
Of course, the travel seasons are opposite so travelers in the USA would visit the Arctic in the summer and Antarctic in winter. For those of us lucky enough to have traveled to both, they are difficult to compare and overall experience is often dictated by the circumstances and encounters of each cruise. In our experience, most travelers will visit Antarctica first, but this could be simply because it is better known. Learn more with our primer on Arctic vs. Antarctic cruises.
Arctic Land Tours
AdventureSmith Explorations also offers a selection of land- and lodge-based tours that are perfect as small ship cruise extensions or standalone trips. Our Arctic land tour options provide unique locations, including Somerset Island within the famed Northwest Passage, Churchill and its surrounding tundra in Manitoba, Canada, and the small town of Tasiilaq in southeastern Greenland.
For travelers focused on polar bear viewing, the Tundra Lodge Adventure and Classic Polar Bear Adventure will have you roaming the tundra near the world's greatest concentration of polar bears. Experience polar bears from comfortable all-terrain tundra vehicles called Polar Rovers and perhaps be inches away from a polar bear below the corrugated steel mesh floors, where the more curious bears often walk.
For those interested in the classic Arctic cruise activities of kayaking, glacier cruising by Zodiac and guided walks, without sleeping aboard a ship, East Greenland: Arctic Safari offers a remote, land-based option with an intimate group of up to 12 guests. Adventure and activity enthusiasts will appreciate the multiple experiences from Arctic Watch Wilderness Lodge, including photography, fat biking, river rafting, stand-up paddleboarding, fishing, hiking, kayaking, trail running and all-terrain vehicles. Learn more about our Arctic land tours.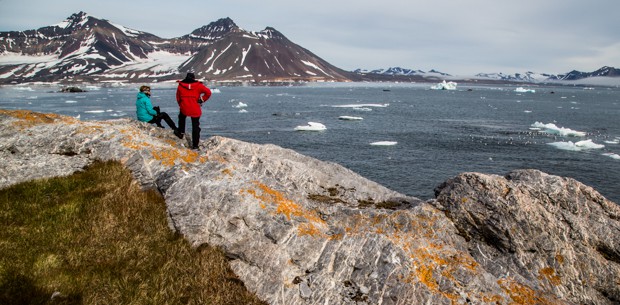 Expert Arctic Cruise Advice, Planning & Preparation
It's important to make your Arctic travel experience the best it can be for your style of travel and interests. Choosing experts like AdventureSmith Explorations or your trusted travel agent to help you find the best trip and ship is invaluable. After reading our Arctic cruise guide above, contact the experts at AdventureSmith to customize your expedition and learn from our firsthand experience traveling in the Arctic.
All photography by & copyright AdventureSmith Specialist Andrew Browning, except the following image: Northern Lights, North Pole (Quark Expeditions).
Note that this Arctic small ship cruise guide was originally published in January 2016, and is updated periodically by our experts to keep it current for AdventureSmith travelers, present and future. Our most recent update occurred February 2020. For more articles, advice and inspiration visit our comprehensive small ship cruise guide.