Autumn is a bustling time in the Pacific Northwest, especially along the paths of small ship cruises, which take into account fall colors and local harvests so that travelers on board can see and taste the bounty. Here are our top 3 cruises for this coming fall season:
Rivers of Adventure & Wine – round-trip from Portland, OR
Washington and Oregon vineyards saw their first picks of sauvignon blanc, chardonnay and pinot gris in mid-August, with the harvest usually lasting into November, so our Rivers of Adventure & Wine Cruise departures this fall offer the perfect time to get a behind-the-scenes look at vine to bottle. Plus, enjoy active excursions along the way, including near-daily opportunities for hiking, paddling, swimming and skiff rides joined by natural and cultural history guides. Experience the Columbia, Willamette, Deschutes and Snake rivers paired with local food and samplings, whitewater rafting and more on this 8-day itinerary aboard the 86-guest replica steamer Wilderness Legacy.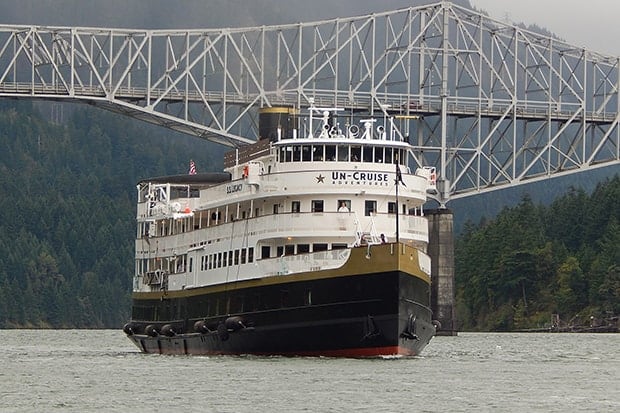 A sommelier joins you on board for the week as you uncover what makes this region a hotspot for vintners & adventurers alike.
All wine, premium spirits, microbrews and food tastings are included in the cruise cost. A sommelier joins you for the week as you uncover what makes this region a hotspot for vintners. In Washington alone, there are more than 850 wineries in operation today, and the Walla Walla appellation boasts nearly 3,000 acres of these planted vineyards. Passengers disembark here to tour the unique Dunham Cellars, located in a remodeled World War II-era airplane hangar and noted for its original artwork.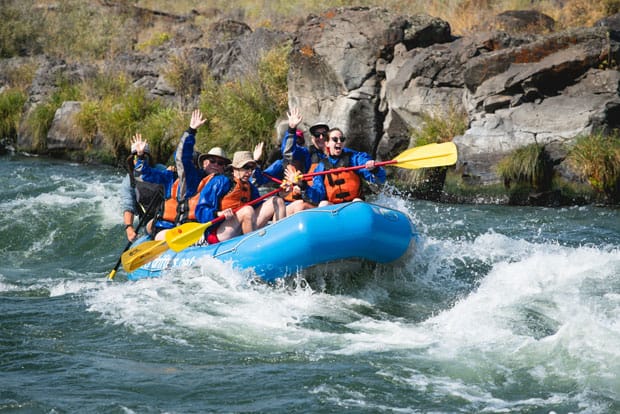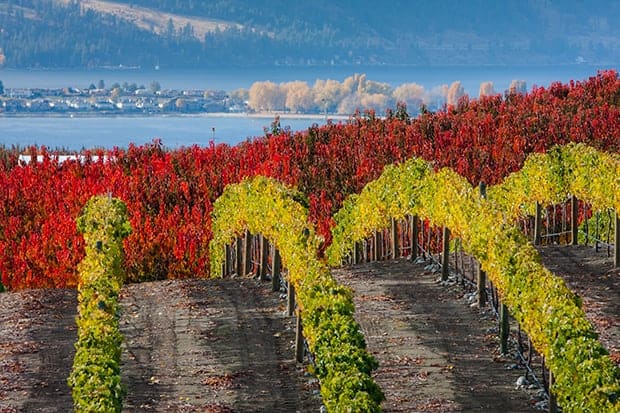 And as your passage is round-trip from Portland, be sure to keep your eye peeled for the city's famed crimson-red ornamental maples this time of year, and a stop at the Portland Japanese Garden pre- or post-cruise to view the Japanese maples should be on your itinerary.
Olympic Wilderness & San Juan Islands – round-trip from Seattle, WA
This active cruise exploring Puget Sound and the San Juan Islands out of Seattle celebrates harvest season with a taste of the sea. On some departures, guests may have the opportunity to mingle with the five-generation family-run Hama Hama Co. oyster farm on the Olympic Peninsula, in perfect timing for oysters' best months of September through April. Hama Hama's oyster beds are located at the mouth of one of the shortest, coldest and least developed rivers in Washington, providing their oysters with the pure hallmark of a clean, crisp flavor.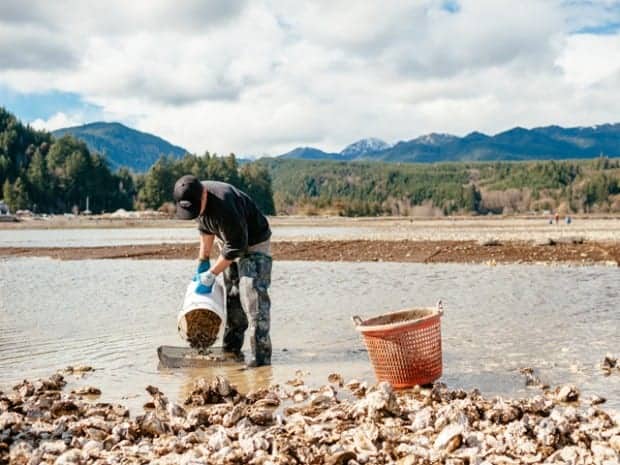 In this region fall colors can be found on ornamental maples and quaking aspens among other trees, but to see some of the Pacific Northwest's most famed foliage we recommend detouring east of Seattle pre or post cruise to the Cascade Mountains for exposure to the unique golden larch with its conifer-like needles that change to bright yellow in October.
Columbia & Snake Rivers Journey – sails between Portland, OR & Clarkston, WA
This 7-day Columbia & Snake Rivers cruise operated by the renowned Lindblad Expeditions not only features National Geographic guides and experts on board but also has a special culinary focus with elements of each meal harvested from farms along the rivers and special Food Alliance affiliation. Lindblad Expeditions says they are the only Food Alliance Supply Chain Ally in the travel industry, ensuring that the food they serve is produced by well-treated workers; that meat products come from humanely raised animals; and that the regional soil, water and wildlife habitats are protected and enhanced.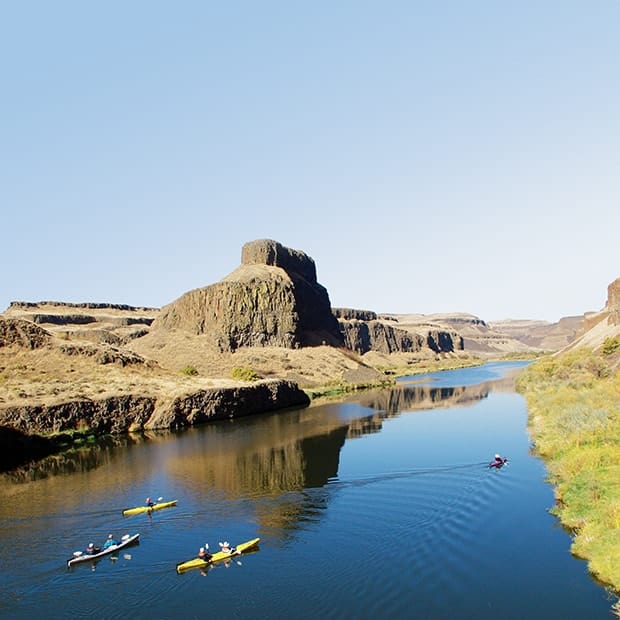 Keep your eye out here for native huckleberry plants painting the hillsides scarlet, orange and yellow.
Some of the region's providers supported on this itinerary include Country Natural Beef, a cooperative of 120 family ranches; Tillamook Cheese, made up of 110 dairy farms committed to animal welfare and dating back to 1909; and Draper Valley Farms, the pioneer of Washington- and Oregon-raised fresh chicken since 1935. Guests will also be able to visit a Hood River family farm where they can sample fresh fruit and see the orchard outfitted with fall colors. Keep your eye out here also for native huckleberry plants painting the hillsides scarlet, orange and yellow. Big leaf maples are also highlights on this itinerary in the autumn as they paint mountain trails gold, as seen here at Multnomah Falls, a stop on this cruise's day 3.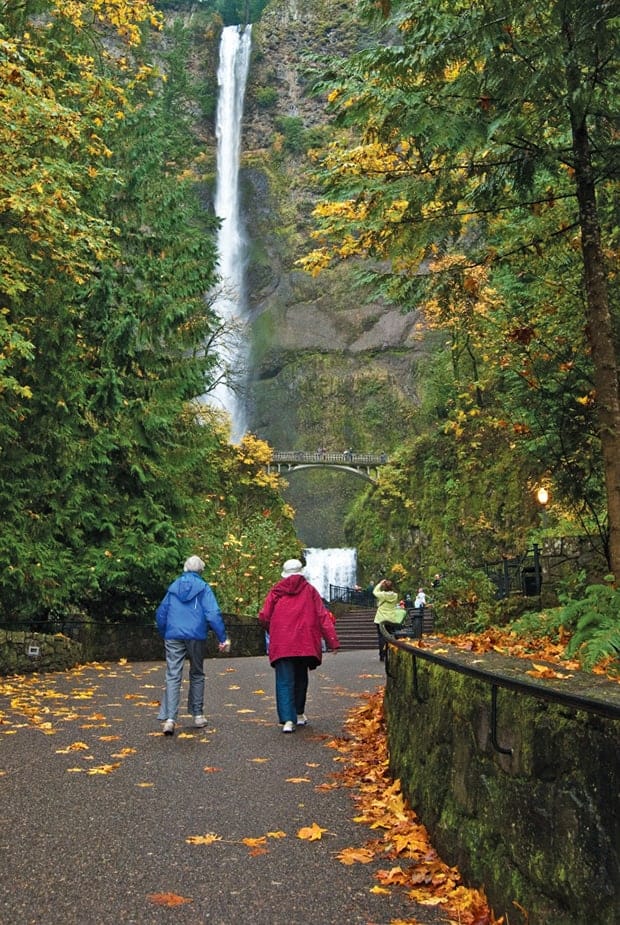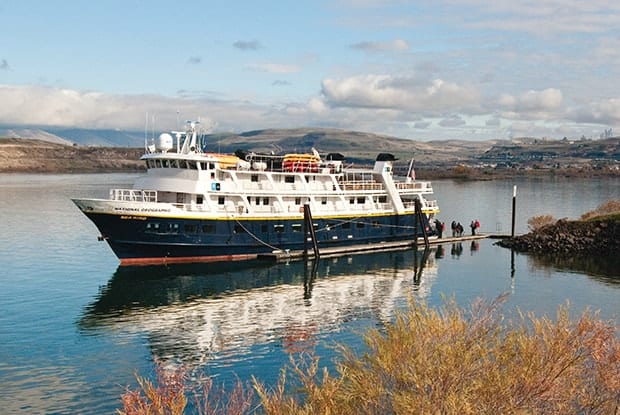 Pairing with the cuisine onboard are local wines representing the various growing areas along the Columbia and Snake Rivers, and regionally brewed beers. Among the many craft brewers, discover two of the region's most notable: Full Sail Brewing and Deschutes Brewery, both committed to socially responsible practices. Wine and craft beer tastings are complimentary during each evening's guide recap and dinner. Additional pours and alcoholic drinks are available at additional cost.
For more information on fall cruises, contact the travel experts at AdventureSmith and we'll help you get aboard!
This blog post was originally published in September 2016, but has been updated by our experts to reflect current fall color cruises for 2018.
This blog detailing the best fall color cruises is among AdventureSmith Explorations' extensive travel resources. Visit our Small Ship Cruise Guides page for even more tips and inspiration to plan your cruise.