Kid friendly cruises make travel a breeze. Our selection of cruises for kids are designed to bring families together while experiencing the world's most spectacular regions. Bring the whole family aboard to unpack once and sail to new locations. We use the experience of traveling with our own children, parents and grandparents to help you choose the best family cruises for your fun-loving crew.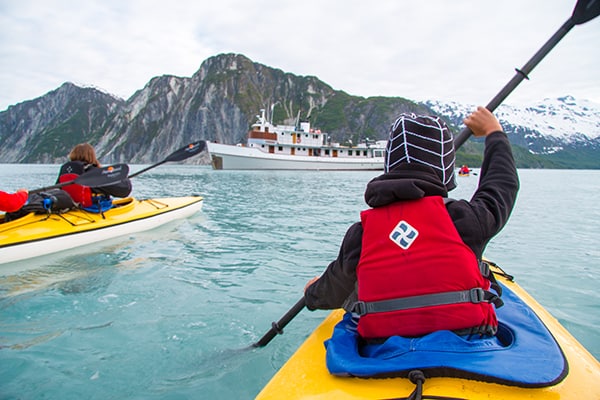 Kids Love Active Adventure Cruises
Family cruises integrate activity and learning with opportunities for personal discovery and exploration. Relax and enjoy your vacation, secure in the knowledge that your trip is fun, safe and hassle free. Share their enthusiasm as kids are immersed in the excitement of learning and experiencing diverse nature and rich culture. Our small ship cruises utilize children's natural curiosity and quest for fun with plenty of flexible activities and interesting diversions. Cruises for kids should be about more than dance classes and a teen club so our child friendly cruises focus on bringing the family together versus separating youth programs and adult activities.
Scheduled family cruise departures are planned around summer, winter and spring breaks from school, and some designated family departure dates allow kids of common ages and interests to travel together. For more information, browse our destination-specific information for Galapagos family cruises and best Alaska cruises for Families.
Kid Friendly Cruises – 8 Reasons to Choose a Small Ship
Is an adventure cruise right for your family? This is an important question to answer before booking small ship cruise for kids. If you are seeking an active adventure with experiences that bring the family together, then a small ship is right for you. Here are 8 reasons small cruise ships are perfect for families:
1. Safety
Small cruise ships are a contained, controlled environment that travel to remote wilderness locations comfortably and safely. Small ships allow amazing experiences like paddling in front of a glacier, walking a remote beach with no other footsteps, wildlife encounters and village visits that would otherwise be difficult for families to achieve in a safe, efficient way. For family friendly cruise lines safety is the number one priority.
2. Action
Off-vessel activities such as hiking, kayaking and snorkeling offer a chance to get away from the ship to experience nature and culture up close and actively engage in the region where you are traveling. Soft adventure options allow the whole family to experience the wilderness together on excursions like guided paddles through mangroves and skiff tours looking for wildlife. If your family is active and loves the outdoors we have the most fun cruises for kids.
3. Choice
One of the best features of a family small ship cruise is the ability for each guest to choose their own adventure to an extent, as activities are scalable for different ability levels. For example, on a recent cruise in Mexico's Sea of Cortez, an AdventureSmith traveler was able to snorkel with her brother at a sea lion haulout, while her father took a guided skiff tour in the same zone, being able to photograph and wave to her while she was in the water. Hikes are often offered at varying distances and terrain difficulties, and there's always a choice for quiet time on board if you choose.
4. Education
Naturalist guides are trained to work with younger travelers and keep kids excited, engaged and educated. Small ship cruises are not simply an active vacation, but one where children will learn about wildlife, conservation and sustainability. Shared family experiences on board and off instill a lifelong love of nature and travel, and create memories that will last families a lifetime.
5. Connection—and Disconnection!
Televisions, movies and video games take a backseat to once-in-a-lifetime experiences aboard family cruises. On board most small cruise ships, your family can truly disconnect from devices, and reconnect with each other and nature as there is no cable TV (DVDs are often available for movie-watching in cabins), and often no cell service and WiFi due to cruising in remote wilderness regions.
6. Camaraderie
Every day is a new adventure on a small ship cruise, yet your crew and guides remain the same. The whole family can create a rapport over a week's cruise with guides, who engage and educate. Plus, you'll be on board with like minded travelers, which enhances the experience, and everyone comes away with new friends.
7. Consistency
As your accommodations are the same each day and night, children will rest well with less packing and unpacking. Plus, meals are intimate and customizable, with a waitstaff that often learns your preferences and accommodates them. Because kids have special tastes, menus are arranged to satisfy their appetites without sacrificing yours. Small ships make the best kid friendly cruises.
8. Custom
Choose a small ship cruise with designated family departures if you want an even more customized family onboard atmosphere. On these special family cruises you will travel among like minded families with children of similar ages and enjoy added value programs like crafts, pizza and movie nights and more. Or choose to further customize your cruise by chartering an entire ship. AdventureSmith offers small ship charter options with as few as 8 guests.