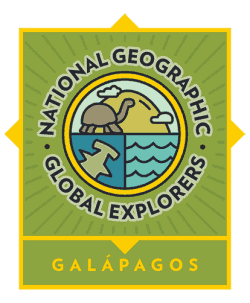 National Geographic Global Explorers, a unique exploration-based family program, is now available for kids and teens aboard National Geographic Islander and National Geographic Endeavour II cruises in the Galapagos Islands. This "smart fun" experience, designed in conjunction with National Geographic Education, aims to inspire the next generation of explorers through activities, science, exploring and storytelling – all designed to help them develop the attitudes, skills and knowledge of an explorer. Through this new program, guests under 18 and their families will:
Have "Certified" Fun!
Throughout their voyage, as they hike up volcanoes, snorkel with sea lions, walk among giant tortoises and populate their field notebook, kids can collect 'points' on their way to become a National Geographic Global Explorer—with the certification to prove it! They may also have the opportunity to earn a Zodiac "driver's license," snorkel with sea lions, learn to stand-up paddleboard or kayak.
Benefit from National Geographic Certified Field Educators
Onboard naturalists, newly minted as National Geographic field educators, optimize daily learning opportunities and fun­ for families.
Connect with Nature, Not Screens
Kids will disconnect from tech and have direct contact with wildlife and wonders above and below the sea. With no screens to intervene, families will re-discover each other on the voyage, too.
Learn to Be a Storyteller
"Our goal for this program is to help inspire our next generation of global explorers to make a positive impact on their world." -Sven Lindblad
Through photos, videos, music, poetry, drawing and more, kids and teens will be encouraged to think outside the box and use their creativity to tell stories about the unique things they'll do and see along the way. One example: create slow motion and time lapse videos with a National Geographic certified photo instructor.
Develop Observation Skills & Record Them
Daily "In the Field: Spot It!" activities prompt kids to watch out for a particular item, like a creature with scales, plankton during snorkel outings or a giant coral head on land, then record their observations in their Field Notebook.
Choose Their Own Adventure
The National Geographic Global Explorers' bulletin board is headquarters for daily activities and challenges, and kids and teens can choose what they'd like to participate in each day.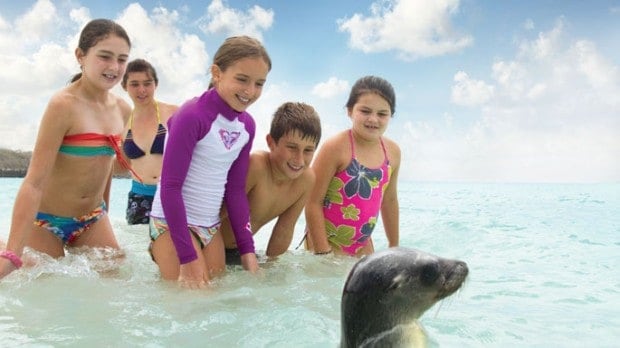 Two Explorer Phases: Independent & Group
National Geographic Global Explorers is organized into two phases: independent experiences and group experiences with a Field Educator. In the first phase, young explorers will be encouraged to utilize provided Field Notebooks to mimic the research scientists conduct in the field, maps to keep track of the itinerary, wildlife checklists and more. During this phase, storytelling challenges will help them share their experiences from the day – independently or collaboratively – and via different mediums, including photos, videos, journaling, music and maps.
Kids can also assist in citizen science projects, such as helping to count sea turtles during nesting season.
Group experiences will allow young travelers to actively participate in discussions with naturalists and in citizen science projects such as helping to count sea turtles during nesting season. While onboard, they will work with field educators on myriad group projects, such as creating a short film of their adventures, or participating in "mapping" to determine who traveled the farthest, and the challenges of being in such a remote place.
A Family Galapagos Cruise Affair
Timed to commemorate the 50th anniversary of the first citizen explorer expedition to Galapagos led by Lars-Eric Lindblad in 1967, the program launched in the Galapagos this month (June 2017) aboard the new 96-guest National Geographic Endeavour ll and 48-guest National Geographic Islander.
"My father, Lars-Eric Lindblad, was a lifelong explorer and involved me at a very young age," said Sven Lindblad, President and CEO of the vessels' parent company Lindblad Expeditions. "Those experiences made an indelible impression on me, and informed the person I am today. Children love to explore, and our goal for this program is to help inspire our next generation of global explorers to make a positive impact on their world."
For more information and to book your family's passage, visit National Geographic Islander and National Geographic Endeavour II Galapagos Islands Cruises. Learn more about Galapagos family cruises and family cruises to destinations worldwide.
This blog post sharing the National Geographic Global Explorers program is among AdventureSmith Explorations' extensive collection of travel guides. The National Geographic Islander and Endeavor II are on our curated list of Galapagos Luxury Cruises/ Read more about Galapagos yacht charters, our Galapagos Cruise Reviews and worldwide cruise reviews for more trip reports, or contact one of our Adventure Specialists to learn more about these Galapagos cruises and wilderness adventures: 1-800-728-2875.
Find more on the AdventureSmith Travel Blog, or visit our collection of Galapagos Cruising Guides for even more resources to plan your Galapagos Island trip.