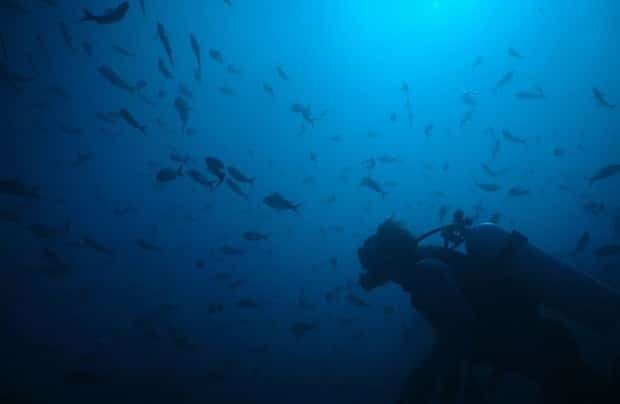 Did you know that scuba diving is available on many of our partner ships in the Galapagos Islands? Ideal for certified divers who want to share with family and friends a small ship cruise and spend an day or two diving, the following options give Galapagos scuba divers the best of both worlds. There are also week-long dive trips scuba enthusiasts can book, often available on our Galapagos Islands yacht charters. Booking onto a general departure, however, will allow you to be on a non-dive-specific cruise, seeing more of the diversity of the Galapagos, on both land and underwater.
An Introduction to Galapagos Scuba Diving
Scuba diving in the Galapagos Islands is not typical tropical diving, and is always from boats, i.e. no shore dives. Due to the currents and out of respect for the marine environment, boats usually cannot anchor; therefore, it is not possible to dive down an anchor chain and come back to the anchored vessel. Descents and ascents are usually done free (without a line) and most dives are done "drift-style": the dive boat follows the divers' bubbles and picks them up at the end of the dive.
Although the Galapagos Islands are located exactly on the equator, they are affected by several cold water currents. As a result, average conditions are more like those in California's Channel Islands, with waters that are often cold and with relatively poor visibility. The Galapagos are also a mid-ocean island group, and dive sites are commonly affected by moderate to strong currents and occasionally by rough surface conditions. Experience in colder water, wall diving and diving in currents is strongly recommended, as 7-mm wetsuits can be restrictive and strong currents can be disorienting or distressing for divers unfamiliar with these conditions.
Taking all this into account, scuba diving in the Galapagos, at least while aboard a small ship cruise, is not suitable for beginners. For all boats listed below, you must already be scuba certified by an internationally recognized dive association (PADI, NAUI) at an intermediate to advanced level.
Legend, Coral I & Coral II Scuba Diving
For certified scuba divers, a new optional excursion is available during cruises aboard the Galapagos Legend and Corals I & II at an added cost and includes: 2 half-day immersions, pick up and drop off from cruise ship, transportation to/from dive site, 2 immersion duration of 45-60 minutes, dive equipment (tank, weights, wetsuit, fins, mask, regulator, bcd, snorkel), snack and beverages.
Galapagos dive sites visited may include Gordon Rocks (advanced), the top of a submerged cone at the northeastern end of Santa Cruz Island; North Seymour's ocean and channel sides (intermediate); Mosquera (intermediate); and Cousins (intermediate), the remains of an eroded crater sticking up out of the sea whose claim to fame is the seahorses that can be spotted around 50 feet.
National Geographic Endeavour & Islander Scuba Diving
In Galapagos, diving arrangements can be made for interested guests on most National Geographic Endeavour and Islander expeditions. Just tell your expedition specialists at the time of your booking that you're interested in scuba diving, and we can provide the most current offerings and availability. A National Geographic-Lindblad Expeditions representative based on land in the Galapagos is the main contact between divers on the cruise and the local dive companies who will outfit and guide you. All dive schedules are made to ensure that you can experience diving while missing as little as possible of the rest of the cruise.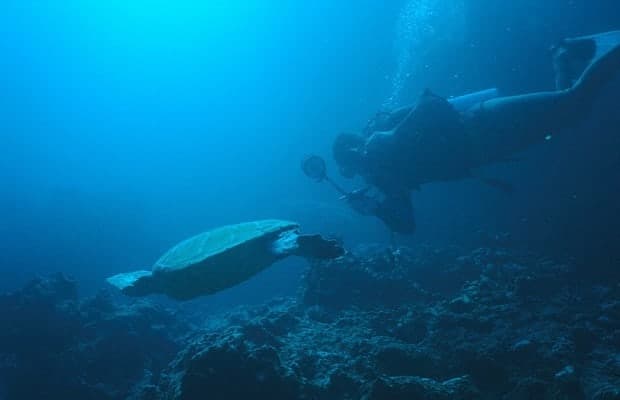 Beluga & Cachalote Explorer Scuba Diving
Guides aboard the Beluga and Cachalote Explorer yachts can arrange scuba excursions for two or more guests with local operators in Santa Cruz, San Cristobal or Isabela under request in advance. Cost per person varies by dive site, which includes Santa Cruz, San Cristobal and Isabela, but is generally around $245 per person for two dives. On Isabela Island, at least 3 divers are needed to operate the excursion, so availability may be limited.
Ocean Spray, Petrel & Cormorant
Scuba diving may be added to cruises aboard catamarans Ocean Spray, Petrel and Cormorant. Costs vary by site, and availability is limited as it's offered through a separate guide service, so check with AdventureSmith to customize scuba diving into your Ocean Spray, Petrel or Cormorant cruise.
This blog detailing scuba diving in the Galapagos is among AdventureSmith Explorations' extensive collection of travel guides. Find more on the AdventureSmith Travel Blog, or visit our Galapagos Cruising Guide for even more resources to plan your Galapagos Island trip. We will continue to update this blog post as scuba dive options change and are added to our partner ships. Photos by Derek Keats/Flickr.