Stand-up paddleboarding has burst in popularity in the past 10 years, and we're seeing this translate into the world of small ship cruising with paddleboards coming aboard small ships in a number of destinations, most recently in the Galapagos Islands where it was just approved by the national park.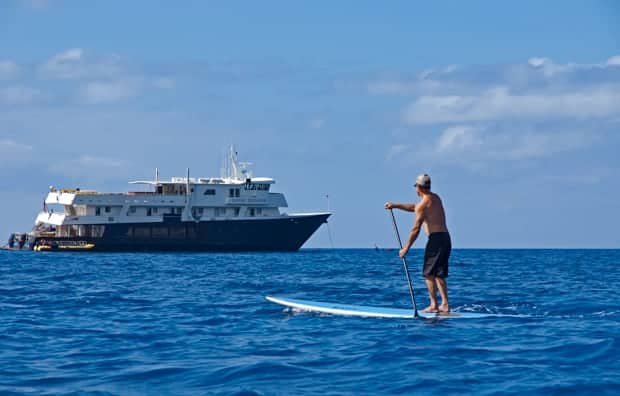 If you haven't tried stand-up paddleboarding, often referred to by its SUP acronym, you're likely to soon as it was noted in 2013 for having the most first-time participants of any sport in the USA. Stand-up paddleboards are similar to surfboards in shape, but they are propelled by the user standing up and paddling with a long, single oar. The sport provides great visibility down into the water and is ideal for the calm bays and shorelines accessed by small vessels around the world. Plus, it's fun and fairly easy to learn with a little balance.
Here is a look at where you can currently stand-up paddleboard on an AdventureSmith small ship cruise:
Origin/Theory/Evolve & Letty – Galapagos' First SUP-Equipped Cruises
Paddleboarding makes its Galapagos debut aboard 20-guest Letty as well as the new luxury 20-passenger sister yachts Origin, Theory & Evolve. Two years ago, Ecoventura, the operator of these three Galapagos yachts, purchased six SUP boards in anticipation of the park's final approval which was granted in late April 2016. Guests began using the boards on May 15, 2016, with two SUPs available aboard each yacht and available for use at the same sites that kayaking is offered, including Gardner Bay on Floreana Island, Cerro Brujo on San Cristobal Island, Tagus Cove on Isabela Island and Darwin Bay, Genovesa Island.
SUP Antarctica Aboard Ocean Endeavour
Currently in Antarctica, only one vessel, the 199-guest Ocean Endeavour, offers stand-up paddleboarding as an add-on adventure option. A one-time session atop southern polar waters is $150 (2016-17 season), with all gear including a dry suit provided.
SUP among brash ice and icebergs in a calm bay with penguins swimming by.
AdventureSmith Adventure Specialist Nick Mitchell sailed aboard the Ocean Endeavour this past December and was able to partake in this incredible experience, paddling among brash ice and icebergs in a calm bay with penguins swimming by. "Standing up you get such a cool perspective," says Nick, "and the stillness and lack of noise is one of the best parts of it. You can hear the ice popping and cracking all around you." Nick and his fellow paddlers had free time to explore and were able to sit, and even lie down, on the paddleboards to take in the serene environment.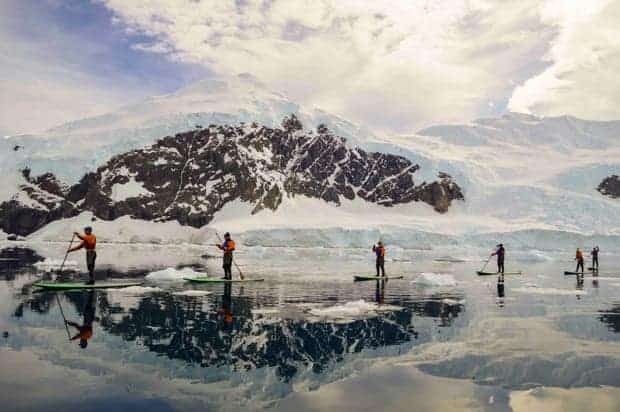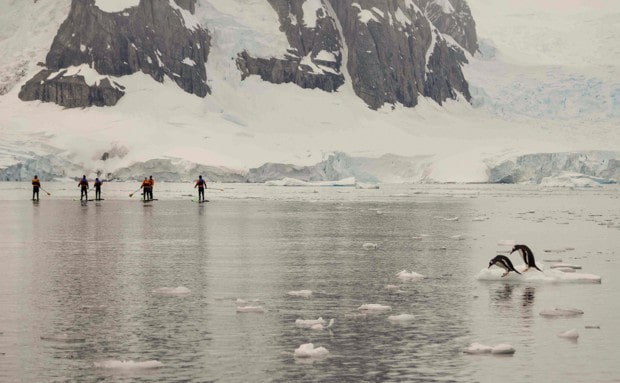 SUP Alaska, Costa Rica, Hawaii, Baja & the Pacific Northwest Aboard the Un-Cruise Fleet
Un-Cruise Adventures is our partner operator that offers the most SUP cruise options in its fleet, and has been doing so since it added paddleboards in 2011. The company's seven SUP-equipped small ships sail extensively in Alaska and include itineraries in Baja California, Hawaii, Costa Rica, Panama and the Pacific Northwest region. More than 16 routes in these destinations let guests paddleboard among Alaskan glaciers, crystal-clear Baja coves surrounded by cacti, forested San Juan Islands and dramatic Hawaiian coastlines, among other scenic waters. Paddleboards (anywhere from two to eight are aboard each ship) can be launched right from the ship, or on the shore from beaches.
"We added SUPs because they are a great way to experience Alaska in a safe and active manner," says Un-Cruise Senior Program Manager Tim Ratcliffe. "Many of our guests have never SUP'd before. This becomes their first experience."
To see all the Un-Cruise SUP cruise options, browse the following ship's itneraries: 88-guest Safari Endeavour, 36-guest Safari Explorer, 22-guest Safari Quest, 66-guest Safari Voyager, 76-guest Wilderness Explorer, 60-guest Wilderness Adventurer, 76-guest Wilderness Discoverer.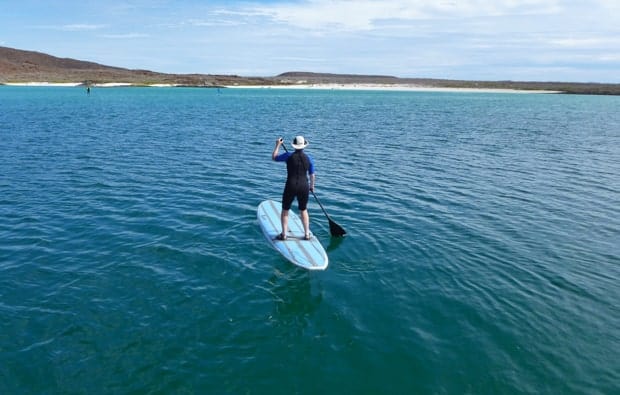 SUP Baja & Costa Rica Aboard National Geographic Sea Bird & Sea Lion
New for 2016, the National Geographic sister ships Sea Bird and Sea Lion, both accommodating 62 passengers, have added stand-up paddleboarding to their warm-water routes. The Sea Lion inaugurates a fleet of paddleboards in Costa Rica, where guests can circumnavigate a tiny island, explore mangroves or paddle along an idyllic beach, while the Sea Bird brings the option to Baja California's Sea of Cortez.
SUP the Amazon Aboard Delfin Riverboats
Because of the calm, still waters of the Peruvian Amazon's Pacaya Samiria National Reserve, paddleboarding is a great activity for all ages here. The luxury 8-guest Delfin Icarries four paddleboards, and the 28-guest Delfin II carries two paddleboards. The coolness of the river water over your feet while you brush past riverbanks, eyeing wildlife, is an experience you won't want to miss. "To be surrounded by local wildlife such as playful monkeys, graceful egrets and, with luck, curious pink river dolphins is a thrilling experience," says Delfin's Sales Director Ines Orihuela.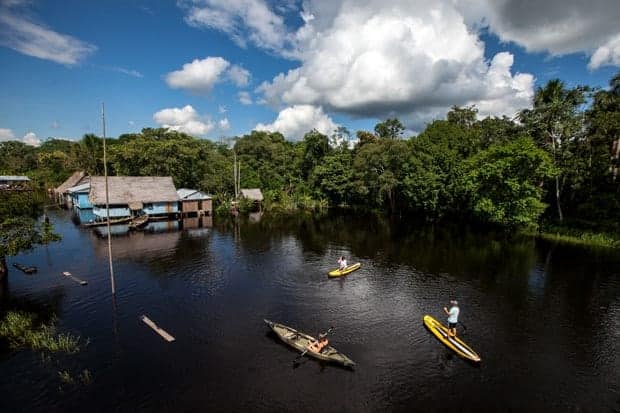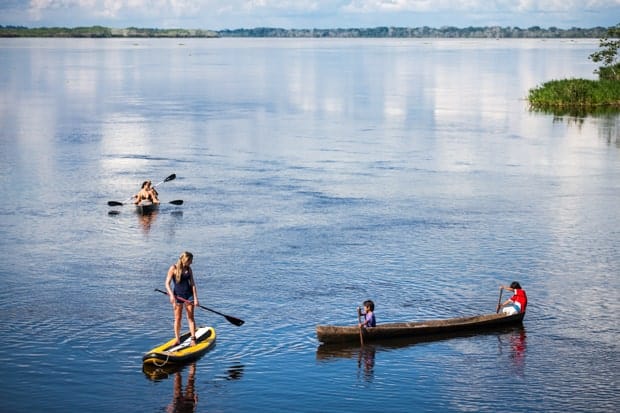 For more SUP cruise options aboard small ships, stay tuned to this post or contact our expert Adventure Specialists for the latest availability and offerings. With the new Galapagos park approval of SUP, we imagine more ships will come aboard with stand-up paddleboarding options soon. More SUP photos can be seen on our Facebook album: Stand-up Paddleboarding Cruises.