Our cruises span the Mediterranean region, from the Adriatic Sea to the Aegean and Tyrrhenian Seas. To showcase such diversity, our experts have called out three of our small ship cruises that offer very distinct routes. These itineraries cover both regional hotspots like Croatia's Dubrovnik and Santorini in the Cyclades island group, yet also sail off the beaten track to lesser-known ports and isles. Browse our full list of Mediterranean small ship cruises for even more options.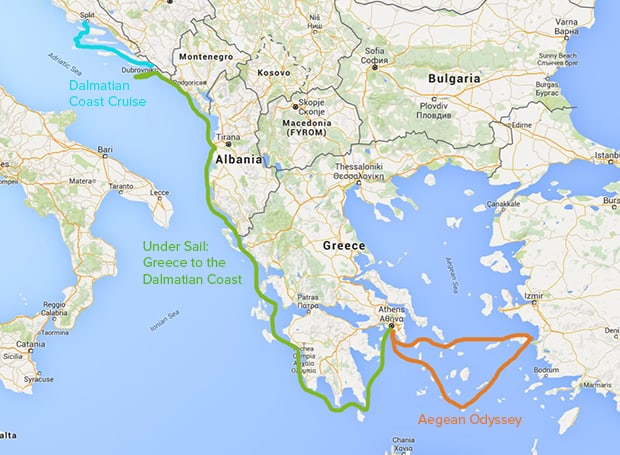 This 8-day cruise aboard the 71-passenger Variety Voyager travels round-trip from Athens, Greece, in the Aegean Sea through the famed Cyclades and then heads farther east to the more unexplored Greek Isles of Patmos and Samos and Turkey's Kusadasi. This is a great cruise itinerary for travelers wanting to hit the classics (like Santorini and Mykonos) but also get off the main tourist track.
This 12-day cruise aboard the 64-guest Sea Cloud is THE trip to do to see it all. We just love this itinerary that sails between Athens, Greece, and Dubrovnik, Croatia, including stops in Ithaca, Albania, Montenegro and even a jaunt north of Dubrovnik to include the island of Korcula. A big highlight too is that the passage is aboard the historic 64-guest sailing yacht Sea Cloud, built in 1931 by Wall Street businessman E. F. Hutton for his wife, Marjorie Merriweather Post. There is no ship afloat that can compare for grace, fine service and the sheer joy of sailing. Sea Cloud carries 30 sails, raised by hand, measuring a total of 32,000 square feet.
This 8-day cruise aboard a luxury megayacht averaging 38 guests covers the Dalmatian Coast between Split and Dubrovnik, Croatia, spending less time sailing and more time exploring the region's islands and coastlines. This is the farthest north route we offer in the Adriatic Sea, and a must-do for any Game of Thrones fans as you'll stop in the filming locations of Split and Dubrovnik, the series' Kings Landing. It's also one of our more affordable cruise options in the Mediterranean.
Click the link to each trip above for detailed route maps and full itinerary details and rates on these comprehensive Mediterranean small ship cruise options.
This Mediterranean small ship cruise guide is among AdventureSmith Explorations' extensive collection of travel guides. Find more on the AdventureSmith Travel Blog.