We're all about small ship cruising. It's simply the best way to access remote wilderness. So when thinking about traveling in our U.S. National Parks, of course we prefer to experience them by water when we have the choice.
Not only does cruising get you away from crowds but it also affords more opportunities for wildlife viewing, adds access to farther reaches and brings a naturalist guide along with you the whole way. Read on to learn more about how you can cruise in a national park!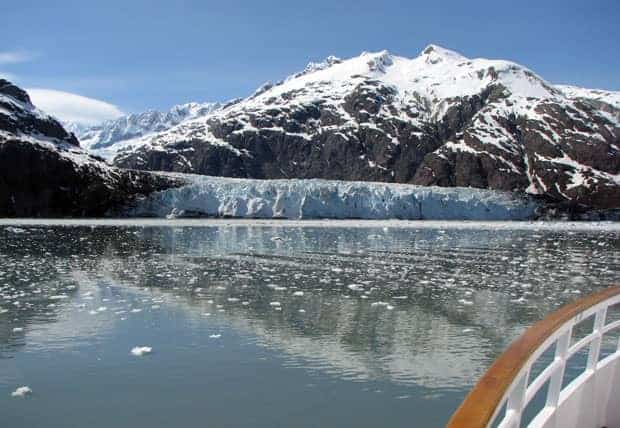 1 – 8) Explore Glacier Bay National Park & Preserve – Alaska
Glacier Bay National Park in Alaska is our most popular cruise-a-park destination, and we offer an option for every travel style and budget. The park covers over three million acres with open ocean and fjord coastlines spanning most of its perimeter. It is famed for its beauty, notably witnessed by John Muir in 1897 and afterwards a long line of distinguished scientists and naturalists. Small ships here can best access many of the coves and landings around these hundreds of miles. Access is nearly exclusively by ship (unless you flightsee), and we offer many diverse itineraries to explore this national treasure:
Sea Wolf Glacier Bay Adventure – This 7-day cruise aboard the historic 12-guest Sea Wolf (pictured below) is our only Inside Passage cruise that spends most of its itinerary inside Glacier Bay National Park. The itinerary travels from waterfall-laden Geike Inlet to the barren mountain faces of the East and West arms of Glacier Bay National Park, then routes outside the park to Point Adolphus for whale watching.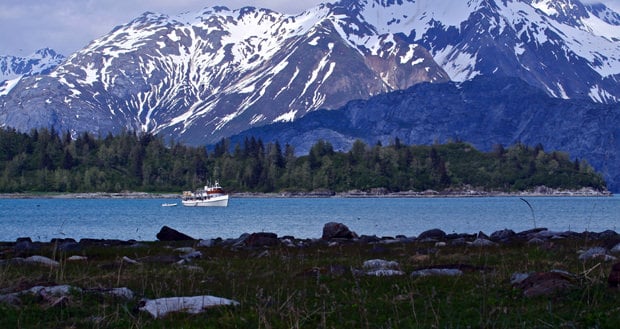 Discover Glacier Bay – Choose from two small historic ships ranging from 8 to 12 guests on this 10-day itinerary that spends a full 8 days in Glacier Bay National Park—much longer than most cruises dedicate to the park.
Northern Passages & Glacier Bay – Cruise between Juneau and Sitka over 8 days aboard one of three small adventure ships, ranging in size from 36 to 84 passengers. A day packed with sights is spent inside Glacier Bay National Park. In Sitka, you can choose to further explore at the Sitka National Historical Park.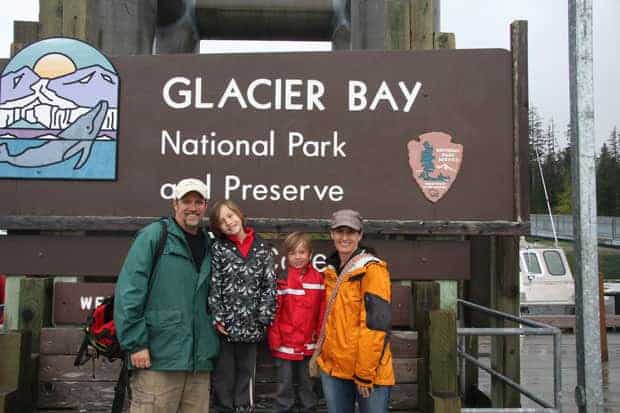 Inside Passage Sojourn & Glacier Bay & Island Adventure – These two itineraries, run by Alaskan-owned-and-operated small ships, range from 8 to 9 days aboard 40- to 49-guest vessels. Each route offers a full day spent in Glacier Bay National Park, with a special bonus of a Native Huna Tlingit interpretive naturalist coming aboard to reveal the traditional ties to this ancient treasure. Each route also embarks or disembarks in the port of Sitka, which allows a visit to the Sitka National Historical Park.
Exploring Alaska's Coastal Wilderness – Over 8 days, join guides from Lindblad-National Geographic aboard the 100-guest National Geographic Venture or Quest for the premier Alaska cruise in education and guiding. A native Tlingit interpreter also joins during a full-day visit in Glacier Bay National Park. Join National Geographic's extended 14- or 15-day voyage Treasures of the Inside Passage: Alaska & British Columbia to explore more of the coastline along with Glacier Bay.
Glacier Bay Backcountry Explorer – This lodge-based trip includes a day cruise into Glacier Bay National Park, a great option for those who would prefer accommodation in wilderness lodges and B&Bs. This trip also includes a glacier trekking adventure and a scenic flight from Juneau to Gustavus.
9) Cruise Channel Islands National Park – California
Much like Glacier Bay National Park, this park you simply have to access by sea since the Channel Islands are separated from the mainland by miles of ocean. The park encompasses five of the eight California Channel Islands (Anacapa, Santa Cruz, Santa Rosa, San Miguel and Santa Barbara) and harbors the biologic diversity of nearly 2,500 miles of the North American coast. The Channel Islands are home to over 2,000 plant and animal species, of which 145 are found nowhere else in the world. Like the Galapagos Islands of South America, isolation has allowed evolution to proceed independently on the islands. Marine life ranges from microscopic plankton to the blue whale, the largest animal to live on Earth. Archeological and cultural resources span a period of more than 13,000 years of human habitation.
Wild California Escape – Channel Islands – This 5-day cruise offers a Channel Islands experience that few get, aboard two National Geographic ships with expert guides and guest instructors from Exhale Fitness aboard.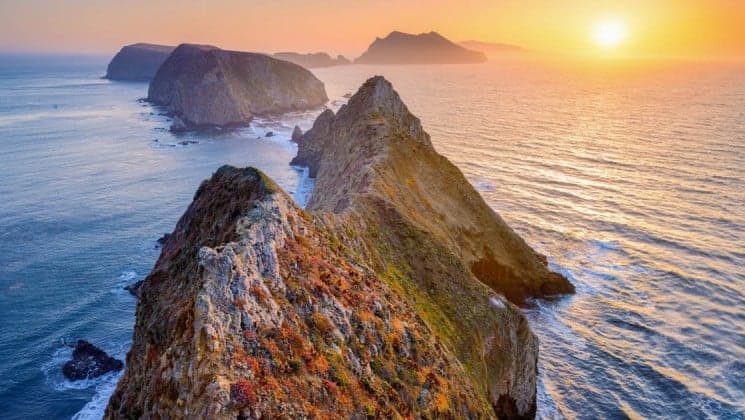 10) Adventure In Olympic National Park – Washington
Olympic National Park, at nearly 1 million acres along Washington's coast in the Pacific Northwest, is famed for its diversity of ecosystems and rich cultural history. The park's history dates back to 1909 when Roosevelt created the Mount Olympus National Monument. In 1938 it became a National Park, and it's currently also an International Biosphere Reserve and World Heritage Site.
Olympic Wilderness & San Juan Islands is an 8-day expedition that explores Olympic National Park from the comfort of the 22-guest Safari Quest. Kayaks and paddleboards sail aboard, allowing guests to actively explore the park's coastline, coves and canals. The small ship cruise sails round-trip from Seattle.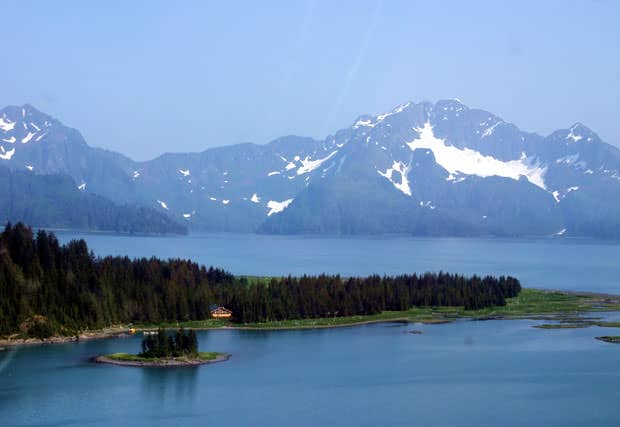 11 – 15) Discover Kenai Fjords National Park – Alaska
Covering almost 670,000 acres, Kenai Fjords National Park sits on the Kenai Peninsula in southcentral Alaska, near the town of Seward south of Anchorage. Over 50% of the park is covered in ice, with nearly 40 glaciers flowing from the Harding Icefield, Kenai Fjords' crowning feature. AdventureSmith's trips here access a remote lodge in the park via boat. Guests embark from Seward on a five-hour ride, viewing wildlife and tidewater glaciers en route to the Kenai Fjords Glacier Lodge (pictured above), the only lodge located within the park boundaries. The following itineraries include accommodation at this unique lodge:
Kenai Fjords Backcountry Explorer is our itinerary dedicated to best exploring Kenai Fjords. From a spectacular setting on the shore of a protected lagoon in full view of Pedersen Glacier, Kenai Fjords Glacier Lodge provides an excellent array of activity choices, including kayaking, and bountiful opportunities for wildlife viewing.
Alaska Wildland Collection covers more of the Kenai Peninsula beyond the national park. Raft the Kenai River, explore and hike the Kenai National Wildlife Refuge (pictured below), cruise into Kenai Fjords National Park and then return to Anchorage by the historic Alaska Railroad.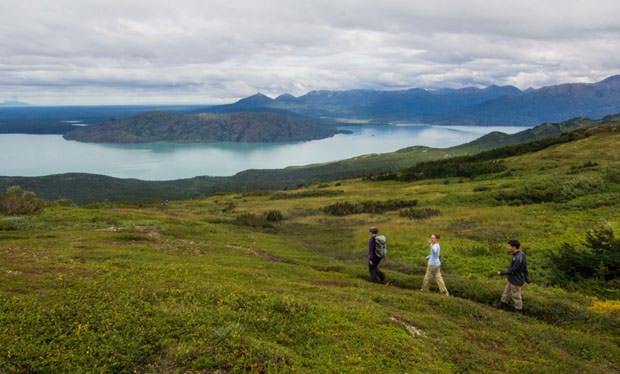 Ultimate Alaska Adventure takes adventure to a higher level with more included activities. This trip pairs backcountry adventure and wild Alaska by sea kayaking in Kenai Fjords National Park, flying via helicopter onto a glacial snowpack, taking a floatplane journey to a remote mountain lake, horseback riding in Chugach National Forest, riding the Alaska Railroad and more.
Alaska Coast to Denali visits not only Kenai Fjords by boat, but also travels overland to Denali National Park. Travel from Anchorage to Seward, cruise to Kenai, visit Talkeetna and Denali, then return via historic Alaska railroad. Enjoy opportunities to go sea kayaking and hiking, plus optional flightseeing!
Alaska Grand Adventure is another option to include two national parks: Kenai Fjords and Denali. Kayak in Kenai, raft into the Kenai National Wildlife Refuge, stay at a backcountry lodge near Skilak Lake, visit Denali, then return to Anchorage via the historic Alaska Railroad.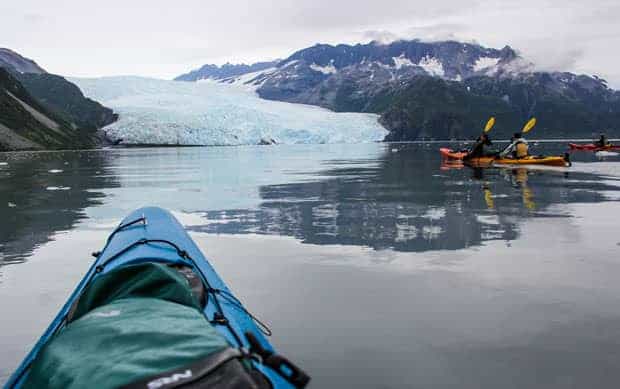 16 – 17) Experience Lewis & Clark National Historical Park – Oregon
Lewis & Clark National Historical Park at Fort Clatsop in Astoria, Oregon, is a hub focusing on the lore of early explorers. A small ship cruise visiting here heralds the legacy of two great western rivers: the Columbia and the Snake.
Columbia & Snake Rivers Journey over 8 days embraces culture and history with the food and wine bounties of the Pacific Northwest. This trip's Food Alliance affiliation ensures that local and sustainable are prominent in every culinary presentation. Guests will be on board one of two pairs of sister ships: either 62-passenger National Geographic Sea Bird or Sea Lion, or 100-guest National Geographic Quest or Venture.
Rivers of Adventure & Wine Cruise – This 8-day round-trip Portland operates aboard 86-guest Wilderness Legacy—the dream ship for oenophiles, foodies and active adventurers. Guests can choose their own hike adventure after a visit to Fort Clatsop, the winter fort of the 1804-1806 Lewis and Clark Expedition. Plus, enjoy a Deschutes River rafting trip and near-daily opportunities for hiking, paddling, swimming and skiff rides joined by natural and cultural history guides.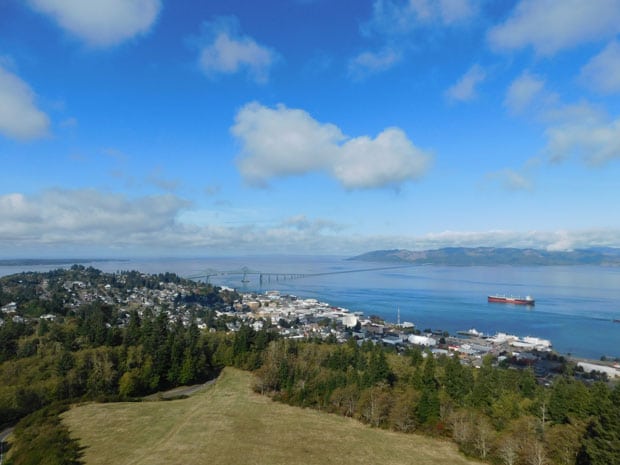 This blog detailing ways to cruise a National Park is among AdventureSmith Explorations' extensive travel resources. Visit our Small Ship Cruise Guides page for even more tips and inspiration to plan your cruise.