This close-to-home archipelago is our top pick for autumn cruising this year as its 408 miles of shoreline are easy to access and are a foodie and wildlife lover's hotspot. How will you choose to small ship cruise the San Juan Islands?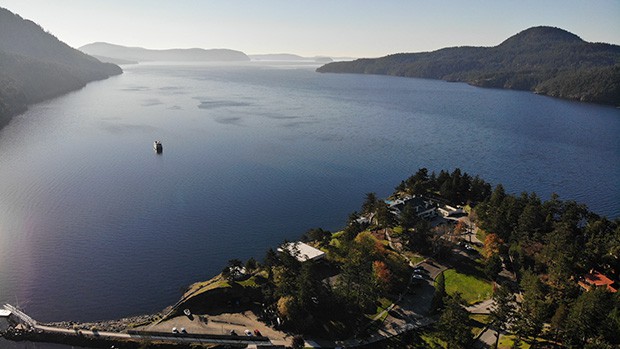 The San Juan Islands are located just off Washington State's coast north of Seattle and east of Victoria, British Columbia. Sailing among the 172 named islands of the San Juans, expect to meet pods of orcas feasting on salmon, playful seals and sea lions lounging on rocky islets, black bear and deer flourishing in deep evergreen forests, as well as royalty atop the trees, as the region hosts the highest concentration of bald eagles in the Lower 48. The San Juans are also dubbed the "Gourmet Archipelago" with culinary festivals, four shellfish farms, three vineyards, one brewery, one cidery/distillery and seven tasting rooms featuring local and regional wines, micro beers and locally distilled spirits.
Below we detail 4 San Juan Island cruises available aboard a variety of small expedition ships. Read on, or simply contact us; our Adventure Specialists are standing by to give you a personalized travel recommendation.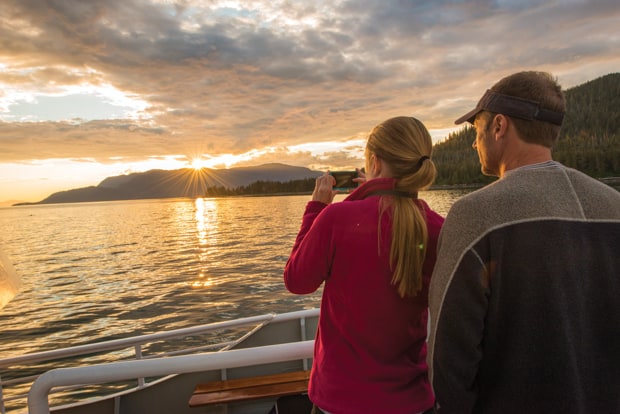 1) Enjoy Cruising Puget Sound and San Juan Islands Aboard Wilderness Ships
The new 6-day Salish Sea & San Juan Islands Adventure Cruise offers a compact, convenient round-trip Seattle San Juan Islands and Puget Sound cruise. Choose from departures aboard 86-guest Wilderness Legacy or 76-guest Wilderness Discoverer, and enjoy the flexibility of traveling throughout most of the spring, summer and fall. Book your San Juan Islands cruise aboard these purpose-built expedition ships for their fun and quirky staff and active daily off-ship options (kayaking, paddleboarding, hiking, etc).
Choose the ship that suits your travel style. Wilderness Legacy is an adventurous ship with a historic coastal steamer vibe. Her unique Sea Dragon tow-behind platform enables easy access in and out of the water, inviting guests of any or no experience to grab a paddle and go. Every evening, her Pesky Barnacle Saloon encourages guests to share stories of the day's adventures among the San Juan Islands. Wilderness Discoverer is another classic ship ready for cruising the Pacific Northwest and neighboring Alaska, and slipping into small inlets inaccessible to the big ships. Both ships offer triple accommodation (or even quadruple aboard Wilderness Legacy), offering great family options.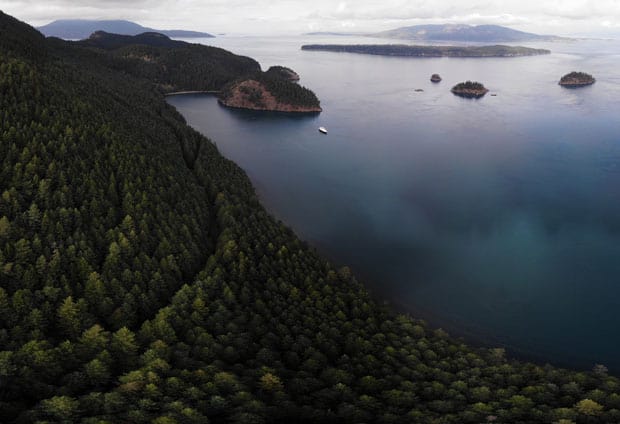 2) Cruise Aboard the New 100-Guest National Geographic Venture
A new ship is sailing the San Juans via our Exploring British Columbia & the San Juan Islands trip: 8 days aboard the 100-guest National Geographic Venture. This brand-new, purpose-built expedition vessel launched in 2018, in California, and is now embarking on regularly scheduled departures. Get on this ship next fall for an excellent expedition staff, high-tech exploration and educational equipment.
National Geographic Venture is state-of-the-art, a vessel made for exploring coastal waters, shallow coves and fast-moving channels thanks to her shallow draft that draws only nine feet of water. This allows her to sail into places where much larger ships cannot go, and further setting her apart from other ships is a guide complement that includes a historian, a geologist/naturalist, a wellness specialist and a Lindblad-National Geographic certified photo instructor.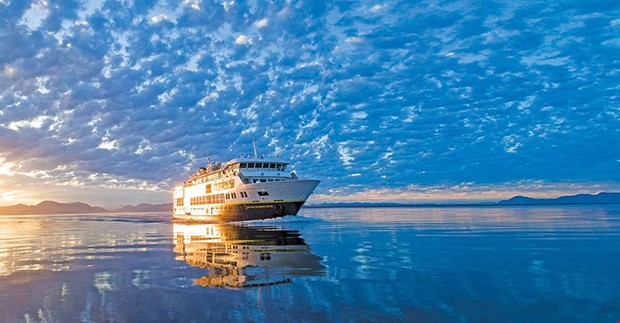 Departures are from Vancouver, BC and Seattle. Two days are spent exploring the San Juan Islands by expedition landing craft, kayak, paddleboard and hike, with a special stop at picturesque Friday Harbor to visit the Whale Museum and local shops. We're thrilled that Vancouver is an embarkation/disembarkation point on this trip, a bonus as travelers can explore this world-class Canadian city before or after their wilderness cruise.
3) Sail on the Luxury 22-Guest Safari Quest
The 8-day Olympic Wilderness & San Juan Islands aboard the intimate, luxury 22-guest Safari Quest offers the most time and flexibility exploring the San Juan Islands. You'll spend at least three days in this famed archipelago, stopping at Lopez Island, San Juan Island, Orcas Island and Sucia Island, among others. Sail round-trip from Seattle, exploring this city's waterfront before sailing through the San Juans, dropping anchor for kayaking and hiking. A highlight of this itinerary is Sucia Island's 564-acre Marine State Park, considered the crown jewel of Washington's marine park system. This horseshoe-shaped island is accessible only by watercraft and boasts a population of just four residents!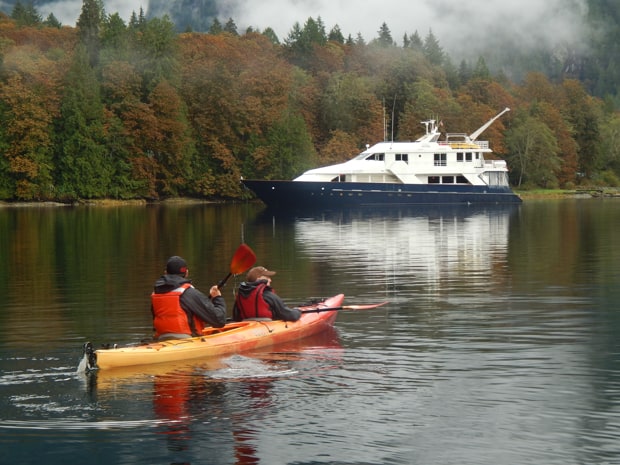 4) Sail the Alaskan And Canadian Inside Passage Aboard Active Small Ships
The comprehensive 15-day Alaska's Inside Passage & San Juans Cruise aboard the 76-guest Wilderness Discoverer, 88-guest Safari Endeavour or 90-guest S.S. Legacy visits two UNESCO World Heritage Sites-Glacier Bay National Park and Olympic National Park-plus offers opportunities for kayaking, stand-up paddleboarding, hiking, beach combing and enjoying guided skiff rides for a full day amongst the San Juan Islands. Add to this stops in the quiet reaches of Puget Sound's Hood Canal, Canada's Great Bear Rainforest, Misty Fjords National Monument, Ketchikan and the adventure capital of Haines, Alaska.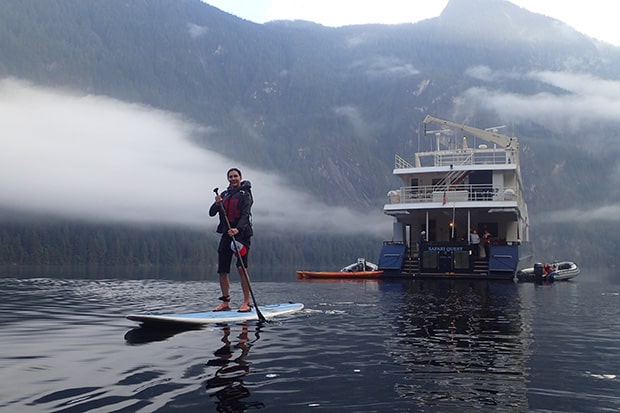 Learn more about Pacific Northwest small ship cruises or contact AdventureSmith's experts any time for other travel ideas for the autumn season.
This post detailing San Juan Island cruises is among AdventureSmith Explorations' extensive collection of Small Ship Cruise Guides. While originally published in 2017, our team of experts have since updated the content to reflect any changes; our most recent update occurred June 2020.