Throughout the summer, Camp Denali & North Face Lodge invite specialists to share their expertise daily in the field and through evening presentations. You may want to time your visit at Camp Denali or North Face Lodge to coincide with one of these Special Emphasis Series sessions. The regular program of guided hiking occurs simultaneously. Here is the 2019 Special Emphasis Series list.
Denali Bird Life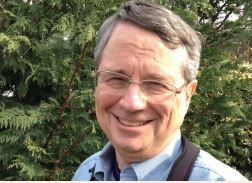 Vice President for Bird Conservation – Pacific Flyway, National Audubon Society
May 31- June 2 at North Face Lodge
June 3-6 at Camp Denali
Stan Senner brings a life-long love of birds and long experience in science, conservation and public policy to his work as Vice President for Bird Conservation for the National Audubon Society. Although much of his work is in the Pacific Flyway, which spans the region from Alaska south to Chile, Stan supports Audubon's bird conservation programs throughout the country and Western Hemisphere.
Most of Senner's professional career has focused on science and public policy related to energy development and its impacts on wildlife and ecosystems. Over the last 45 years he has worked for The Wilderness Society and U.S. House of Representatives during passage of the Alaska National Interest Lands Conservation Act. He also served as Executive Director of Hawk Mountain Sanctuary in Pennsylvania, as Alaska's Science Coordinator following the Exxon Valdez oil spill, and as Executive Director of Audubon Alaska. Following the BP oil disaster, Senner directed Ocean Conservancy's restoration science team in the Gulf of Mexico region.
Birds are Senner's great love, and his particular interest is in migration. He holds a M.S. in biology from the University of Alaska-Fairbanks and has published many articles on the ecology and conservation of birds. He first visited Camp Denali in 1975 and is currently based with his wife Pat in Missoula, Montana.
Emphasis
Field trips will focus on observing and appreciating breeding birds in forest, tundra, and wetland habitats. Guests of all skill levels should find these outings rewarding. Senner will give two evening presentations: one on bird migration and the natural history of Denali's bird life, and the other on conservation in Alaska and the Pacific Flyway.
Bird Identification and the Art of Observation
Ornithologist, Author and Illustrator
June 10-13 at Camp Denali
June 14-16 at Camp Denali
David Sibley, son of ornithologist Fred Sibley, began seriously watching and drawing birds in 1969, at age seven. Since 1980, David has traveled throughout North America in search of birds, both on his own and as a leader of birdwatching tours. This intensive travel and bird study culminated in the publication of his comprehensive guide to bird identification The Sibley Guide to Birds in 2000 and the completely updated second edition in 2014. Other books include a companion volume The Sibley Guide to Bird Life and Behavior in 2001; Sibley's Birding Basics – an introduction to bird identification – in 2002; and the Sibley Field Guides to Eastern and Western birds second edition in 2016. In 2009 he completed a fully illustrated guide to the identification of North American Trees – The Sibley Guide to Trees.
Emphasis
Birding, like any nature study, is all about observation, and real observation involves more than just watching. It means asking questions, making comparisons, finding connections. Art, sketching, writing, photography, and more are all great ways to slow down and make discoveries. David is looking forward to exploring the birds and the environment of Denali, and hopes that all participants, birders and non-birders, will come away with heightened curiosity, and a deeper understanding of the natural world.
In one evening program David will talk about his own development as a naturalist and artist, especially the importance of field sketching as a method of study. David's second talk is about the psychology of perception and how it can lead, and mislead, our efforts to identify birds.
Exploring Public Lands and Alaska's Communities Through Making Art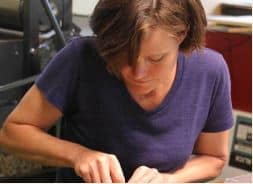 Artist
June 17-20 at Camp Denali
June 21-23 at North Face Lodge
Sara Tabbert is a printmaker and mixed media artist from Fairbanks, Alaska. She returned to her hometown in 2000 after college and graduate school in the Midwest and since 2010 has been fortunate to be a full-time artist. All her work is tied to the material of wood – she carves and prints wood blocks on paper, or the carved pieces become the art itself. In addition to smaller work, Tabbert's large-scale commissions can be found in and on public buildings throughout the state. Her efforts have been supported by grants from the Rasmuson Foundation and the Alaska State Council on the Arts. In addition to residencies in the US, Canada, Argentina, and Italy, she has been a summer and winter artist in residence through the National Park Service in Denali, as well as Zion and Isle Royale National Parks.
Emphasis
Sara will talk about the relationships between artists and public lands, and share her experiences working in various parks as an artist in residence. She will also talk about working with schools in the vast variety of communities across Alaska, as well as how all these activities and experiences have influenced her work.
Public Lands – A Priceless Treasure for Future Generations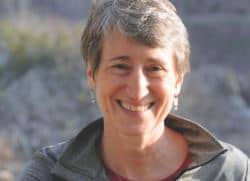 Former U.S. Secretary of the Interior, 2013-17 Distinguished Fellow, University of Washington College of the Environment
June 24-27 at Camp Denali
July 28-30 at North Face Lodge
Sally Jewell has had a diverse and unusual career, beginning as an engineer in the oil and gas industry, spanning multiple roles in commercial banking, leading outdoor retailer REI, and serving in President Obama's cabinet. She has been an active volunteer in environmental, educational, social service and business organizations that have shaped her life and given her an appreciation of the inner workings of our democracy and civil society. Jewell completed a fellowship at Harvard in the fall of 2017, and is now a distinguished fellow at the University of Washington where she is working across disciplines to help students and faculty understand how their diverse skills are essential to shaping a future that is both economically successful and environmentally sustainable.
Jewell is a lifelong outdoor enthusiast, mountaineering on multiple continents, plying the waters of the Salish Sea by sail and kayak, exploring our nation's beautiful public lands, and introducing young people to the joys of nature and environmental stewardship. She and her husband Warren especially enjoy playing with their grandchildren in the great outdoors.
Emphasis
We are blessed as a nation with 30% of our landmass and all of the waters off our coasts in public hands, providing habitat for diverse wildlife, buffers from the impacts of climate change, places of renewal in a busy society, reflections of our diverse and deep culture, and reservoirs of wealth ranging from ecosystem services to renewable energy to non-renewable resources like the extraction of oil, gas and minerals. In the first session, Jewell will explore the controversy and complexity of public land management, and the multiple facets of our democracy needed to ensure a future we are proud to leave to future generations. In the second session, she will discuss the importance of nurturing connections to the natural world for young people, with both sessions inspired by her favorite proverb: "We don't inherit the Earth from our ancestors, we borrow it from our children" unknown.
People, Politics and Promise in the Far North
Deputy Director of Strategy, Scholarship and Engagement, Anchorage Museum
July 1-4 at Camp Denali
July 5-7 at North Face Lodge
Dr. Mara Kimmel has had a long career in Alaskan public policy focused on issues of rights and justice. She is currently Deputy Director of Strategy, Scholarship and Engagement at the Anchorage Museum. Mara was appointed by the Governor of the State of Alaska to serve on the state's Climate Leadership Team. She has been on faculty at the Seattle University School of Law Anchorage campus, the department of Political Science at the University of Alaska Anchorage, and served as the Walter J. Hickel Professor of Strategic Development and Entrepreneurship at Alaska Pacific University.
Emphasis
Culture and diversity are visceral in America's Arctic state. We are home to peoples who have inhabited these lands for over 10,000 years and to people who have come to the state seeking refuge from contemporary wars fought halfway around the world. Alaska's largest city is one of the nation's most diverse, with over 100 languages spoken in the Anchorage school district. Rural, roadless communities dot the vast landscape connected only by snowmachine, boat or airplane. The rich cultures and lifeways of indigenous and immigrant communities define the past and future of the 49th state.
Mara's evening discussions will describe how here on the northern edge, Alaska is on the cutting edge of innovation and inclusion. She will take you through the history of U.S. and state laws and policies that shape Alaskan lives, landscapes and future possibilities. Mara will introduce the history of indigenous land claims, the carving up of Alaska's lands, the importance of natural resources, and the role and importance of foreign-born Alaskans to the future of our state. The discussions will examine how ancient knowledge and worldviews combine with contemporary migration to seed innovation in building resilient communities in times of enormous economic and environmental transformation.
Denali Dinosaurs: Revealing Alaska's Ancient Life and Landscapes
Director, University of Alaska Museum
July 15-18 at Camp Denali
July 19-21 at North Face Lodge
Dr. Patrick Druckenmiller is Associate Professor of Geology at the University of Alaska Fairbanks and Director of the University of Alaska Museum. His research focuses on Mesozoic marine reptiles and dinosaurs, particularly those from high latitudes. Dr. Druckenmiller is currently involved in several field-based research projects in the far north; he collects and studies marine reptiles from Svalbard, Norway, and he leads expeditions to numerous dinosaur sites across Alaska, including Denali National Park and Preserve. He also oversees the largest collection of Alaskan fossils, ranging from Ice Age mammals to polar dinosaurs.
Emphasis
Dr. Druckenmiller's first presentation will introduce the unexpectedly rich and varied record of Alaskan dinosaurs and other animals from the Mesozoic Era, or Age of Dinosaurs. From this huge geographic region – extending from Southeast Alaska to the North Slope – he will put Alaskan dinosaurs into a broader context by providing an overview of the questions concerning the fossils found in the state, recent discoveries that help answer those questions, how we study these remains, and what its like doing fieldwork in remote corners of Alaska.
In his second presentation, Druckenmiller will focus more specifically on dinosaurs and ancient landscapes in Denali National Park and Preserve, based on his own field-based research. He will discuss some of the park's amazing geological history, long before Denali itself was born. He will also describe the ancient vegetation found here 70 million years ago, the amazing variety of fossilized tracks from the park and the methods we use to collect these data. Collectively, he will discuss how we combine these types of information to reconstruct an ancient Denali ecosystem – an Alaska you've never before seen.
The Future of Energy
Director, Alaska Center for Energy and Power at UAF
July 22-25 at Camp Denali
July 26-28 at North Face Lodge
Gwen is the founder and Director of the Alaska Center for Energy and Power, an applied energy research program based at the University of Alaska Fairbanks that focuses on community-scale fossil and renewable/alternative energy technologies. Specific areas of emphasis include power systems integration for microgrids, hydrokinetic energy, low temperature geothermal, and diesel efficiency. Prior to joining the University of Alaska, Gwen worked in the private sector as a design engineer and project manager, including the design and construction of the only operating geothermal power plant in Alaska at Chena Hot Springs. This project received several awards including a R&D 100 award (R&D Magazine) and Project of the Year in the Renewable Energy Category (Power Engineering Magazine). Gwen has been inducted into the Alaska Innovator's Hall of Fame, and was selected as a member of Alaska's Top Forty Under 40. In 2015-16, she served as a Fulbright Scholar as part of the Arctic Fulbright Initiative.
Emphasis
Holdmann's evening lectures will weave together stories about energy production and use in society, with stories of Alaska ingenuity and leadership in designing the energy systems of the future. She will include personal tales of living beyond the edge of the grid in a trapper's cabin with her team of sled dogs, as well as training and racing in the Iditarod Sleddog race and Yukon Quest.
Emphasis
In Alaska, winters begin early, seemingly last forever, and are very cold, snowy, and dark, as well as beautiful and serene. Illustrated by field research done at the University of Alaska's Toolik Field Station in the northern foothills of the Brooks Range, evening talks will review the physiological and behavioral strategies available to animals for surviving and coping with arctic winters, including freeze tolerance, supercooling, and mammalian hibernation. Little is known about the molecular basis of hibernation, but discovering its mechanisms could lead to novel medical therapies and dispersal strategies for the human species. As a bonus, Brian's wife, Dr. Alison York, will provide a short history and the future of wildfires in Alaska in the context of climate change.
Perspectives from an Alaska Native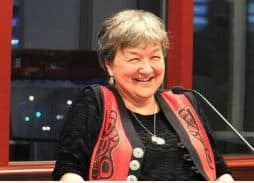 Writer, Memoirist, Professor
August 5-8 at North Face Lodge
August 9-11 at Camp Denali
Born and raised in Juneau, 2016-2018 Alaska Writer Laureate Ernestine Hayes teaches at the University of Alaska Southeast. Hayes is best known for American Book Award winner Blonde Indian, an Alaska Native Memoir, which received an Honoring Alaska Indigenous Literature Award and was finalist for the Kiriyama Prize and the PEN Nonfiction Award. Hayes's latest book, The Tao of Raven, places fiction and nonfiction narratives in the context of Raven and the Box of Daylight and Sun Tzu's Art of War. Hayes belongs to the Kaagwaantaan clan Eagle side of the Tlingit nation. She has four grandchildren and three great-grandchildren.
Emphasis
In her first program, Hayes offers oral history narratives that illustrate the relationship between Indigenous people and the land: stories of bears, glaciers, daylight, and survival. In the second program, Hayes presents examples of this relationship from her writing and provides opportunities for participants to share stories of their own relationship to the land.P
Denali Through the Eyes of an Artist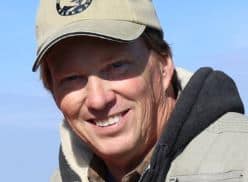 Nature Artist
August 19-22 at Camp Denali
August 23-25 at North Face Lodge
Traveling to Alaska since 1990, acclaimed artist Jim Wilson has been painting and drawing wild nature for 40 years. His work has appeared in magazines and museums, is included in private and corporate collections, and is shown in galleries across the United States and Canada, as well as at his studio in Virginia. Jim directs a portion of proceeds from fine art reproductions to conservation and humanitarian organizations around the world.
Jim seeks to understand, celebrate and share the natural world with others through his paintings. Participants on his hikes will have the opportunity to learn how to develop visual interpretations from the field by combining journal notes with sketching, painting and photography.
Emphasis
Jim's evening programs will examine the creative process of celebrating nature in art, including a presentation of his work.
Autumn Nature Photography Workshop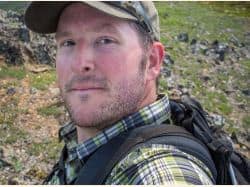 Conservation Photographer, Science Writer, Photo Educator
August 26 – 29 at Camp Denali
August 30 – September 1 at Camp Denali
David W. Shaw is a Fairbanks, Alaska based writer and photographer specializing in conservation imagery, science writing, and educating others about the art of photography. He has both undergraduate and master's degrees in wildlife biology and applies this background to create in-depth stories of the natural world.
He has written over 100 articles for publications across the world. His images and writing about science and natural history have appeared in magazines like Sierra, Living Bird, UnDark, Defenders, Ensia, Resurgence and Ecologist, Birds and Blooms, Birdwatcher's Digest, Birdwatching, Alaska, and others. While his instructional photography articles have been published in Shutterbug, Photographic, Photo Technique, Professional Photographer, Amateur Photographer and others.
Curtains of Light: The Aurora Borealis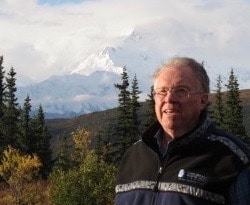 Former Director of Alaska Space Grant Program and Poker Flat Research Range
September 2-5 at Camp Denali
September 6-8 at Camp Denali
Dr. Neal Brown worked for NASA in the 1960s, where his interest in auroral phenomena was first sparked. At the time, the aurora was linked to understanding the earth's atmospheric makeup, a key factor in spacecraft travel. Brown went on to direct the University of Alaska's Poker Flat Research Range in Fairbanks, one of the nation's busiest space research facilities and the world's only university-owned rocket range. In 1995, he retired from his faculty position in the Physics Department and Geophysical Institute at the University. Neal was brought back to be Director of the NASA-sponsored Alaska Space Grant Program, a position he served in from 2002 through 2008. Brown is a consummate teacher and has been featured on PBS, the Discovery Channel, and Good Morning America. 2019 marks his 33rd year as a Special Emphasis Series speaker at Camp Denali.
Emphasis
Brown's evening lectures will explore the aurora, its myths and science, sun dogs, noctilucent clouds, and other atmospheric phenomena. Hands-on instructional aids and displays will illustrate many of the discussed scientific concepts. By early September, clear nights are finally dark enough to view the aurora. Join Neal in his enthusiasm for the north country's mystical night skies!