We recommend that you purchase a travel protection plan to cover your upcoming trip. The time and expense that you have put into planning and paying for your trip warrants protection through the purchase of a travel protection plan. AdventureSmith Explorations makes a sincere effort to do everything we can to ensure that your trip is enjoyable and trouble free. Travel protection offers you peace of mind for those events that we cannot control or guarantee. Below are a few key benefits that make travel protection coverage worth considering.
Get a Quote from Travelex Insurance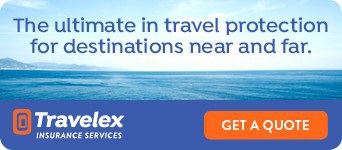 Get an online quote from Travelex or call 1-800-228-9792, giving them AdventureSmith's location number 05-0821 to identify your policy with an AdventureSmith Explorations trip. Some considerations when talking with an insurance professional about a quote for your trip:
Consider Travel Insurance at the Time of Booking
With Travelex, you are eligible for the preexisting medical condition exclusion waiver if you purchase the travel protection within 15 days on Travel Basic and within 21 days on Travel Select of your initial trip deposit and you insure for the full cost of your trip. No matter your insurance provider, similar timelines are in effect, and these are also often enacted for other upgrades, so think about what your insurance needs are sooner than later. Find more information and to review the complete, most up-to-date policy details, visit Travelex Insurance.
Trip Cancellation/Interruption Coverage
This coverage reimburses your unused prepaid nonrefundable payments or deposits, due to a covered reason, up to the amount of coverage selected if you or your family member, traveling companion or business partner become ill, are injured or die, preventing you from traveling. The policy also will reimburse you for the unused portion of a trip that is interrupted for the same covered reasons.
Cancel for Any Reason Coverage
Need protection for the unexpected, whatever the reason? Consider this upgrade to your travel insurance if you would like less restrictions and time constraints on your reasons to cancel. While the option used to be available as an upgrade to Travelex's Travel Select plan, note that they discontinued all new Cancel for Any Reason upgrades as of March 18, 2020.
Medical & Evacuation Expense Coverage
Despite our commitment to safety and security, you assume all risk and are responsible for your own emergency care in the event of illness or accident. Travelers are also responsible for the cost of emergency medical evacuation (usually a private charter plane or helicopter), which can exceed several thousand dollars. Small ship cruises venture into remote regions and guests may need to be transported over long distances to an appropriate location for medical treatment. We urge you to purchase a travel protection policy which provides emergency medical and dental protection. Many health insurance policies do not fully cover health care and emergency services outside the United States, so this is an important component of any travel insurance plan you are considering.
What Type of Plan?
For most of our cruises and adventures, we recommend the Travelex Travel Select plan as this offers a broad range of coverage at competitive prices. For expedition trips to more remote locations such as Antarctica or the Arctic, the Travel Select plan offers optional upgrades of Emergency Medical Evacuation up to $1,000,000, which may be required on some polar expeditions; and upgraded Adventure Sports Coverage for activities like mountain climbing and hot-air ballooning. Travel Basic is available for less remote trips with only $100,000 Emergency Medical Evacuation coverage.
Terms & Conditions
The product descriptions provided here are only brief summaries and may be changed without notice. The full coverage terms and details, including limitations and exclusions, are contained in the insurance policy. If you have questions about coverage available, please review the policy or contact your travel insurance carrier.