Browse the many Glacier Bay National Park cruises and tours curated by the AdventureSmith Explorations expert travel specialists to find your perfect match to explore this incredible park that's a highlight of any Alaska vacation. This list of Glacier Bay cruises includes longtime favorites like Sea Wolf Glacier Bay Adventure, Glacier Bay & Island Adventure and Northern Passages & Glacier Bay, and also new popular Glacier Bay tours that are quickly becoming classics.
Thanks to more permit allocations from Glacier Bay National Park, roughly half of our Alaska trips now feature Glacier Bay tours with itineraries and vessels sailing into the park on a Glacier Bay Alaska cruise. Here we detail 6 unique ways to visit—everything from a Glacier Bay National Park cruise that sails up from Seattle to flightseeing adventures and wilderness lodge-based trips. How will you choose to experience Alaska's Glacier Bay?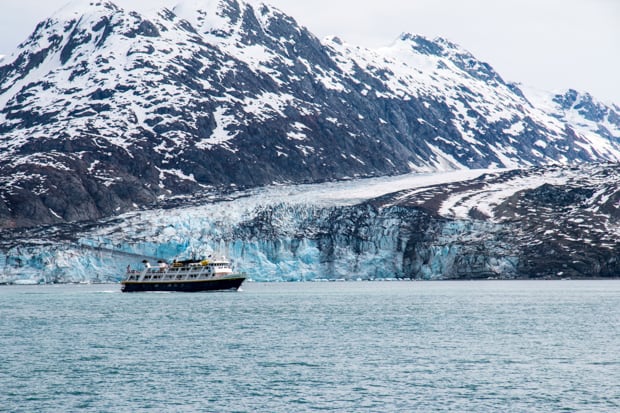 1) Explore Glacier Bay National Park On An Adventure Cruise
Our classic Glacier Bay Alaska cruise options, such as the Glacier Bay National Park Adventure Cruise, operate over the course of a week, aboard aboard a variety of popular small expedition ships. Most itineraries for an Alaska cruise into glacier national park spend two full days exploring the national park area, some with departures starting earlier than other Alaska overnight cruises, in April. In the past, overnight Glacier Bay tours did not enter into Glacier Bay until mid-May. Early-season sailings here bring the benefits of more wildlife sightings of moose, wolves and bears with cubs, and well as the rare chance to catch the northern lights before the summer sun extends daylight longer.
2) Take a Glacier Bay Alaska Cruise That Includes The San Juan Islands & Canada
Longer Inside Passage & San Juans cruises add a second week to the adventure, exploring the coastline between Seattle and Southeast Alaska, with a visit to Glacier Bay National Park. In 2018, the comprehensive Inside Passage & Glacier Bay Wilderness Cruise (northbound in the spring, southbound in the fall) began including one day exploring Glacier Bay National Park—a big bonus for travelers on this iconic route between Seattle, Washington, and Juneau, Alaska. A fleet of small expedition ships sail this itinerary so there is a vessel for every style and budget on this Alaska cruise in glacier national park.
3) Discover Glacier Bay On A Historic Yacht
Take a Glacier Bay National Park cruise aboard the intimate 8-guest Westward and 12-guest Catalyst, spending 7 of 10 days exploring the national park on the Discover Glacier Bay Alaska cruise itinerary, round-trip from Juneau. Cruise directly from Juneau to Glacier Bay aboard either of these celebrated small ships. Catalyst is registered as a Historic Place by the National Park Service and Westward is listed with the US National Register of Historic Places, so they're each a fitting floating basecamp for these historic and wild waters.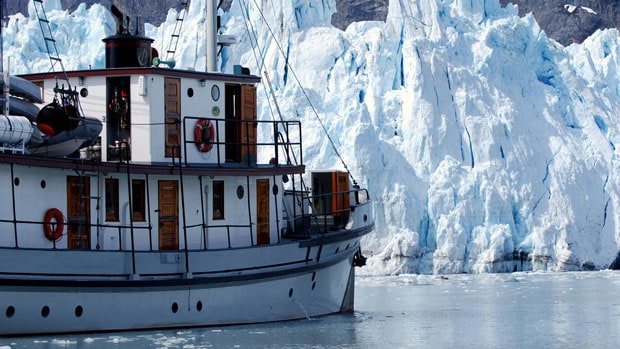 4) Focus on Alaska's Native Culture
Many Glacier Bay tours offer a cultural component in addition to wilderness, including the Last Frontier Adventure and North to True Alaska Expedition Cruise—both journeys that include a day in Glacier Bay with a Native Huna Tlingit interprative naturalist, alongside the park ranger. These special itineraries may include excursions north up the Lynn Canal to Skagway and down the Inside Passage south to Wrangell for an even more comprehensive voyage in Alaska's Inside Passage.
5) Flightsee Glacier Bay On A Wild Alaska Escape
The usual view on a Glacier Bay National Park cruise is from water level. While cruising alongside glaciers is certainly an intimate way to see them and best to witness dramatic calving events, the eagle's view provided by flightseeing really shows you the expanse of this 3.3-million-acre park. The Wild Alaska Escape: Sitka to Juneau cruise now features this special new addition to an already packed, diverse itinerary. This exciting side journey takes off from the "adventure capital of the world," Haines, to explore Glacier Bay National Park from above. From this special vantage point travelers get to see rivers of ice, how glaciers form and the stunning scenery of the park. Take a peek at fightseeing on these cruises from Juneau to Glacier Bay.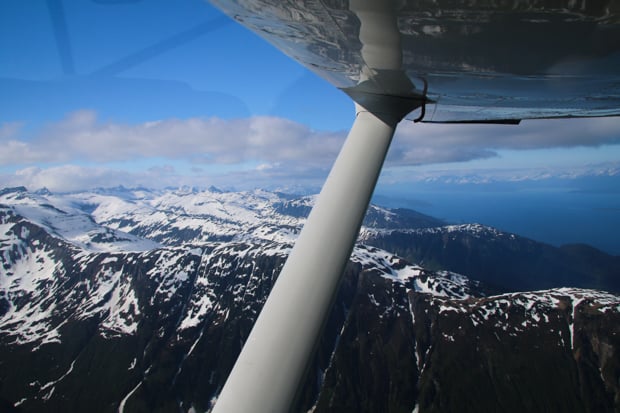 6) Include More Alaska National Parks, Or Go By Land, In Your Glacier Bay Tour
There are many more national parks in Alaska than just Glacier Bay, and these exclusive, custom Alaska trips from AdventureSmith Explorations truly show you the best of Alaska. For a land-based option that simply focuses on Glacier Bay National Park, the AdventureSmith-exclusive Glacier Bay Backcountry Explorer overnights on land in Gustavus, exploring the park with three Glacier Bay Alaska day cruises, plus kayaking and a helicopter-assisted glacier adventure. But the ultimate way to explore on Glacier Bay tours is by combining your Glacier Bay National Park cruise with land-based explorations in two of Alaska's other national parks: Kenai Fjords National Park and Denali National Park.
Our Great National Parks of Alaska trip combines a Glacier Bay national park cruise aboard an adventure yacht with wilderness-lodge-based travel and is inclusive of all accommodation and transportation, including train rides on the historic Alaska Railroad. This is the ultimate way to experience the best of Alaska at three of the state's favorite national parks. If you can make the time to do Alaska right, this is the trip you want to take.
Now that you've read about the many ways to cruise Glacier Bay Alaska, start your trip search below. Use the filters to narrow down your search, or contact us for a personalized recommendation on the best Glacier Bay National Park cruise for your travel needs.