When is the best time to go to Antarctica? On the White Continent, the answer isn't so black-and-white. Our timing recommendations are highly contingent on individual needs, including considerations on budget, availability, activities you hope to do and wildlife you wish to see. Read on for our complete month-by-month guide; a quick overview of when to go on your Antarctica trip includes:
GO EARLY if you want to cross-country ski, and see more pristine snow, icebergs & pack ice.
TRAVEL MIDSEASON for prime penguin viewing (chick hatching), the best temperatures & the statistically calmest seas.
GO LATE-SEASON for the best whale watching & to attempt to reach the polar circle.
When Can You Sail to Antarctica?
Antarctica's six-month sailing season (October through March) occurs in the austral spring and summer when the weather is surprisingly nice, daytime highs can reach between 20 and 50 degrees Fahrenheit. From the almost complete darkness of winter to December's near 24 hours of sun, Antarctica's dramatic light changes condense the lifecycles of plants and animals into just a few months, making the sailing season packed with action.
Our timeline below aims to be a detailed guide for you to determine your own individual best time to go to Antarctica. Note that there are variations by latitude, including some key differences for itineraries visiting the more northern South Georgia and Falkland Islands or eastern reaches of the Weddell Sea. For more on this, read AdventureSmith's comprehensive How to Choose Your Antarctica Cruise guide.
Late October (Spring) in Antarctica
Breeding activities of seabirds like skuas, albatross and petrels begin in the South Shetland Islands &Antarctic Peninsula.
Adelie, gentoo and chinstrap penguins return to land to begin the breeding cycle, starting with courtship rituals.
Emperor penguin rookeries are becoming populated in the Weddell Sea.
Crabeater seals are born (Sept-Nov).
Floating sea ice, frozen from the previous winter, is prevalent. View dynamic ice floes and large icebergs with deep aquamarine colors—all excellent for photography.
Temperatures are colder as Antarctica eases out of winter; average daytime temps of 15-20 degrees Fahrenheit.
Skiing and snowshoeing can be offered in the early season as an activity option on select vessels and itineraries.
Wintering scientists look forward to visitors.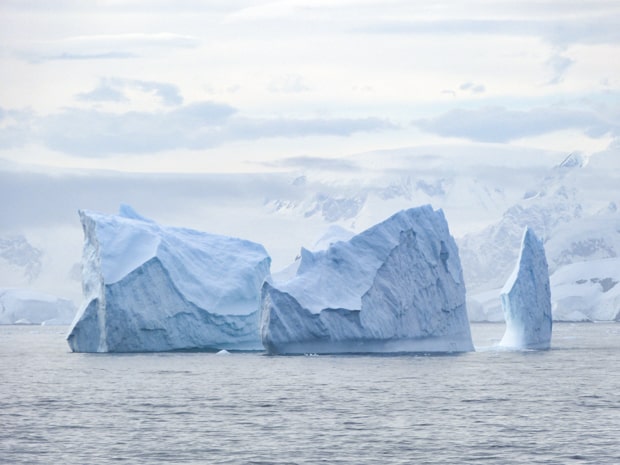 November in Antarctica
Adelie, chinstrap and gentoo penguins have found their mate (hopefully) and are starting to build their nests with eggs laid and incubation shortly after. Behaviors could also include sky pointing and stone stealing.
King penguins on South Georgia lay eggs and waddle around with eggs between their feet while the males hunt for food. Later in the month here, the eggs hatch and the chicks begin to roam about.
Albatrosses are spotted in the skies.
Spring wildflowers bloom in the Falkland Islands.
Elephant seals begin courting on South Georgia Island.
Fur seals lounge on the shores, mate and establish breeding territories. Aggressive mating rituals can be observed.
Temperatures warm, with averages reaching 21-32 degrees Fahrenheit.
Pack ice begins to melt, opening up the 7 million square miles of the frozen Southern Ocean.
Landscape photography is ideal with the growing days offering more sunlight to illuminate icebergs and landscapes.
Camping options begin to be offered on select departures of certain ships and continue through February.
Kayaking options are available starting November and throughout the rest of the sailing season.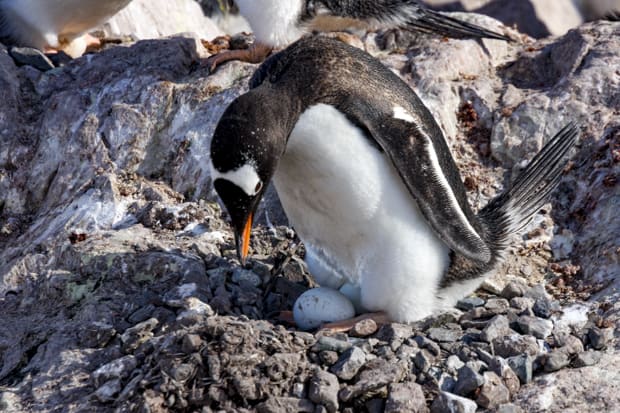 December (Spring-Early Summer) in Antarctica
Leopard, crabeater, Weddell seal and elephant seal pups are more commonly seen.
Penguin chicks start to hatch in early December in the Falkland Islands.
Penguins, petrels and cormorants are laying eggs and sitting on their nests through December; chicks begin to hatch in late December
Best chance for calmer seas while crossing the Drake Passage.
Longest days offer up to 24 hours of daylight (depending on latitude) near the Dec 21 solstice, creating more opportunities for exploration and wildlife spotting. Long, drawn-out dawn and dusks creating seemingly everlasting late-night sunsets and sunrises.
Ice floes float by with lounging leopard seals enjoying the long days.
Ships are sometimes able to park on the sea ice, likely in the Weddell Sea or Ross Sea, allowing guests to step directly down to the frozen sea to explore.
Spring wildflowers bloom in South Georgia.
Warmest months (Dec-Jan) begin; temperatures range from 29-38 degrees Fahrenheit.
Glaciers are actively calving as temperatures rise (Dec-Feb).
Whales starting to arrive in Antarctica.
Research is at its peak in (Dec-Jan).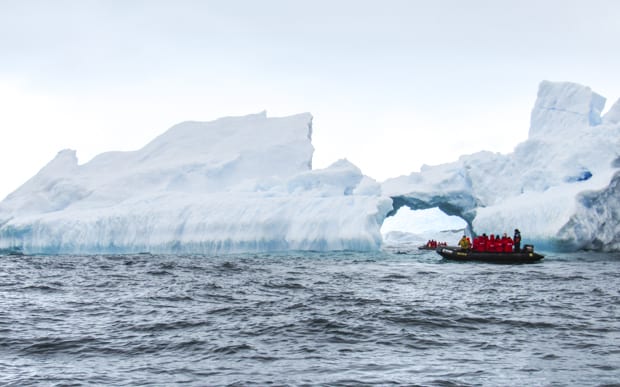 January in Antarctica
Hatching or newly hatched baby penguins are abundant; feeding frenzies begin as parents bring their young food from the sea.
Baby Antarctic terns are hatching.
Baby seals are lounging about with their parents.
Zodiac cruises are intriguing with melting icebergs, shaped by the sun floating about.
More sea ice opens up allowing for visits to more landing sites, including historical highlights like the huts of Shackleton and Scott in the Ross Sea.
Whale sightings begin to increase.
Average temperatures are at their highest, ranging from 31-40 degrees Fahrenheit.
Higher prices for this popular Antarctica travel time.
Certain itineraries start attempting to reach the polar circle.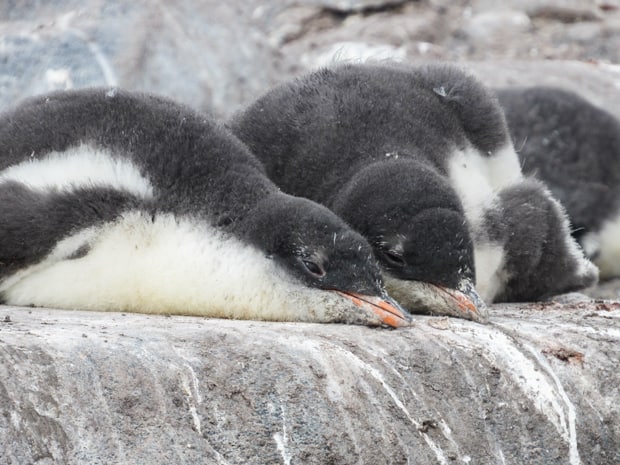 February in Antarctica
Molting penguin chicks are running about while adults are busy swimming after krill to feed their chicks.
Playful fur seal and leopard seal pups are more commonly seen.
The long days of sun spawn plankton blooms, a buffet for feeding whales. This is the prime month for orca, minke and humpback whale watching.
Whales become predictable as they fatten up for the long voyage north, visiting the same blooming areas and often traveling in groups of 6-10.
Orcas feed as well, but on the newly matured seals and penguins now out swimming on their own in the ocean.
Receding ice opens up and allows for even more exploration.
Abundant fur seal populations.
Elephant seals come ashore to molt.
Epic sunrises and sunsets as days get shorter.
Temperatures range from 33-44 degrees Fahrenheit.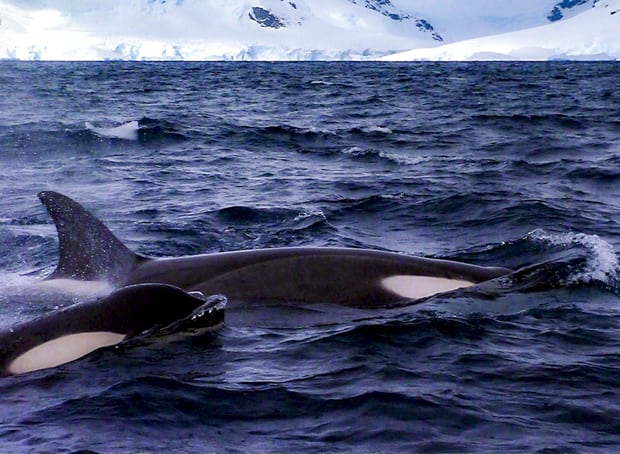 March in Antarctica
Adolescent, curious penguins explore their territories, finish molting and grow adult feathers to begin swimming.
Some Adelie, chinstrap and gentoo rookeries are empty, as adults return to the sea to feed.
South Georgia Island's king and macaroni penguin rookeries are highly populated.
Only about 5.4 million square miles of sea ice (opposed to the 22 million in September) means access to more bays as additional landing sites open up.
Green and pink algae blooms show their colors on snow and ice cliffs.
Still excellent whale watching.
Snow-free beaches allow for more landing sites and easy sightings of large penguin rookeries.
Incredible night sky viewing, weather permitting.
Possible sightings of aurora australis, otherwise known as the southern lights (the closer to winter, the better chance of experiencing the phenomena). Temperatures start dropping to around or below freezing. Some birds, like Antarctic terns, start flying north.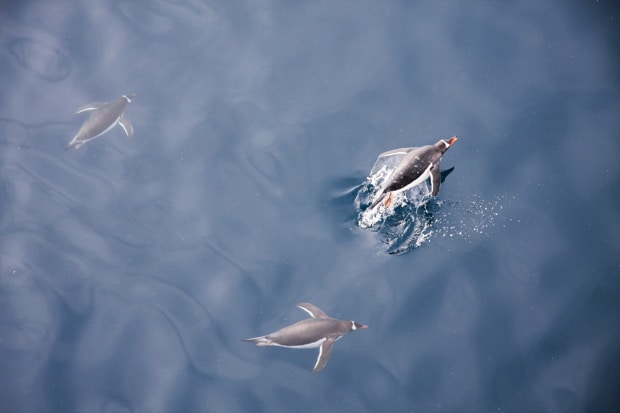 A Note About Timing & Latitude in Antarctica
While this Antarctica by Month guide is valuable resource for planning when to go, wildlife and weather can never be fully predicted, especially in a land as dramatic as Antarctica. Life at the poles is affected greatly by latitude variances, as slight latitude shifts offer big seasonal and light changes. Combine this with the short Antarctic summer and you'll see animals' mating, laying and rearing cycles moving very fast. For instance, on this air cruise to Antarctica in December, we saw penguins mating and nest building; sitting on eggs; and newly hatched chicks all in different areas based on latitude north or south. 
While AdventureSmith is great at finding last-minute cabin space aboard expedition cruises, if timing is important to you we advise booking early. Need more information when to travel to Antarctica? Contact our specialists to learn more about our Antarctica small ship expeditions and the best time to go to Antarctica for your particular travel needs.
Discover more about our Antarctica trips and then contact one of our Antarctica experts to help match you with the best trip for your interests, budget and timeline.
This Antarctica seasonal guide was originally published in July 2018, and is updated periodically by our experts. Our most recent update occurred July 2019.