Best in Ice Class, Most Likely to Circumnavigate, Most Attractive Penguins… these high-school-style superlatives might not be the best way to choose your trip to Antarctica, but Antarctica truly is a land of rankings—it's the coldest, windiest and driest continent on the planet. We recommend making your trip here stand out even further by adding a unique spin.
So without further ado, we announce our Antarctica superlatives to help you do just that: 9 of the most unique ways to experience the White Continent.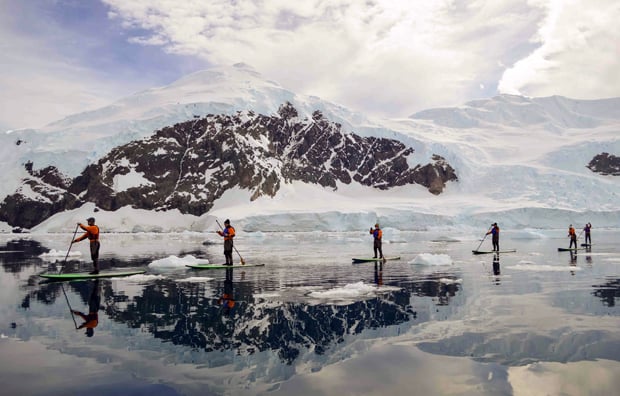 1) Stand-up Paddleboard in Antarctica
Sail on the Ocean Endeavour if you want to experience the calming, surreal feeling of standing and gliding on the water's surface among ice floes. The 199-guest expedition ship is the only one currently offering stand-up paddleboarding as an optional (added cost) adventure activity. The sport of stand-up paddleboarding, a hybrid of surfing and kayaking, gives you a very personal perspective of Antarctica as you stand solo on the stable surf-style board, propelling your way forward with a single, long oar. Ocean Endeavour guides take out small groups of 10 paddleboarders in good weather conditions on calm bays and harbors.
2) Go the Fastest
Choose the National Geographic Explorer, which clocks in at up to 18 knots, if you want the fastest Drake Passage crossing. Or opt for an air cruise, like the Antarctica Air Cruise or Antarctic Express, which shaves off the days-long Drake Passage Crossing with one-way or round-trip flights.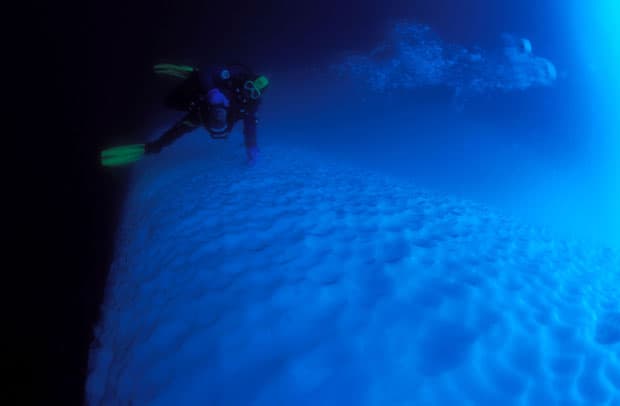 3) Scuba Dive in Antarctica
Sail aboard the Plancius or Ortelius to experience Antarctica's underwater world. More than just ice, you'll encounter marine life like kelp walls, sea snails, crabs, sea butterflies, jellyfish, sea-hedgehogs, starfish, krill and giant isopods. You may have the possibility to share the water with fur seals, leopard seals and penguins. Dive sites onboard these two ships are varied and may include shallow ice diving and diving along a wall, and entering the water from a beach or from the Zodiac. The maximum depth is around 20 meters, or 60 feet. Note that scuba diving comes at an added cost, and is for experienced divers only who are familiar with cold water diving and dry suit diving (at least 20 dives).
4) Cruise on the Smallest Ship
Ocean Nova, with 72 guests and at 240 feet in length, is the smallest ship of AdventureSmith's Antarctica trips. Choose this vessel if you want the most intimate of Antarctic experiences and a nimble ship. You will truly feel small among the largeness of Antarctica's icescapes. Ocean Nova's modern Danish design adds to the ambiance. Or go for the least amount of passengers on a slightly larger ship, the brand new Magellan Explorer. Built for 100 and only carrying one flight's capacity of 73 passengers, this ship is quite roomy and the excursions are easily accessible.
5) Cross-Country Ski in Antarctica
In addition to its stand-up paddleboarding, Ocean Endeavour is one of the few expedition ships we travel with that offers cross-country skiing as an add-on activity. Antarctica's pristine snow makes it the perfect place to Nordic ski, with penguins providing the soundtrack to your journey. Cross-country skiing is only available on select Antarctic voyages at the beginning of the season, so be sure to book an early departure.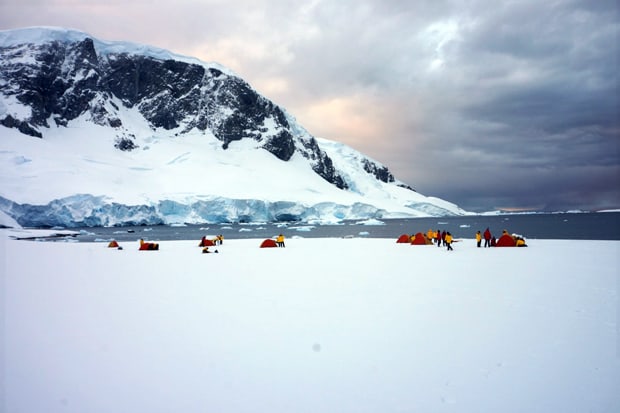 6) Camp in Antarctica
Imagine the ultimate quiet of a night spent sleeping outdoors in Antarctica. The exposure, the remoteness… the occasional penguin passing by your tent. Sleeping out in the elements in Antarctica calls to the more adventurous. And there's a good chance you'll have more intimate encounters with wildlife camping on the 7th Continent. Many expedition ships offer this add-on to your journey. Look for options aboard Expedition, Plancius, Ortelius, Ocean Adventurer, Ocean Endeavour, Ocean Diamond and Hebridean Sky.
7) Travel with Famed Explorers and Scientists
National Geographic The White Continent and National Geographic Antarctica, South Georgia & Falkland Islands expeditions offer an extensive Global Perspectives program, with scientists, artists, historians, explorers and other influentials joining their Antarctic voyages as expert guest speakers. Sailing with you are the likes of Peter Hillary, the son of Everest's Sir Edmund Hillary; Jamling Tenzing Norgay, son of the Everest pioneer Tenzing Norgay; Global Perspectives guest speaker Lee Hotz, science columnist for the Wall Street Journal; and many accomplished photographers.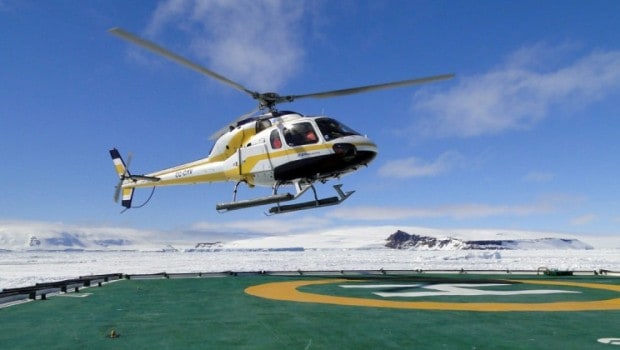 8) Ride in a Helicopter
See Antarctica as few do: from the sky on the Weddell Sea Emperor Penguin Voyage. This expedition uses helicopters for more than just the pretty view; three days are alloted to visit remote Emperor penguin rookeries via helicopter for a fascinating once-in-a-lifetime experience.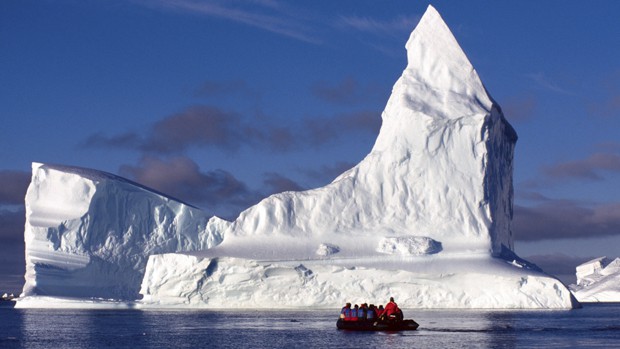 9) See a Total Solar Eclipse in the Weddell Sea
Want bragging rights forever? What could top a full solar eclipse in Antarctica? Many ships will be offering specific Antarctica eclipse cruises to sail in the path of totality for the December 4th, 2021, solar eclipse. The select few who book early (as surely these spots will fill quickly) get to witness the wild light transformation playing on and around the tabular icebergs of the Weddell Sea.
Want more ideas for a unique Antarctic expedition? Contact the experts at AdventureSmith for a customized way to make your journey extra special or to find out more about any of our favorite Antarctica superlatives listed above.
This post was originally published in February 2017 but has since been updated to reflect the latest of unique Antarctica travel options; our most recent update occurred July 2018.