Antarctica calls to modern-day explorers with its untouchability and expansiveness. Despite this allure, the continent remains a rarely visited place. In the 2018-2019 cruise season (October-March), a record number 56,168 visitors set foot on the continent, but that's still less than half the number of spectators at the Super Bowl. Among these lucky few who get to experience the White Continent, repeat visitors are rare. If you are among the fortunate, you'll want to make sure you sift through the many travel considerations to have your best single experience possible. Such a pristine, remote place should surely be done right. Here are our recommendations for planning travel to Antarctica: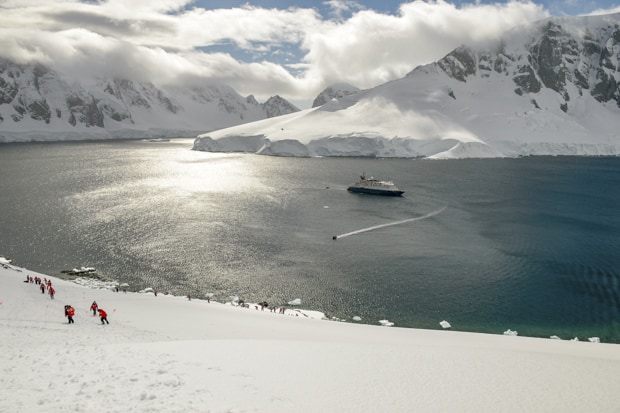 1. Choose a Ship Under 200 Guests
Your trip to Antarctica should be a true journey, and turn you into an ambassador for the region, not just a passer-through. How to achieve this? Stay small and sustainable, on a ship carrying fewer than 200 guests. Ships, especially in Antarctica, need to be of a certain size for a bespoke, intimate and active experience. Only 100 guests are allowed ashore at one time in Antarctica, so larger vessels have a harder time getting guests ashore as often as a small ship can. Expedition vessels under 200 guests are known for a more hands-on, small group approach, with guests off the ship twice daily on Zodiac, kayak and on-land adventures.
Expedition vessels under 200 guests are known for a more hands-on, small group approach, with guests off the ship twice daily.
We offer a wide range of Antarctic vessels, from the classic no frills expedition ship to the elevated white-glove service with elaborate onboard entertainment. But no matter what ship you choose we ensure the most active and authentic experience of the White Continent with activity options and expert guides in the fields of geology and marine biology. View our diverse selection of Antarctic ships with under 200 guests. Please note that if an expedition ship offers global itineraries and accommodates over 200 guests, a ship will sometimes cap the capacity at 200 if and when it cruises in Antarctica. If a ship does offer a reduced capacity in Antarctica it will also be noted on the specific ship page.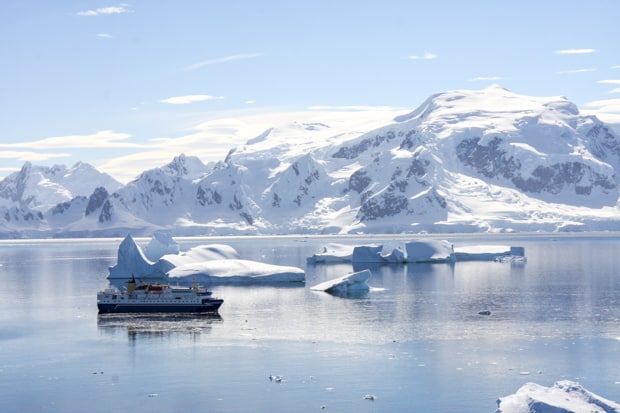 2. Know Your Activity Options
While all Antarctica expeditions on small ships offered by AdventureSmith Explorations include time off ship exploring by Zodiac and hike, most require you to book coveted added-cost space for excursions like kayaking, stand-up paddleboarding, skiing, mountaineering, camping and even scuba diving and snorkeling. Thus, if you're interested in a particular activity, you'll want to know all your options. Most ships require you to pre-book and commit to an activity over the whole voyage, while some are beginning to offer one-time excursions.
One of our top itinerary picks for active travelers is the all-activity-inclusive Antarctic Peninsula Basecamp Cruise, For vessels offering inclusive activities without having to pre-book, National Geographic and the French luxury Ponant vessels are both great options. If a particular excursion is important to you, having someone like an AdventureSmith Specialist guide you through the options is key as there are considerable price and seasonal variations depending on what you want to do.
3. Pay Attention to Your Cabin & Ship Amenities
You will spend a lot of time on your ship in Antarctica, especially if you cross the Drake vs. fly on an air cruise option. Look to our curated Antarctica luxury cruises, or to one of the newest Antarctica vessels, if you want the very latest technology and even more choice when it comes to your cabin and amenities aboard. Perks include private balconies, room service, complimentary mini bars, bathtubs and other amenities like heated pools, helipads, running tracks and purpose-built systems to get you off the ship and out exploring as fast as possible.
Antarctica, unlike some warmer-weather sailing destinations, is a region where cabin choice does matter.
The icescapes of Antarctica are endless, and it's an incredible bonus to have views in the privacy of your cabin. Antarctica, unlike some warmer-weather sailing destinations, is a region where cabin choice does matter. Intense winds, mixed precipitation and longer ocean crossings make having a comfortable, private homebase all the more important.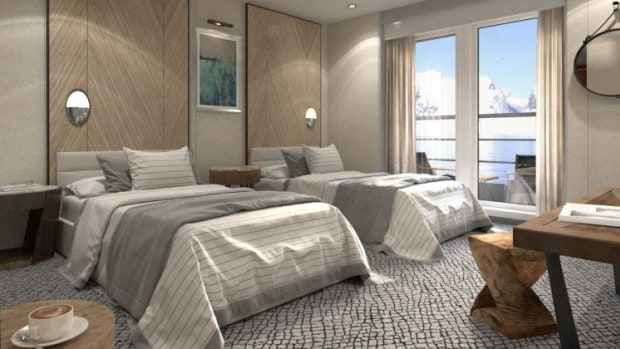 4. Make Conservation (& Penguins) a Priority
You're going to see A LOT of penguins; get to know them! In advance of any Antarctica trip, we encourage you to learn about the wildlife you're going to see, plus any conservation organizations and research stations operating in Antarctica. While visits to research stations cannot be guaranteed on any route, knowing what research is being conducted and being informed about the environment enriches your journey.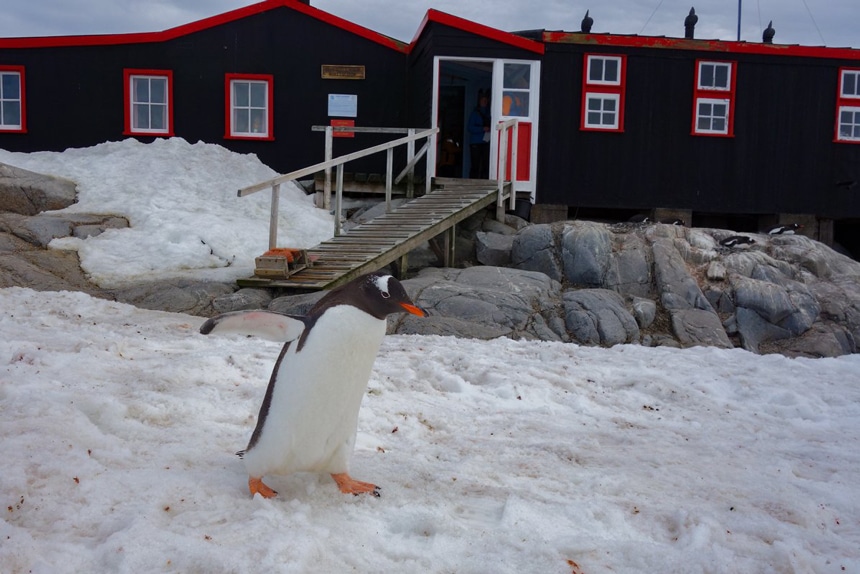 At AdventureSmith, we support numerous conservation partners and are members of IAATO (International Association of Antarctica Tour Operators), founded in 1991 to advocate and promote safe, environmentally responsible travel to Antarctica. Plus, every AdventureSmith traveler in Antarctica is sailing carbon neutral as we launched the industry's first carbon-free cruising campaign in 2005 and pay to offset each passenger's cruise carbon footprint via MyClimate. If you are not traveling with us, research how to be an ambassador for the region and follow the current IAATO visitor guidelines for protecting Antarctic wildlife, respecting scientific research, being safe and keeping Antarctica pristine.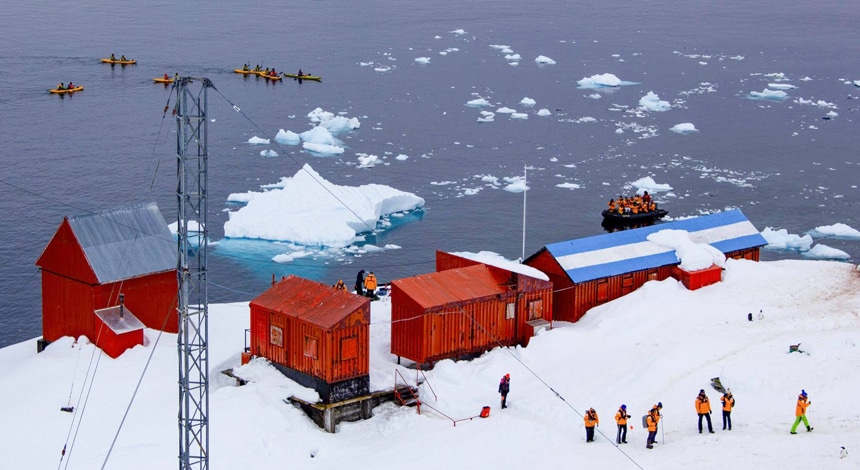 5. If Time Allows, Include South Georgia
This is a common wish of travelers who've already been to Antarctica: that they would have taken the time to include South Georgia via one of our South Georgia cruises. Though visiting this remote island tacks on quite a few days to your voyage, it's well worth it: read Why Include South Georgia with Antarctica. This island isn't just famous for its explorer history (Shackleton); it's a haven for wildlife you can't see elsewhere in Antarctica (like the giant king penguin rookery pictured below).
6. Book Early
To be matched with the best experience for your interests, book in advance. Antarctica rates and sailing dates are typically released over a year-and-a-half prior to the sailing season (October-March). Booking as soon as you can provides more date and ship choices, plus special offers like early-bird discounts. If you wait till the last minute, your date and cabin type will be dictated by what's left vs. what's best for you. Plan ahead to do it right once. View our selection of Antarctica cruise deals.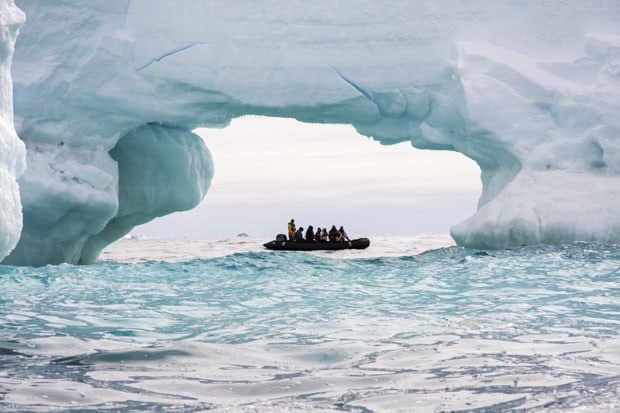 Our team of travel experts at AdventureSmith Explorations have become the go-to resource for the discerning traveler to Antarctica as we offer unbiased comparison of the options and know the nuances of polar travel thanks to our firsthand insight (read our Antarctica Cruise Reviews). For more detailed information on travel to Antarctica, read our comprehensive How to Choose Your Antarctica Cruise guide or view all our trips to Antarctica to find rates, dates and start selecting your journey.
This blog detailing what you need to know before going to Antarctica is among AdventureSmith Explorations' extensive Travel Guides. Visit our collection of Antarctica Travel Guides for even more resources to plan your Antarctica trip or contact one of our Adventure Specialists at: 1-877-620-2875.