Can you visit Antarctica? Yes! It's popular with adventurers.
During the 2019-20 season, more than 55,000 travelers landed on the Antarctic continent, according to our partners at IAATO (the International Association of Antarctica Tour Operators). Trips to Antarctica leave from Chile, Argentina, Australia or New Zealand and we can get you there.
Why Go to Antarctica?
More common than "Can I go to Antarctica?" is the question "Should I go to Antarctica?" We also answer with a resounding yes. From wildlife to weather, exploration to creature comforts, awe-inspiring landscapes and great solo traveler opportunities, Antarctica is definitely worth a visit – let us tell you why in further detail, below.
Can You Visit Antarctica?
Here are FAQs around the common question "Can you visit Antarctica?" and answers to get you started:
When Can You Visit Antarctica?
You can visit Antarctica during Austral summer, October through March. The best time to visit Antarctica will depend on your goals. Find more details in our How to Get to Antarctica primer.
For example, if you're aware of how much it costs to go to Antarctica and are seeking the best Antarctica cruise deals, then travel in late season (February and March). Or if you want the warmest weather, travel mid-season (see temperature details by month and location on our Antarctica Climate page).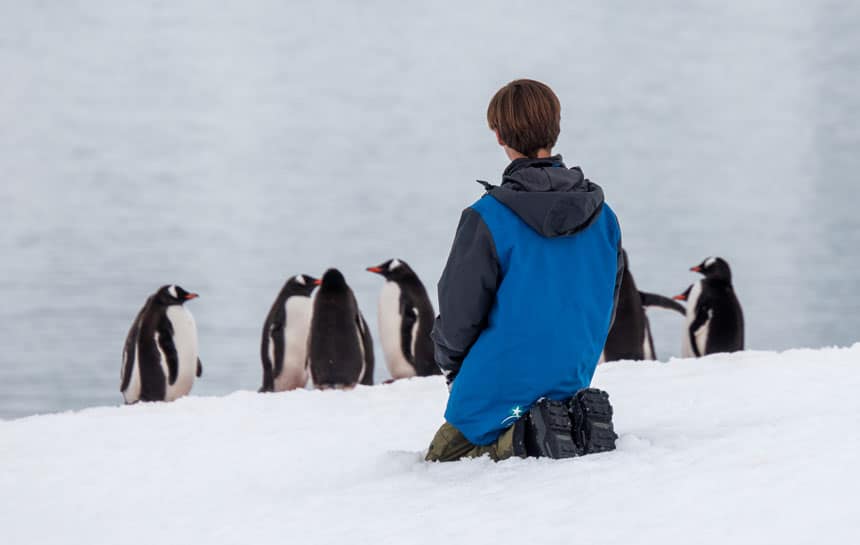 Can You Visit Antarctica as a Solo Traveler?
Yes. We're often asked "Can I go to Antarctica on my own?" You cannot explore independently. However, many Antarctica cruises come with incentives for solo travelers, whether it's Antarctica solo traveler deals, or Antarctica cruise ships with dedicated single occupancy cabins or same-sex cabin-share programs. Perhaps this is why Antarctica is so popular with solo travelers.
Can You Visit Antarctica Alongside Other Destinations?
Yes – in fact, unless you're starting in Chile, Argentina, Australia or New Zealand, your flight path to meet your small cruise ship will necessitate some time in those countries. Learn more in our How to Get to Antarctica primer and contact us for a free quote for custom trip planning to visit other countries on either side of your Antarctica trip.
Travelers typically transit through South America and will combine their Antarctica cruise with Patagonia travel or Chile Travel to maximize their time. Bucket listers traveling to every continent can easily combine Antarctica with South America for 2 of the 7 continents.
Why do People Want to Go to Antarctica?
We're often asked "What is so special about Antarctica?" and we have many answers: the wildlife, the weather, the photography opportunities, the extremes, the activities and the impressive ships. Read firsthand Antarctica cruise reviews to help answer the why question, or learn more in the following sections:
Antarctic Penguins, Whales & Other Wildlife
Why go to Antarctica? For the animals.
Antarctica animals are varied and unique. Over 15 types of penguins live in Antarctica and they're a joy to watch. Witness them torpedo through the water while fishing and create "penguin highways" by walking and sliding single file.
Roughly 10 species of whales swim the Antarctic waters, joined by seals and sea lions. Aquatic birds such as albatross also frequent the waters of Antarctica. Watch for them all at water level by Zodiac, hovercraft, kayak, stand-up paddleboard, snorkeling or diving. Learn more in our Things to do in Antarctica primer.
Get Active
Can you go to Antarctica and be active? Yes.
Our small Antarctica ships get you off the vessel at least twice a day, whereas many larger ships can only offer excursions once a day. Spend time hiking, kayaking, stand-up paddleboarding, camping, mountaineering, skiing, snowshoeing and even scuba diving for specially certified travelers. Get more details from our Things to do in Antarctica primer.
Photograph Stunning Scenery
Why do people want to go to Antarctica? To document the incredible beauty.
Pack your camera for pristine mountains, dramatic cliffs, massive tabular glaciers, unusual ice formations and an expansive white landscape. Due to latitude and Austral summer, long days and longer-than-normal sunrises and sunsets make for prime photo opportunities. Often, professional photographers travel onboard to heighten your photography skills.
Follow in the Footsteps of Explorers
Should I go to Antarctica for history? Yes.
Antarctica has a rich history of exploration by hearty adventurers. They went by dog sled and tall ship; you can go in comfort and style aboard specialty ships designed for polar cruising. Experience historic sites like Grytviken, where Shackleton is buried, and then return on board your ship to a hot shower and gourmet meal.
Our luxury Antarctica cruises offer amenities that historic explorers could not have even imagined. But you can also experience historic expedition routes on options like the 3-day Shackleton Crossing, which recreates the overland trek across South Georgia by Shackleton, Worsley and Crean, mountaineering and camping along the way.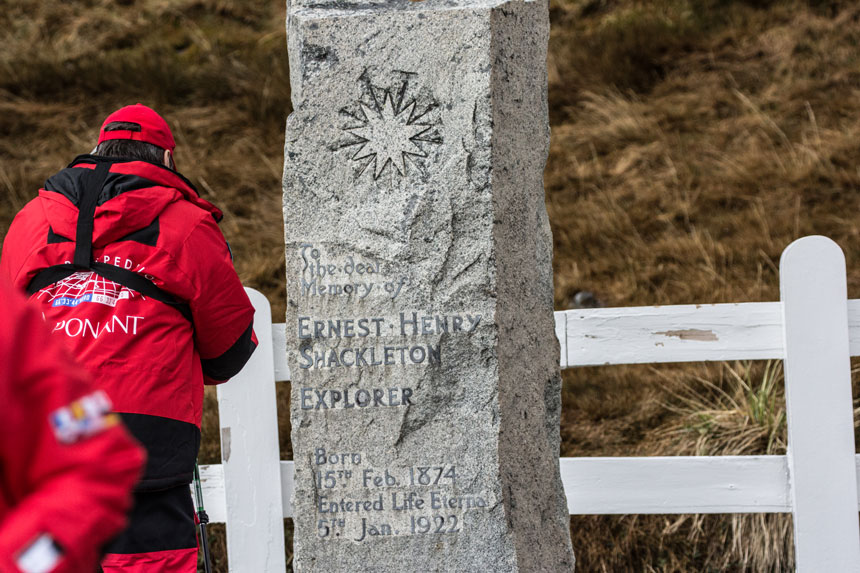 Experience the Extremes
What is so special about Antarctica? The extremes.
Antarctica is the driest continent on earth, classified as a polar desert. On average, only 8 inches of precipitation falls along the coast annually. Pick any trip from our Antarctica cruise finder and you will likely have some ideal sunny days.
Antarctica is also the coldest, windiest and iciest place on the planet, and the weather can change rapidly. These conditions make for a true expedition, where your Antarctica cruise ship and expedition team will make route, landing and activity decisions on the fly.
So, Can You Visit Antarctica? And Should You?
We emphatically answer "Yes!" to both of these questions, assuming you're ready for adventure, wildlife, weather extremes, history and breathtaking landscapes. Find more answers to the questions "Can you visit Antarctica?" and "Why do people want to go to Antarctica?" by viewing our Antarctica travel guide resources, including posts on places in Antarctica and things to do in Antarctica. Our post on Antarctica resources and sustainable travel helps answer the question "Can I go to Antarctica in a sustainable way?"
Ready to talk through your options? Contact our experienced Antarctica specialists for a free, personalized quote on the best Antarctica small ship expedition for your interests. After your return, you'll undoubtedly be telling others exactly what is so special about Antarctica.
MORE ANTARCTICA RESOURCES:
Antarctica Travel Guide
Antarctica Cruises
Luxury Antarctica Cruises
Falkland Islands & South Georgia Cruises
Cruises with Flights to Antarctica
Best Time to Visit Antarctica
Antarctica Cruise Cost
How to Get to Antarctica
Things to Do in Antarctica
Places in Antarctica
Antarctica Ships
Best Antarctica Cruise Lines
Antarctica Cruise Deals
Antarctica Cruise Reviews