AdventureSmith Explorations Founder & President Todd Smith reports on Galapagos Islands conservation on Floreana Island as part of his visit during the annual IGTOA board meeting. Read more about that trip in Expedition Report: The IGTOA Annual Meeting.

When people travel to the Galapagos Islands, they think of iconic species like the giant tortoise, iguanas and finches. They dream about active adventures such as walking among nesting blue-footed boobies and swimming with sea lions. And they expect to learn about the nature, history and evolution of the islands. What they don't think about is rats; Island Conservation and IGTOA (the International Galapagos Tour Operators Association) want to keep it that way.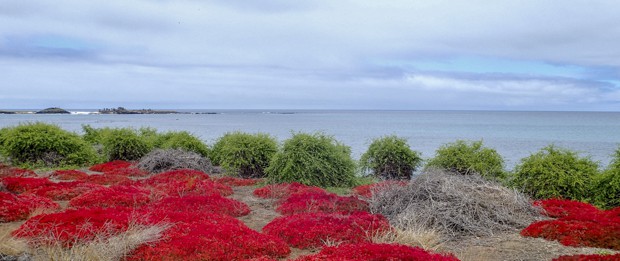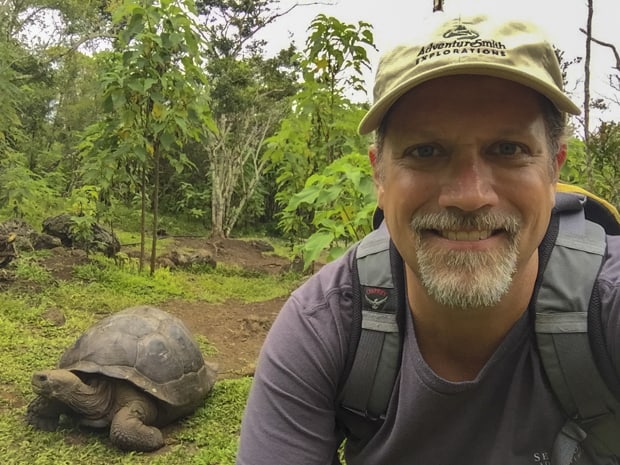 Why Are Islands Like Floreana Worth Protecting?
As an IGTOA board member, I have been lucky to visit the Galapagos Islands many times and learn about the issues facing the islands and the incredible people working to combat them. On a recent visit, I was introduced to Karl and Gloria of Island Conservation, a nonprofit that works to eradicate invasive animals from islands.
Floreana has the highest levels of species loss in the Galapagos with 55 endangered or vulnerable species and 14 local extinctions. Removing invasive vertebrates is one of the most critical interventions.
Why are invasive animals a threat to islands, and why are islands worth protecting? According to Island Conservation, islands represent the greatest concentration of both biodiversity and species extinctions. The threats of extinctions are highest on islands, as are our opportunities to save at-risk species. Removing introduced invasive vertebrates is one of the most critical interventions for saving threatened plants and animals and restoring island ecosystems.
Floreana Island was the first Galapagos island to be settled in 1832 and has had a long history of human activity. Due to this human interaction and the introduction of invasive rodents and feral cats, the island's rich biodiversity and native habitat have been significantly degraded. This has led to the highest levels of species loss in the archipelago with 55 endangered or vulnerable species and 14 local extinctions. Thankfully many of the locally extinct species, such as the Floreana mockingbird and the Floreana giant tortoise persist on nearby rodent and cat-free islets, making them perfect for reintroduction once the eradication program is complete.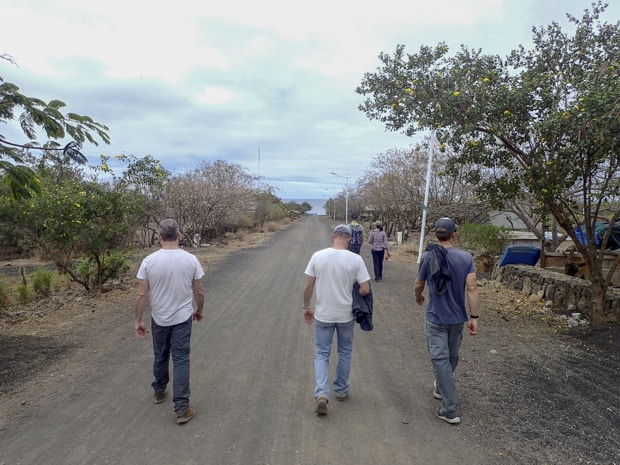 Arriving to Floreana Island
My visit began with a few other IGTOA board members, meeting Karl and Gloria at the dock on Puerto Ayora. During the two-hour crossing from Santa Cruz Island to Floreana we peppered them with questions; the complexity and enormity of their project began to sink in. How do they eradicate rats and mice, and how do you prevent them from returning? How do you protect endemic species such as birds, iguanas and tortoises? Each question seemed to cascade into more concerns, which eventually led to the most critical and unpredictable question of all: what about the human population on Floreana?
During our visit Karl would patiently answer these questions, revealing not only the depth of his knowledge of the Galapagos and invasive species eradication but also the extensive experience Island Conservation had in this type of work around the world.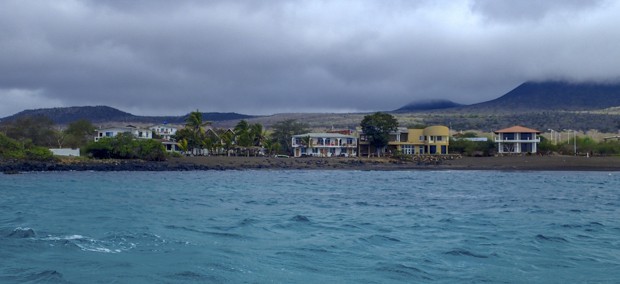 The small Floreana settlement of Puerto Velazco Ibarra was our destination, and I was especially eager to see it. I had explored other parts of the island and Galapagos cruise landing sites such as Post Office Bay. I had viewed the flamingos at Cormorant Point. But a visit to town offered a rare chance to experience the human side of the island and in turn learn more about the culture of Galapagos.
We arrived and walked to the Lava Lodge, a small rustic hotel overlooking a postcard-perfect bay. This hotel is featured on our Galapagos Island Hopper, a Galapagos land based trip designed to offer similar experiences as a cruise, for folks who don't want to overnight on a ship. We strolled through town while our guides further explained the details of this immense project. Karl and Gloria knew everyone in town.
The environment changes quickly on the short drive from the arid coast to the lush green highlands. One can see why Floreana was the first inhabited island to establish a permanent settlement with farming and ranching. This history of settlement has led to the challenges faced today with invasive species.
Bringing Back the Floreana Giant Tortoise
The first stop for us, as with most travelers, was the giant tortoise enclosure, which is home not to the endemic Floreana tortoise but to a number of giant tortoise species from other islands that had been kept as pets by locals. Floreana giant tortoises have become extinct locally, but small populations were relocated by pirates and whalers to other islands as a source of food.
Once the rodent eradication is complete, these other giant tortoises will be removed and the Floreana tortoise will be reintroduced.
Once the rodent eradication is complete, these other giant tortoises will be removed and the Floreana tortoise will be reintroduced. Following rodent eradication on nearby Pinzon Island in December 2012, the first successful giant tortoise hatched and survived after the species had been locally extinct for nearly 150 years.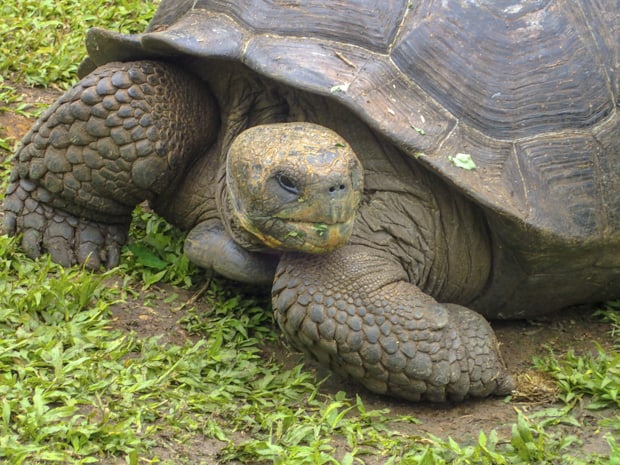 Fresh Water & Farming
Next we visited the historical spring that made Floreana desired as the first settlement in the Galapagos and that still provides fresh water for the town. Because the rodent eradication program uses poison pellets dispersed over the entire island to kill the invasive mice and rats, naturally a major concern for the townspeople is keeping this water supply safe for consumption. Karl explained how the spring will be covered and the water supply in town constantly monitored throughout the project. Additionally, the municipality has recently installed a desalination plant to provide water from the sea for another freshwater source.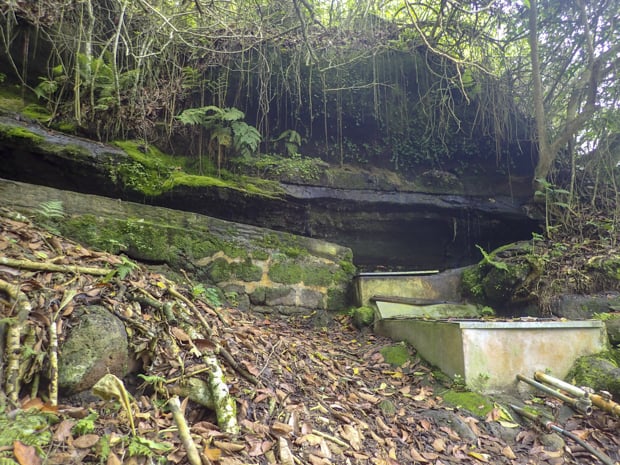 Our walk continued to the Labyrinth: a series of volcanic rock formations protruding out of the greenery in mazelike fashion. Adjacent are pirate caves carved by early visitors and used by infamous settlers Dr. Friedrich Ritter and Dore Strauch, made famous in the 2013 documentary "The Galapagos Affair: Satan Came to Eden." Together these sites make a splendid half-day visit for travelers.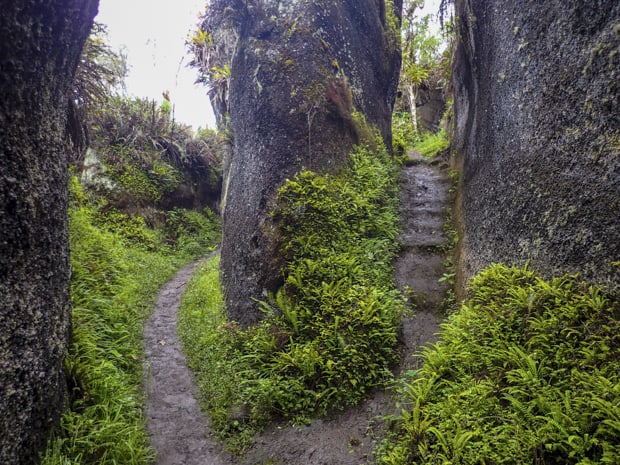 The next stop was not on a visitor's typical itinerary: a local farm. Another goal of Island Conservation during the eradication project is reducing conflicts among residents, livestock and wildlife, while also increasing the productivity of the animals. On the farm we viewed chickens and pigs, learning how Island Conservation has worked with stakeholders to develop chicken coops and employ other methods to create a win-win for community and conservation. Walking among orange trees, pineapple and yucca, our local guide took us to a breathtaking overlook with 180-degree views over the island to the sea. "Someday I hope to build a small restaurant here," he exclaimed. His anticipation and hope seemed to mirror that of Karl and Gloria, supporting their underlying thesis that an island without rodents will be better than the status quo.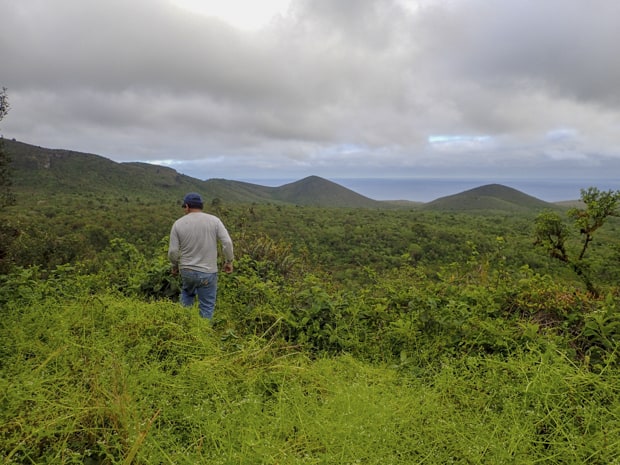 How the Locals Feel
Over beers in town the questions and answers continued. How do the locals feel? How are you working to involve them? Karl made it clear that the project would not succeed or even continue without the complete buy-in of all 140 or so people that live on Floreana Island.
This is the first time Island Conservation has conducted a project on a populated island, making it their most complicated and ambitious project yet.
This is the first time Island Conservation has conducted a project on a populated island, making it their most complicated and ambitious project yet. Each family and individual's concerns, no matter how small, must be addressed and mitigated. All agree that the island will be better off without rodents. As we rose to walk to the beach for sunset, a small mouse scurried across the floor and we witnessed an inhabitant of the island whose days are hopefully numbered.

Overnight I rested peacefully with small waves lapping over the lava rocks just outside my door. As the sun rose I was awakened by a rooster crowing and a reminder that Karl and his team still have a lot of work to do. We walked a brand-new trail just finished by the local community that winds its way across lava fields, among cactus and along spectacular coastline. The trail ended at a lagoon where several pink flamingoes, another iconic Galapagos species, were feeding in the shallows. As we walked back to town, a Galapagos hawk glided overhead and Karl mentioned how these birds, and others like owls, that might ingest poisoned rodents, will be captured and kept in captivity for the duration of the program. What about the iguanas and tortoises we asked? The poison is specific to mammals and will not affect reptiles.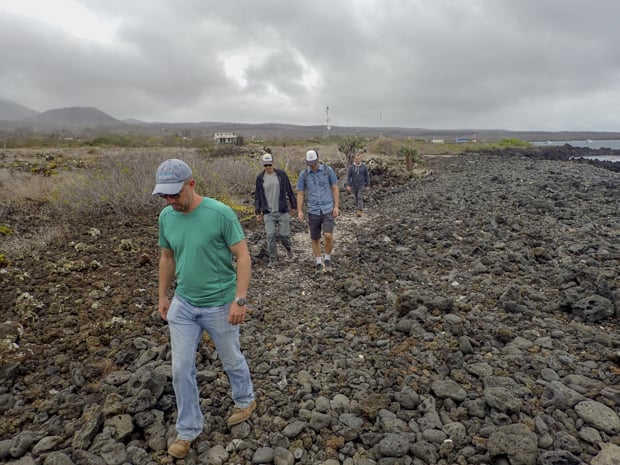 Wanting to cool off after our hike we rented snorkel gear and wetsuits in town (the water is cool this time of year, see Galapagos by Month). Past the Lava Lodge is the La Loberia trail, where I imagined we would be snorkeling with sea lions but on this day was chock full of sea turtles. I could hardly turn around without witnessing another giant reptile. Finally, one playful lobo did arrive as a reminder that the Galapagos never disappoints.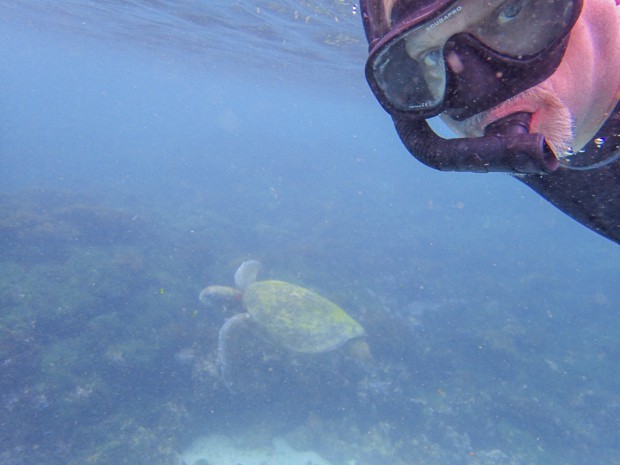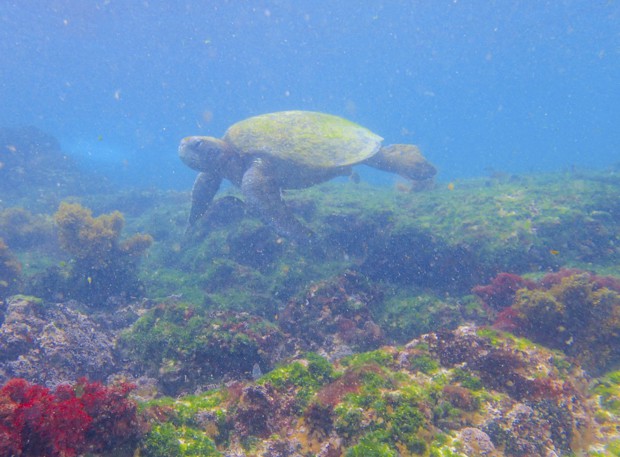 Conservation Plans for Floreana's Future
Having spent a full day and one night in Floreana, it was time for us to leave. The local community tourism project hopes to shift from shorter day trips to longer overnight packages, a noble goal of any sustainable travel initiative as longer stays promote investment and advocacy for communities. The rodent eradication project is an important part of this as travelers come to see species only available in this unique place.
The rodent eradication project is an important part of this as travelers come to see species only available in this unique place.
As we waited for our boat, Karl and Gloria spoke of their partnership with Ecuador's biosecurity agency who is responsible for preventing a reintroduction of rodents after the eradication project is complete. There are plans for a new cargo terminal in Guayaquil to better screen ships bound for the Galapagos (the primary vector for invasive species in the island) and specially trained dogs who will greet any boat that arrives on Floreana to sniff out any rodent stowaways. To prevent a reintroduction of rodents, these preventative measures must be in place before the project is completed.
As an admitted science geek, the visit to Floreana left my head spinning at the size and complexity of a project such as this. It is also a source of tremendous hope that humanity has the knowledge and, more importantly, the will to repair some of the damage we have done. The intersection of science, conservation, community and adventure is why I got into the travel business in the first place and my visit to Floreana with Island Conservation has satisfied all my interests in an inspiring Galapagos trip.
Read more about how AdventureSmith travelers are helping fund conservation projects like this in the Galapagos Islands: Meet the Galapagos Traveler Conservation Fund. Follow @adventure_smith on Instagram or read more trip reports.