The Galapagos Islands are a living classroom for travelers of all ages. Researching Galapagos history and learning about the islands, animals and ecosystems before you arrive will enrich your understanding and enhance your experience while you are there. We have compiled our favorite Galapagos educational websites, TV shows, documentaries, lesson plans and environmental education to help families prepare for their trip to the Galapagos, the trip of a lifetime.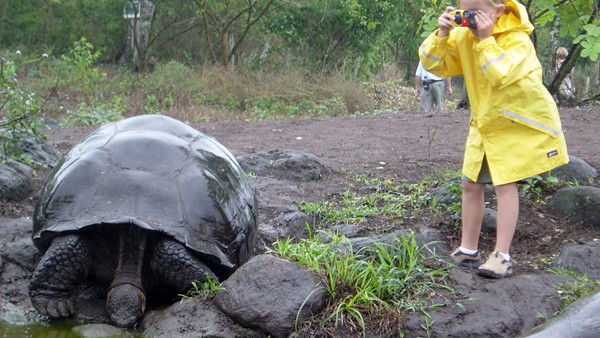 Galapagos Educational Resources for Kids
This list of Galapagos educational resources for kids begins with resources appropriate for younger travelers at the top with increasingly sophisticated resources for older children as you progress down the list.
Animals, Adaptation & the Galapagos Islands – Discover with Darwin
Scholastic books, magazines and educational programs are found in more than 90% of schools in the U.S. This three-level online library titled Animals, Adaptation, and the Galapagos Islands – Discover with Darwin, provides an overview of Ecuador and the Galapagos Islands for students.
About Galapagos
About Galapagos, from our partners at the Galapagos Conservancy, provides an overview of the Galapagos Islands including history, people today, biodiversity, Lonesome George, the islands and a resource library.
Virtual Tours & Web Cams
Trace Darwin's Footsteps with Google's virtual tour of the Galapagos Islands, or Explore the Galapagos with NOVA's multimedia map.
IGTOA Galapagos Travel Guide
A fantastic overview of the Galapagos National Park, IGTOA Travel Guide outlines the islands, challenges, plants, wildlife, geology, weather and climate. From our conservation partners at International Galapagos Tour Operators Association.
Galapagos National Park
The official website of the Galapagos Conservancy offers a wealth of information including a description of landing sites, park rules, overview of guides, an overview of Galapagos Island and marine ecosystems, discussion of challenges facing the park including invasive species and more.
Galapagos Geology on the Web
This Cornell University website offers extensive information on Galapagos geology, climate, oceanography and history.
About Darwin
A website dedicated to the life of Charles Darwin, About Darwin includes a chronological timeline of the famous naturalist's life, including the Voyage of the Beagle and the Origin of Species.
UNESCO Galapagos
The Galapagos Islands are designated as a UNESCO World Heritage Site. The UNESCO Galapagos Inscription page site describes the Galapagos Islands criteria for inscription with maps, videos and a discussion of challenges facing the islands.
Education in the Galapagos
What is it like to live and go to school in the Galapagos Islands? Galapagos Conservancy's Education in the Galapagos Islands page outlines challenges facing schools in the Galapagos Islands and reform programs designed to address them. The Galapagos Conservancy is also a terrific resource for information on conservation issues in the Galapagos Islands.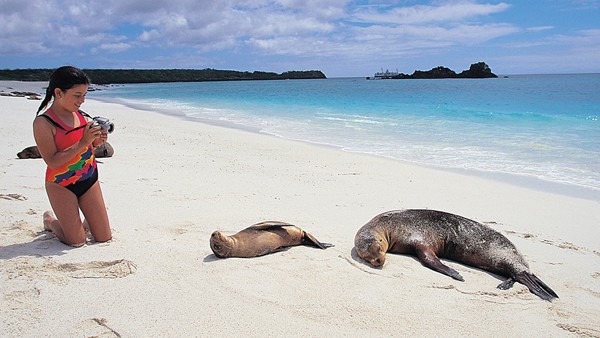 Galapagos TV Shows, Documentaries & Videos
Fulllength Galapagos TV shows, documentaries and videos are a great way to prepare for your trip or to watch on the plane. Here are some of our favorites:
Big Green Rabbit
The lesson plan What are the Galapagos? (pdf) created by BIG GREEN RABBIT®, was designed in conjunction with BGR's Emmy® award-winning television episode titled The Rematch: What are the Galapagos?.
Nova: Explore the Galapagos
The Galapagos Islands may be the birthplace of our scientific understanding of evolution. Charles Darwin, who put the Galapagos on the map, pointed to them as the "origin of all my views." In this multimedia feature, Nova: Explore the Galapagos, get a sense of Galapagos' extraordinary animals and landscapes through panoramic photos, video and audio. And trace Darwin's journey to see how the islands sparked his thinking about evolution.
Planet Earth
For an intriguing and captivating look into the world of snakes hunting marine iguanas in the Galapagos, this clip from Planet Earth II Islands episode is one you may never forget (disclaimer: this video might be best for older kids!).
David Attenborough's Galapagos 3D
The Galapagos Islands are one of the wonders of the natural world. They teem with life found nowhere else in the world. Join celebrated natural historian and broadcaster Sir David Attenborough as he travels to the islands to bring them to life for you, in David Attenborough's Galapagos.
National Geographic Galapagos Videos
Many of these breathtaking educational National Geographic Galapagos videos were filmed aboard our partner ships, the National Geographic Endeavour and National Geographic Islander.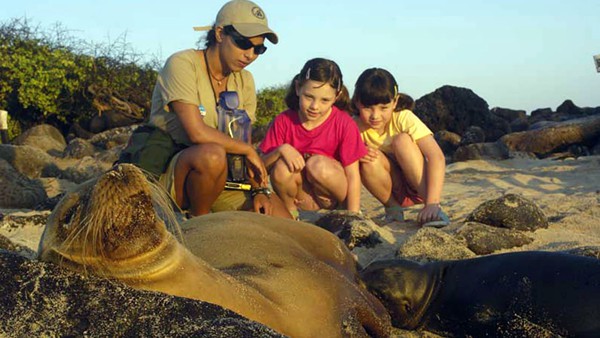 Galapagos Lesson Plans for Parents & Teachers
Share the Galapagos with your school, or book a student Galapagos Islands yacht charter cruise. These Galapagos lesson plans for parents and teachers are sure to inform and entertain.
Galapagos: Beyond Darwin
Galapagos: Beyond Darwin is a lesson plan developed by Discovery Channel Education for students grade 6-8.
Center for Galapagos Studies
A collaborative partnership has been created between the University of North Carolina at Chapel Hill and the Universidad San Francisco de Quito, Ecuador, to address the current challenges facing the Galapagos Islands such as population growth, resource conflict and economic development. The Center for Galapagos Studies partnership is designed to foster research, education and outreach programs in the islands, with the larger goals of advancing conservation efforts in the Galapagos and promoting better understanding of ecologically sensitive and protected areas worldwide.
Websites change often so if you find a broken link, or a resource we have missed, please contact us to keep this page accurate and up to date. Learn about getting on an action-packed Galapagos trip!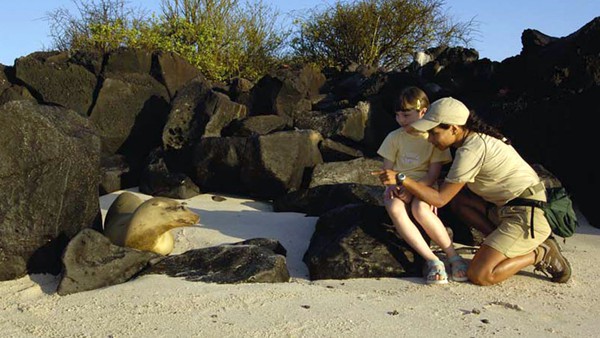 Photos provided by our partners at Metropolitan Touring.'
View all of AdventureSmith's Galapagos Family Cruises, Galapagos Islands small ship cruises and land adventures, and follow our Galapagos Travel Guides for more travel insights and expert reviews written by our crew on the ground.