The Galapagos Islands are on every nature traveler's bucket list. But most travelers have no idea how to get there. One of the first questions we receive is "How do you get to the Galapagos Islands?" This post outlines everything you need to know about how to get to Galapagos.
Where Are the Galapagos Islands?
Located 600 miles off the coast of Ecuador, right on the equator in the Pacific Ocean, the Galapagos Islands are very isolated. This is part of their appeal and one of the reasons why some Galapagos wildlife is endemic; found only here and nowhere else in the world. But this also makes it tricky for travelers to get there.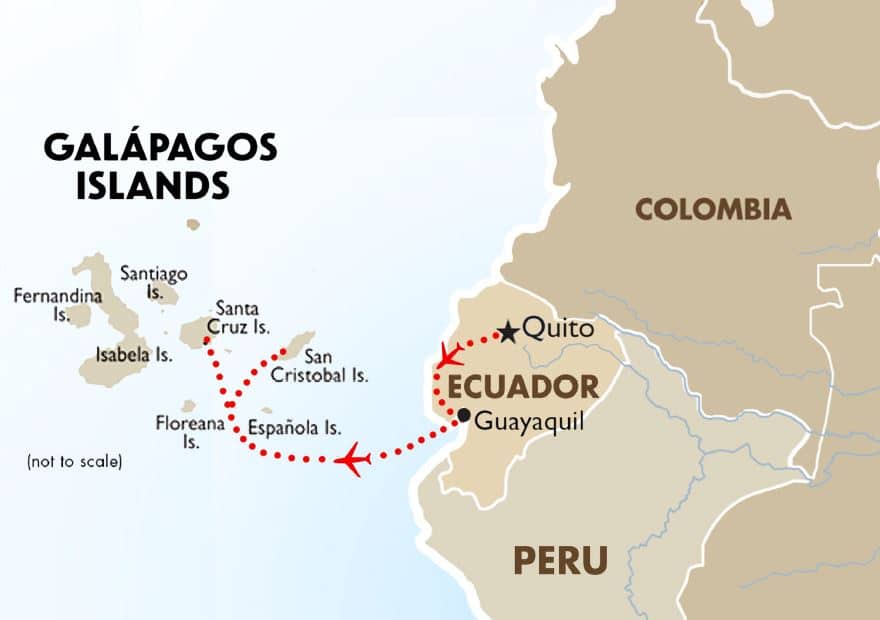 How to Get to Galapagos
The only way for travelers to get to the Galapagos Islands is by air. Travelers must fly from mainland Ecuador to the Galapagos. It is not possible to cruise from mainland and there is no road or ferry service.
Once you arrive, the most important decision you must make about visiting the Galapagos is whether to travel by land or sea. Galapagos cruises and Galapagos land tours are the primary means of exploration.
Can I Fly Direct to the Galapagos?
No, direct international flights do not exist, so you cannot fly directly to the Galapagos. Travelers must first arrive at mainland Ecuador prior to their flight to the Galapagos islands.
The Galapagos National Park has strict requirements that airlines must fulfill. Therefore, is it unlikely there will ever be an international flight to the Galapagos.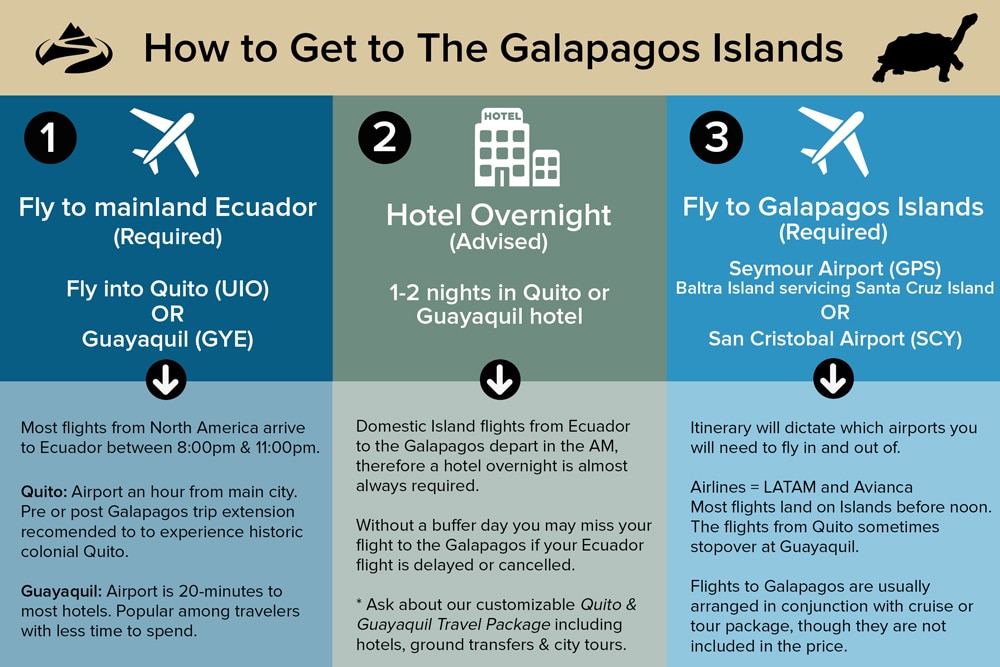 Flights to Ecuador
While planning how to get to Galapagos you must first decide which mainland Ecuador city you want to land in. International flights arriving in Ecuador will land at either Quito's Mariscal Sucre International Airport (airport code: UIO), or Guayaquil's José Joaquin de Olmedo International Airport (airport code: GYE).
Ecuador Airports
Quito's airport is located outside of town. Airport hotels are available. Travelers wanting to experience historic colonial Quito should note that a private transfer takes about 1 hour, depending on traffic. Quito is highly recommended for a Galapagos pre- or post-trip extension.
The Guayaquil airport is located close to town with a quick 20-minute transfer to most hotels. Guayaquil is popular with travelers proceeding straight to and from the Galapagos in the least amount of time.
Ecuador & Galapagos Flight Timing
Since flights from Quito and Guayaquil to the Galapagos Islands depart in the morning, a hotel overnight is almost always required.
We highly recommend travelers arrive in Ecuador at least 2 nights prior to their flight to the Galapagos Islands.
Most flights from North America arrive late in the evening, between 8:00pm and 11:00pm. Without an extra day you may miss your flight to the Galapagos if your Ecuador flight is delayed or cancelled.
Arriving early also provides time to enjoy Quito or Guayaquil. See our Quito & Guayaquil Galapagos Travel Package for an easy, cost effective package with 2 nights pre- and one night post-Galapagos.
Galapagos Airlines
Airlines that service the Galapagos Islands from Ecuador are LATAM and Avianca. When planning flights to Galapagos, travelers need to consider the route and timing. Flights to the Galapagos are available from the same two airports in Quito or Guayaquil described above.
Your Galapagos itinerary will dictate which airports you will need to fly in and out of. Some cruises and tours will arrive at one Galapagos airport and depart from another, so review your itinerary carefully.
Flights to Galapagos are usually arranged in conjunction with your cruise or tour package, though they are not included in the price. Cruise and tour operators block flights in advance to ensure there is space for all travelers on the trip. This also ensures the best price.
Galapagos Airports
Another common question we receive is "Is there an airport in the Galapagos Islands?" Or "Where do you fly into to visit the Galapagos Islands?" Many folks imagine the Galapagos is a pristine wilderness; for the most part it is, with 97% of the islands protected and uninhabited. But there are communities and there are Galapagos Island airports. The two Galapagos airports are Seymour Airport on Baltra Island and San Cristobal Airport in the town of Puerto Baquerizo Moreno on San Cristobal Island. All travelers flying to the Galapagos Islands will arrive at these airports.
Seymour Airport Baltra
Seymour Airport (airport code: GPS) is on Baltra Island and services cruises and tours embarking in Baltra or Puerto Ayora, on Santa Cruz Island.
After arriving at Seymour Airport, travelers embarking their cruise in Baltra will transfer by bus to the Seymour Passenger Dock. The transfer takes about 10 minutes.
Travelers embarking their cruise or beginning their trip in Puerto Ayora need to get to Santa Cruz island. A bus transfer from Seymour Airport to the Baltra Ferry Terminal takes about 10 minutes. A short 5-minute water taxi takes guests to the Santa Cruz Ferry Terminal on Santa Cruz Island. From here busses and taxis transfer travelers across the island of Santa Cruz to Puerto Ayora. The entire transfer from Seymour Airport to Puerto Ayora takes an hour to 90 minutes.
Seymour Airport History
Seymour Airport is noteworthy for a couple of reasons. During World War II it was known as the Seymour Island Airfield and used by the Unites States Air Force to defend South America and the Panama Canal from Japanese submarines.
In December 2012, the Seymour Airport was completely rebuilt, becoming the world's first green airport running solely on solar and wind power. Roughly 80% of the materials were recycled from the old airport and the building received the LEED Gold certification from the U.S. Green Building Council in 2014.
San Cristobal Airport
San Cristobal Airport (airport code: SCY) is on the island of San Cristobal and services cruises and tours embarking in the town of Puerto Baquerizo Moreno. The San Cristobal Airport is only a few minutes from town and can be serviced by bus, taxi or even by walking.
Galapagos Flight Routes & Timing
With two airports on mainland Ecuador and two Galapagos Islands airports, travelers need to consider the timing and route of their flights to Galapagos. But it is not as complicated as it sounds.
Flights to Galapagos
Most Flights from Quito to Galapagos stop in Guayaquil to pick up passengers before proceeding to the islands. So, in effect these are the same flight.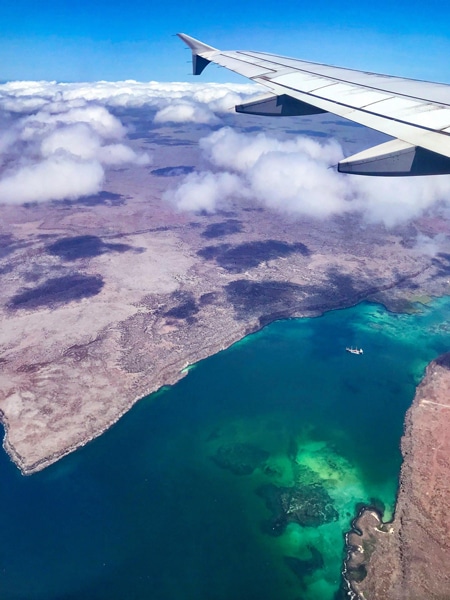 The short flight from Quito to Guayaquil takes 30-40 minutes. The flight from Guayaquil to Galapagos takes about 2.5 hours.

Flights from Quito to Galapagos depart earlier in the morning. Departure times tend to be between 6:45am and 10:00am. Flights from Guayaquil to the Galapagos depart a bit later, between about 8:20am and 12:00pm.
Keep in mind that the time in Galapagos is 1 hour behind mainland Ecuador. Galapagos Time Zone (GALT) is 6 hours behind Coordinated Universal Time (UTC).
Flights From Galapagos
Similarly, return flights from the Galapagos to Quito will make a stop in Guayaquil to drop passengers before proceeding to Quito.
Flights from Seymour Airport and San Cristobal depart mid-day between 10:00am and 2:00pm, arriving in Guayaquil between 1:00pm and 4:30pm. These flights then arrive Quito between 3:00pm and 7:00pm.
Flights From Ecuador
Some travelers will try to return home the same day they fly from the Galapagos Islands. It is possible to catch a late international flight from Quito or Guayaquil back to North America or Europe on the day you return from the Galapagos.
Overnight flights from Quito or Guayaquil to the United States and Canada depart between 11:00pm and 1:00am. Similar overnight flights depart for cities in Europe. This makes for a long day of travel, but it is possible.
A day room at a nearby airport hotel can make this option more enjoyable. Most travelers will choose to overnight once more in Quito or Guayaquil and depart in the morning.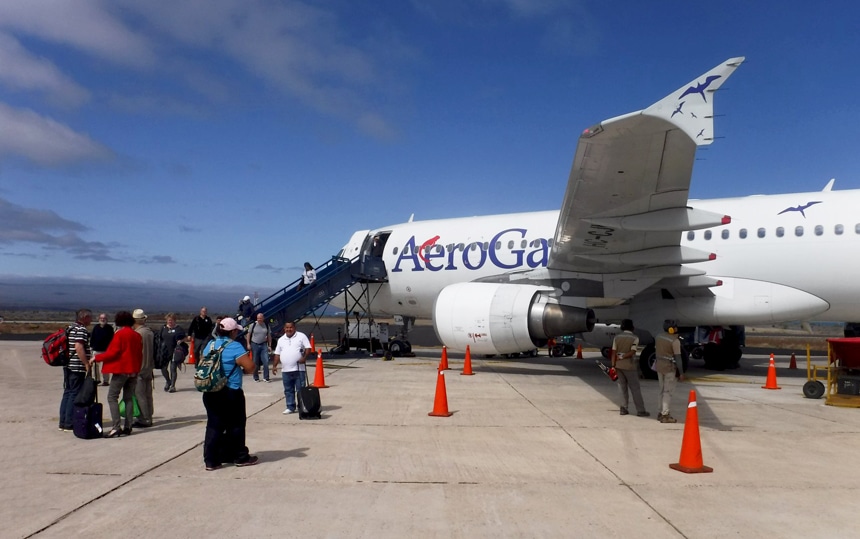 Galapagos Flights During the COVID-19 Pandemic
The Galapagos Islands are open to travelers, both individuals booking into select cabins and groups booking onto private Galapagos yacht charters.
Flights are currently being offered by Avianca and LATAM. Tame airlines has ceased operating and it is unknown if they will resume. Both Avianca and LATAM have modified their regular flight schedules and are only operating on certain days of the week. Cruise and tour operators have adjusted their schedules accordingly. Current schedules are as follows:
Avianca: Thursday, Friday, Saturday (Baltra) / Friday, Saturday, Sunday (San Cristobal)
LATAM: Daily flights (Baltra) / Monday, Tuesday, Friday (San Cristobal)
Schedules may change without notice. Galapagos flights have been operating regularly. For more Galapagos COVID-19-related information see Ecuador & Galapagos Travel Now: 10 Things to Know.
Galapagos Flight Cost & Fees
Another common question when planning how to get to Galapagos is "How Much Does a Galapagos Flight Cost?"
Average round-trip price for a flight from Guayaquil to Galapagos is about $400. A flight from Quito to Galapagos is about $500. Depending on timing and availability, prices can vary by about $100 with higher prices during holidays, busy seasons and last minute.
Remember: flights are typically not included in published cruise and tour prices.
Sometimes complimentary flights will be included in a cruise package. Be sure to check our Galapagos cruise deals for the latest special offers.
In addition to the cost of Galapagos flights, travelers are required to pay for a $20 INGALA transit control card. This fee is paid at the airport in Quito or Guayaquil. A $100-per-person Galapagos National Park Entrance Fee is paid at the airport in Galapagos. Many tours and cruises can arrange to pay these fees in advance, so you do not have to carry extra cash.
Galapagos Flight Biosecurity
The biggest threat to the fragile ecosystem of the Galapagos is the introduction of invasive species. Humans can inadvertently bring seeds or bugs with them, so Ecuador has instituted biosecurity protocols for all travelers arriving by air.
After you check in at the airport in Quito or Guayaquil, luggage must go through a screening process that checks for live animals, plants and seeds to ensure they are not transported to the islands.
Once your flight to Galapagos is in the air, flight attendants will spray overhead bins with an insecticide to further reduce the possibility of introducing insects.
Upon arrival at the airport in Galapagos you will be asked to step through a solution which sterilizes the soles of your shoes.
How Will You Get to the Galapagos Islands?
The Galapagos Islands are a once-in-a-lifetime destination. With a little logistics planning it is not difficult to get to Galapagos. Our experts travel to the Galapagos frequently. We plan custom tours and cruises for hundreds of travelers every year. Contact us for a free quote and to begin planning your Galapagos Islands journey.
If you have more questions on how to get to Galapagos that are not covered here then please use the comments below to ask us questions and improve this guide.

This Galapagos Travel Guide detailing how to get to Galapagos is among AdventureSmith Explorations' extensive collection of travel guides. Find more on the AdventureSmith Travel Blog and How to Choose Your Galapagos Cruise. For even more resources to plan your Galapagos trip, contact us today at: 1-877-620-2875.