AdventureSmith Explorations Founder & President Todd Smith reports from his trip to the Galapagos Islands for the annual IGTOA board meeting in Puerto Ayora on Santa Cruz Island.
How would you like to visit a remote archipelago teeming with wildlife, reunite with good friends and aid in the conservation of one of the most iconic and important natural places in the world? Sounds like a dream come true, right? As a board member of IGTOA (the International Galapagos Tour Operators Association), I got to do all three at our November 2017 annual meeting in Puerto Ayora on Santa Cruz Island in the Galapagos Islands.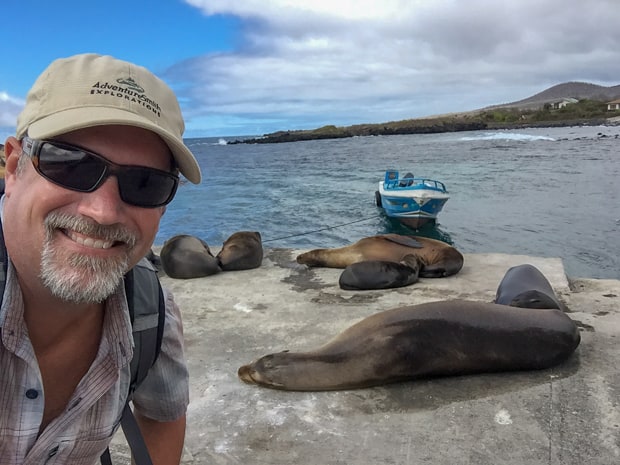 Since being elected to the board in 2014 I have been especially honored to help shape decisions regarding Galapagos conservation and sustainable travel.
I have always been proud to be a member of IGTOA, but since being elected to the board in 2014 I have been especially honored to help shape the organization's decisions regarding Galapagos conservation and sustainable travel. I have visited the islands many times, and while there is no substitute for a cruise or visit to the National Park, I was equally excited to visit the communities, scientists, tour operators, conservation organizations and stakeholders who are working to protect and preserve this incredible place.
Of course, as the owner of an award-winning travel company like AdventureSmith Explorations, any trip to Ecuador must include some hotel visits and product inspections. Upon arrival in Guayaquil I overnighted at the new luxury, boutique Hotel del Parque. In the Galapagos my first stop was to view the updated Galapagos Habitat Eco Luxury Hotel, which under new ownership has been cleaned up, the service improved and a new restaurant launched.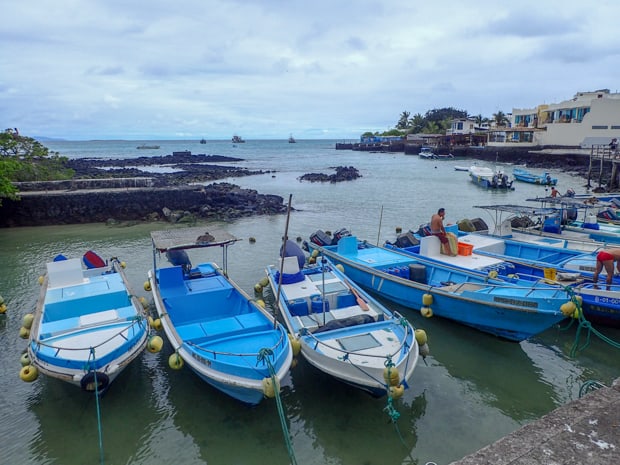 Arriving before my IGTOA colleagues, I took the time to visit Tortuga Bay, a beautiful white-sand beach about one mile outside of town. Unsurprisingly, the Ministry of Tourism calls it one of the most beautiful beaches in Ecuador, but this is no fun-in-the-sun destination. A walk down the beach reveals marine iguanas warming and resting on the sand between meals. An observant traveler will recognize blue-footed boobies diving for their dinner in the surf. Above the beach at the edge of the dunes you will find poles with caution tape protecting nesting sea turtle sites. Any traveler to Puerto Ayora should make a stop, preferably with a knowledgeable guide, to Tortuga Bay.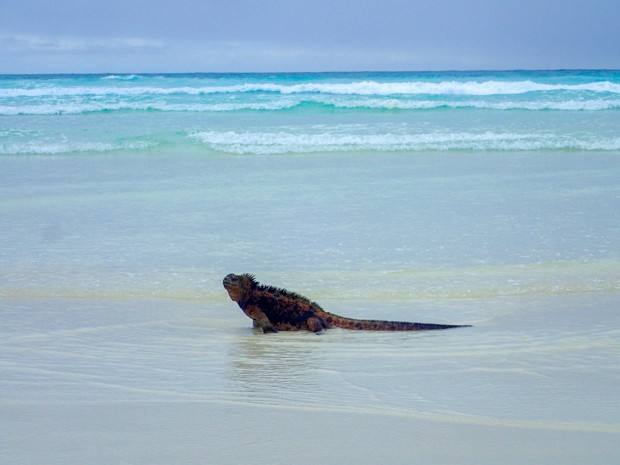 I was also eager to visit Las Grietas; the most famous swimming hole in the Galapagos is a short water taxi and walk from town. The trail passes the Angermeyer Waterfront Inn and Finch Bay Eco Hotel before winding through rugged lava fields, giant cactus and pink salt flats. A Galapagos National Park ranger requires visitors to sign in but there is no fee.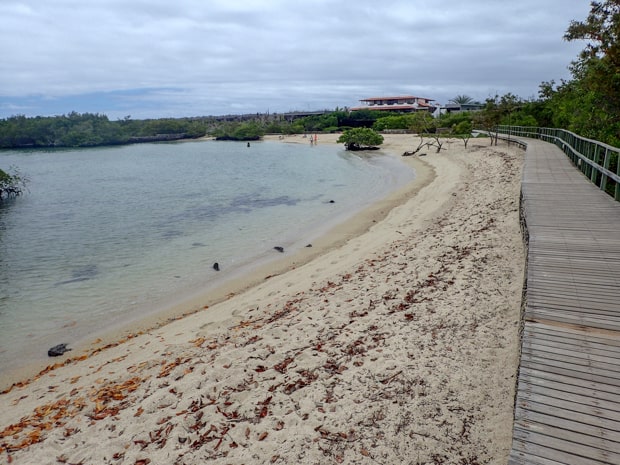 The most famous swimming hole in the Galapagos is a short water taxi and walk from town.
Las Grietas, translated as "The Cracks," is a series of deep volcanic fissures where fresh water filters from the highlands and salt water seeps from the sea to create beautiful emerald pools. Volcanic rock walls rise 50 feet above the water and 30 feet below it, giving visitors the sensation of swimming through a steep and deep slot canyon. Huge fish inhabit the water, apparently having swum in through cracks and grown too large to return to the ocean. A swim in the crystal waters is cool and refreshing, but hardly a private experience. It was quite crowded when I was there (I was told that in the morning you can have the place to yourself), but climbing over the rocks at the end of the first pool I discovered a second pool and had it all to myself. After my swim I walked the trail for views over the top of Las Grietas and to a scenic spot overlooking Academy Bay and Puerto Ayora with the island of Floreana in the distance.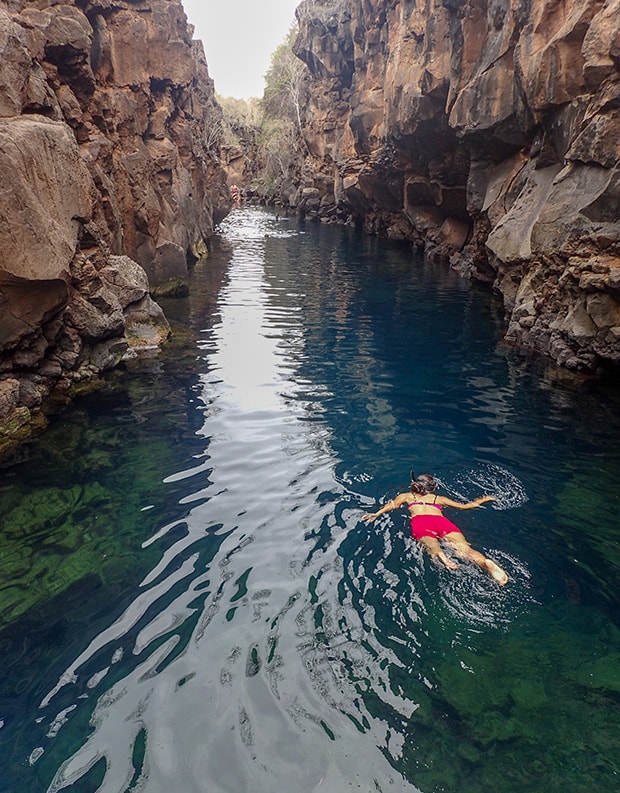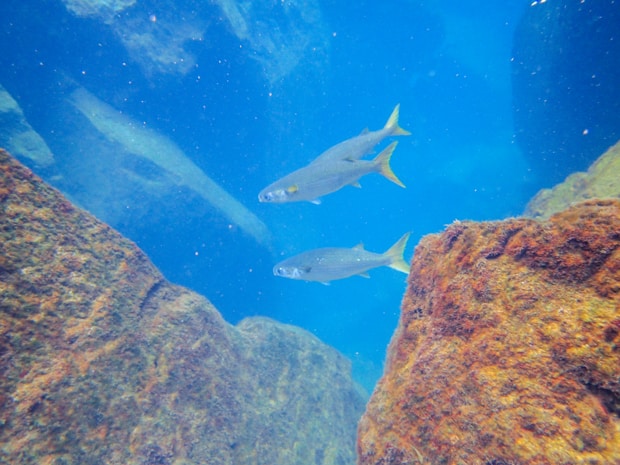 That evening, a cocktail reception opened the IGTOA proceedings on a breezy deck in the heart of the Charles Darwin Research Station. The mixer was a great opportunity to meet a wide variety of people all dedicated to the preservation and protection of the Galapagos Islands. There were scientists, park service administrators and personnel, national park guides, tour boat and hotel operators, conservation organizations and IGTOA members from around the world. Jim Lutz, president of IGTOA, spoke of the uniqueness and importance of bringing all these stakeholders together in the islands. Rarely, if ever, in travel or conservation, does such variety of expertise and ideas converge with the goal of protecting a resource. It was an honor and a privilege to be a part of it.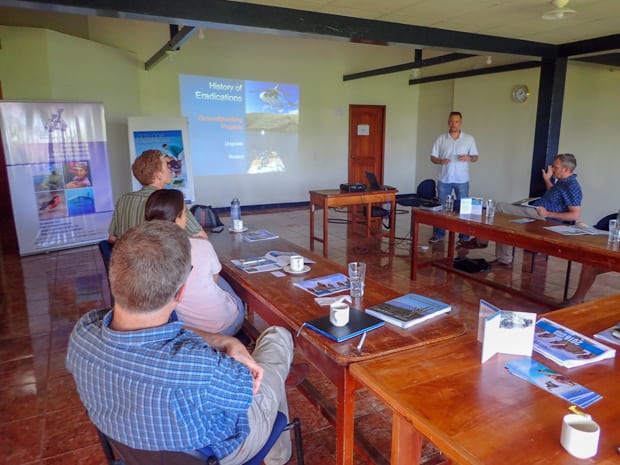 IGTOA meeting days are long and can be grueling but are also immensely rewarding. The first day opened with introductions, a review of 2017 accomplishments and the state of IGTOA. New members, mostly local boat operators and Galapagos guides, were welcomed to the annual meeting for the first time.
For the first time ever, IGTOA met directly with representatives from the Galapagos National Park Directorate.
IGTOA also met directly with representatives from the Galapagos National Park Directorate for the first time. IGTOA has worked with park personnel for years but this first meeting was important to formalize the relationship and establish connections between IGTOA members and national park decision makers. The Galapagos National Park indicated their desire for a zero-growth strategy in the islands, preferring fewer visitors who stay longer over more visitors with short stays. This idea is at the root of sustainable travel and was well received by IGTOA members.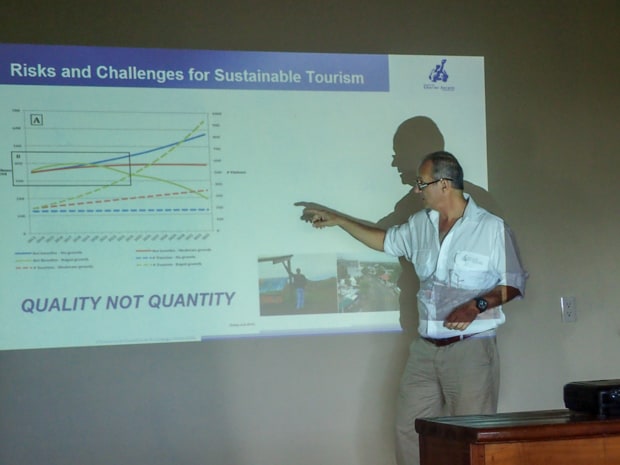 A primary function of our annual meeting was to hear grant requests from local conservation organizations. Dr. Karl Campbell from Island Conservation outlined the invasive species eradication project on Floreana. Mario Sol Espinoza representing the Galapagos National Park and WildAid reviewed their "Visiting the Galapagos Without a Trace" communication program. Ana Maria Loose from Ecology Project International outlined their student education programs in the Galapagos. Aurturo Izurieta, the current Executive Director of the Charles Darwin Foundation (CDF) and former head of Galapagos National Park, summarized the state of the CDF and their desire to work with IGTOA on sustainable tourism. Maria Casafont from World Wildlife Foundation in Ecuador reviewed a fascinating wildlife monitoring program and app used by guides to document wildlife locations and behaviors throughout the archipelago. And finally, friend of IGTOA and Galapagos scientist Godfrey Merlen pitched his idea to educate travelers about bringing in invasive species on boots and clothing. These sessions are exciting for me because they provide an opportunity to learn about important on-the-ground local programs that are making a difference for the people and environment of the Galapagos Islands.
We toured kennels of the K-9 biosecurity brigade, met the Darwin Animal Doctors and visited with teens from Ecology Project International.
It's one thing to hear about a grant proposal in a meeting but even better to experience the projects firsthand. On the second day, we visited a few projects in Puerto Ayora that highlight the diverse threats facing the Galapagos and the local people working to solve them. Marilyn Cruz of the Galapagos Biosecurity Agency led a tour of the kennels of the K-9 biosecurity brigade tasked with detecting potentially harmful materials at Galapagos ports of entry. As I'm a dog lover, this visit and meeting the Darwin Animal Doctors, who are working to treat pets and prevent the spread of disease from dogs to sea lions, was particularly satisfying.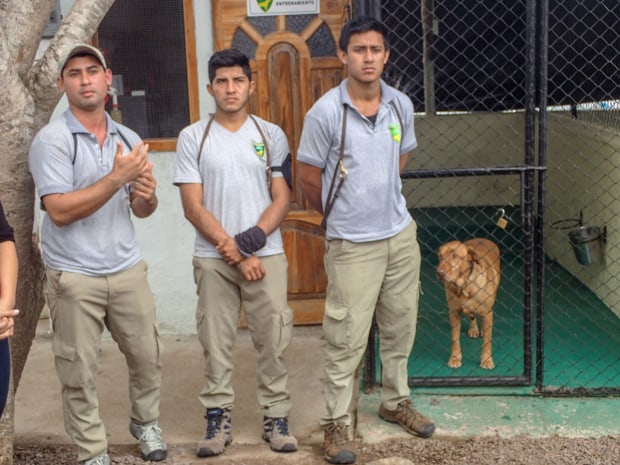 The last visit to Ecology Project International's Mola Mola teen eco club was the most fun. We met local kids who taught us about their own conservation projects and shared their passion for their unique island home. IGTOA Executive Director Matt Kareus was enticed onto their homemade bicycle blender where his workout resulted in delicious smoothies for the group. These visits are at the heart of IGTOA's mission and a highlight of this annual meeting in the Galapagos.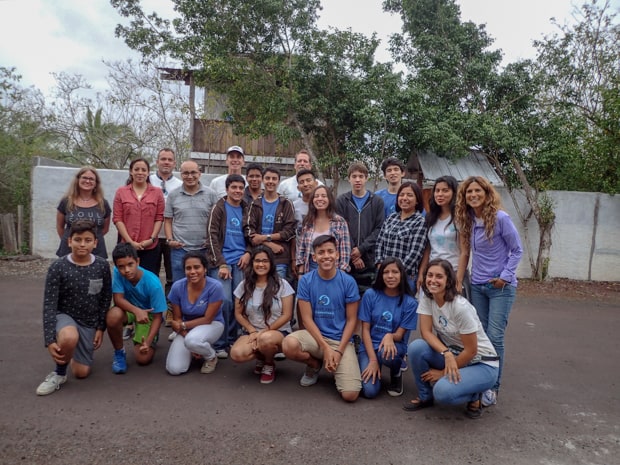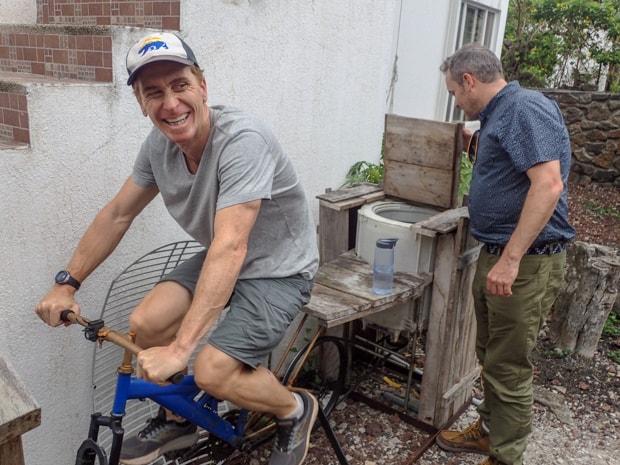 My last morning in the Galapagos I awoke early and again walked to Tortuga Bay, this time with a snorkel and mask. I had heard from friends that in the morning it was possible to swim with sharks. The tide was out and the water was murky and shallow, adding to the general nervousness I already felt about this endeavor. I nearly swam into a sea turtle and stood up in the shallow water to get my bearings as it circled me several times and swam away.
Out of the corner of my eye, the unmistakable dorsal fin and tail of a shark bolted by.
The water was cold and cloudy, and after 20 minutes or so I was about to give up when, out of the corner of my eye, the unmistakable dorsal fin and tail of a shark bolted by. I must have startled it because it circled around and settled on the sandy bottom no more than five feet away from me. My heart raced and I tried to control my breathing. I had swum with sharks before, but they were typically much farther down. This was scary close, like being in a kiddie pool together. As I floated along another appeared and another—until at least five white-tipped reef sharks surrounded me. I wanted to stand as I did with the turtle earlier, but I didn't dare put my feet where they lay. For another 15 or 20 minutes I floated as the sharks came and went, swimming and resting seemingly not disturbed by my presence. Finally, I returned to the beach and walked back to town. As I passed the morning tour groups on the trail I smiled knowing that each Galapagos encounter is different and I just had one of the best of my life.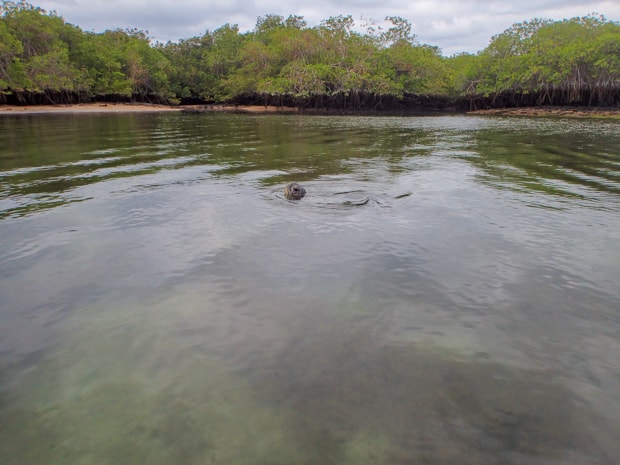 Arrive an informed traveler; depart a steward with tools for action.
Travel is about giving back, and not just financially. I believe that the travel industry and each individual working in it have a responsibility to help protect the resources and communities at the heart of our business. Sustainable travel is inherent in everything we do at AdventureSmith Explorations, from working with operators who hire local guides and supporting locally owned hotels to educating our travelers about their possible impacts and ways to minimize them. Understanding the issues that may potentially threaten an animal or place or community is key to being a steward of our Earth as we explore it. You have likely heard of "leave nothing but footprints; take nothing but photos." I'd like to add: arrive an informed traveler; depart a steward with tools for action.
IGTOA has allowed me to exercise my passion for conservation, utilize my skills in guide training and satisfy my desire to help in the Galapagos Islands. It has also enriched my travel company and my life by introducing me to amazing people doing amazing projects in an amazing place. It gives me hope that we can address the many challenges faced by the Galapagos Islands and a greater hope in humanity that there are forces for good, working on the ground every day to make the Galapagos and the world a better place.
This Galapagos expedition report was written by an AdventureSmith Explorations crew member. Follow @adventure_smith on Instagram for more live updates from the field, and read all AdventureSmith Trip Reviews for more trip reports.