As AdventureSmith kicks off our 2017 season of Galapagos Trips, we're thrilled to bring a new vessel as well as a custom land-based itinerary to our already extensive catalog of travel options in the archipelago. Here's what's new:
Introducing the Natural Paradise Yacht
The 16-guest Natural Paradise, launched in 2016, is the fastest yacht currently sailing in our fleet of Galapagos small ship offerings. Her cruising speed of 14 knots tops the charts for motor yachts, and with four of her nine cabins featuring private balconies and a Jacuzzi on deck, she is a solid addition for travelers looking for the utmost in comfort as they explore.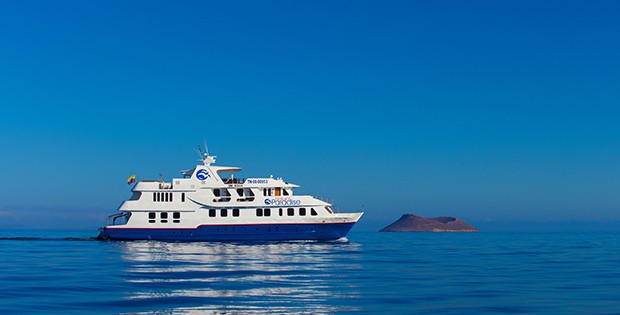 "In the past five years, we really haven't seen the addition of many new vessels in Galapagos waters," says AdventureSmith Founder and President Todd Smith, citing the 20-guest Origin, which launched in 2016, and the 16-guest Petrel catamaran, which launched the year prior. "Natural Paradise now marks the newest of the new of the more than 25 first-class vessels AdventureSmith Explorations partners with."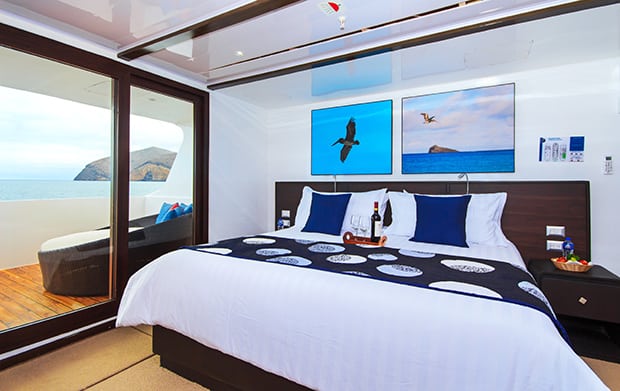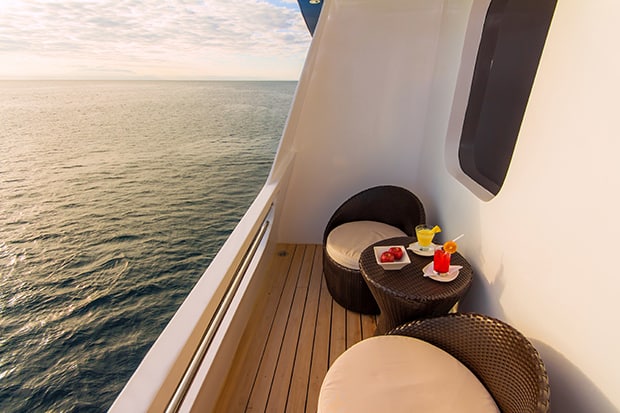 Natural Paradise is one of only 6 Galapagos vessels featuring cabins with private balconies.
Natural Paradise is also a standout as she is one of only 6 Galapagos vessels featuring cabins with private balconies. Natural Paradise Galapagos Cruises offers an array of itinerary lengths from 4 to 8 days, which can be combined to create a 15-day cruise with no repeated landing sites. Kayaks, snorkeling gear, wetsuits and an underwater camera are available on board for guests to maximize marine exploration.
Meet Our New Galapagos Island Hopper
Our redesigned land-based Galapagos Island Hopper now has you exploring by charter flight as well as speedboat. Accommodation each night is at one of three distinct waterfront lodges on Isabela, San Cristobal and Santa Cruz Islands. AdventureSmith Adventure Specialist Nick Mitchell has just returned this week from scouting out the trip and his Expert Review details the highlights including: seeing all the iconic species, the charter flight's aerial views of Isabela Island's volcanic highlands and islets, the fresh-caught seafood at different local restaurants each night and the flexibility to explore on his own during down time. Nick was able to take advantage of waking up early for morning runs and surfing on Santa Cruz and Isabela Islands. His most active day included a 10-mile hike to the rim of the Sierra Negra Volcano.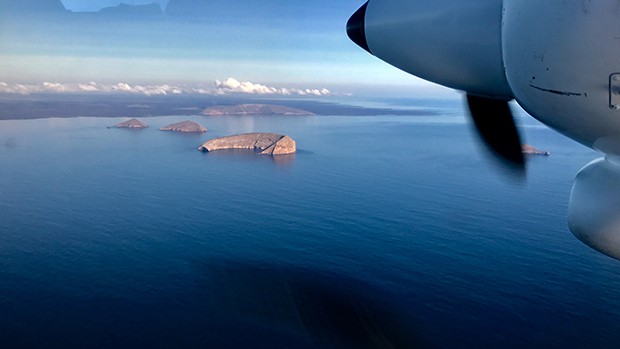 Efficiency, access and flexibility are the key components we focused on when designing this trip for our travelers. With transportation by charter flight and speedboat, guests get around the Islands faster to explore efficiently by land and water. The short 40-minute scenic flight from San Cristobal to Isabela Island on Day 3 provides an experience you won't find on any other AdventureSmith Galapagos trip: a bird's eye view of the archipelago mid-trip. Pictured above is an image from Nick's flight of the Four Brothers islets off Islabela's southeast coast.
Efficiency, access and flexibility are the key components we focused on when designing this trip for our travelers.
Access comes with more time spent in port towns where locals reside versus wilderness areas, which are the primary focus of Galapagos small ship expeditions. Group sizes (a maximum of 10 guests) are smaller than on a boat, equaling more flexibility in activity choices as well as levels of activity. As Nick did with the volcano hike on Isabela Island, you can opt for a full-day excursion, which is simply not possible on a cruise.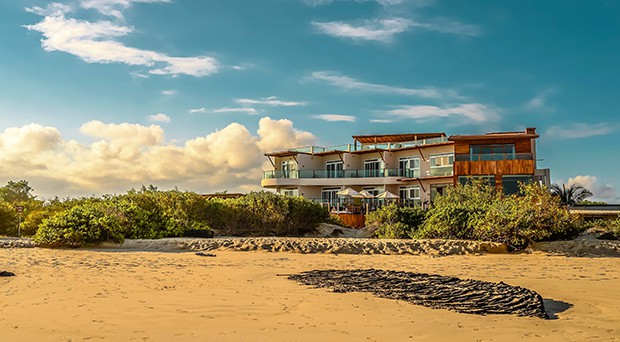 Our Galapagos Island Hopper is also a notable family option due to its flexibility. Surf boards, bikes and stand-up paddleboards are available to use during downtime, so kids can play on the beach, swim, bike and surf. This trip can really be a launch pad for whatever you're into. Whether you want a shorter trip, a longer stay, a trip focused on specific activities or a cruise extension to relax on the beach for a few days, our Adventure Specialists can customize the Galapagos Island Hopper to suit your travel needs.
This Galapagos guide is among AdventureSmith Explorations' extensive collection of travel guides. Find more on the AdventureSmith Travel Blog, or visit our collection of Galapagos Travel Guides for even more resources to plan your Galapagos Islands trip.