There are more Amazon cruises than ever. If you are confused by all the options, we are here to help. AdventureSmith has long been an expert in Amazon cruises, Amazon lodges and Amazon travel with honest, unbiased opinions. Our experts help you choose the right ship and trip that fits your interests, ability and budget. We visit the vast Amazon region frequently and offer travelers accurate, up-to-date information, while our website's curation of Amazon cruises and lodge-based Amazon tours brings together Amazon small ship cruise and lodge options in Ecuador, Peru and Brazil.

This Amazon cruise guide offers specific insights in an attempt to compare and contrast cruises in each region. Many travelers to Ecuador and Peru will combine their Amazon tour with travel to the rest of the country while Brazil cruises tend to be a standalone vacation. Compare Amazon trips throughout Ecuador, Peru and Brazil using our Amazon guide below, and then contact one of our Adventure Specialists for further customized information.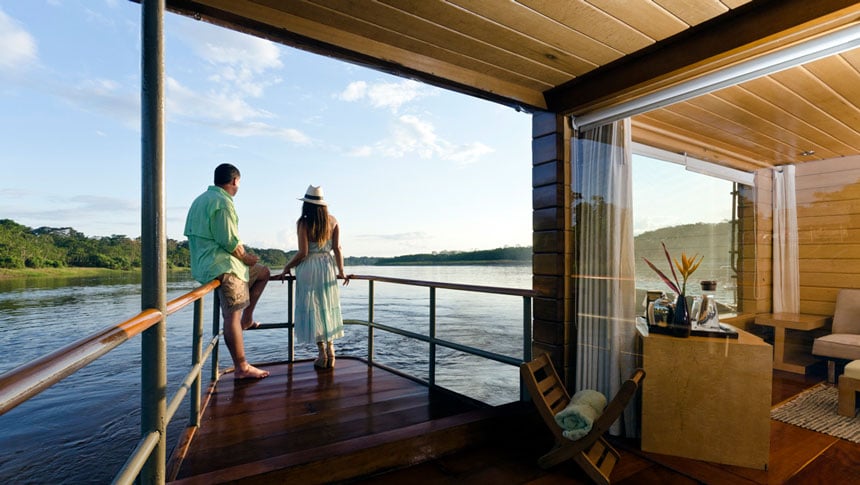 Ecuador Amazon Lodges
There is an Ecuador Amazon lodge adventure for every taste and budget. Lodges immerse you in the sights, sounds and solitude of the rainforest in a way small ships cannot. The rhythms and spirit of the rainforest permeate every moment with daily nature walks, canopy walks and shore excursions by canoe. Lodges are accessed from Coca by motorized and dugout canoes and allow you to experience a smaller geographic area in greater detail. Accommodations and services are outstanding with amenities varying by price, and all the lodges AdventureSmith partners with are clean, comfortable and highly recommended.
Ecuador Amazon Cruise vs. Lodge
The benefit of an Ecuador Amazon cruise is that you travel downriver, exploring many sections of the Amazon and its diverse ecosystems, including and most notably, the Yasuni National Park: rare virgin rainforest that has never been developed and is without human inhabitants. Traveling this far downriver is only available on longer 5- and 8-day itineraries and you cannot access the Yasuni National Park from a lodge or on shorter 4-day itineraries. Ecuador Amazon cruises are ideal for exploring one section of rainforest then retreating to your luxury and air-conditioned vessel for meals and relaxation while the ship travels to tomorrow's next area of exploration.
Ecuador Amazon lodges don't have air-conditioning like ships do, but they do have their own allure: you are in the rainforest the entire time.
Ecuador Amazon lodges don't have air-conditioning, but they do have their own allure: you are in the rainforest the entire time. On a ship, when you're not on your daily shore excursions, you are on the edge of the rainforest looking in. From a lodge, you are sleeping, eating and enjoying the canopy of rainforest where birds, monkeys and other creatures spend time. Experiencing the rainforest first-hand is so desirable, in fact, that the Anakonda small ship added the optional activity of glamping to her itinerary, so cruise guests can experience sleeping one night amongst the sights, sounds and smells of the rainforest. Whether you experience the Ecuadorian Amazon by lodge or ship, both options are perfect extensions for Galapagos cruises.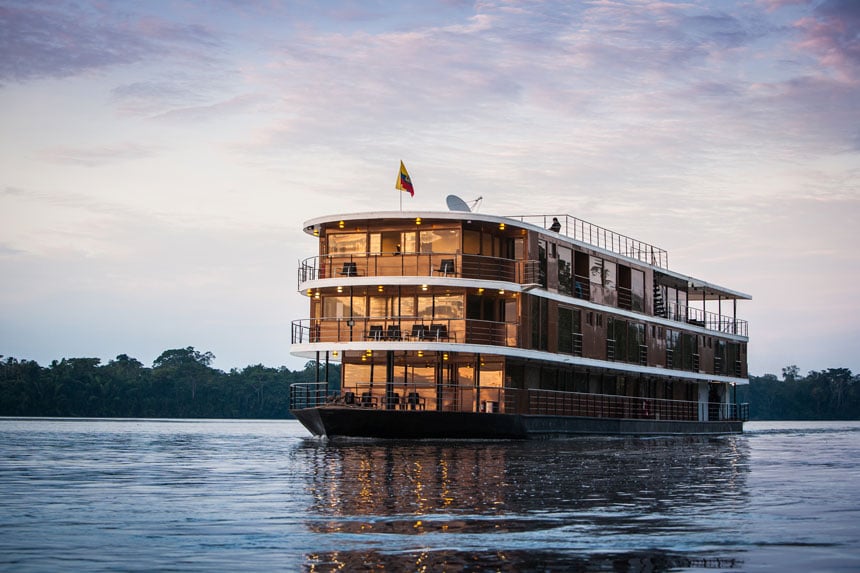 Peru Amazon
Peru Amazon Cruises
The Peruvian Amazon has two distinct regions: Northern Peru and Southern Peru. Peruvian Amazon cruises occur in Northern Peru on the Marañón River, the Ucayali River and where they join to become the Amazon River. They range from the simple and affordable 31-guest Amatista and 43-guest Delfin III, to the modern luxury of 32-guest Aria and the intimate 8-guest Delfin I, to the authentic 28-guest Delfin II. If that's not enough choice, National Geographic/Lindblad has chartered the Delfin II for several months each year bringing their unique style of intellectual and educational expedition cruising to an amazing 10-day Amazon Adventure Cruise. Amazon cruises in Peru are unique because they explore pristine rainforest sections and boast the excitement of fishing for piranhas and swimming with the famous pink Amazon River dolphins.
The best Peru Amazon cruises begin in Nauta (upstream from Iquitos) and visit the Pacaya-Samiria National Reserve. Cruises from Iquitos, similar to cruises from Coca, Ecuador, must pass some areas of development to reach the unspoiled Amazon. Many travelers will combine a shorter cruise with a longer tour of Machu Picchu and other parts of Peru.
Peru Amazon Lodges
Lodges are located in the Southern Peru rainforest regions of Manu and Tambopata and range from very remote, rustic base camps to large, upscale, almost hotel-like lodges. Some are a short flight from Cusco in Puerto Maldonado while others require a flight and a canoe trip. There is a choice for every budget with experience and amenities commensurate with their price. Packages range from only 1 night up to a full week. We recommend 3- or 4-night tours for most travelers. If you know you are a rainforest enthusiast and you want to spend more time, consider one of the more remote wildlife camps available as an extension from even the farthest lodges. Choose a Peru Amazon Adventure if you are seeking an affordable Amazon tour easily accessed from Cusco.
Peru High Water vs. Low Water
Peru's Amazon is distinct in that there is a high-water and low-water season. High-water season is typically from November to May and may allow for more extensive exploration and access via water. Anywhere from 60 to 180 inches of rain can be expected between November and May, so most riparian plants fruit and flower during this period. It is one of the best times to see birds and monkeys at the river's edge or in the jungle canopy. The roughly 23-feet-higher waterline usually allows access by canoe deeper into the flooded forests and is ideal for travelers who prefer to duck into otherwise isolated corners of the Amazon rainforest. Temperatures are cooler, averaging around 86 degrees (learn more about Amazon climate).
Low water season is typically June through October and may allow for more trail walks on terra firma. Anywhere from 30 to 100 inches of rain falls between June and October, allowing the river to recede slightly. Travelers may enjoy sandy river beaches, hikes on terra firma, more birds in flight overhead and opportunities to meander through the rainforest with expert guides in search of flora and fauna. Temperatures average around 98 degrees, there are fewer mosquitoes and good fishing opportunities are guaranteed.
Many Peru Amazon small ship operators no longer distinguish itineraries based on high water and low water but instead sail a set course regardless of season. Expert guides then choose activities that reveal the most wildlife on each particular day. With an average of 200 days of rain annually, departures in either season will experience some rain, and both will feature spectacular wildlife and plant life. Discuss what season suits your ability and preferences best with an AdventureSmith Amazon Adventure Specialist.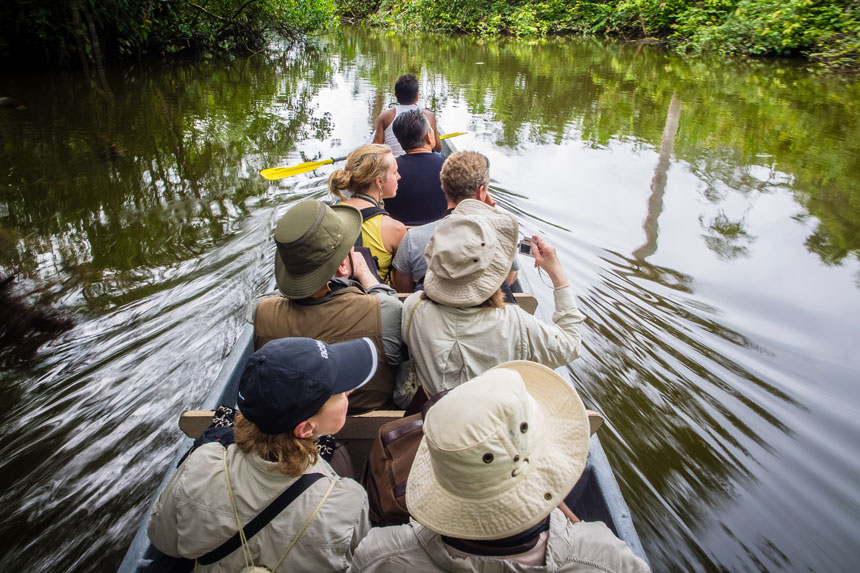 Brazil Amazon
Brazil Amazon Cruises
A Brazil Amazon cruise tends to be a destination unto itself, rather than combined as part of a larger tour. Cruises from Manaus, Brazil, are longer and penetrate much farther into the wilderness than cruises in Peru and Ecuador. This is a true Amazon expedition and as such takes longer and explores farther. There are not as many cruise and lodge options because here the line between rainforest and civilization is much sharper. Brazil's Amazon and Rio Negro are much farther downstream than cruises in Ecuador and Peru, and the river is considerably larger—so large it is difficult to see the opposite shore in some places. Innumerable islands and tributaries are spread across hundreds of miles in the Amazon's largest undisturbed rainforest. This is the Amazon most travelers envision when dreaming of an Amazon nature vacation.
A Word About Guides
The experience and demeanor of your Amazon guide will have a profound impact on your overall experience. All guides aboard small ships are excellent and highly recommended while naturalist guides at lodges can vary considerably in their skills and experience. A guide's personality and ability to engage travelers is just as important as his or her level of knowledge. In general, you will find that the most experienced guides work at the upscale lodges and aboard the nicest ships. Nicer ships and lodges have higher prices, which translates into more tips for the best guides. Lindblad Expeditions employs guides from National Geographic aboard 10-day expeditions, appealing to travelers willing to pay a premium for an intellectual and educational experience. All guides aboard the Amazon small cruise ships with which AdventureSmith Explorations works offer the highest quality of expertise and are often from the areas they are guiding.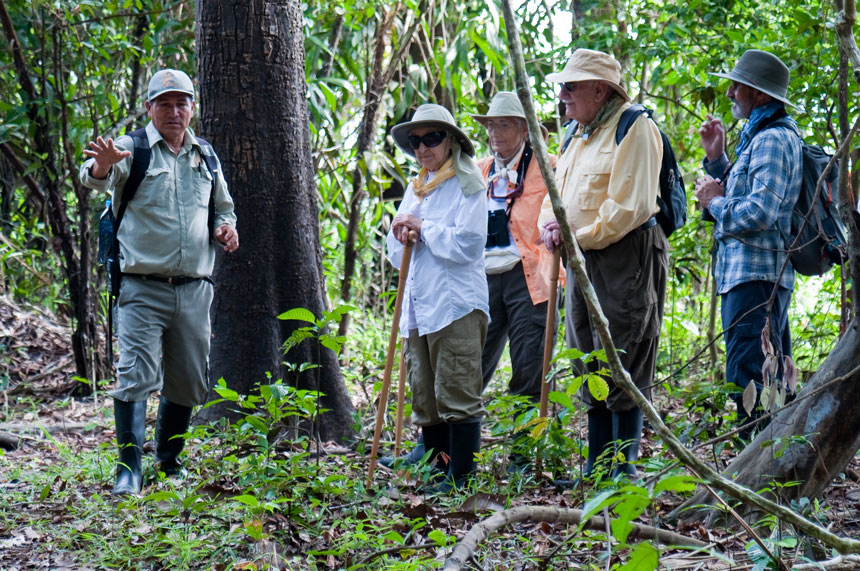 Amazon Birding Cruises
A cruise to the Amazon is a paradise for birders. More than 1,500 species of birds can be seen in the Amazon, and an avid birder can easily add a hundred species to their life list on the right trip. Most guides aboard small ships and at lodges are excellent birders with more than enough knowledge and expertise for even the most experienced bird watchers. Select departures will feature guest researchers or ornithologists on board. Serious birders should consider the longer 10-day expeditions. Many travelers interested in birds will consider a cruise and a lodge to maximize time in the rainforest and increase their chances of seeing particular species. In general, the high-water season is the best for bird watching.
More than 1,500 species of birds can be seen in the Amazon, and an avid birder can easily add a hundred species to their life list on the right trip.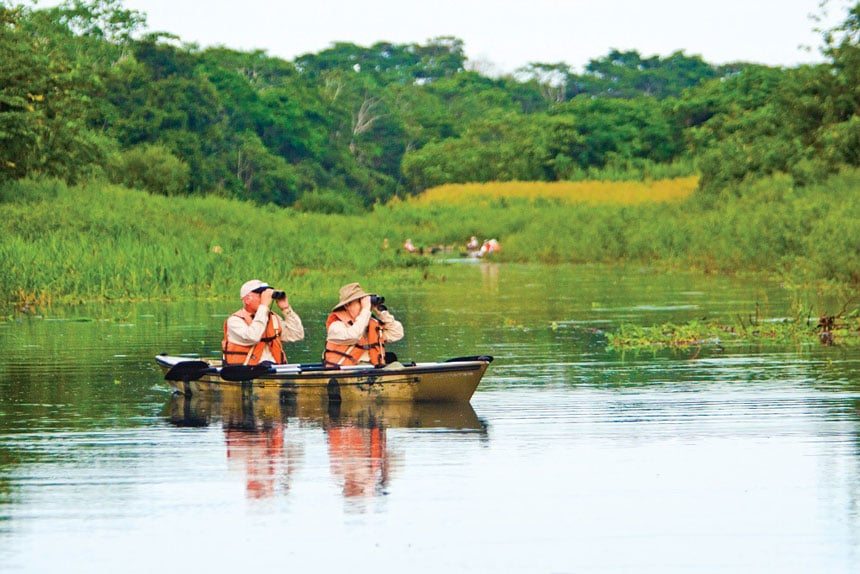 Amazon Cruise Reviews
There are no shortage of Amazon cruise reviews on the internet and some may offer honest, useful advice. But don't rush to judgment if you read a bad review. Often this can be the result of a mismatch between the style of the traveler and the type of cruise they were booked on. The best Amazon cruise review is a personal referral so ask your agent if he/she can put you in touch with someone with similar interests who has traveled to the Amazon aboard the small ship you are inquiring about. Reputable agencies will refer their past clients.
Amazon Cruise Advice
Most important, speak with an experienced Amazon cruise expert. AdventureSmith Explorations employees are award-winning Amazon small ship cruise specialists with a focus on guided nature tours and custom travel for individuals, couples, families and small groups. Our staff has decades of experience guiding, arranging and selling wilderness adventures. We offer firsthand knowledge, personal service, sustainable practices and unbeatable prices, including a continually updated selection of Amazon cruise deals. Contact us today to begin planning your Amazon travel.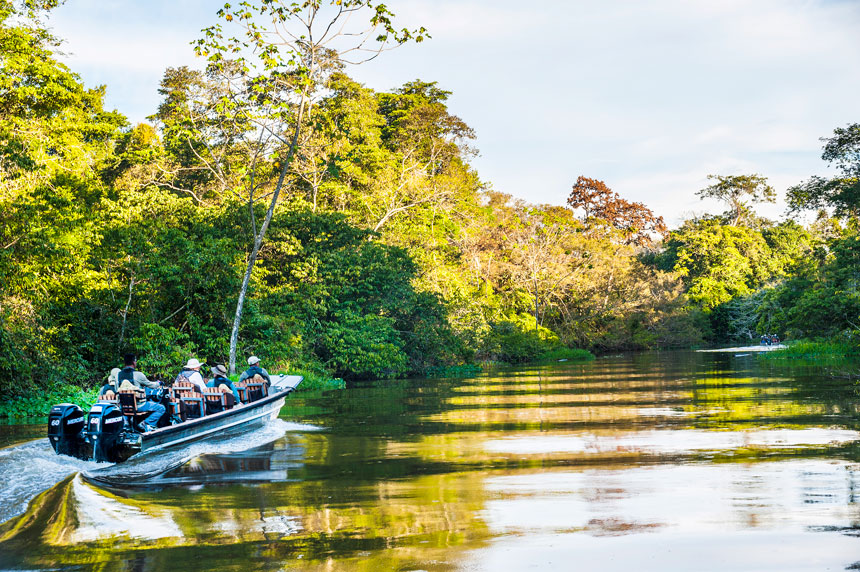 This Amazon small ship cruise guide was originally published in January 2017, and is updated periodically by our experts. Our most recent update occurred January 2019. For more articles, advice and inspiration visit our comprehensive small ship cruise guide.