The next big eclipse will be one like no other—as it will only be seen in Antarctica. A total solar eclipse set for December 4, 2021, will turn already-awe-inspiring Antarctica cruises, including many South Georgia cruises, into mind-blowing, truly once-in-a-lifetime experiences. Get in the path of totality aboard one of these special polar eclipse cruise departures. We detail 11 sailings aboard 11 different expedition ships below, with space filling up fast as the timing closes in. Start your trip search here then contact our experts for a personalized recommendation on which trip and ship is best for your interests to truly do it right.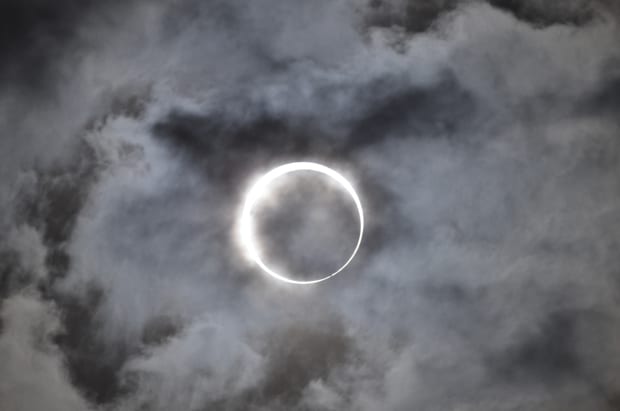 Polar Ships Sailing During Antarctica 2021 Eclipse
With this powerful event, 2021 is a year many astronomers, umbraphiles and Antarctica fans have been preparing for for years. December 4th, 2021, will be an impressive moment only a few will witness. The following ships and trips are positioning themselves for prime Antarctica eclipse viewing:
16-Day Solar Eclipse Voyage Aboard Le Commandant Charcot
The 270-guest Le Commandant Charcot (limited to 200 guests in Antarctica) is currently under construction. Get aboard this ground-breaking hybrid electric polar expedition ship during its first Antarctica season. This sophisticated ship will offer the chance to experience the Antarctica eclipse in a sustainable and luxurious way, with many novel included off-ship activities such as citizen science, exploration by hovercraft, kayaking, hiking and snowshoeing.
17- & 20-Day Voyages Aboard World Explorer & Ocean Diamond
The brand new 176-guest World Explorer and the 189-passenger Ocean Diamond will each be making a special solar eclipse departure. Aboard the Ocean Diamond, experience the amazing wildlife of the Falkland Islands, South Georgia and the Antarctic Peninsula, and be joined by NASA scientist Fred Espenak. On the World Explorer departure, experience South Georgia and the Antarctic Peninsula alongside two special guests: National Geographic night-sky photographer Babak Tafreshi and American Eclipse author David Baron.
20-Day Voyages Aboard Plancius, Hondius & Janssonius
The 116-passenger Plancius and the brand-new 170-passenger Hondius and Janssonius have their itineraries set and are ready for bookings. The fortunate travelers aboard these expedition vessels will not only get to see the incredible sights and wildlife of South Georgia, Falklands and the Antarctic Peninsula, but will also be specifically positioned in the center of the moon shadow during the Antarctica eclipse.
These special 20-day itineraries sailing round-trip from Ushuaia aim to be in the Weddell Sea to witness the phenomena among giant tabular icebergs and sea ice. The Hondius and Janssonius will be sailing first to the Antarctic Peninsula, being in the path of totality of the eclipse on day 9 or 10, then on to South Georgia and Falklands, while the Plancius and Ortelius sail first to Falklands and South Georgia before making way to the Peninsula for eclipse cruising on day 11 or 12.
22-Day Voyage Aboard Sylvia Earle
Debuting in November 2021, the state-of-the-art ship Sylvia Earle will offer an active way to cruise Antarctica while also positioning within the path of totality. This departure features a visit to Elephant Island–an uncommon stop on most Antarctic expeditions–and will aim to view the eclipse from the South Orkney Islands. Guests can pre-book off-ship adventures including kayaking, snowshoeing, ski or snowboard touring and mountaineering via retracing Shackleton's fabled South Georgia crossing on foot. Joining this departure is NASA graduate, glaciologist and geologist Dr. Ulyana Horodyskyj.
23-Day Eclipse Voyage Aboard Sea Spirit
The 114-passenger Sea Spirit sets sail for a once-in-a-lifetime journey traveling round-trip from Ushuaia and includes stops in the Falkland Islands, South Georgia and the Antarctic Peninsula. This expedition ship will aim to be positioned east of the peninsula on December 4th for ideal views within the path of totality. Be in Antarctica during this incredible natural phenomena while also experiencing the wildlife-filled and stunning landscapes.
24-Day Voyages Aboard National Geographic Resolution, Explorer & Endurance
The 148-guest Nat Geo Explorer and the brand new 126-passenger sister ships National Geographic Endurance and National Geographic Resolution set their course for a trip where the adventure of a lifetime meets the chance of a lifetime, traveling round-trip from Ushuaia with stops in the Falkland Islands, South Georgia and the Antarctic Peninsula. All three expedition ships will aim to be positioned in the path of totality on December 4, 2021. Photography experts on board will share info about special photography equipment you'll need if you want to create an image of the eclipse, like solar filters. And the onboard National Geographic photographer and certified photo instructor will prepare you for the special challenges of shooting an eclipse from a ship, where tripods and long exposures don't work since you'll be situated on a moving platform. Add to this the naturalist team and guest speakers, who will provide insight and background on eclipses and other astronomical features one might encounter in the Southern Ocean and Southern Hemisphere.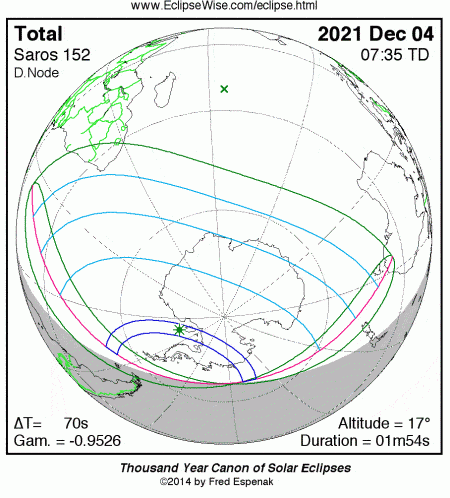 Why Go to Antarctica for Eclipse Viewing
Antarctica is a majestic continent all on her own, playing colors and angles of light off of bright, reflective snow and ice. As the continent comes out of her dark winter slumber, her white coat bleached with fresh snow and reformed icebergs, the days become longer and longer reaching up to 24 hours of sunlight at the polar circle in December. This influx of sunlight creates new ice sculptures, hastens wildlife cycles and offers long days for exploration. Add to this the unique light changes of a full solar eclipse, and guests aboard these cruises will get to watch the shadows, reflections and eerie light drastically change over icebergs and snowy mountains.
While Antarctica is the ultimate grand stage for eclipse viewing, note that the biggest factor in viewing an eclipse is weather—even more important than latitude! Although crystal-clear skies are often experienced on this enchanted continent (the world's driest), overcast nights are just as common. The ships' crews will utilize their in-depth technology aboard to find the best possible viewing area, hoping to ensure an unobscured sun.

Stay tuned for more 2021 Antarctica solar eclipse cruise departures announced on this post as more ships will surely take part in this unusual cosmic event.
This Antarctica solar eclipse cruises post is among AdventureSmith Explorations' extensive Small Ship Cruise Guides and was originally published in June 2018 when the first 2021 dates were announced. The information has since been updated by our experts to reflect additional Antarctica cruises that have announced solar eclipse sailings; our most recent update occurred September 2020.