Adding South Georgia can bump your Antarctica expedition up to 20-some days, but it's well worth the added time and cost. As our office continues to travel the world, we're hearing more and more about this remote, wild island from guides. Case in point, when Adventure Specialist Andrew Browning was traveling in the Arctic, Svalbard, his guides kept raving about the astounding amount of wildlife they'd seen on South Georgia Island. So here's a closer look at why you should add South Georgia to your Antarctic route:
South Georgia Has Wildlife: A King & Macaroni Penguin Mecca
Situated about halfway between the southeast coast of Argentina and the Antarctic continent, South Georgia is often called an Antarctic oasis, or "the Galapagos of the Poles," because of the huge numbers of penguins and seals that breed there. And its marine ecosystem is considered one of the world's densest examples of biodiversity.
The king penguin colony on South Georgia is known as the largest crèche in the world.
One of the most notable things about South Georgia Island is its overwhelming large population of king penguins: over 100,000 breeding pairs. These classic penguins with their trademark yellow head markings have claimed this island as a major breeding spot and you can witness hundreds of thousands of them herded together here. The colony on South Georgia is known as the largest crèche in the world, and these aerial king penguin photos really showcase this largeness.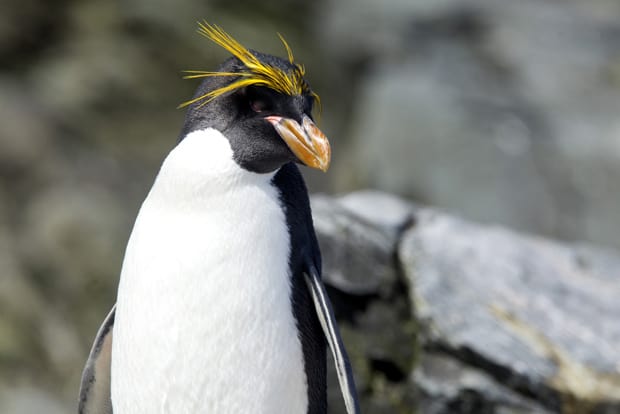 South Georgia Island is also home to the largest macaroni penguin population in the world. This species, pictured above, is identified by the orange crest on its forehead, and named for its resemblance to an 18th century fashionable wig, turned into a movement, turned into a slang term: "macaroni." Sing the "Yankee Doodle" song and it'll make a little more sense. An impressive 3 million breeding pairs live on South Georgia. And if these incredible numbers are not enough, you're also likely to see chinstrap and gentoo penguins. This is definitely the place to visit if you want to see penguins. Itineraries to South Georgia also often include the Falkland Islands, 800 miles northwest, a destination also famed for its penguins (5 of the world's 17 species summer here).
In addition to penguins, South Georgia is home to the southern elephant seal, the largest seal species in the world; Antarctic fur seals; the wandering albatross; and even reindeer (introduced).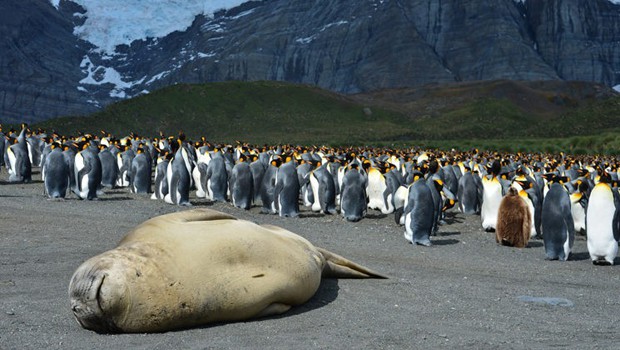 South Georgia Has History
First spotted in 1675 by Antoine de la Roche, a London merchant, South Georgia was claimed for Great Britain by James Cook in 1775. In 1904, Norwegian Carl Anton Larsen established the first land-based whaling station here, as well as the first permanent settlement at Grytviken. Whaling and sealing continued in South Georgia until the 1960s, when the whaling stations were abandoned—and subsequently taken over by the island's penguin populations!
A visit to South Georgia today includes seeing historic whaling stations and the grave of explorer Sir Ernest Shackleton.
A visit to South Georgia today includes looks at these historic whaling stations, as well as the grave of explorer Sir Ernest Shackleton at Grytviken. This settlement also hosts a church, whaling history museum, gift shop and research station of approximately 20 scientists.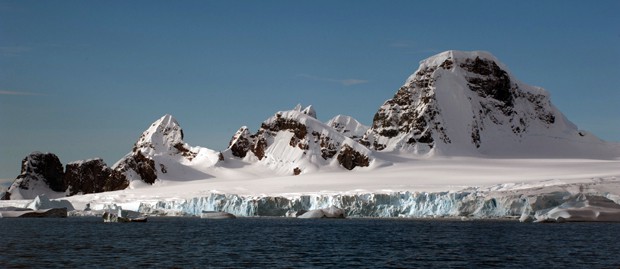 When Else Can You Access Such a Remote Place?
Because of South Georgia's remote location in the Southern Ocean, it is not a common tourist destination, even for those already traveling to Antarctica. The near-1,500-square-mile island is home to two mountain ranges, the Salvesen and the Allardyce, reaching 9,850 feet above sea level. Even in the summer, 75 percent of the island is covered in snow, ice and glaciers. It really is a treat to step foot on this remote land and its rugged coastline. We highly suggest doing so en route to Antarctica as it's a relatively short detour in a region most travelers only have the opportunity to visit once. This sample route map from the Falklands, South Georgia & Antarctica expedition is a good visual example of a typical route that includes South Georgia: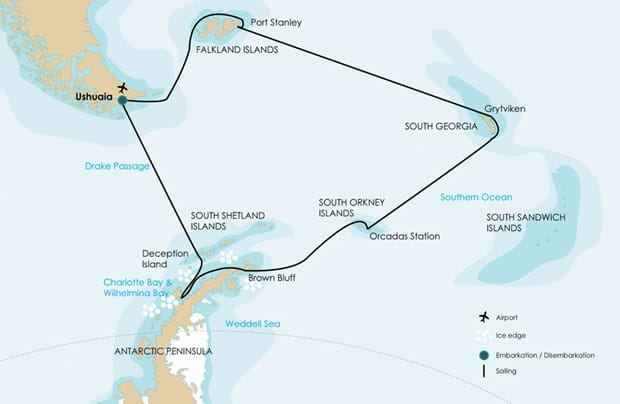 How to Visit South Georgia Island
Below, we have links to our trips to Antarctica that currently include South Georgia Island. Contact AdventureSmith for a personalized look at the best trip, ship and departure for your interests and budget.
Main image & seal with penguins image courtesy Poseidon Expeditions. Macaroni penguin image by Wim van Passel, Oceanwide Expeditions. All other photos by Erwin Vermeulen, Oceanwide Expeditions. This post on why you should travel to South Georgia was originally published in October 2015, and is updated periodically by our experts. Our most recent update occurred February 2019.