Galapagos cruises have become incredibly popular, and there are no shortage of agencies looking to sell you a Galapagos cruise. My team and I at AdventureSmith Explorations are here to help with honest, unbiased opinions and expert advice to help you choose the right ship and trip (one that fits your interests, ability and budget) at the best price. We visit the Galapagos frequently and offer travelers the most accurate, up-to-date information available. Start by reading our Galapagos cruise advice below, and then contact one of our Adventure Specialists for further customized information.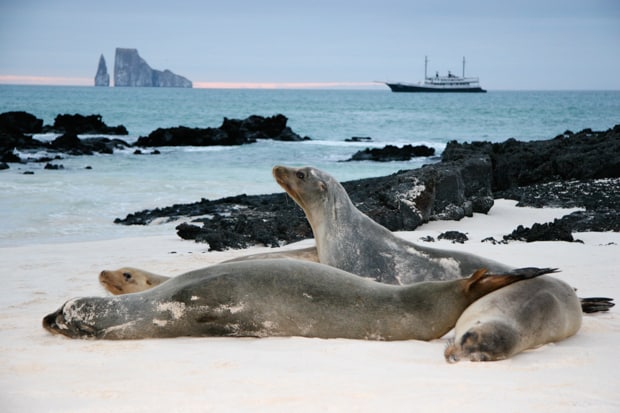 Plan Ahead!
The Galapagos Islands are one of the most spectacular and remote locations on Earth. Visitation to Galapagos is limited, vessels are small and spaces fill up fast. Many Galapagos cruises are often sold out 6 to 9 months in advance with holidays booked more than 12 months in advance. For the best selection of Galapagos cruises and available cabins advance reservations are encouraged, and often required.
Getting to/from Ecuador & the Galapagos
Galapagos cruises begin and end in the islands, located 600 miles off the coast of Ecuador. It is not possible to fly directly to the Galapagos Islands from North America on the same day, so most travelers require a stopover. Quito, Ecuador's colonial capital city, is the most popular stopover and a great location to explore the Andes or Amazon. It is also possible to transfer through the coastal city of Guayaquil. Find full details at How to Get to Galapagos.
I highly suggest travelers consider arriving in Ecuador at least two nights prior to the cruise. Most flights from North America arrive in Ecuador in the evening between 8:00-11:00pm. If your flight is delayed or cancelled, and your flight to the Galapagos is early the next morning, you will miss the ship. The wilderness nature of Galapagos cruises makes it difficult to catch up. Arriving two nights prior provides a full day to recoup from your flight and explore mainland Ecuador: Quito (a UNESCO World Heritage Site) and the nearby market at Otavalo, or Guayaquil.
After your cruise, flights arrive back in Guayaquil and Quito in the late afternoon usually between 2:00-4:00pm. It may be possible to fly back to North America on a red-eye flight; however most travelers choose to overnight again in Quito or Guayaquil and depart the next morning. This also allows you to leave some luggage at your hotel for the duration of the cruise. This can be helpful if your Galapagos cruise is part of a larger South American travel package.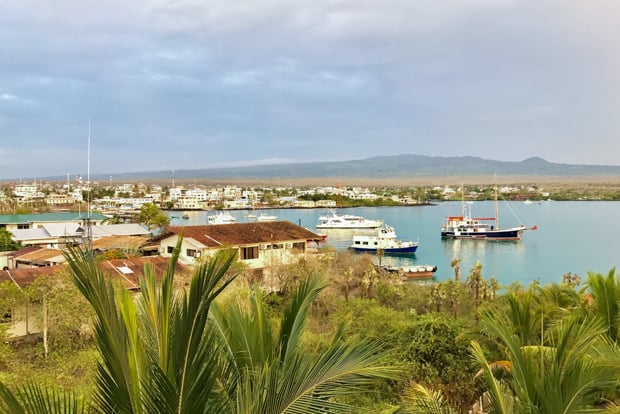 How Much Time to Spend in the Galapagos Islands
Galapagos cruises range from 4 days to 15 days. When combined with stopovers in mainland Ecuador, trips can reach up to 18 days. How much time you have and how much time your budget will allow are important factors when considering your Galapagos cruise.
Because of itinerary regulations implemented by the Galapagos National Park in 2011-2012, travelers must now choose a 10- to 14-night cruise if they wish to experience all the unique habitats and species the Galapagos has to offer. Each ship now operates a 14-night itinerary with no repeated landing sites. Choose at least an 8-day cruise if you wish to experience a wider variety of Galapagos habitats and species. When choosing any cruise fewer than 8 days, carefully consider what islands and experiences are important to you. Shorter cruises will inevitably miss out on some species. It is important to consult with a Galapagos cruise expert who has been to the islands and knows the landing sites. They will match you with the right Galapagos cruise for your interest, ability and budget.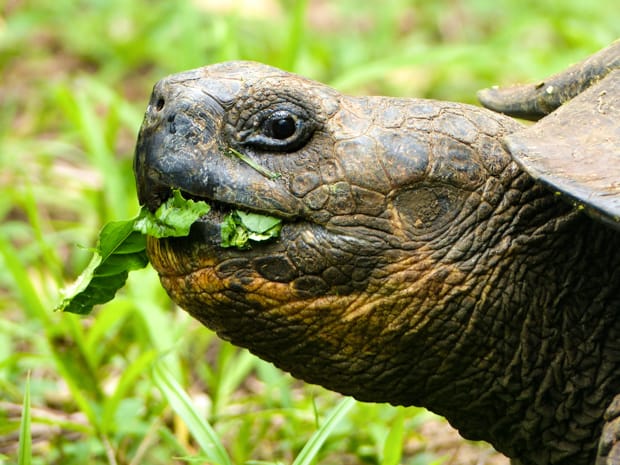 What to Expect on a Galapagos Cruise
All Galapagos cruises include daily guided shore excursions in small groups to explore the islands and experience wildlife up close. A typical full day involves disembarking the ship twice for landings or exploration by pangas (dinghies), with breakfast, lunch and dinner served on board. Hiking time for most landings will be a couple of hours round-trip with lots of time to stop to study, photograph and enjoy the flora and fauna. Some landings are dry but many are "wet," requiring cautious footing on slippery rocks. Snorkeling is available most days, and the underwater experience is an integral part of any Galapagos cruise. I encourage all travelers to try snorkeling. Other activities, depending upon your vessel of choice, can include kayaking, stand-up paddleboarding and glass-bottom boat rides.
Because these daily guided excursions are common to the first-class Galapagos ships AdventureSmith recommends, it's best to choose your cruise by first narrowing down the ship you want to sail on.

Take advice from our experts who have been there: Send a postcard, consider a wetsuit and stick with the guide. We visit the Galapagos frequently and offer Galapagos Travel Tips to help you make the most of your vacation. Arrive an informed traveler and get in the know before you go by reading our best pre-trip advice and understanding the must-do's before you set sail. Plus, on-ship and on-trail Galapagos cruise advice from our seasoned staff.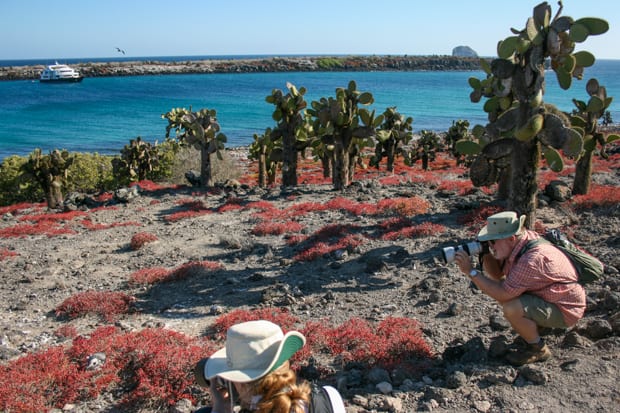 How to Choose Your Galapagos Ship
Below, I've separated Galapagos ships into three categories: small yachts and sailboats carrying 8-32 passengers, mid-size cruisers carrying 40-60 passengers and small ships carrying 60-100 passengers.
Choosing your vessel should be determined by many factors, but one key thing to keep in mind: Shore groups are limited to 16 people by the Galapagos National Park to minimize the impact to the environment and preserve a wilderness experience for the visitor. So even aboard a 100-passenger ship, you will still explore the islands up close in a small group with a trained naturalist guide.
Yachts & Sailboats
Smaller yachts and sailboats carrying 12 to 32 guests can vary considerably in price and amenities from rustic floating base camps to luxurious yachts that will satisfy the most refined travel styles. They offer the most intimate experience with the most time ashore. It is easier to get 16 travelers ashore in one group than it is to ferry 100 passengers ashore in multiple groups, so smaller yachts can mean more time ashore.
The tradeoff is that these boats are smaller. They have smaller cabins, bathrooms, dining room and deck space, and there are not as many public places to go for a private moment on deck. However, travelers aboard small yachts and sailboats often comment that getting to know their fellow passengers and crew is one of the highlights of the trip.
Sailboats like the 16-guest Mary Anne are popular in the Galapagos Islands, but keep in mind that ocean currents and wind conditions are such that most transit is done under motor power. Sails will be hoisted when conditions and schedules allow. Sailboats are the smallest boats in the Galapagos and many have bunk beds instead of lower beds.
The sister ships Coral I & II and the Letty are the most popular mid-priced yachts. The Grace, Evolution and Origin/Theory/Evolve are luxury yachts for those who want to see the Galapagos in style.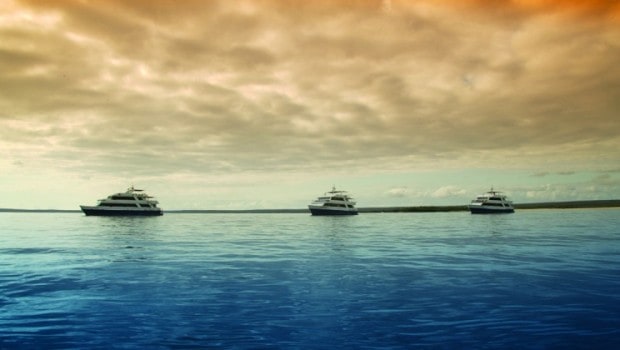 Mid-Sized Cruisers
Mid-sized cruisers carrying 40-60 passengers offer the efficiency and intimacy of a small yacht combined with the space and amenities typically found on a larger Galapagos ship. They often have larger cabins, spacious bathrooms, ample deck space, delicious cuisine, a high crew-to-passenger ratio and excellent guides. There are multiple decks where you can always find a moment to watch the sunset and enjoy the solitude.
Mid-sized Galapagos ships offer ample time ashore. They have efficient landing systems with multiple shore craft to ferry hikers to the trail or to snorkel in speed and comfort. Mid-sized ships appeal to travelers seeking to cruise aboard the finest boats available. The La Pinta and Isabela II combine elegance and adventure while the National Geographic Islander offers the region's finest expedition leaders from National Geographic.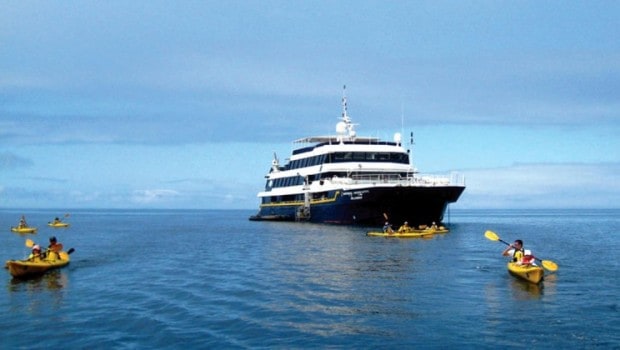 Small Ships
Because mega cruise ships are not allowed in the Galapagos, small ships carrying 60-100 passengers are the largest to cruise the region. These ships are the most stable and appeal to travelers concerned about seasickness. They are also very appealing for families with children because some offer adjoining cabins and additional cabin space. Single travelers can also look to larger vessels for more single-occupancy cabin options.
Galapagos small ships offer a variety of cabin categories from affordable with portholes to elegant with balconies. Usually there are multiple decks, vistas, libraries and salons where you can mingle with other guests or find space for yourself. Each small ship has a unique personality and appeals to a certain clientele. The Legend and Santa Cruz II are popular and affordable, and the National Geographic Endeavour II features expedition leaders and lecturers from National Geographic.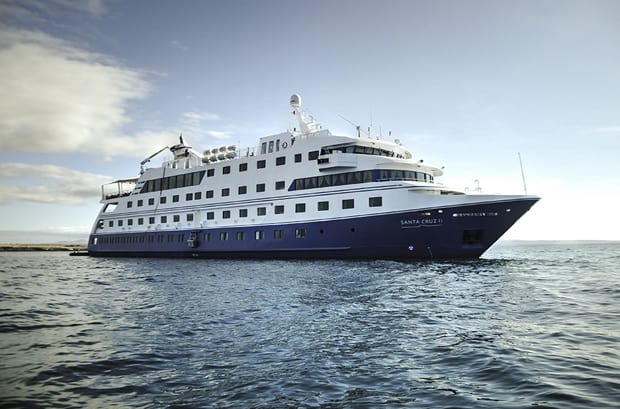 A Word About Guides
The experience and demeanor of your Galapagos cruise guide will have a profound impact on your overall experience. The Galapagos National Park trains and strictly regulates guides in the Islands. At one time the park instituted a rating system of Level 1-3 to gauge a guide's experience. Levels were achieved through a combination of longevity and education. While the system still exists, it has become obsolete considering the park has not conducted a Level 3 training since 2004 or a Level 2 training since 2009. Even when implemented properly we found that this system does not tell the whole story.
Galapagos naturalist guides vary considerably in their skills and experience. A guide's personality and ability to engage travelers is just as important as his or her level of knowledge. Don't assume that all guides speak English; they don't. In general you will find that the most experienced guides work aboard the nicest ships. Nicer ships have higher prices, which translates into more tips for the best guides. While no operator can guarantee which guide will be aboard your cruise, AdventureSmith specifically chooses our Galapagos partners with guides in mind. I have extensive guide experience and serve on the International Galapagos Tour Operators Association board. Read more about my involvement with guide training in the Galapagos Islands on our blog: AdventureSmith Founder to Participate in Galapagos Guide Training.
One Galapagos cruise line, Lindblad Expeditions, stands above the rest in terms of onboard programs and naturalist guides. In addition to guides employed by the Galapagos National Park, they employ a wide range of experts from National Geographic. Lindblad cruises aboard the National Geographic Endeavour II and National Geographic Islander appeal to travelers willing to pay a premium for an intellectual and educational experience with National Geographic in the Galapagos Islands.
A Word About Cost & Sustainability
When booking your trip, obviously be smart about your finances, but also keep in mind that the sweetness of low cost can easily be overshadowed by a bad trip or a mismatch for your travel interests. The Galapagos is a place filled with unusual wildlife experiences that you won't find anywhere else. And booking your passage with reputable guides and sustainable operations is paramount. Do what you can to budget for this once-in-a-lifetime trip. Read our 6 Ways to Do the Galapagos Right for more sustainability insights. Browse our selection of Galapagos cruise deals. If you are seeking to splurge, see our curated list of Galapagos Luxury Cruises.
Family Travel in the Galapagos Islands
Not all ships are created equal for Galapagos family cruises. Some common things to look for when selecting cruise cabins as a family are triple- or quadruple-occupancy options, extra space and interconnected cabin doors, as well as onboard programs, menus and/or themed departures for kids when selecting your itinerary and dates of travel. Many families consider a Galapagos yacht charter for even more flexibility and customization. Learn more about family cruises to destinations worldwide.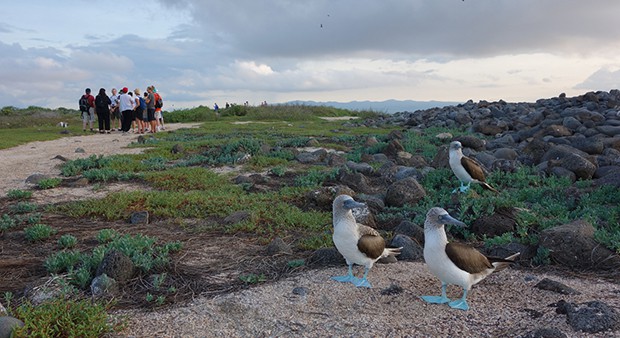 Chartering a Galapagos Yacht
A full-boat charter in the Galapagos can be a great option for groups and families from 8-100 guests. A crewed charter has many advantages over an independently booked cruise including exclusivity, flexibility, customization and savings. A full yacht charter can save 10-30% off regular per-person cruise rates. Typically, charters are planned and contracted well in advance, at least 9-12 months. Holiday yacht charters may require more than one year advanced notice. But as long as space is available, a Galapagos yacht or small ship can be chartered. View our Galapagos yacht charters page for more information and our recommended charter yachts.
Ocean Conditions & When to Go to the Galapagos
Weather in the Galapagos Islands is attractive to adventure travel and small ship cruising year-round. Galapagos climate is almost entirely influenced by the ocean currents. The warm season from December until May is dominated by a warm current bringing hot sunny days with sporadic rains and calm seas. Average temperatures range from 70s to upper 80s with water temperatures in the mid 70s.
From June to November cool currents from the south create cooler weather and rain is uncommon, creating comfortable hiking weather. Although seas are rarely rough, trade winds cause the ocean to be choppier this time of year and a misty fog may linger into the day. Average temperatures range from 60s to upper 70s with water temperatures from the mid 60s to low 70s.
You are usually cruising close to land and between islands, which serve to provide a bit of protection from rougher seas. On a typical 8-day Galapagos cruise, you will make 2-4 crossings through open water where you may encounter 4- to 6-foot swells over the course of 4-6 hours of travel. It is extremely rare to encounter stormy conditions; however swells can cause a lot of rocking during open-water crossings. More likely the swells will gently rock the boat during the time of transit. Learn How to Prevent & Treat Seasickness on Cruises.
What is going on in the Galapagos Islands when you want to travel? View the best time to visit Galapagos, a handy Galapagos cruise guide to understand Galapagos climate, wildlife and occurrences by month.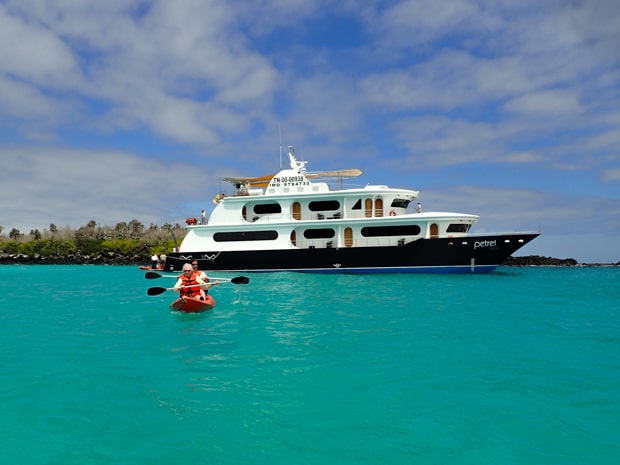 Galapagos Cruise Reviews
There are now countless Galapagos cruise and travel review websites on the internet. Many offer honest advice, but many need to be taken with a grain of salt. Use Galapagos reviews as a tool but don't rush to judgment when you read a poor review. Often this is a result of a mismatch between the style of the traveler and the type of cruise they were on. The best type of Galapagos review is a personal referral. Ask your booking agent if he/she can put you in touch with someone who has traveled to the Galapagos with similar interests as you or aboard the boat you are inquiring about. Reputable Galapagos agencies will gladly refer their past clients. To learn more and research what our past clients say, view our Galapagos Cruise Reviews.
Galapagos by Land
While we strongly believe that a small ship cruise is the best, most efficient and sustainable way to experience the Galapagos Islands, cruises are not for everyone. It is possible to visit the Galapagos on a lodge-based trip; you just have to travel by day boat to access many landing sites and that often means being limited to islands closer to Santa Cruz, Isabela and San Cristobal.
Similar to the diverse selection of Galapagos cruises, there are a variety of land-based Galapagos trips that appeal to different travel styles and budgets. Some tours are based from a single lodge, which offers fewer travel days and more time to explore and relax. Others offer a mix of lodges based on different islands. Some offer active options such as kayaking, mountain biking, surfing and scuba diving while others are more relaxed. All land-based tours will have guided visits to Galapagos landing sites to view wildlife. Land-based tours offer a chance to visit Puerto Ayora or San Cristobal, the two largest settlements in the Galapagos Islands, and many offer the freedom to dine out at local restaurants.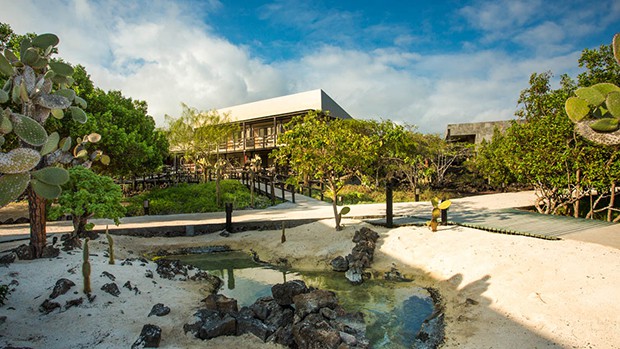 Free Galapagos Cruise Advice
Most important, speak with an experienced Galapagos expert. AdventureSmith Explorations employees are award-winning Galapagos small ship cruise specialists with a focus on guided small group nature tours and custom travel for individuals, couples, families and small groups. Our staff has decades of experience guiding, arranging and selling wilderness adventures. We offer firsthand knowledge, personal service, sustainable practices and unbeatable prices, and can match you with the perfect trip for your travel needs. Contact us today.
MORE GALAPAGOS RESOURCES:
Galapagos Cruising Guide
How to Choose Your Galapagos Cruise
Galapagos Cruises
Galapagos Islands Yacht Charters
Galapagos Luxury Cruises
Galapagos Family Cruises & Tours
Best Time to Visit Galapagos
How to Get to Galapagos
Galapagos Island Animals
Galapagos Cruise Deals
Galapagos Cruise Reviews