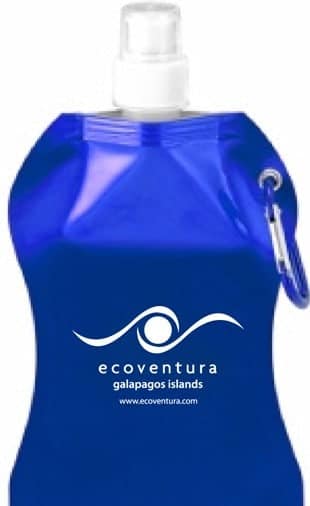 Galapagos small ship operators are taking a stance against plastic water bottles, which have become a growing problem in the Galapagos Islands. Not only are plastic bottles hard on the environment to produce but they also must be flown in to the remote archipelago and out for recycling.
One operator stepping up is Ecoventura, the owner of the Letty, Origin, Theory & Evolve. As of February 9, 2014, passengers will receive a collapsible water bottle they can fill with filtered water on the ships to drink during the cruise. Guests can then take the reusable water bottle home with them as a souvenir.
This initiative reduces the company's usage by 80%, representing over 40,000 less plastic bottles in the Galapagos Islands. Ecoventura's goal is to eventually eliminate 100% of the plastic water bottles on board all of its yachts.
Kudos to Ecoventura! You'll notice similar conservation on the other Galapagos small ships AdventureSmith works with. I know when I traveled aboard the Santa Cruz in the Galapagos, we were allowed only one plastic water bottle that was provided for us in our room. We were encouraged to refill it for the duration of our cruise and pack it out with us in our luggage.
The Travelers Against Plastic (TAP) Campaign offers an even better solution – sterilize your own water throughout your travels. Watch the video at right to see TAP cofounder Chris Mackay show how easy it is with a Steripen and a water bottle. TAP's goal is to galvanize a global movement aimed at the near elimination of travelers' dependence on disposable plastic water bottles. Globally, 2.7 million tons of water bottle plastic is used annually, and travel plays a big role in this use. For instance, if you take a two week trip, and drink three bottles a day, that equals 42 bottles. Multiply that by the 48.6 million Americans who travel abroad each year and the waste is immense.
Join boat operators like Ecoventura and nonprofits like TAP and spread the word about reducing, and eliminating, plastic water bottle use in travel.
This blog post is among AdventureSmith Explorations' extensive collection of travel guides. Find more on the AdventureSmith Travel Blog, or visit our Galapagos Cruising Guide for even more resources to plan your Galapagos Island trip.